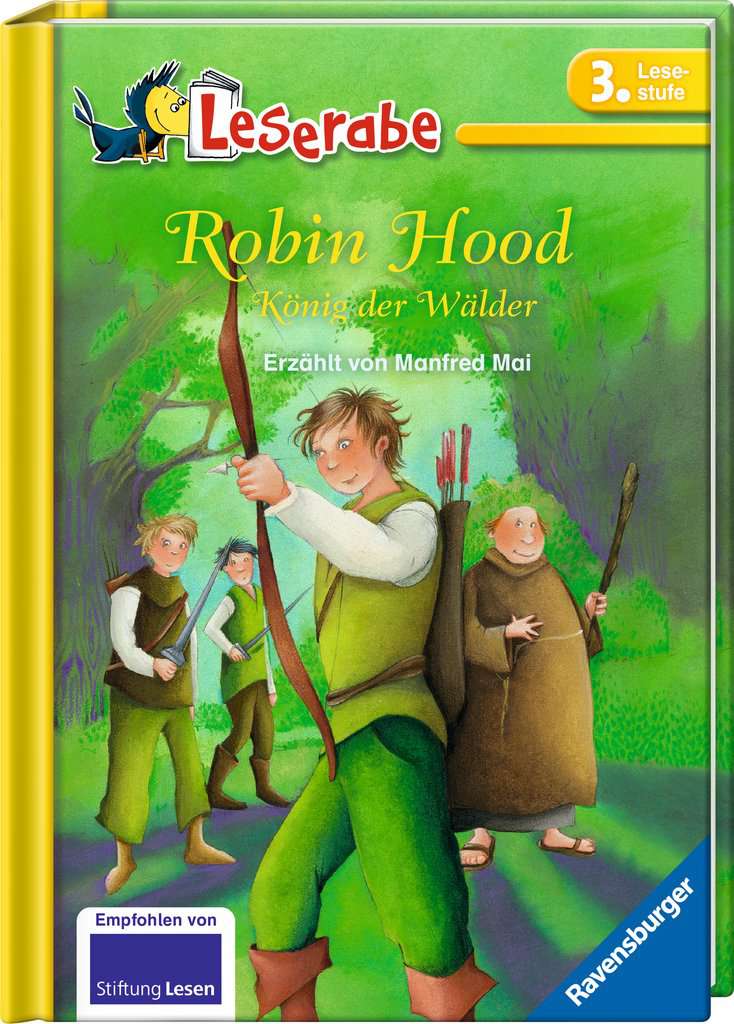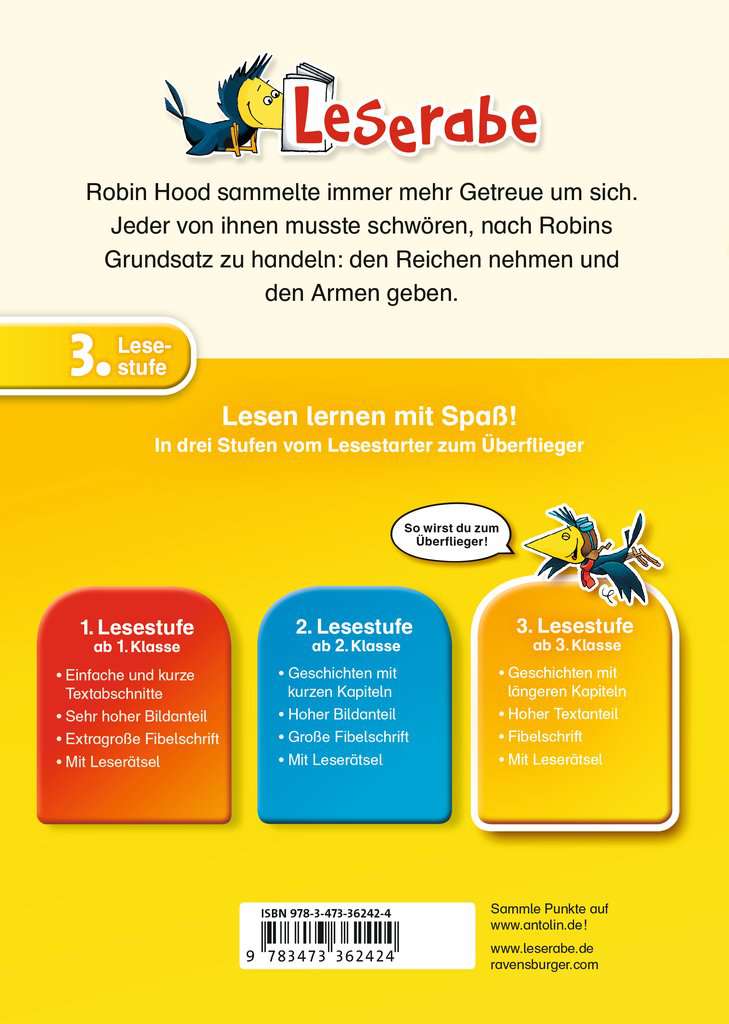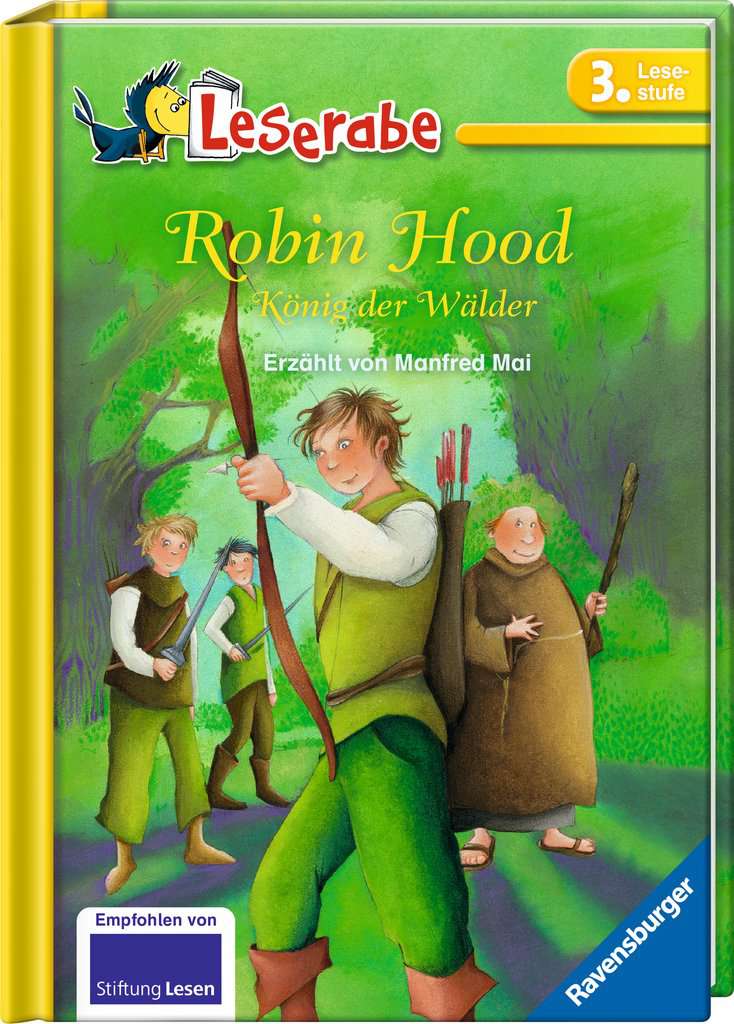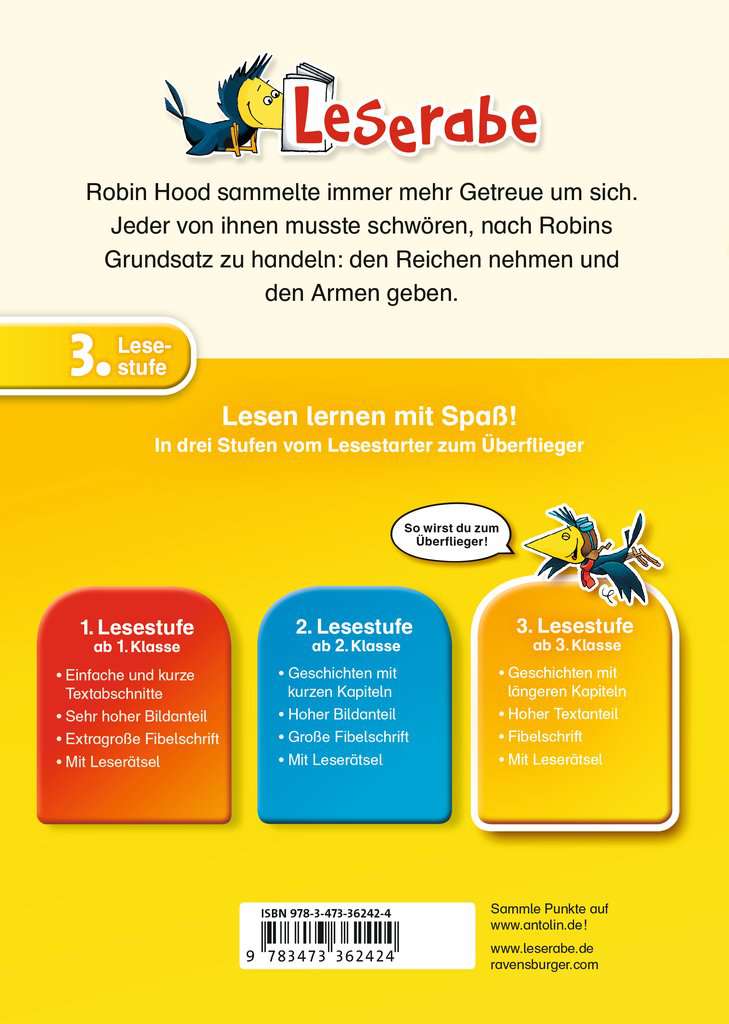 Reading Raven (Level 3): Robin Hood, King of the Forests
Leserabe - 3. Lesestufe: Robin Hood, König der Wälder
View all books in the series
"Steal from the rich and give to the poor," is Robin Hood's golden rule. This book recounts his adventures in Sherwood Forest.


World classics for children

Retold by contemporary children's authors

64 pp
8 years +
15,2 x 21,5 cm
EUR 8.99
January 2011
Hardcover
978-3-473-36242-4
Content
Robin Hood is one of the most famous characters in world literature. According to legend, he was born the son of a gamekeeper around the year 1200 in the English village of Loxley. He learned to ride and how to handle a sword and shield as a young boy, but is best known for his exceptional skill in archery. Loxley was part of the Shire of Nottingham, which was under the control of a sheriff appointed by King Richard the Lionhearted to keep the peace while the king was away on a Crusade in the Holy Land. During these years, conditions became much worse for the people of the shire as nobles demanded more and more taxes from the peasants and workers. After Robin wins a wager with the sheriff of Nottingham's men, they hunt him down. The sheriff burns down the family home, killing Robin's parents. Robin has to hide in Sherwood Forest, where over time more and more like-minded companions gather around him. They make their living as a robber band, but one that lives by the rule of stealing only from the rich and giving the stolen goods to the poor. To the sheriff of Nottingham, Robin and his band of thieves are a thorn in their sides. He tries everything to catch Robin, without success. Knowing that Robin is an outstanding archer, the sheriff decides to organize an archery tournament. Robin enters the contest - and wins. Nonetheless, Robin manages to trick the sheriff and slip away once again. When King Richard returns from the Crusades, he is troubled by the conditions in his land. He tries to get information about this Robin Hood and why he has so much support among the common people. Disguised as a monk, the king is waylaid in the woods by Robin and his men. After King Richard speaks with Robin, and is recognized by him, he understands the true motives behind the crimes of Robin and his band of robbers. The king grants them amnesty, and names Robin captain of the royal guard. His companions are made royal gamekeepers. The sheriff, however, must leave the shire immediately. The king knights Robin, deeply impressed by his fight for social justice.
About the Series
The Reading Raven series is designed to encourage beginning readers by providing fun and exciting stories at each ability level, from their first efforts at reading alone to more advanced chapter books Each Reading Raven book includes reading riddles, puzzles to solve using information in the story. This is a fun way to check how well children understand what they read. The first level features short texts with lots of pictures that provide clues to the story's meaning. These books are written in extra-large print. When children are ready for longer stories, the second level of Reading Raven offers short chapter books, also in large print with illustrations that help readers follow the text. The third level is for readers who are becoming proficient, with longer chapters and increasingly complex stories, but still with accompanying pictures and highly readable print.
The Author
Manfred Mai was born in 1949 in a small town in southern Germany. Only after he had finished school did he discover his love of reading, and went back to school to become a teacher. His first writing appeared in 1978 and he has written numerous books since, particularly for beginning readers. Today he is a freelance author and lives in the town where he was born with his wife and two daughters.
The Illustrator
Betina Gotzen-Beek was born in Mönchengladbach in 1965. After she completed school, she traveled throughout all of Europe prior to beginning her studies in painting and graphic design at Freiburg University. She has worked as a freelance children's book illustrator since 1996. Betina Gotzen-Beek lives with her family in Freiburg.