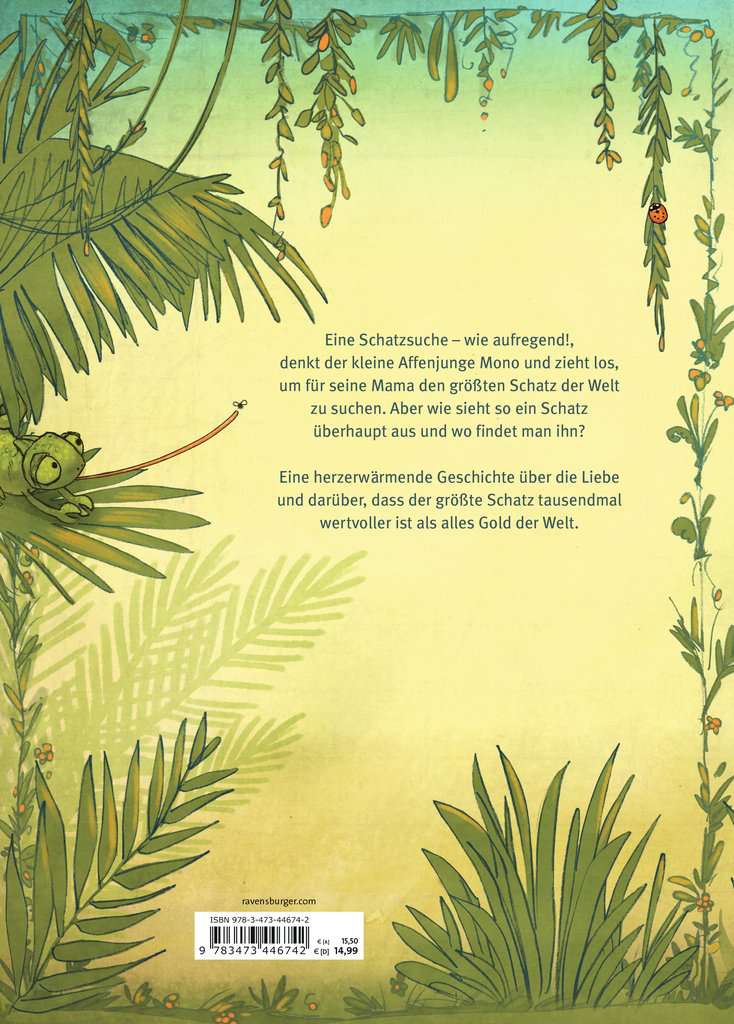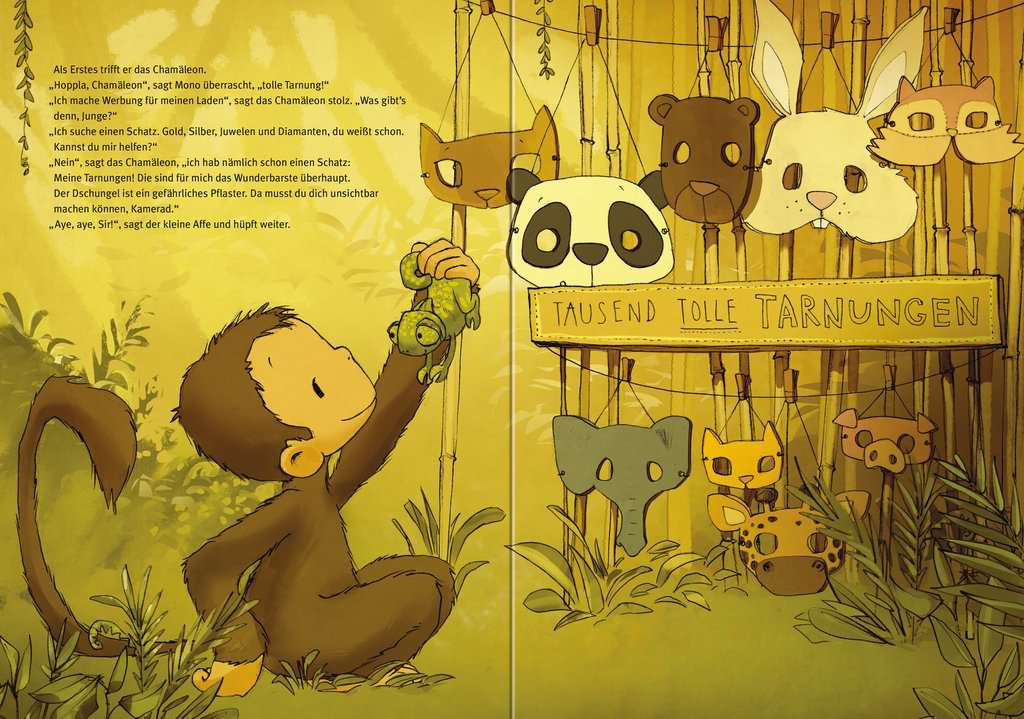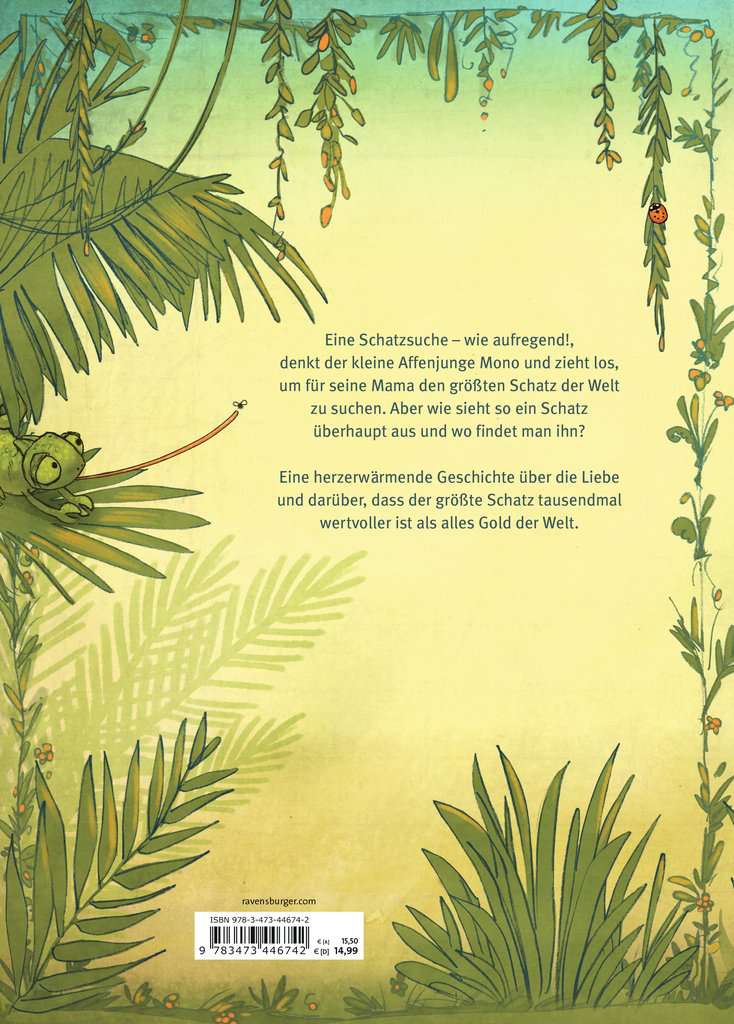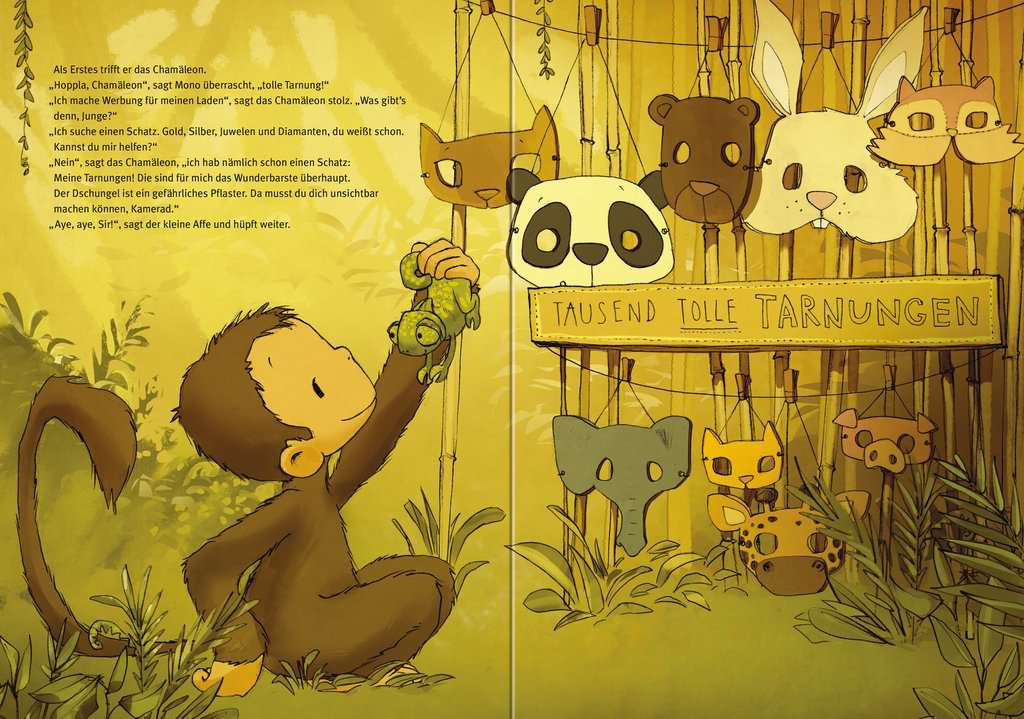 The Greatest Treasure in the World
Der größte Schatz der Welt
A gift for children and adults that says: you are my greatest treasure!


Also available as board book

32 pp
4 years +
21,5 x 30 cm
EUR 14.99
January 2016
Hardcover
978-3-473-44674-2
Content
The young monkey Moko wants to find the greatest treasure in the world for his mom. But it appears that there are no gold or diamonds to be found in the jungle. He asks the other animals for advice, but they have all found their own treasures already: the chameleon can change its colors, the snake dances the alphabet with its body, the parrot is the great imitator of voices, the spider has a magnificent web, the sloth's dreams are worth gold to him, and the dingo feels the same about her freedom. By now night has fallen and a firefly, whose greatest treasure is its glowing bottom, brings Moko home. His mom was already worried about him. Sadly, Moko admits that he didn't find any treasure. But his mom explains to the young monkey that she already has the greatest treasure in the world, and holds out a mirror to the astonished Moko.
The Author
Andrea Schütze tried out just about every hobby you can think of during her childhood. At some point reading became her favorite, and that is why she enjoys writing books herself. She is a qualified dressmaker and a certified psychologist, but doesn't have a seahorse emblem. She lives with her daughters in southern Germany. There is a place nearby where you can stand in Germany, France and Switzerland all at the same time – provided, of course, that you have three legs.
The Illustrator
Joëlle Tourlonias, born in 1985 in Hanau, Germany, earned her degree in visual communication with concentrations in illustration and painting at the Bauhaus University of Weimar. Since 2009 she has been a freelancer, and currently lives, draws and paints in Düsseldorf.
Rights Sold
Chinese, Danish, Romanian, Russian, Turkish, English