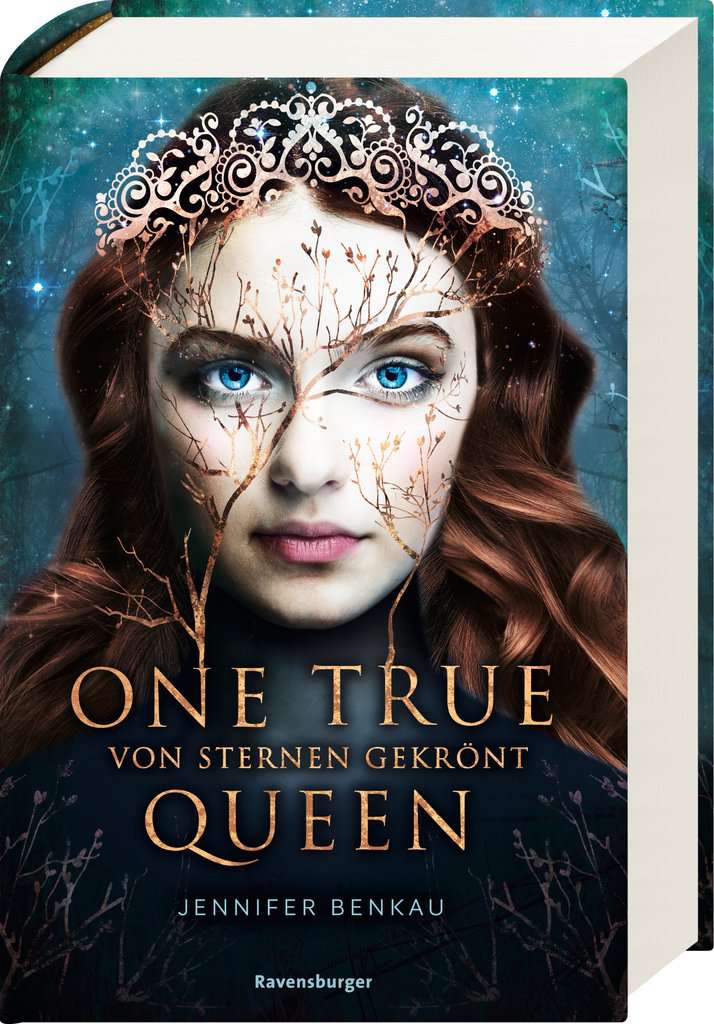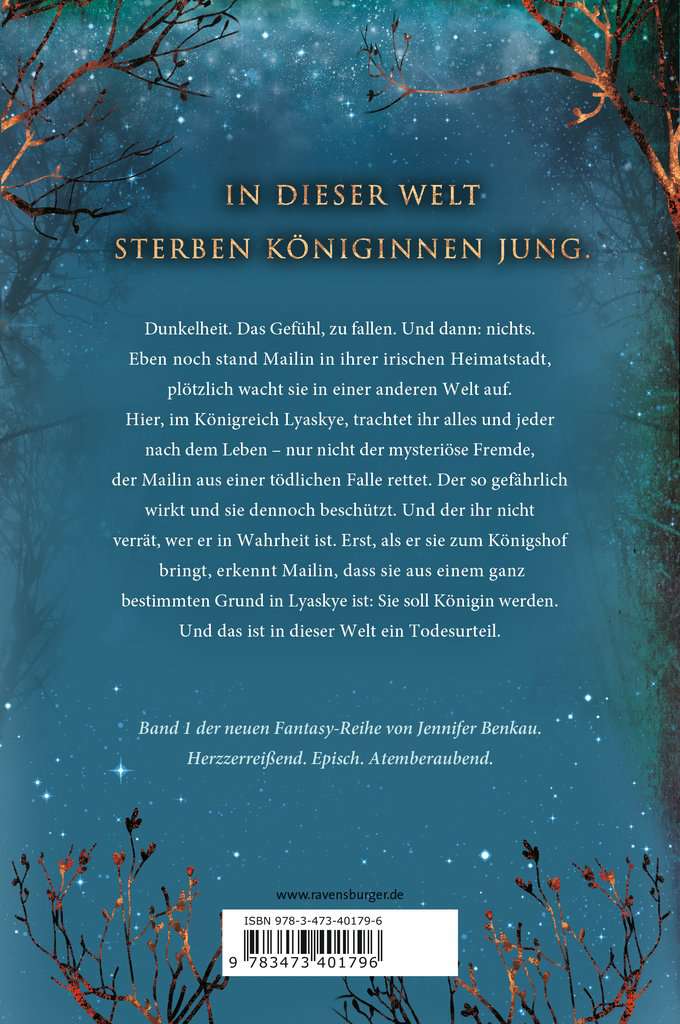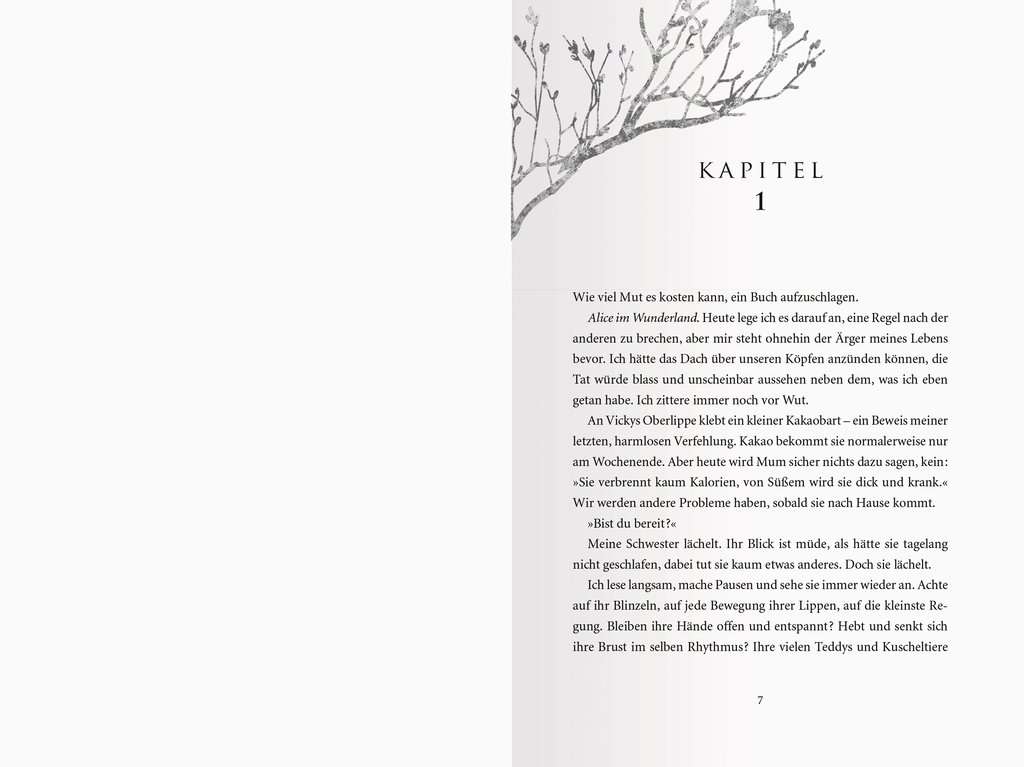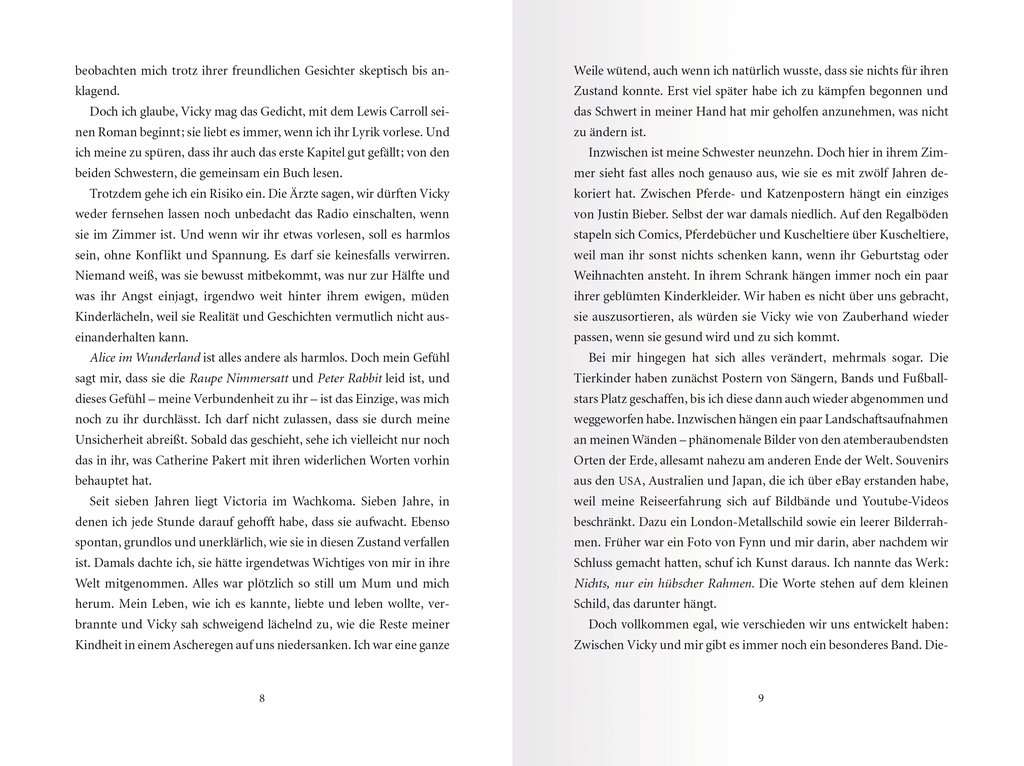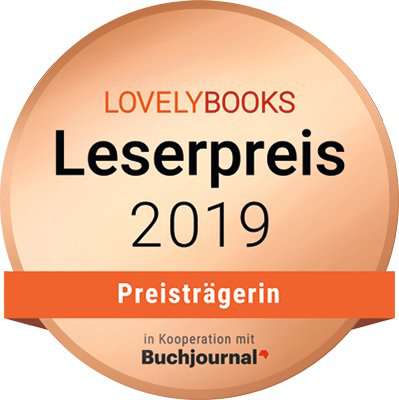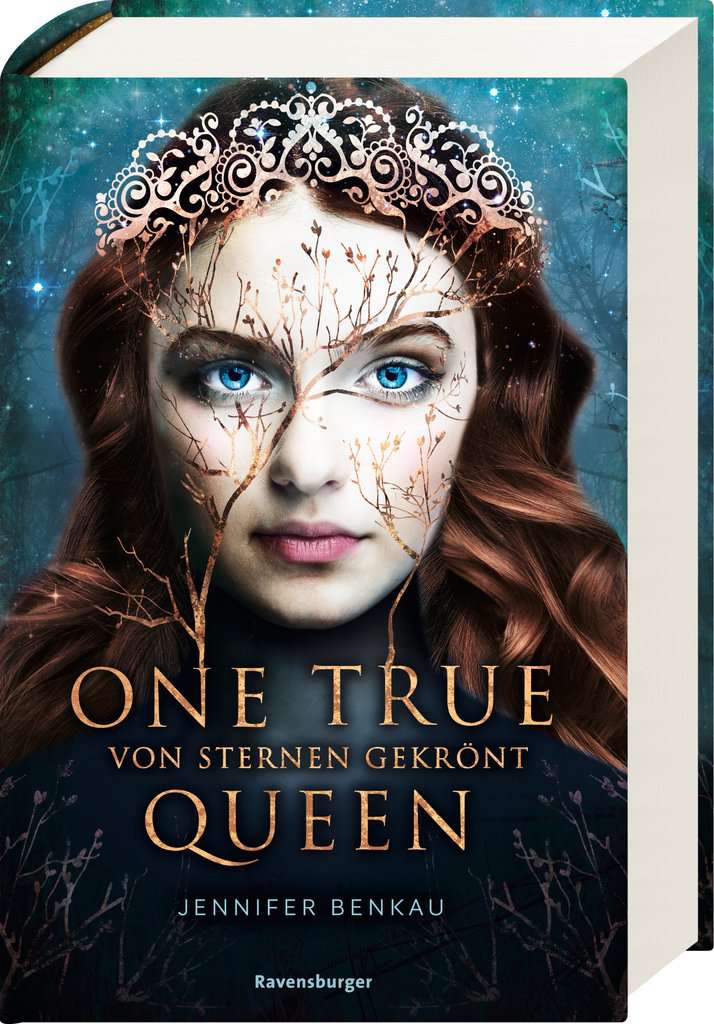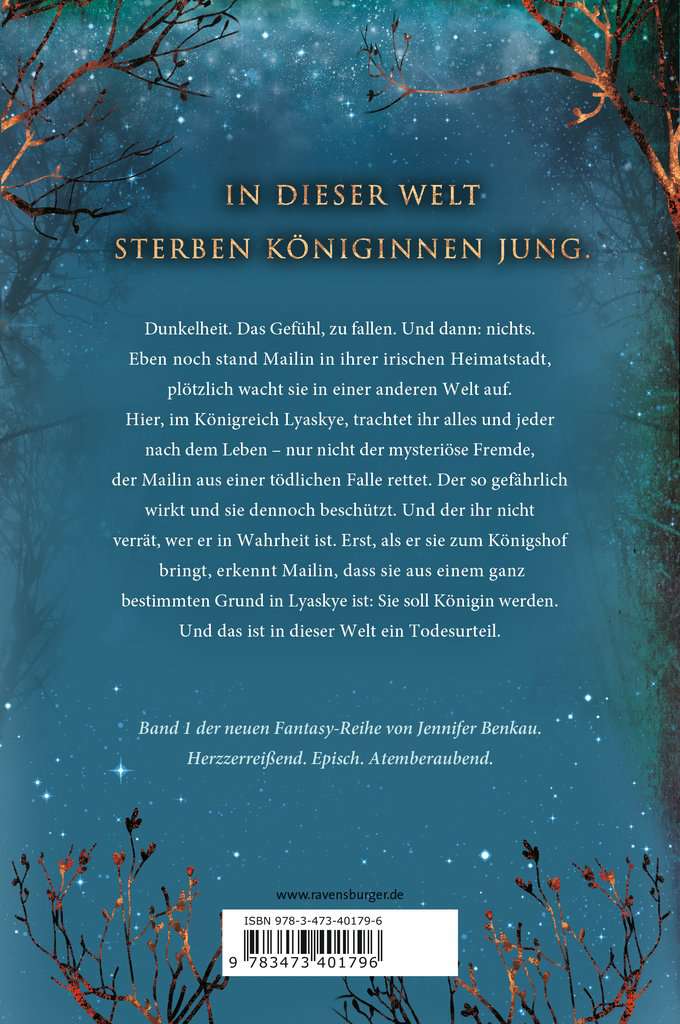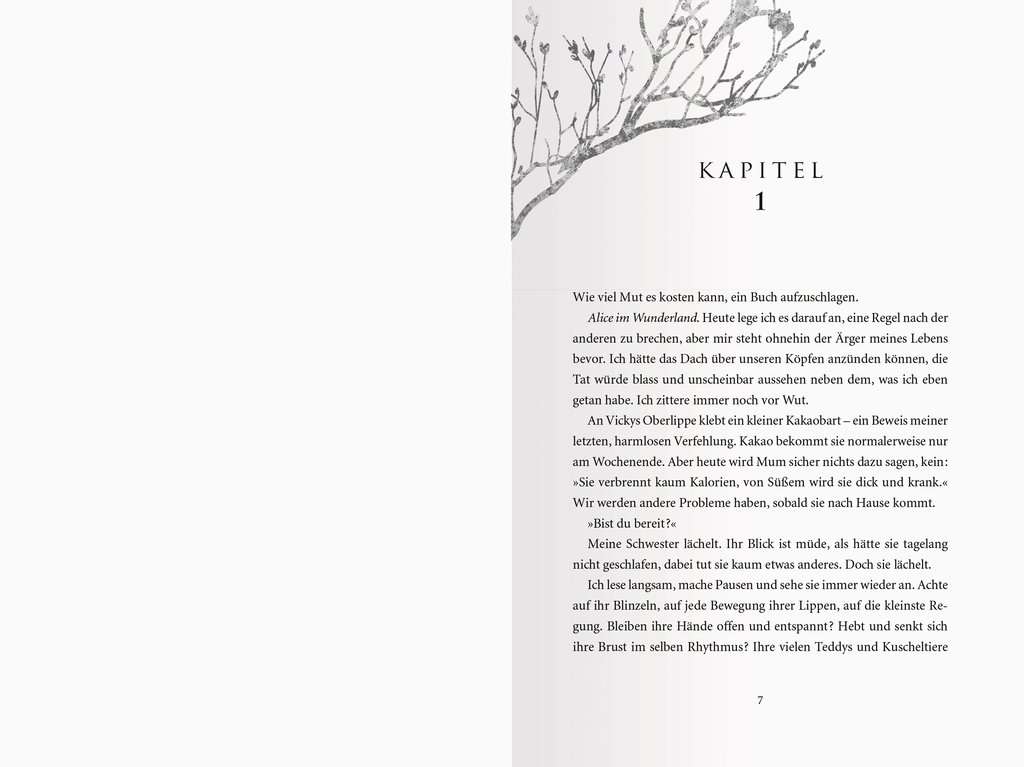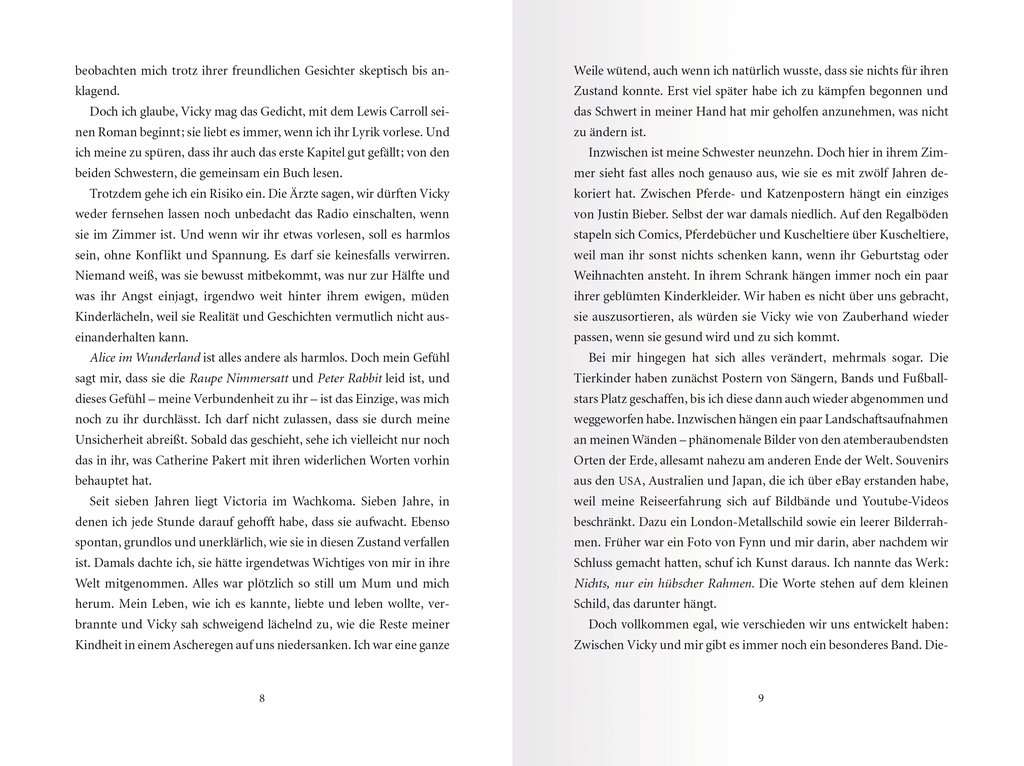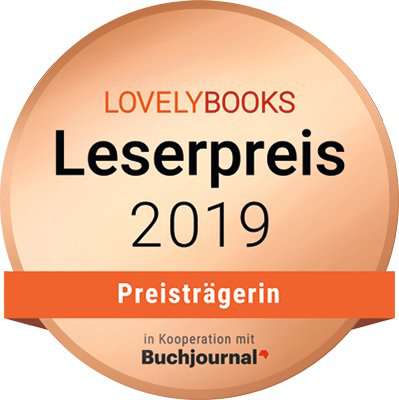 One True Queen (Vol. 1): Crowned by Stars
One True Queen, Band 1: Von Sternen gekrönt


An epic fantasy adventure set in a destructive parallel world, featuring a captivating young heroine, powerfully and eloquently written!

Over 50.000 copies sold of the series in Germany!

512 pp
14 years +
14,3 x 21,5 cm
EUR 19.99
August 2019
Hardcover
978-3-473-40179-6
Content
Darkness. The sensation of falling. And then: nothing.
One moment Seventeen-year-old Mailin is just in her Irish hometown doing martial arts training when she loses consciousness and then she wakes up in an unfamiliar and eerie forest. Here, in the kingdom of Lyaskye, everybody seeks to kill everything and everyone - except for the mysterious stranger, who rescues Mailin from a deadly trap. At first, he doesn't reveal his true name (therefore Mailin calls him "Peter"), nor his true motives when he is convinced to bring Mailin to Rubia, the capital of Lyaskye. There, Mailin hopes to find a world jumper who will take her home. They are the only ones who can move between the worlds with the help of a special amulet, called Cercerys.
In Rubia, Mailin is dumbfounded to discover that the powerful queen venerated by all is none other than her own sister, Vicky, who has been ruling alongside King Cassian for exactly seven years. In that time, she has been in a coma in Ireland. Mailin learns from Vicky that Lyaskye is a kind of disembodied being with her own, very powerful will. Lyaskye only accepts the sovereignity of younger women from the other world, whom she brings to her and crowns queen. And Mailin is supposed to be Vicky's successor, for Vicky is on her deathbed.
Mailin does not want to accept this and plans to get herself and her sister back to Ireland as fast as possible!
This proves to be very difficult, however, since everyone at court is bound by Lyaskye and has limited free will. After several unanticipated developments, Mailin ends up with Peter, whose actual name is Liam, in his home, the Town of Thieves. He and several others founded this village outside the boundaries of Lyaskye because they question the powers that be.
Through a trick played by the world jumper Nathaniel, whom Mailin had met in Rubia, she and Liam are captured and brought back to the court. There Mailin is supposed to take up her role as future queen.
Back in the palace they find out that King Cassian is the actual ruler. He has subjected the queen to him and abuses her power for his own ends. He orders Mailin's immediate coronation. As the crown touches Mailin's head, Lyaskye penetrates her thoughts and tries to control her. But Mailin successfully defends herself and chaos erupts. With Nathaniel as world jumper, Mailin and her sister manage to escape – though Liam must stay behind.
The Author
Jennifer Benkau writes books for adults, young adults and children. She has made a name for herself with the "Dark Canopy" series in particular, for which she was awarded a number of prizes, among them the 2013 DeLiA Literary Prize. In 2016, she and four other female writers founded the label INK REBELS. Fantasy is very close to her heart and she loves writing it with the help of loud music, chocolate and lots of coffee. She lives somewhere between Düsseldorf and Cologne with her husband, her four children, two dogs and a horse and is constantly looking for hidden portals into other worlds. Incidentally, that's also how she found a path to Lyaskye.
Rights Sold
Russian, Ukrainian