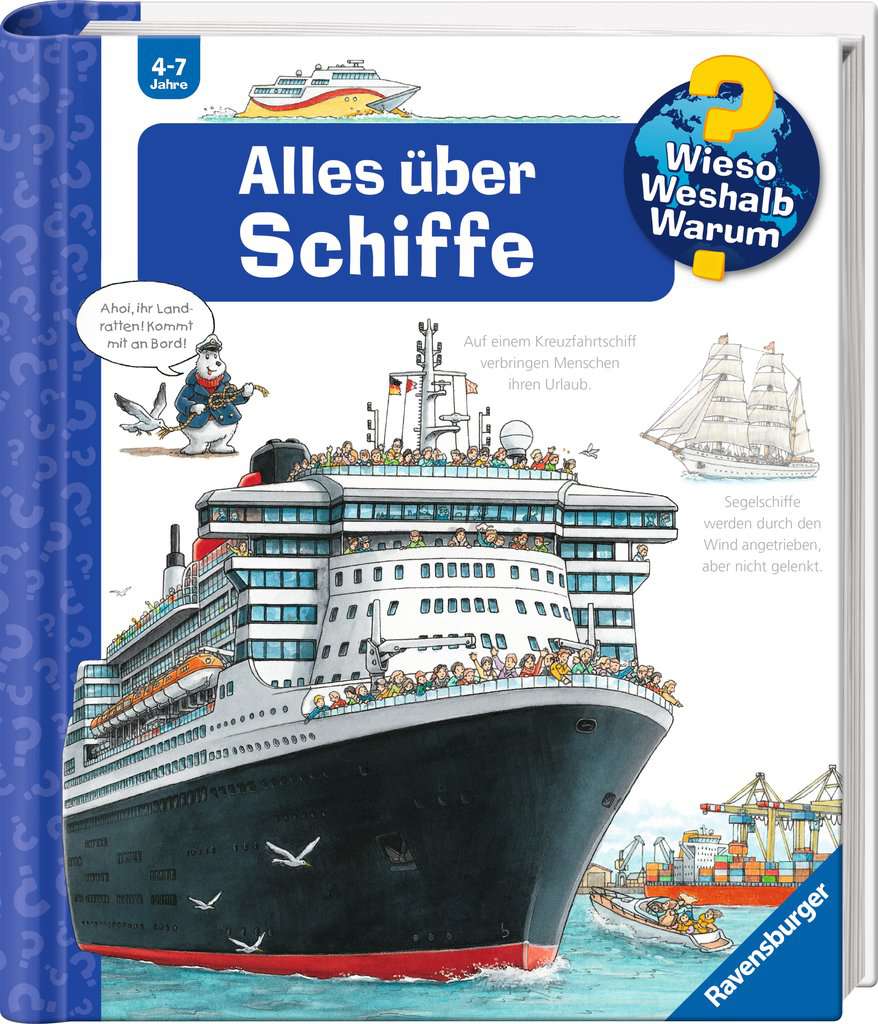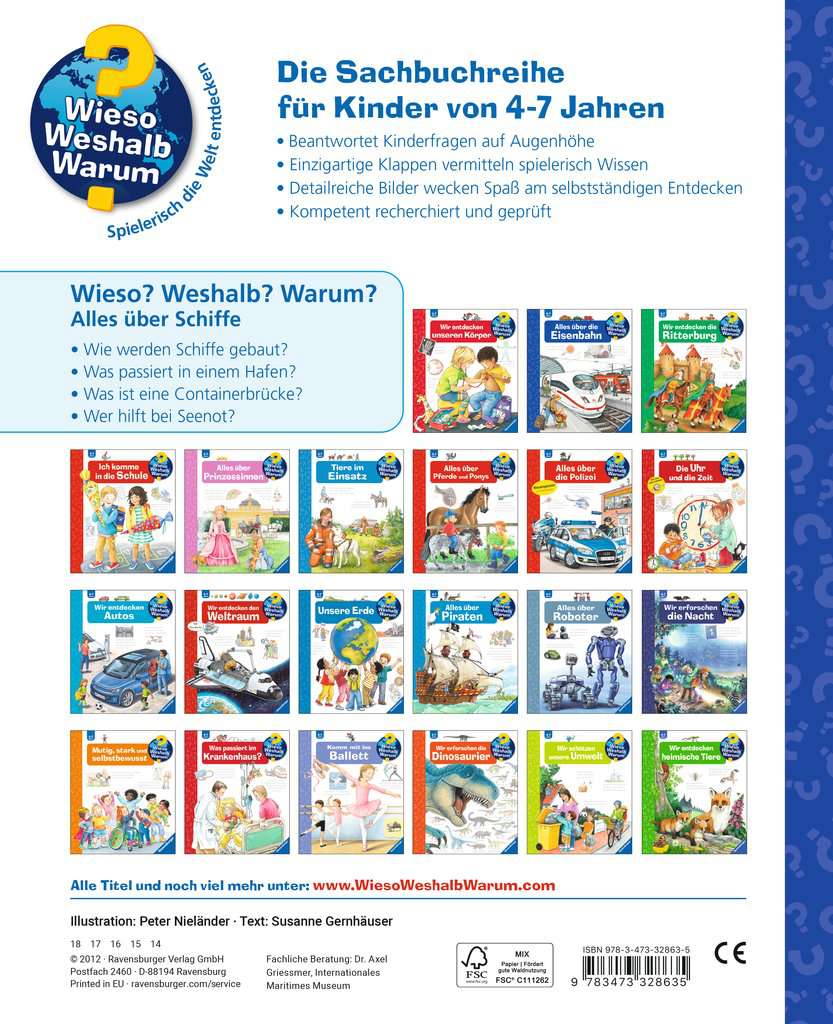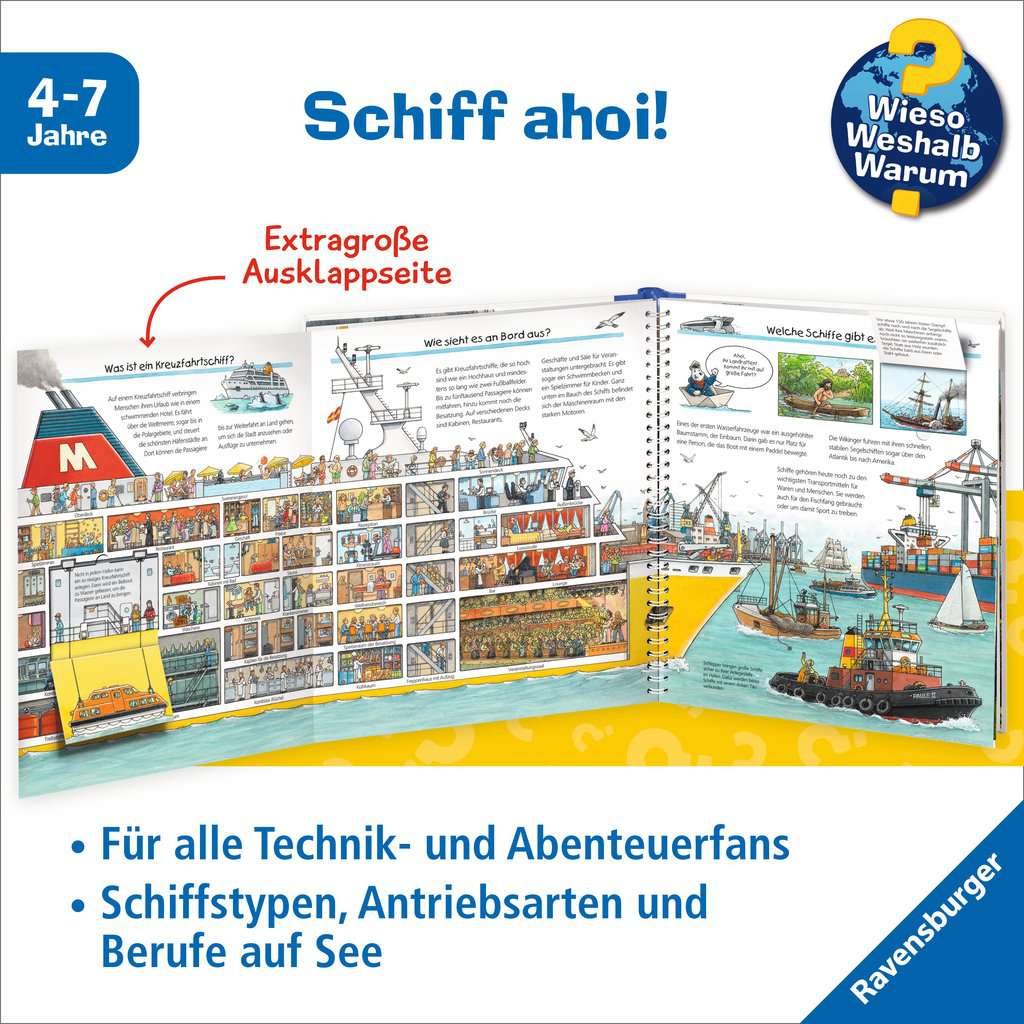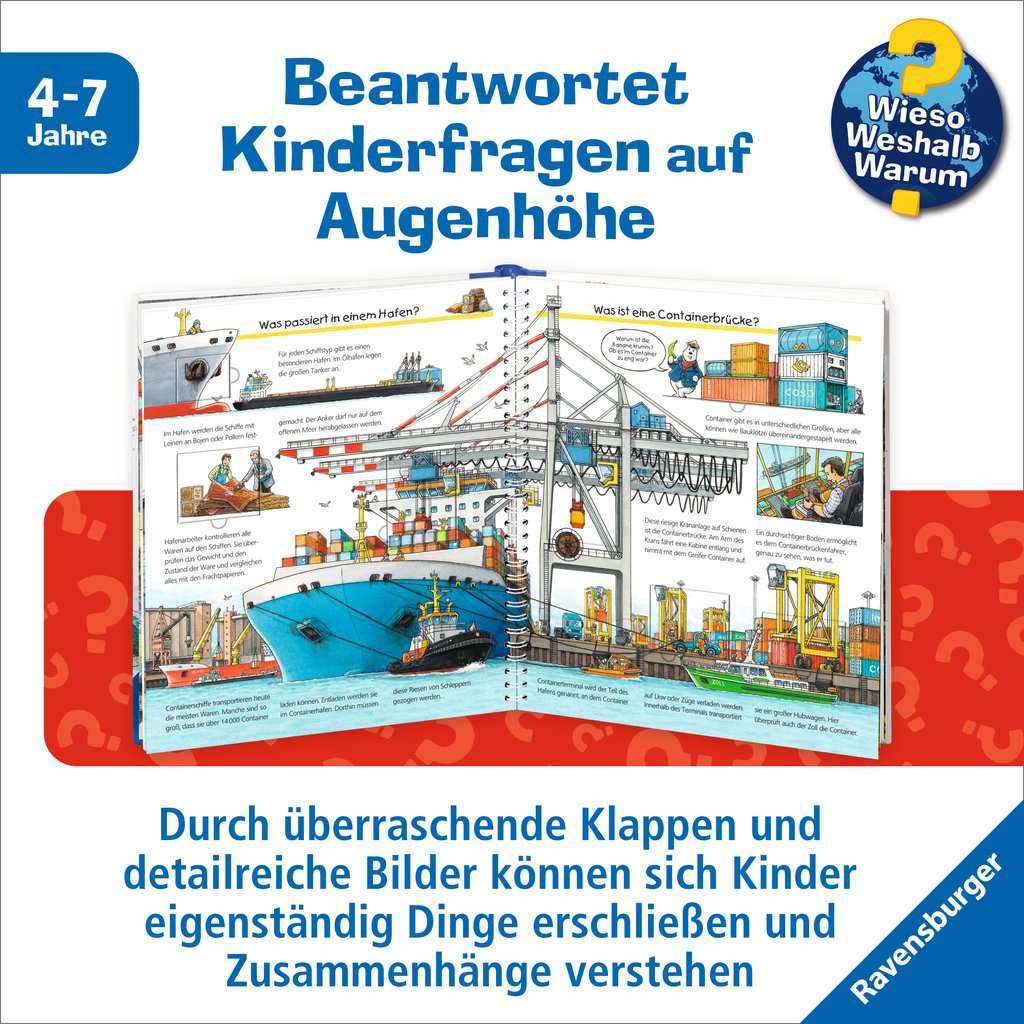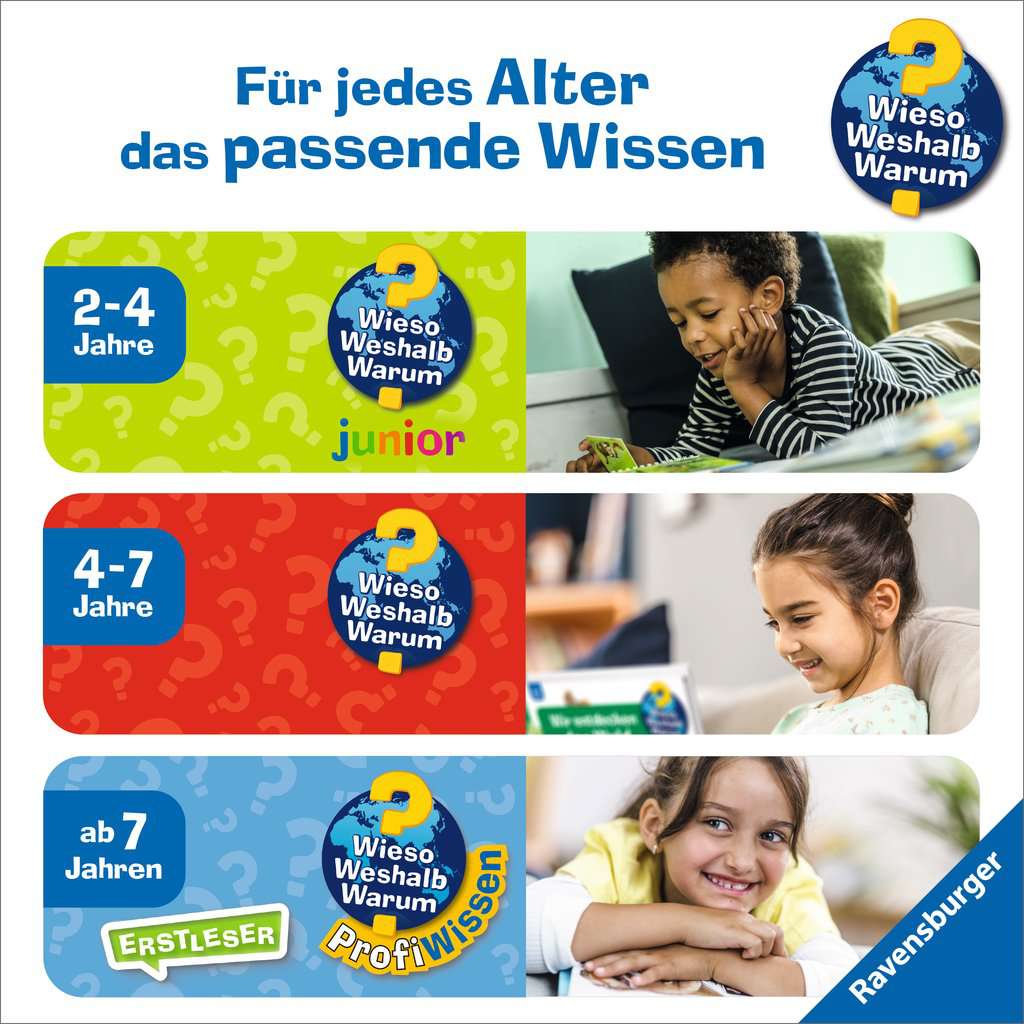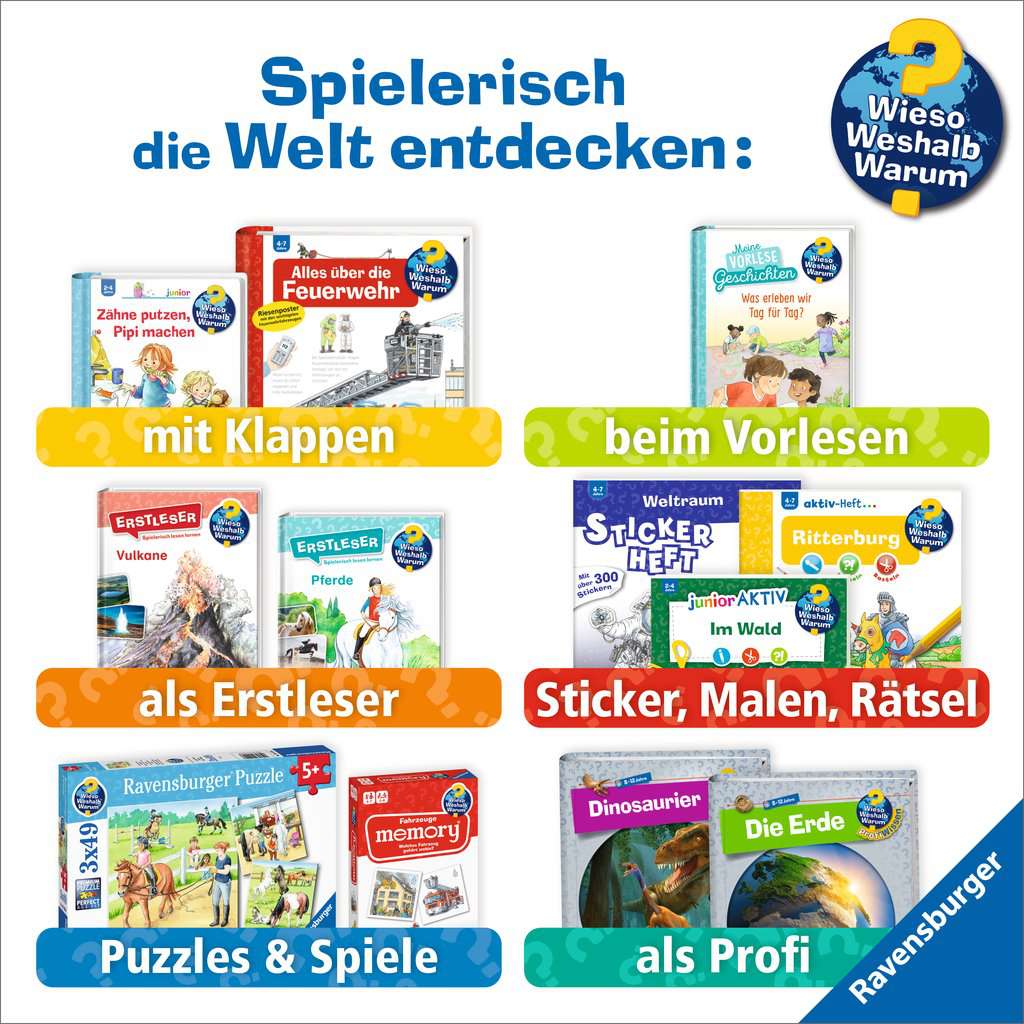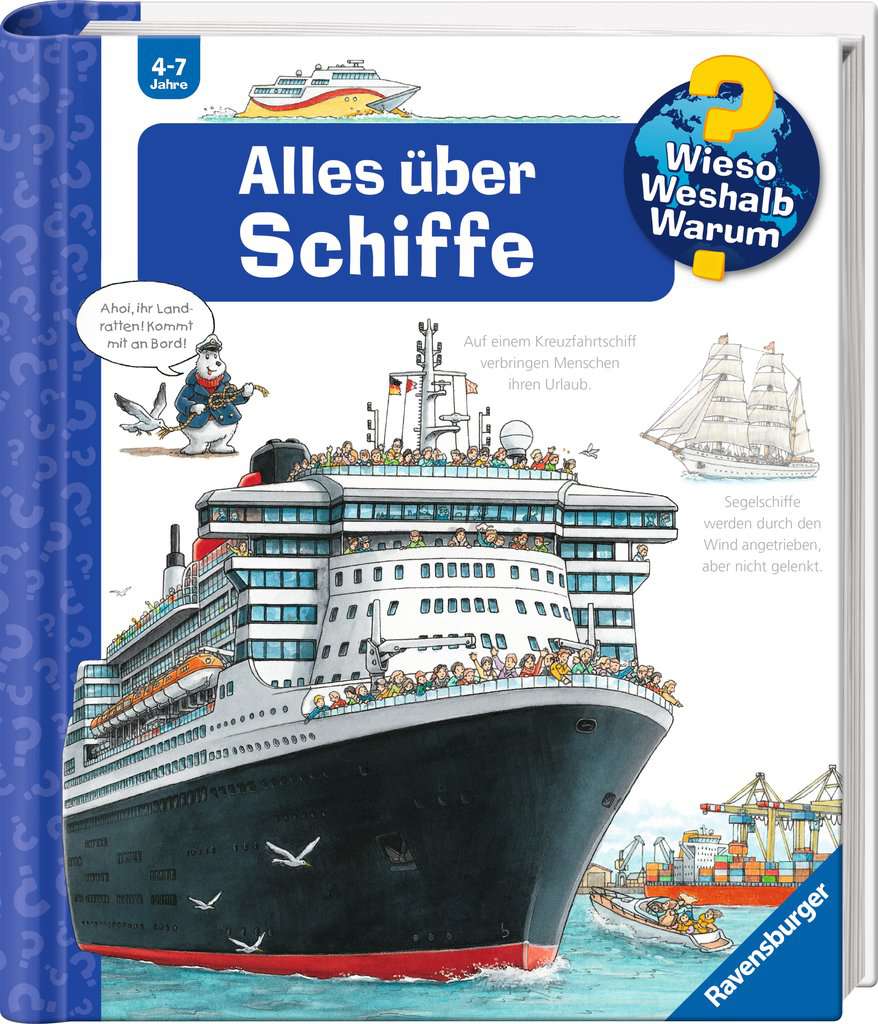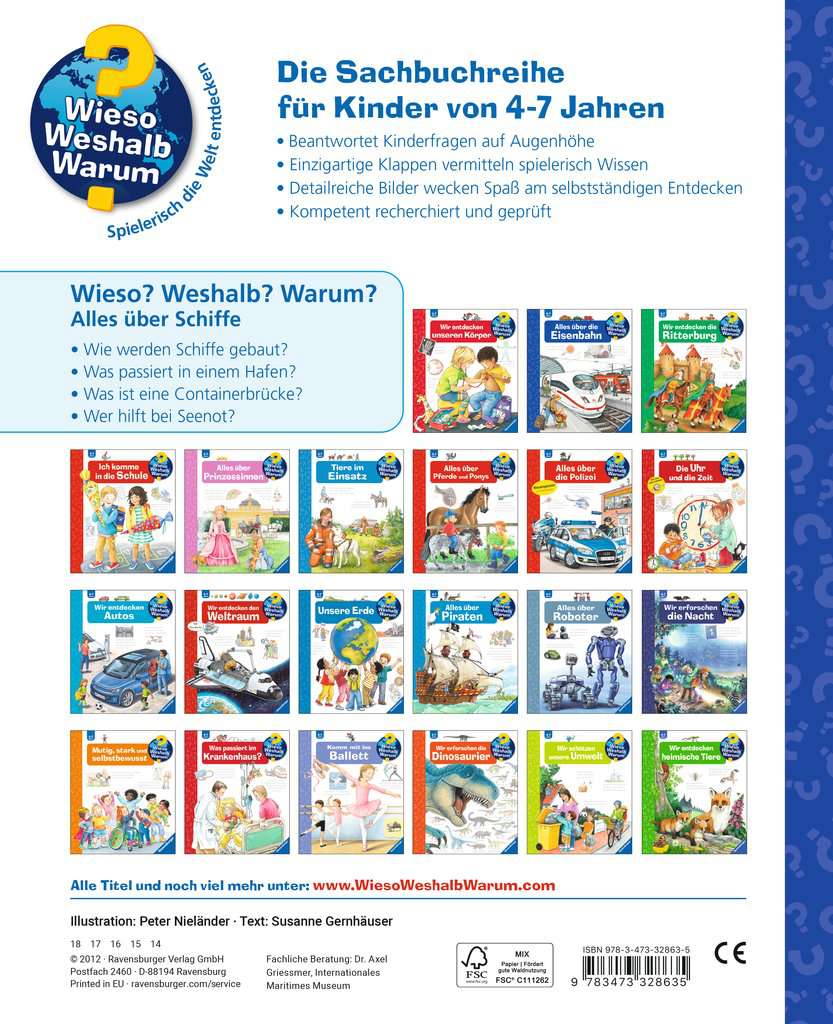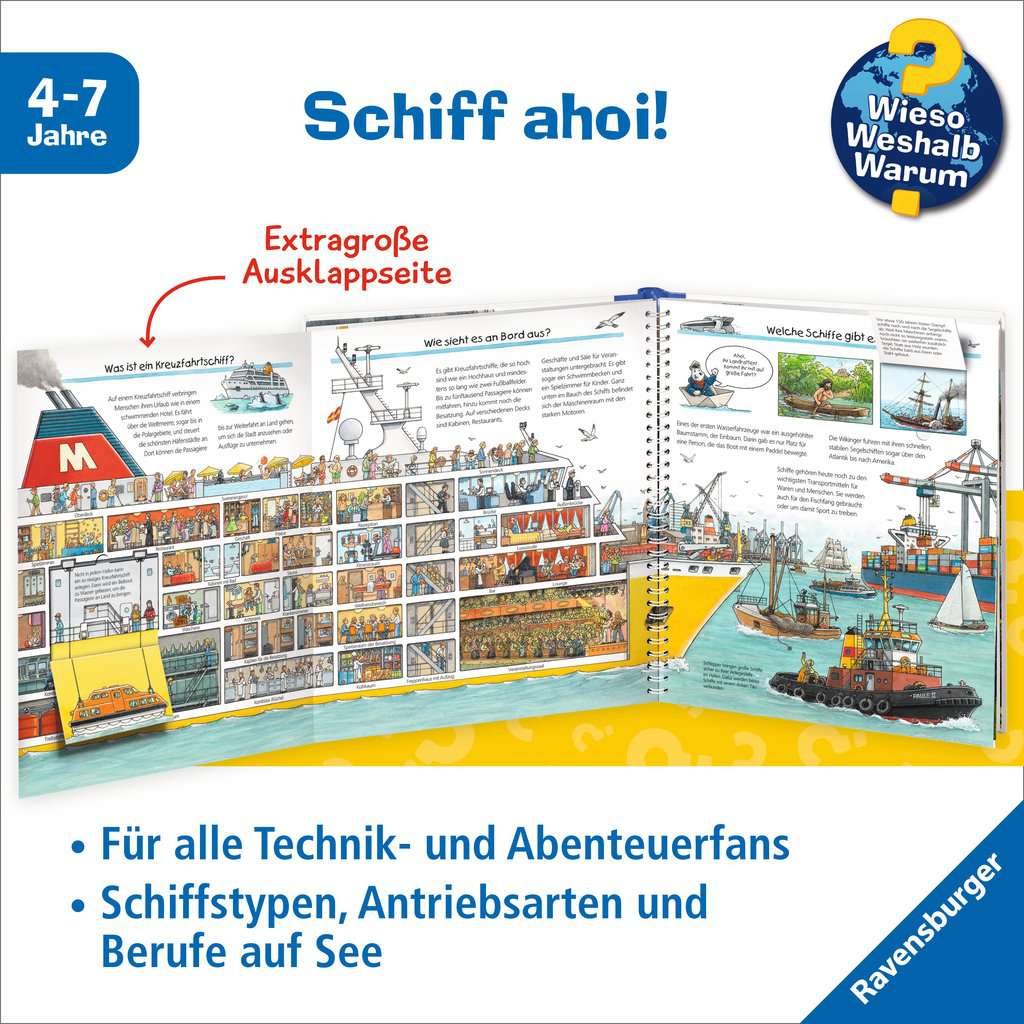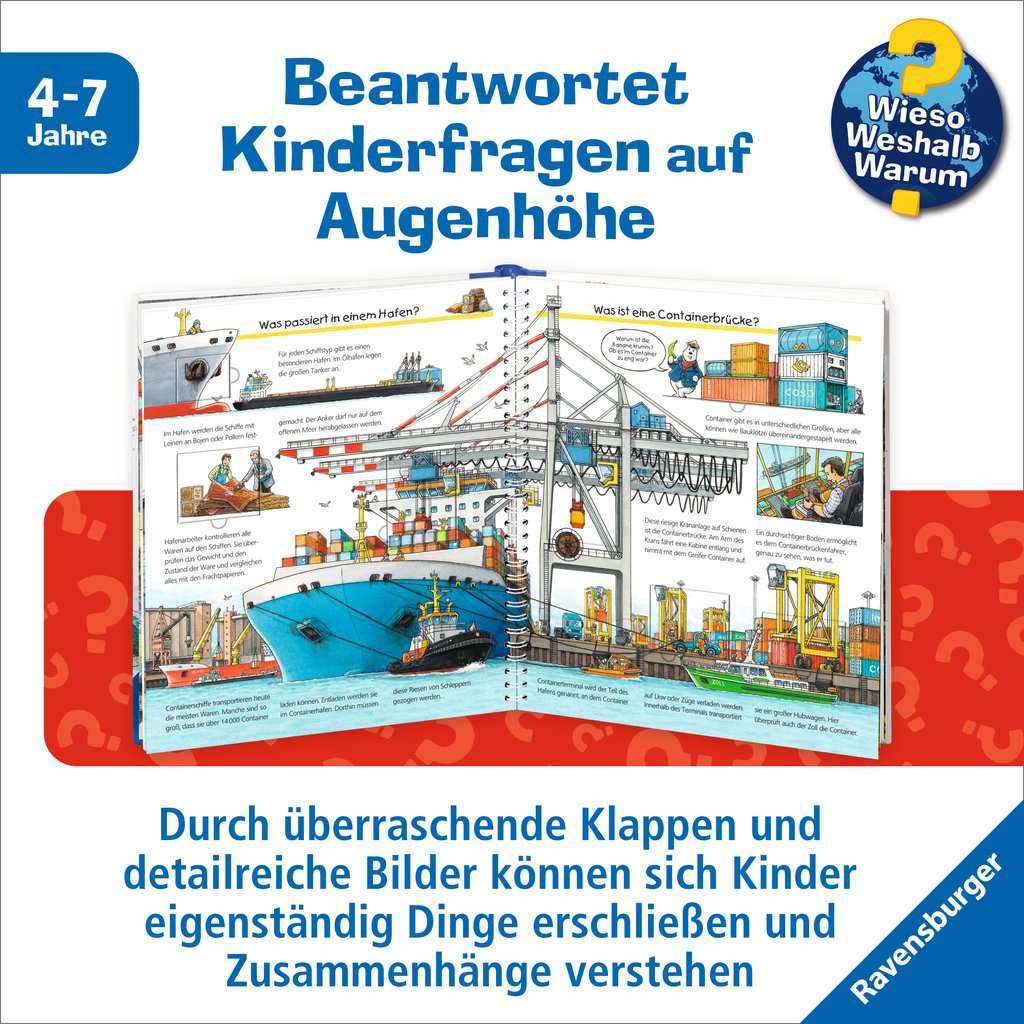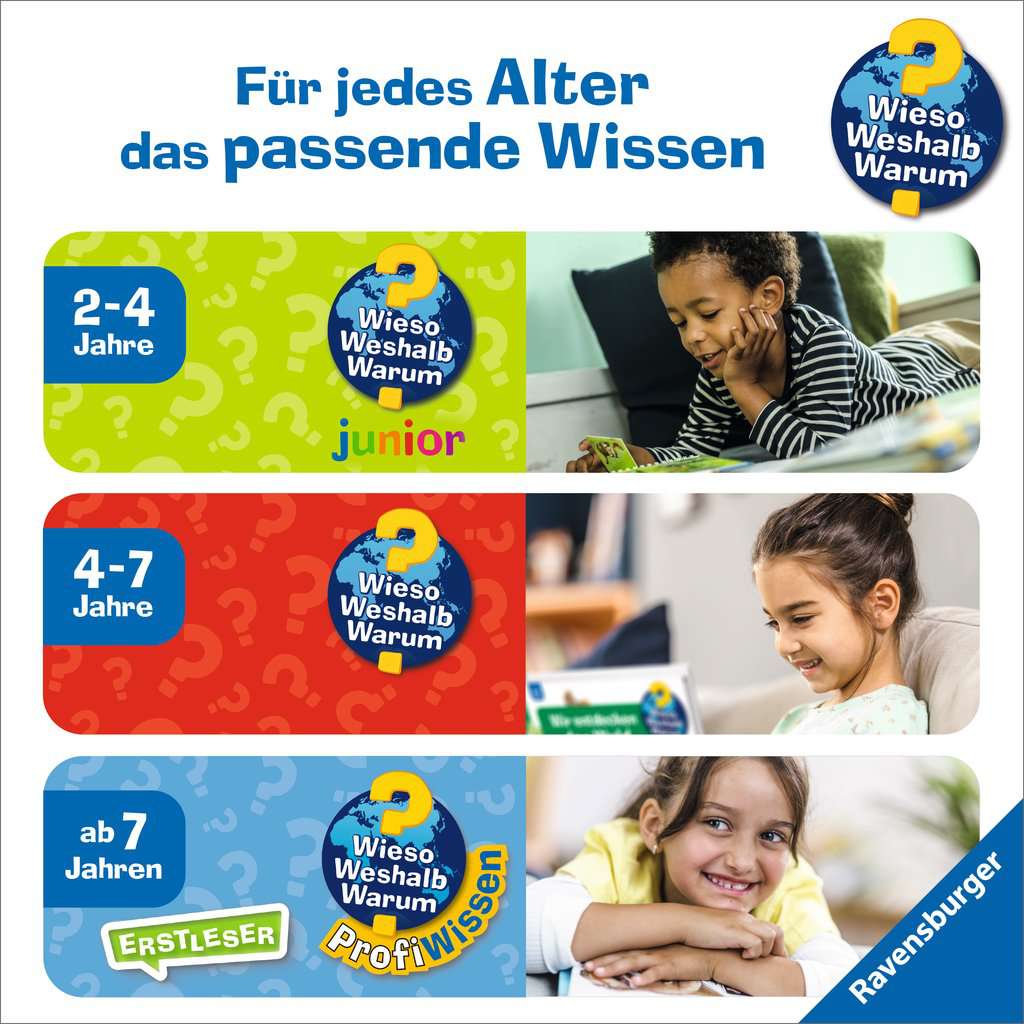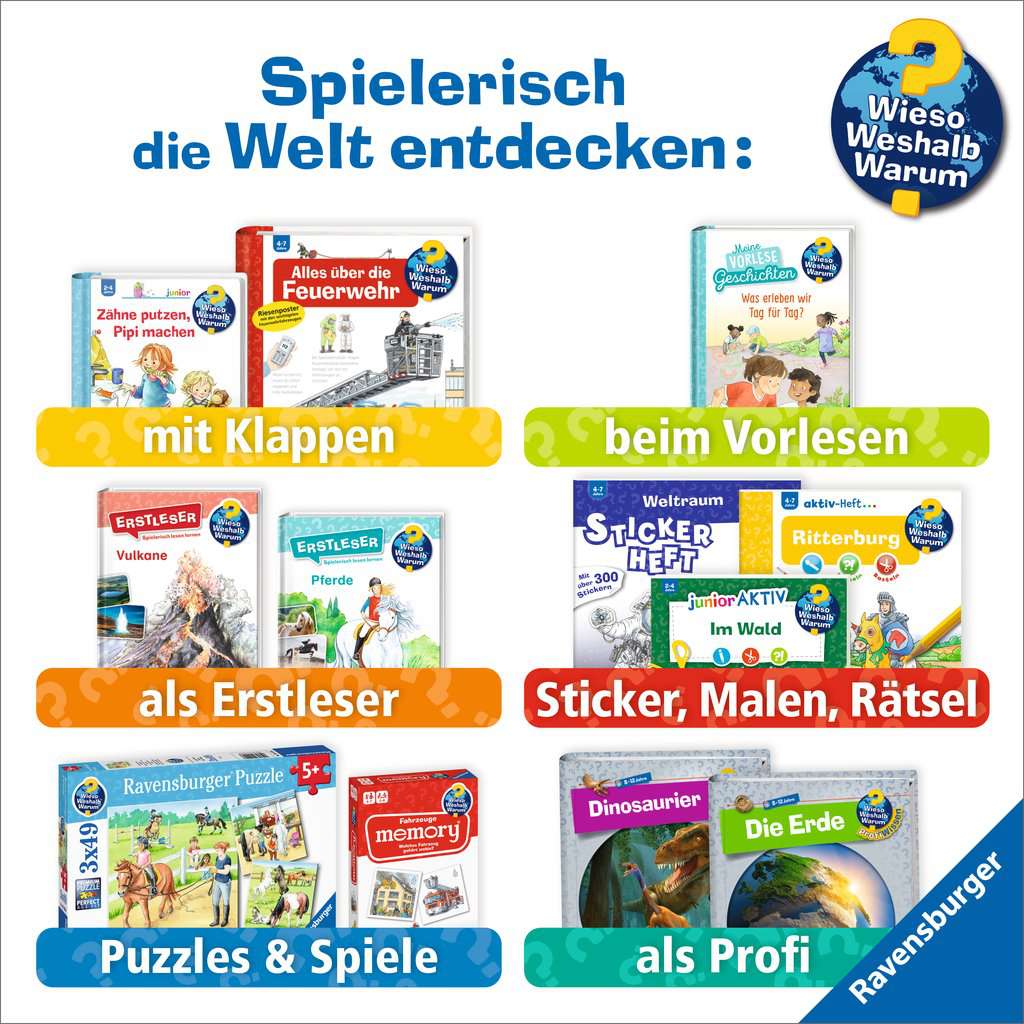 Why? Why? Why? (Vol. 56): All About Ships
Wieso? Weshalb? Warum?, Band 56: Alles über Schiffe
View all books in the series
Sailing vessels and fishing boats, ocean liners and container ships - this book presents a varied mix of technology and adventure all about sea travel.


The WWW series has sold over 11 million copies in Germany

WWW has been translated into 20 other languages

With creative interactive elements, perfect for young, curious minds

16 pp
4 years +
24,5 x 27,8 cm
EUR 14.99
January 2012
Wire-O
978-3-473-32863-5
• With fold-out pages.With flaps.
Content
This book takes a close look at everything that moves through rivers and oceans, from small dinghies and fishing boats to ferries and even ocean liners and container ships.
Why does a boat float? How are ships powered and steered? Who belongs to the crew? Who helps when there are emergencies on the high seas? Generously sized, detailed scenes provide definitive answers to these questions. Readers will learn something about wharfs and container harbors, as well as how ships are baptized and how locks work. To round off the book, the flag alphabet is explained and tying technique for the most important knots are shown. A look at a few special ships and sailors' lore having to do ship's hobgoblins, sea monsters and haunted ships bring the book to a close.
About the Series
The WWW series stands out for its playful, enticing way of conveying just the information that kids want to know. Centered on who-what-how questions, the titles in the series explore subjects of great interest to young children. The thousands of questions children ask daily are answered by means of interactive elements, engaging illustrations, and age-appropriate texts. Because the lively illustrations convey so much, the books hold children's interest even without an adult to read the clear, friendly texts. WWW is ideally suited for preschool and kindergarten ages, for children 4 to 7 years old.
The Author
Susanne Gernhäuser studied German and history in Stuttgart, where she worked at a historical institute, published articles and contributed articles to textbooks while still a student. She currently edits scholarly series.
The Illustrator
Peter Nieländer was born in 1969 and studied design at University. Today he works free lance as an independant illustrator and grafic designer for various advertising agencies and publishers. He works with two other grafic designers in a large studio loft in the old freight station in Münster. In his illustrations, Peter Nieländer tries to capture momentary shots with which he hopes to entertain the reader and observer enjoyably.
Rights Sold
Czech, Danish, Hungarian, Russian (worldwide), Turkish