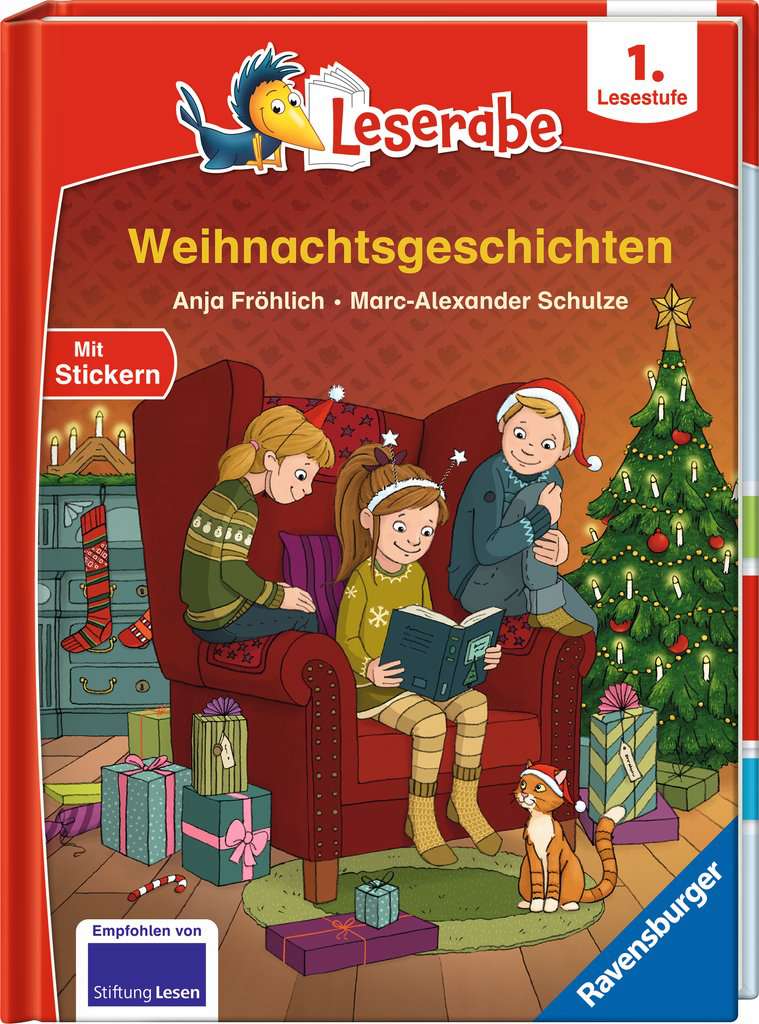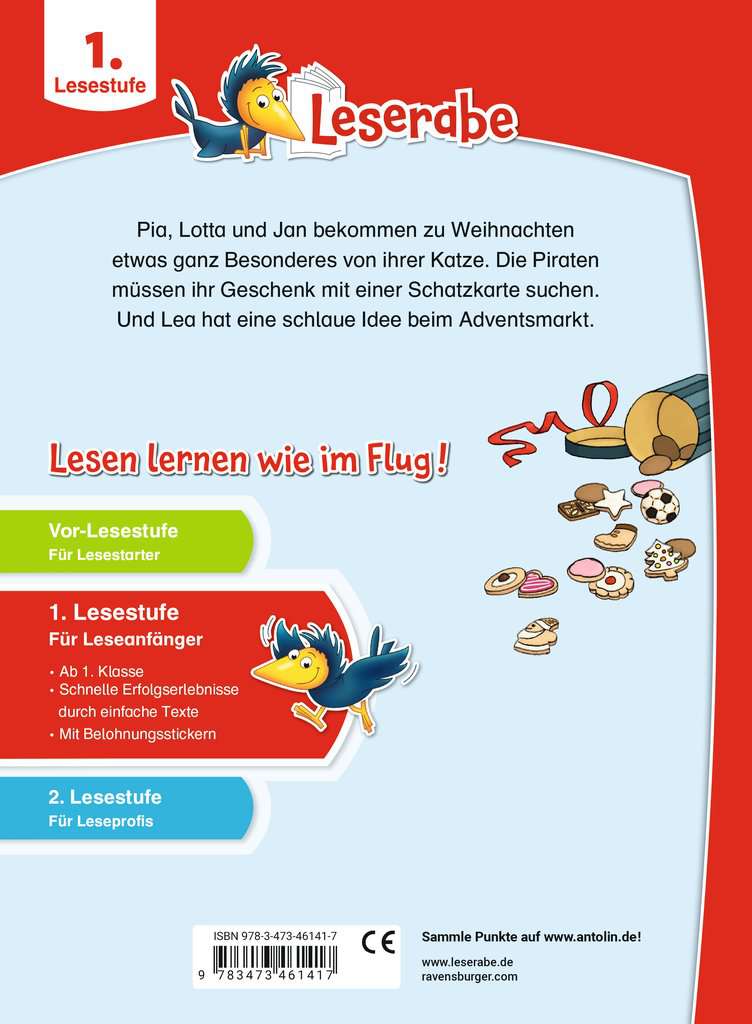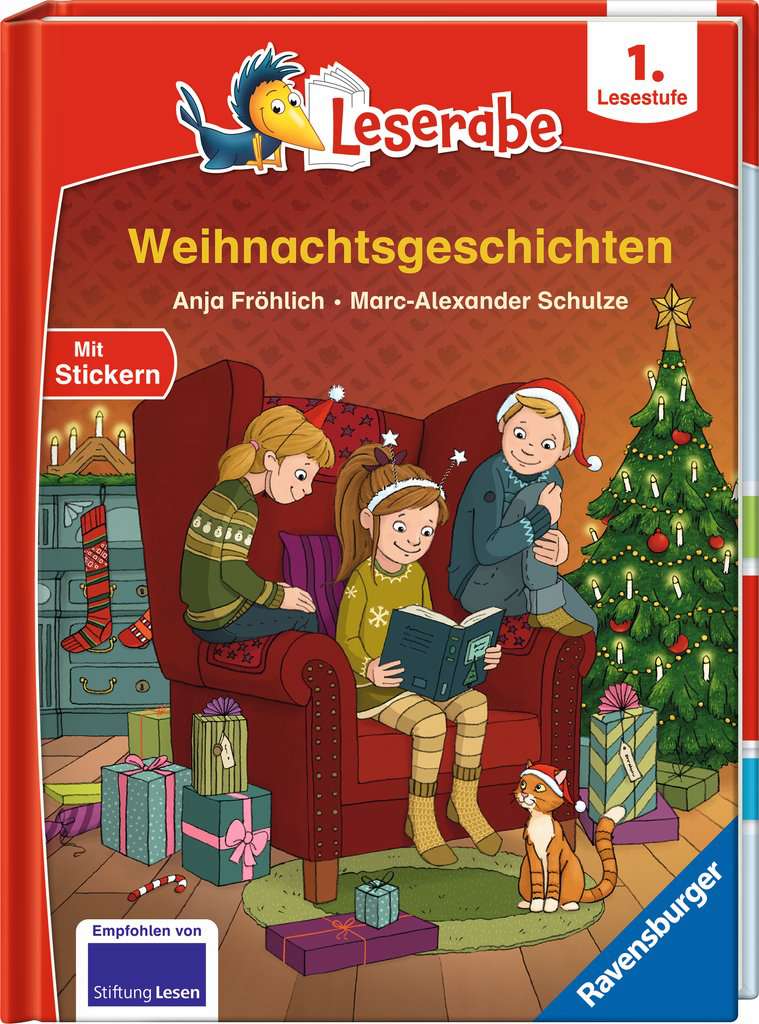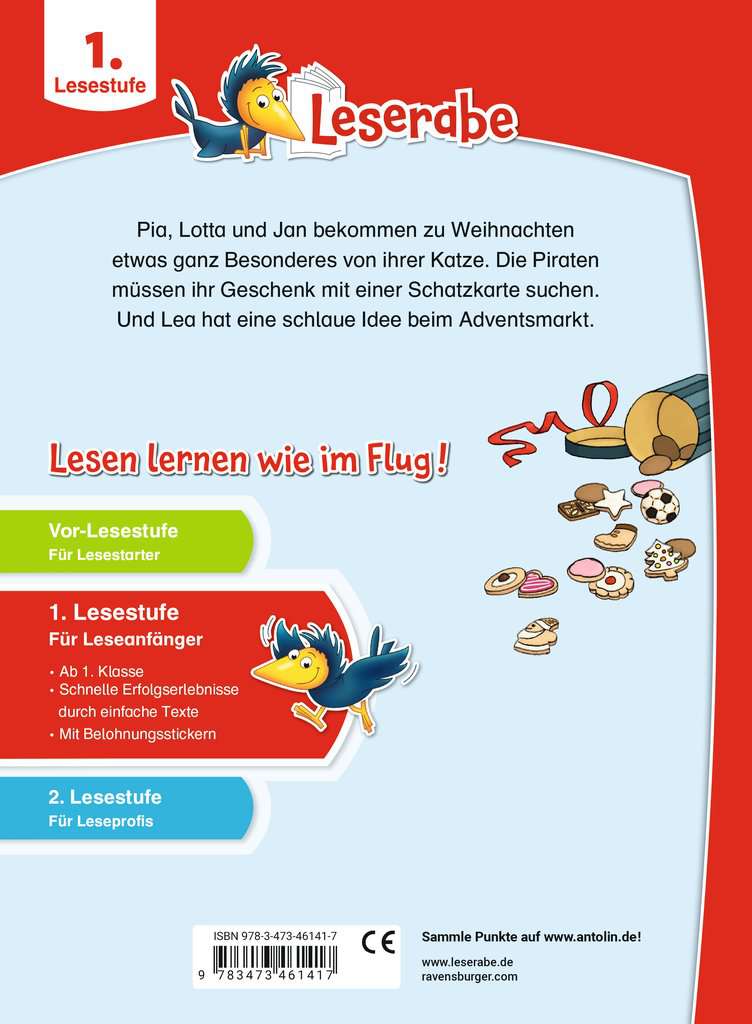 Reading Raven – Level 1: Christmas Stories
Leserabe - 1. Lesestufe: Weihnachtsgeschichten
View all books in the series
Learning to read in no time!


1st grade and up

Simple texts provide an immediate sense of achievement

Includes reward stickers

48 pp
6 years +
17,6 x 24 cm
EUR 8.99
May 2023
Hardcover
978-3-473-46141-7
• With stickers.
Content
With four festive stories, this book provides plenty of anticipation in the lead-up to Christmas. Miss Fluffy, the cat, is causing a lot of excitement on Christmas Eve. Pirate Lilly's treasure hunt leads her to a very special surprise. Taner's gift idea astonishes his parents. And thanks to Lea's clever idea, the advent market is a big success.
About the Series
The Reading Raven series is designed to encourage beginning readers by providing fun and exciting stories at each ability level, from their first efforts at reading alone to more advanced chapter books Each Reading Raven book includes reading riddles, puzzles to solve using information in the story. This is a fun way to check how well children understand what they read. The first level features short texts with lots of pictures that provide clues to the story's meaning. These books are written in extra-large print. When children are ready for longer stories, the second level of Reading Raven offers short chapter books, also in large print with illustrations that help readers follow the text. The third level is for readers who are becoming proficient, with longer chapters and increasingly complex stories, but still with accompanying pictures and highly readable print.
The Author
Anja Fröhlich has been writing children's books for twenty years and loves marvelling at things for professional reasons alone. Since her son is grown and her husband is a travel journalist, she gets the chance to do that in the remotest regions of the world – just like the donkey and the squirrel. But Anja enjoys being home in Cologne just as much, where she has lived since studying film studies, art history and psychology.
The Illustrator
Marc-Alexander Schulze studied Illustration and Communication Design in Hamburg. He gained experience in a publishing group and since 2004 has been a freelance illustrator for various publishers and agencies.