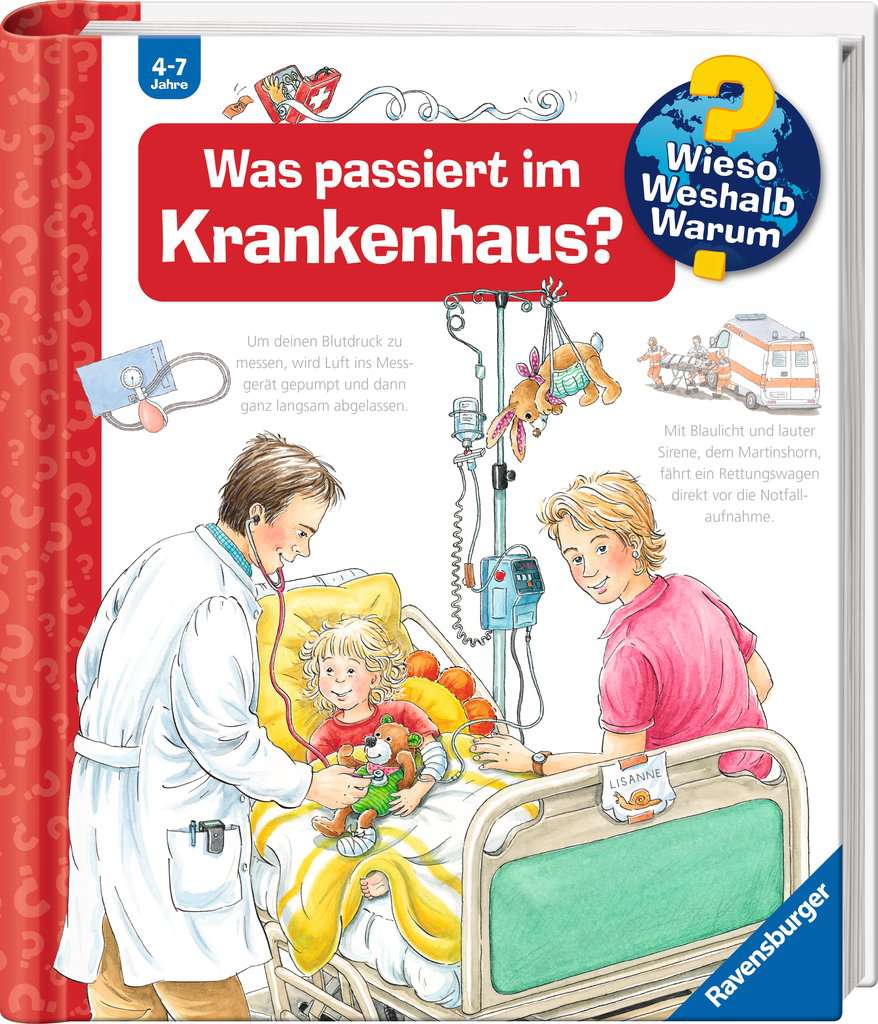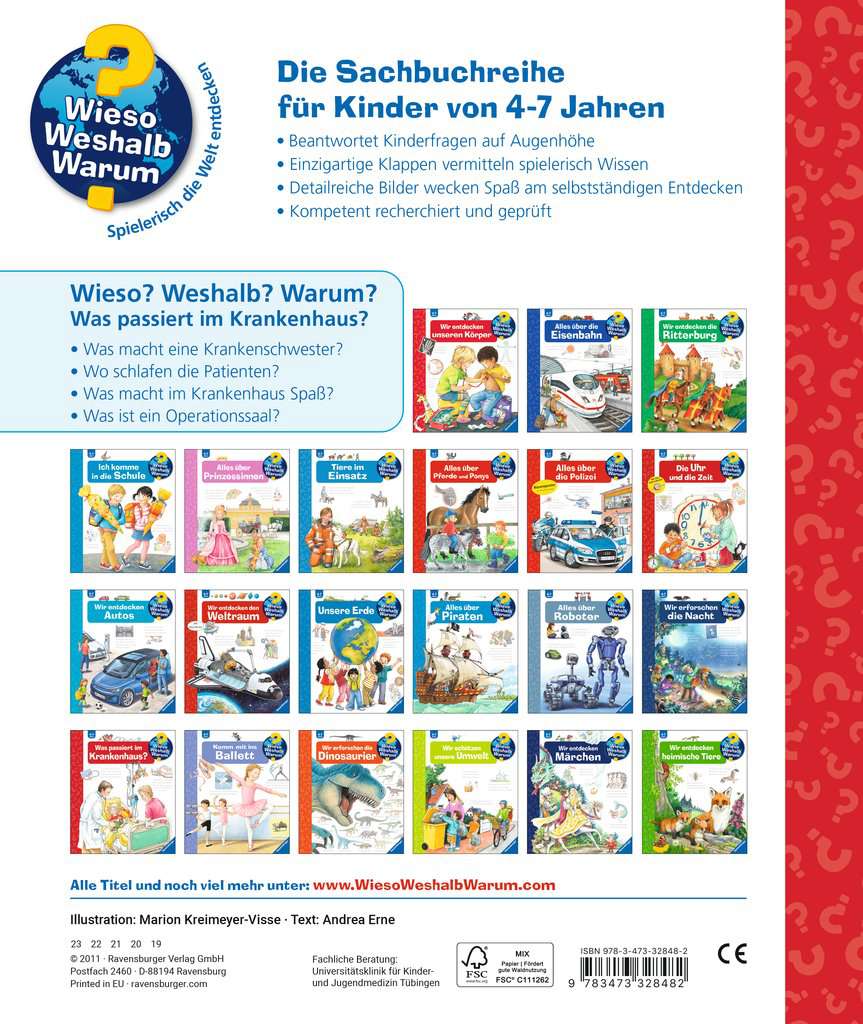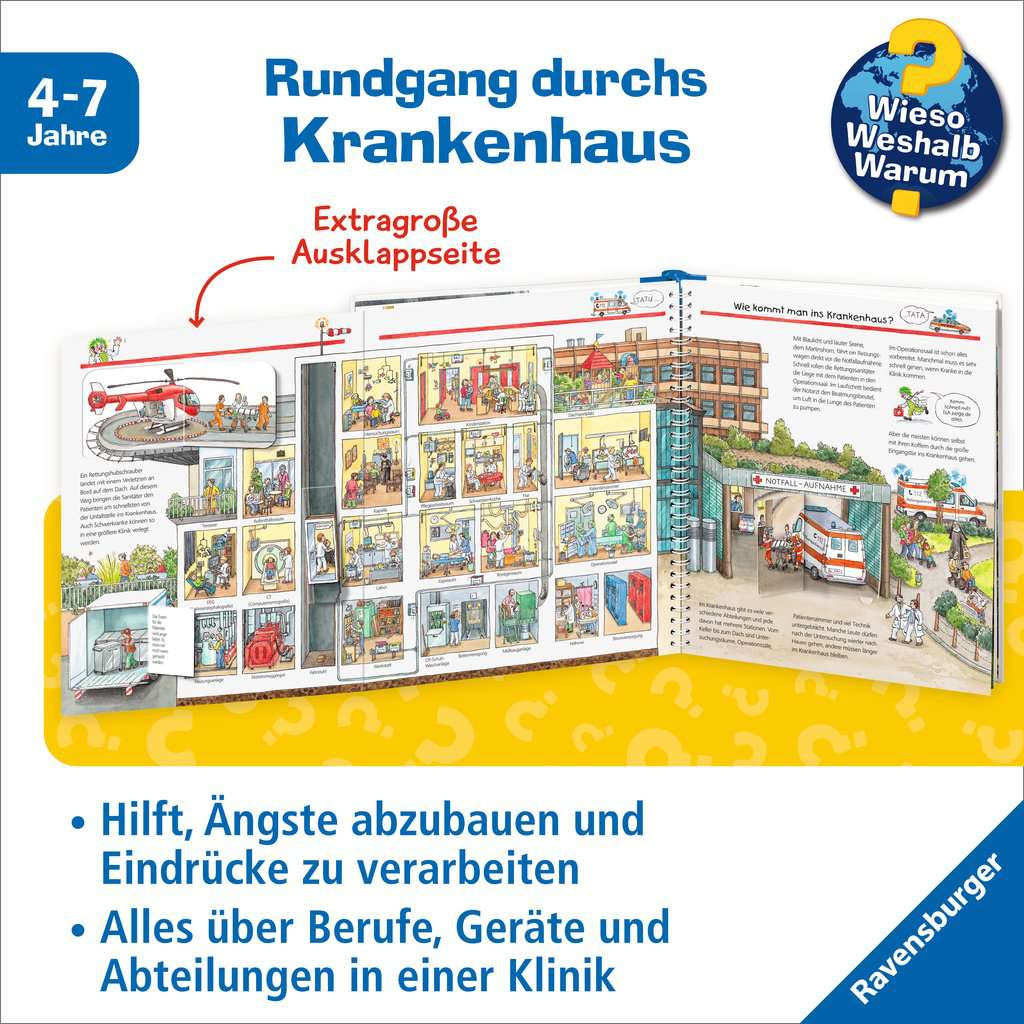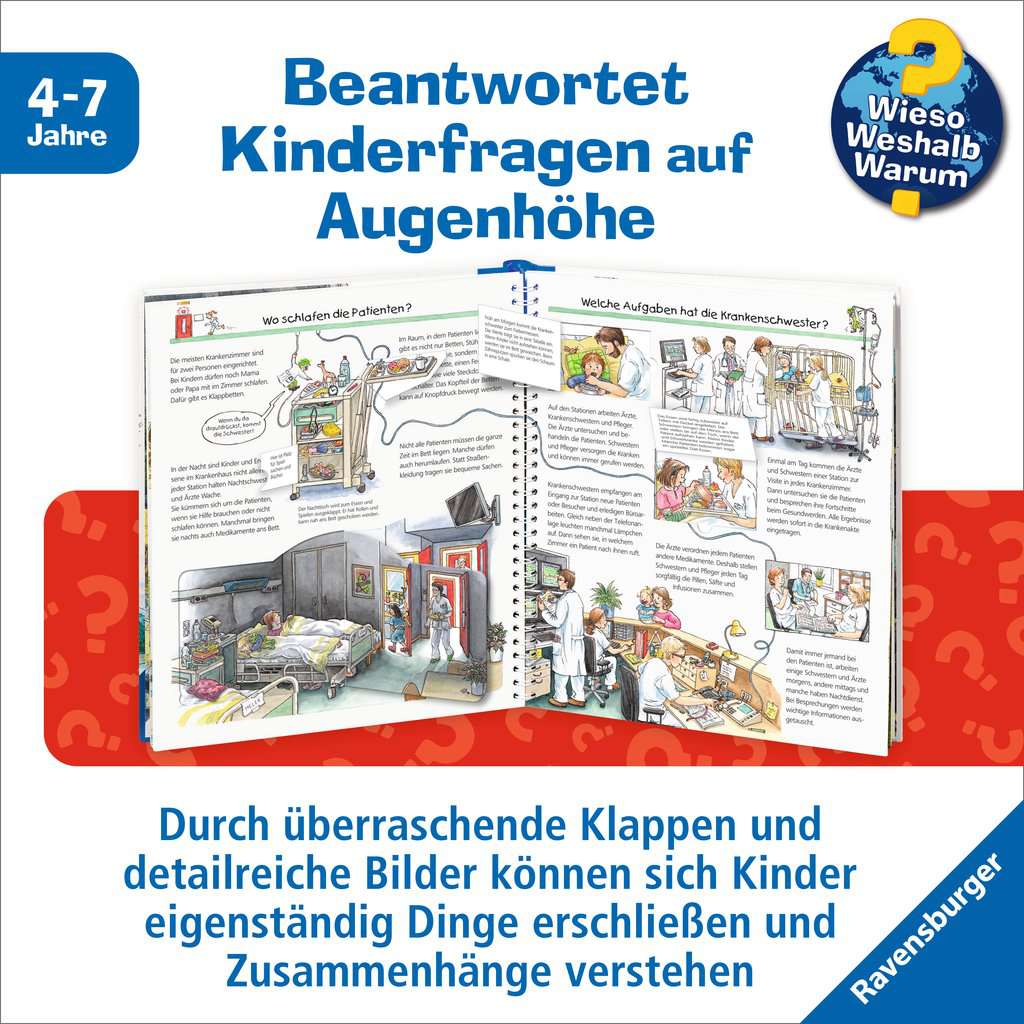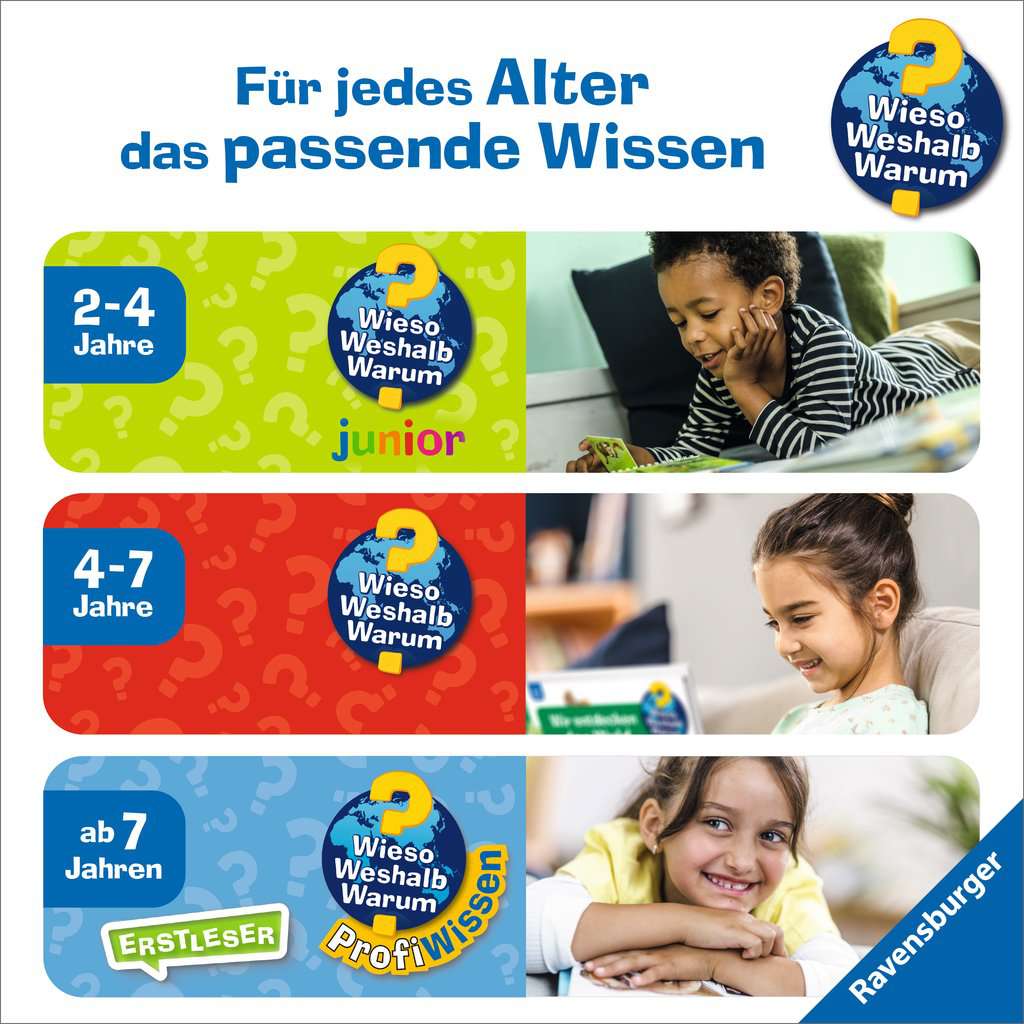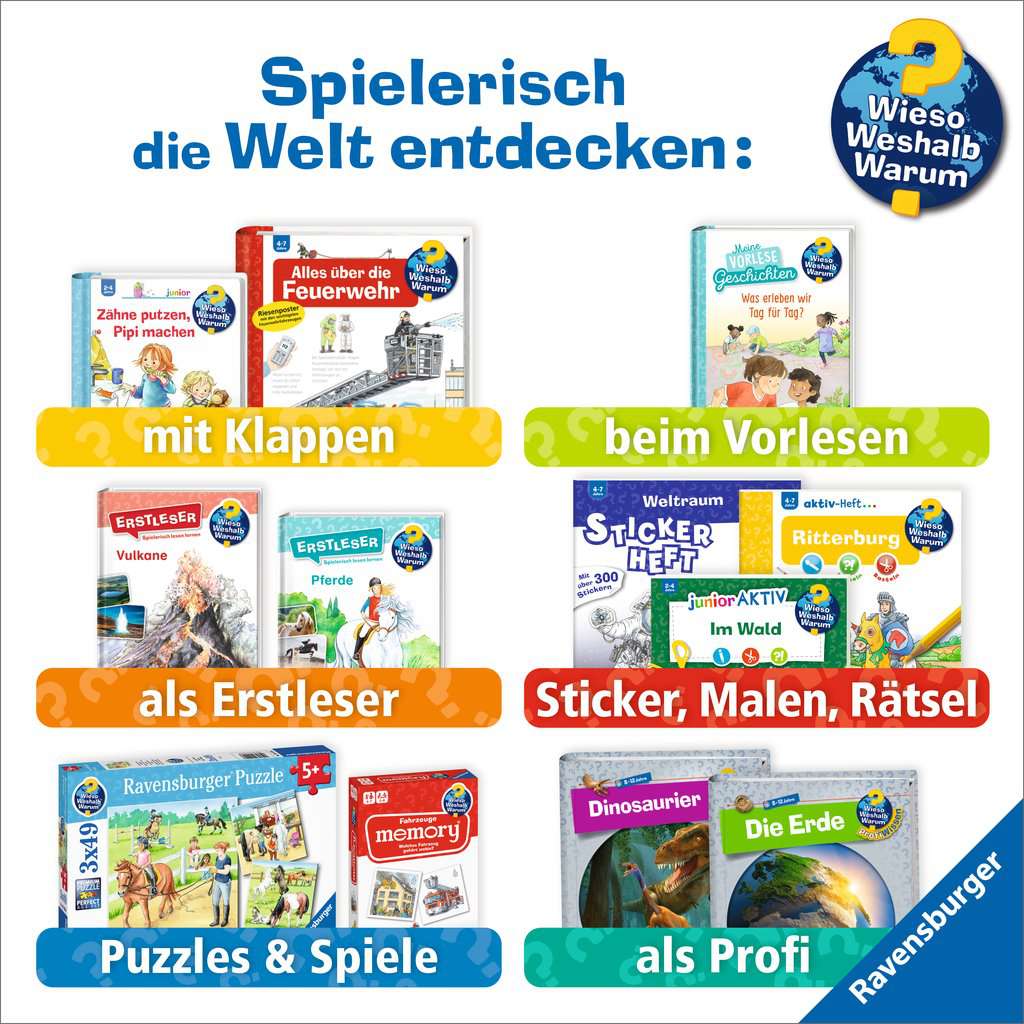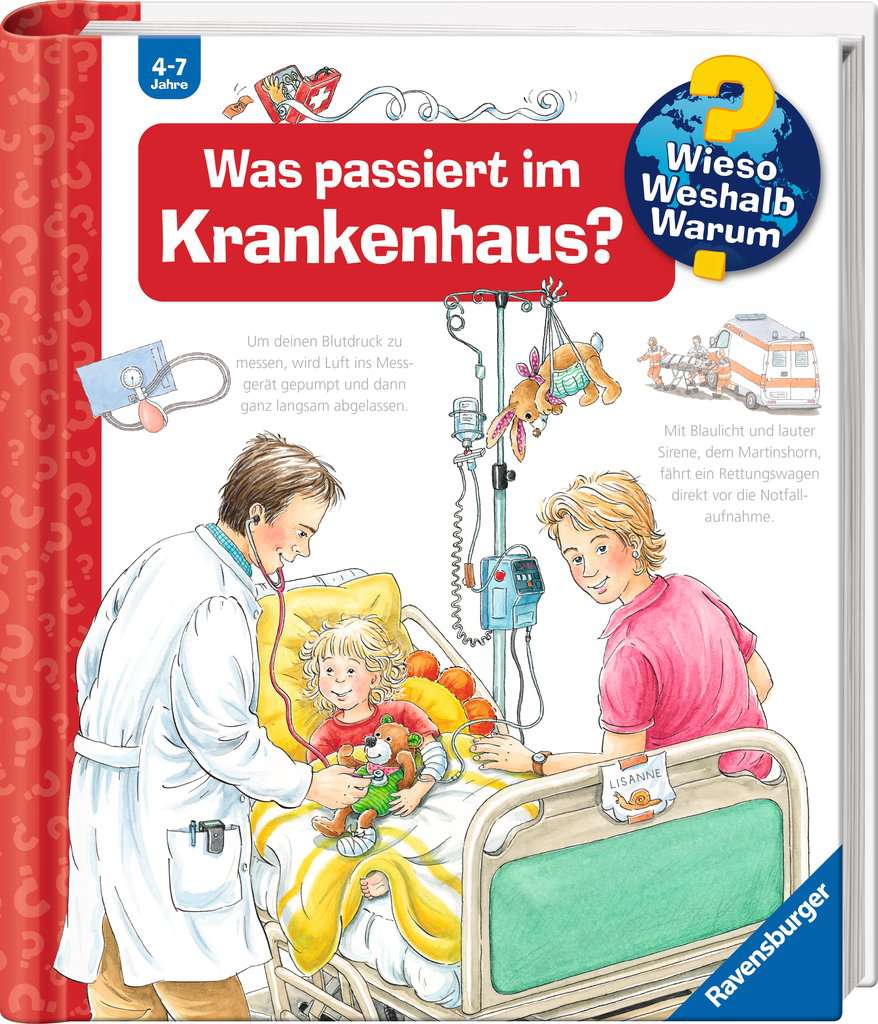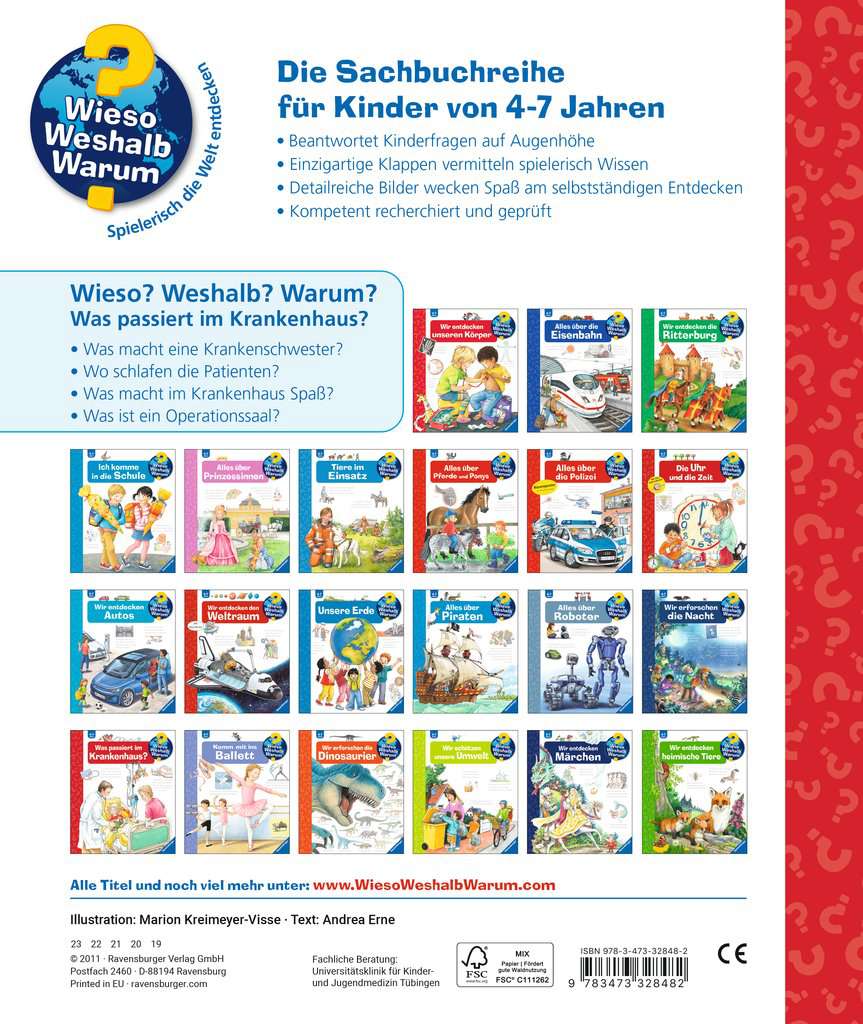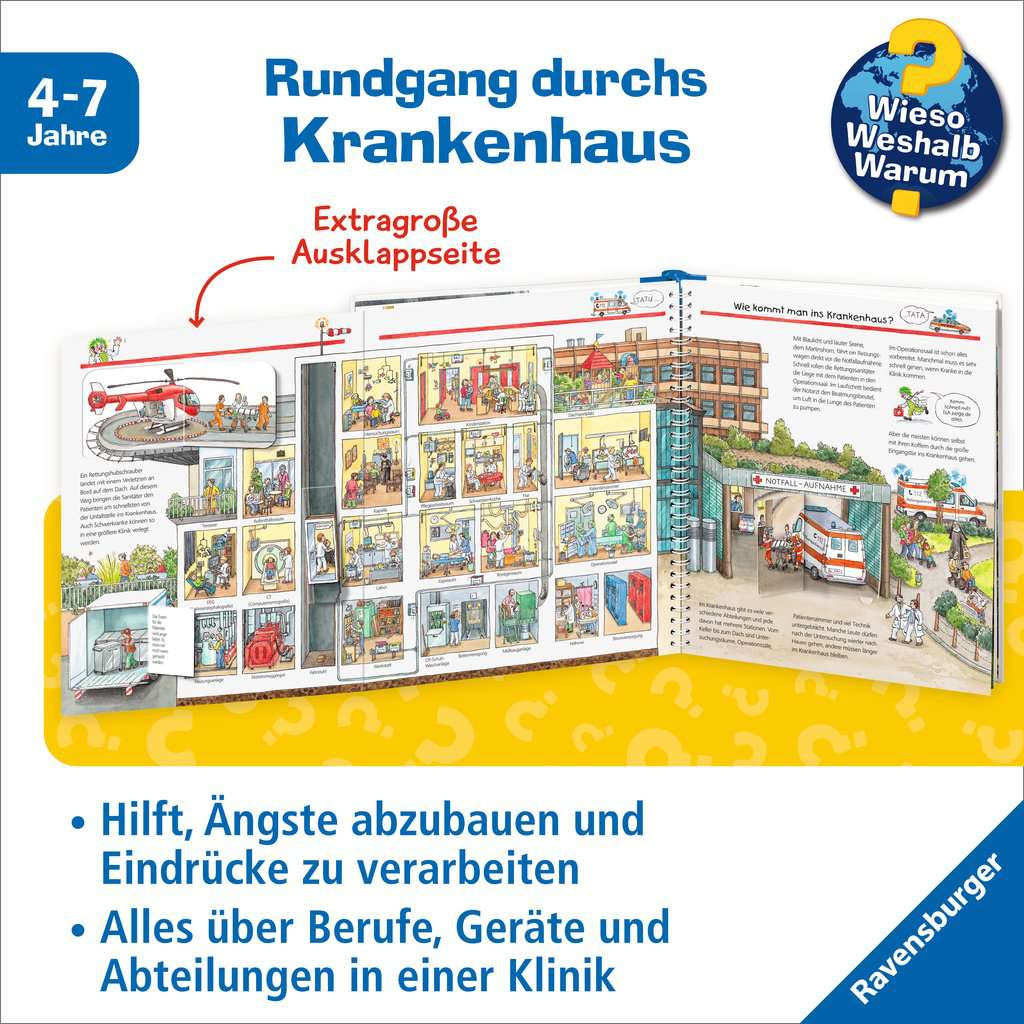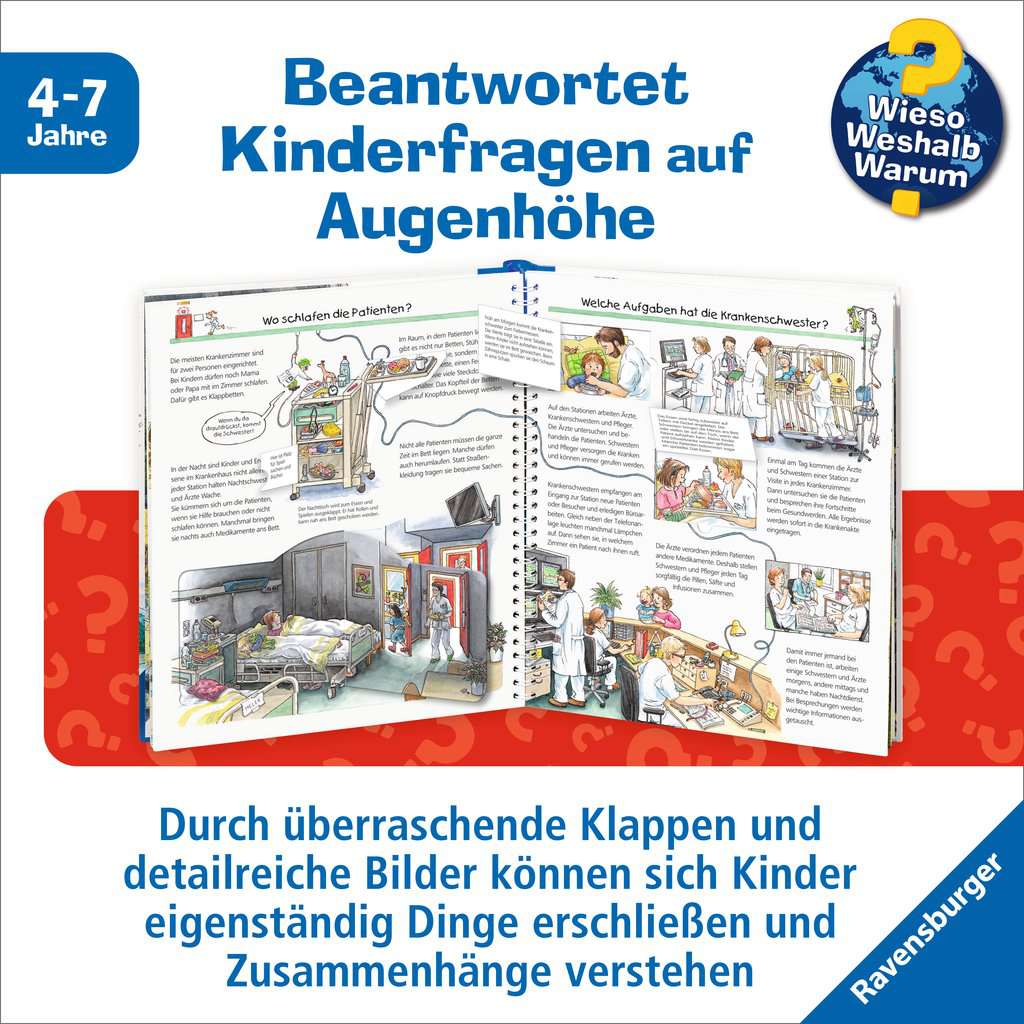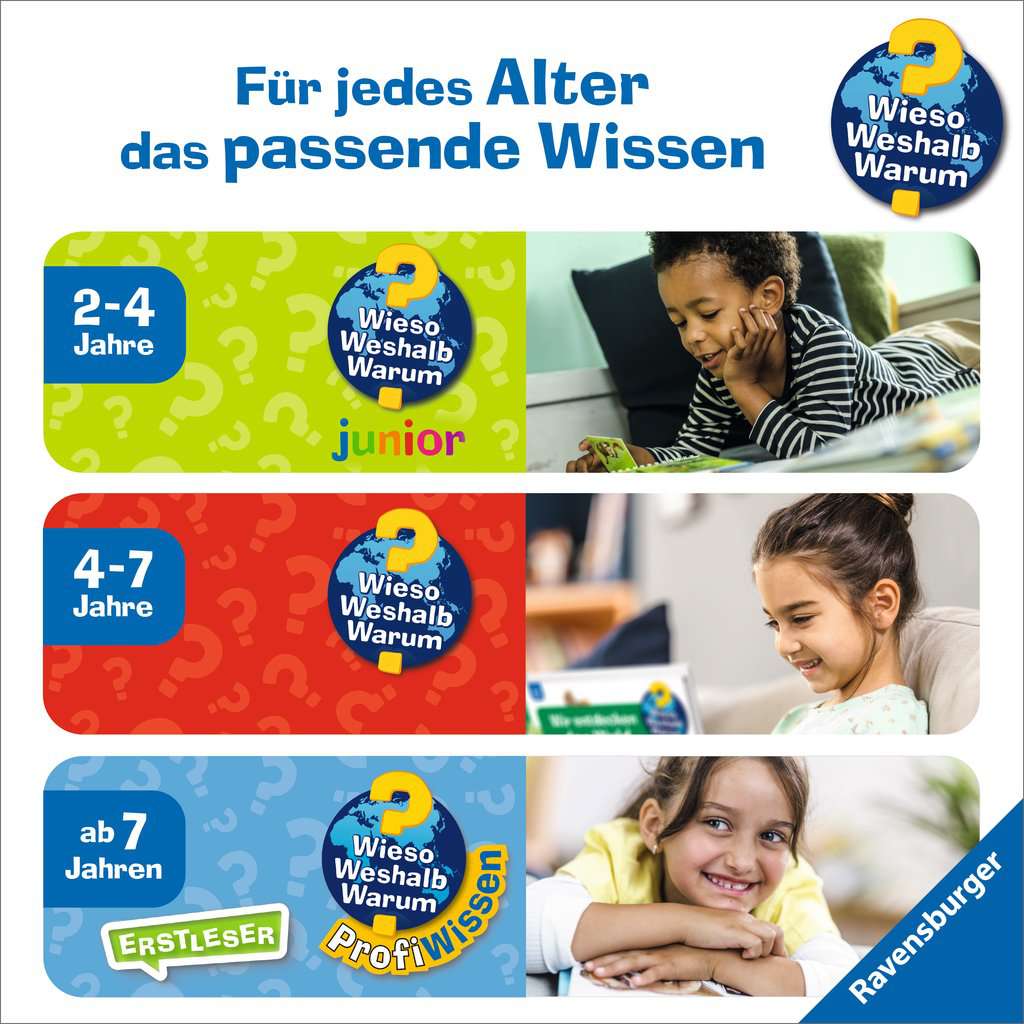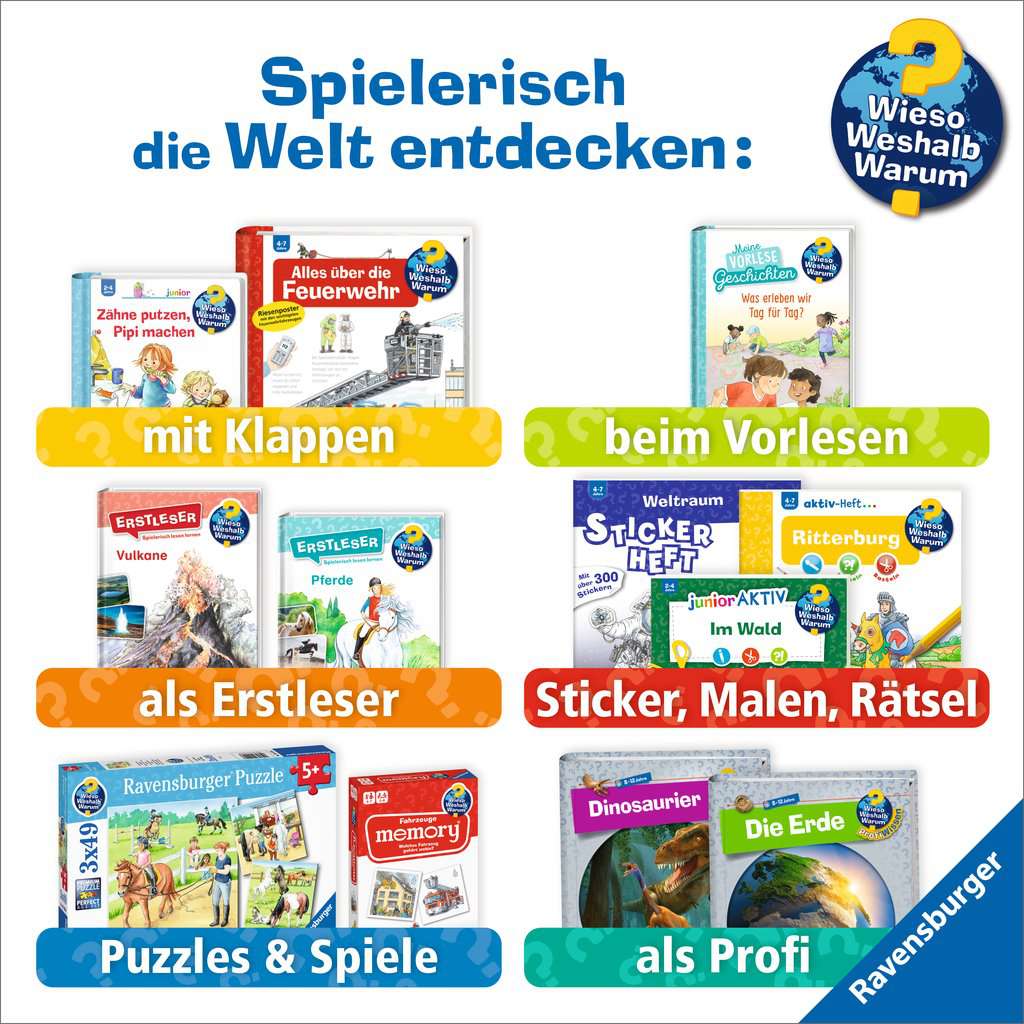 Why? Why? Why? (Vol. 53) What Happens in the Hospital?
Wieso? Weshalb? Warum?, Band 53: Was passiert im Krankenhaus?
View all books in the series
Ambulances, nurses, doctors, patients, operating rooms and so much more - in this book, children learn everything there is to know about hospitals. Each foldout page shows a detailed cross section of the different rooms and departments inside a hospital.


The WWW series has sold over 11 million copies in Germany

WWW has been translated into 20 other languages

With creative interactive elements, perfect for young, curious minds

16 pp
4 years +
24,5 x 27,8 cm
EUR 14.99
January 2011
Wire-O
978-3-473-32848-2
• With flaps and half-punchings.With fold-out pages.
Content
Doctors, nurses and many other people work in a hospital. Patients stay there for a little while, and there are lots of interesting machines to find out about. The exploration begins with an expansive foldout page showing a detailed cross section of a hospital. What happens during a patient's initial examination? What does a hospital room look like? What kind of work do nurses do during the day and the night? Visits to the operating room and newborn nursery are also included.
Children are never bored when they are in the hospital. There are playrooms and even a hospital school. Children who are very ill can have lessons in bed. There are plenty of visitors, too - sometimes even clowns pay a call!
This book introduces many different medical professions and looks in on various departments of a hospital, including those rarely seen, such as the bed disinfecting station in the hospital basement. By the end of the book, young readers even learn how they can provide first aid, and how best to comfort an ailing friend.
Throughout the book, the subject of hospitals is treated with feeling and sensitivity, taking into account the fears and insecurities of young patients.
About the Series
The WWW series stands out for its playful, enticing way of conveying just the information that kids want to know. Centered on who-what-how questions, the titles in the series explore subjects of great interest to young children. The thousands of questions children ask daily are answered by means of interactive elements, engaging illustrations, and age-appropriate texts. Because the lively illustrations convey so much, the books hold children's interest even without an adult to read the clear, friendly texts. WWW is ideally suited for preschool and kindergarten ages, for children 4 to 7 years old.
The Author
Andrea Erne was born in 1958 in Stuttgart, Germany. She studied German, politics and cultural studies and began her career as an editor for a daily newspaper. She then moved to a large children's book publisher, and later began working freelance as an editor and author for book publishers and newspapers.
The Illustrator
Marion Kreimeyer-Visse was born in 1964 in Northrhine-Westphalia, Germany. She studied graphic design with an emphasis on book illustration at the technical university in Münster. She has been a freelance illustrator of children's books since 1991, working with a number of publishers of textbooks and children's books. Marion Kreimeyer-Visse lives with her husband and two children near Münster. With her pictures, she would like to "answer children's myriad questions about everyday life and provide them great pleasure in observing and discovering."
Rights Sold
Castillian, Danish, Hungarian, Korean, Polish, Romanian, Spanish (Latin America, Spain), Turkish