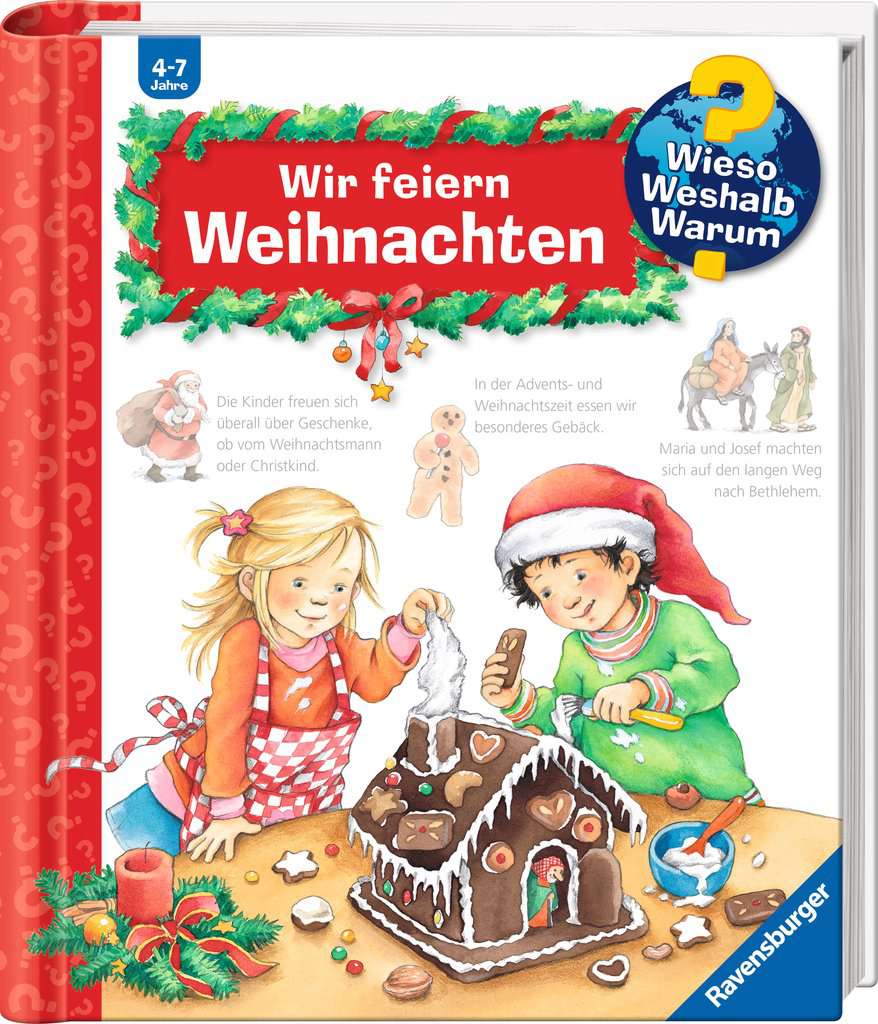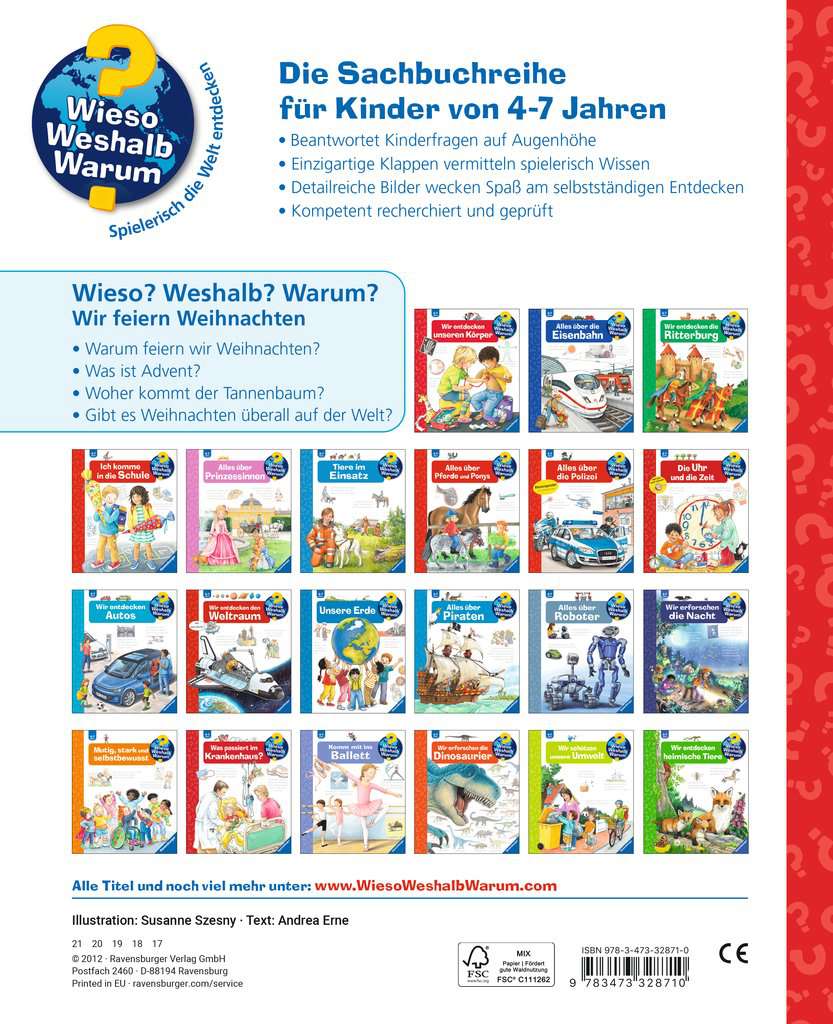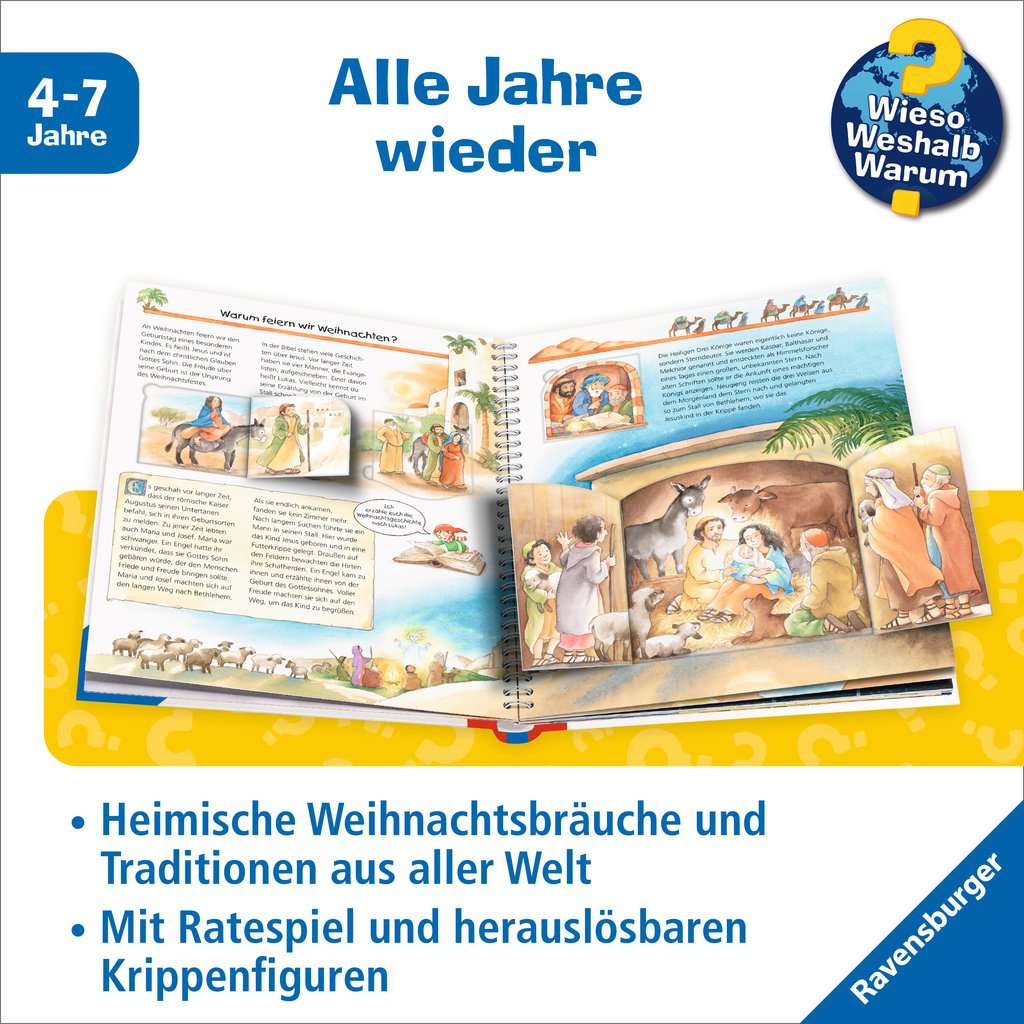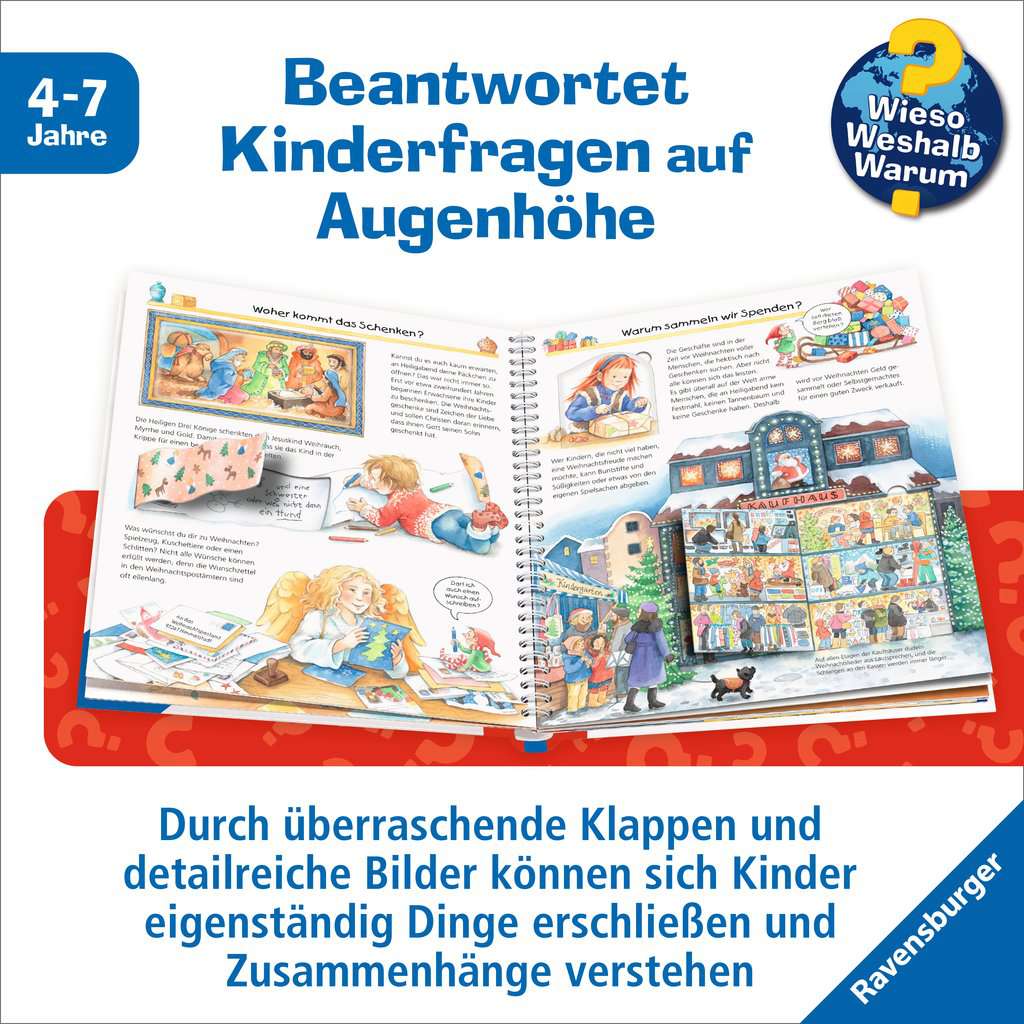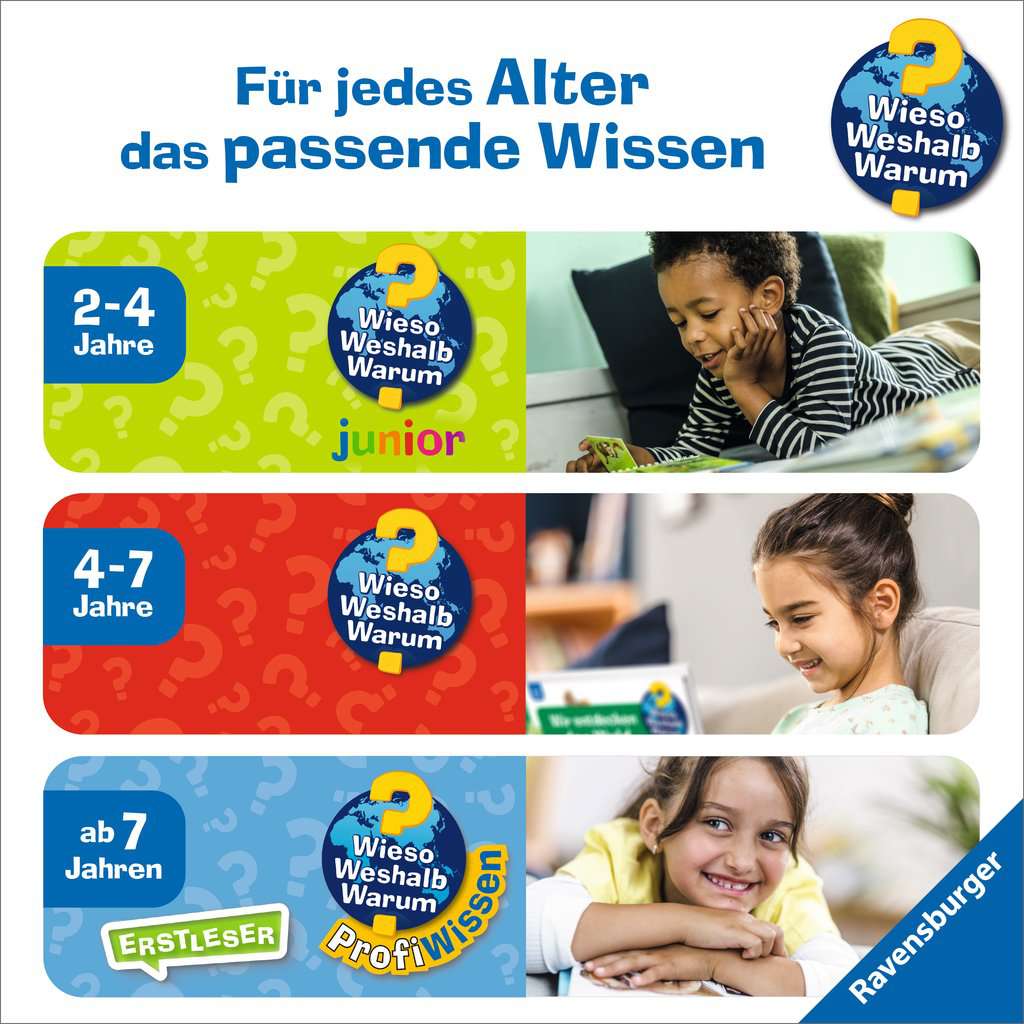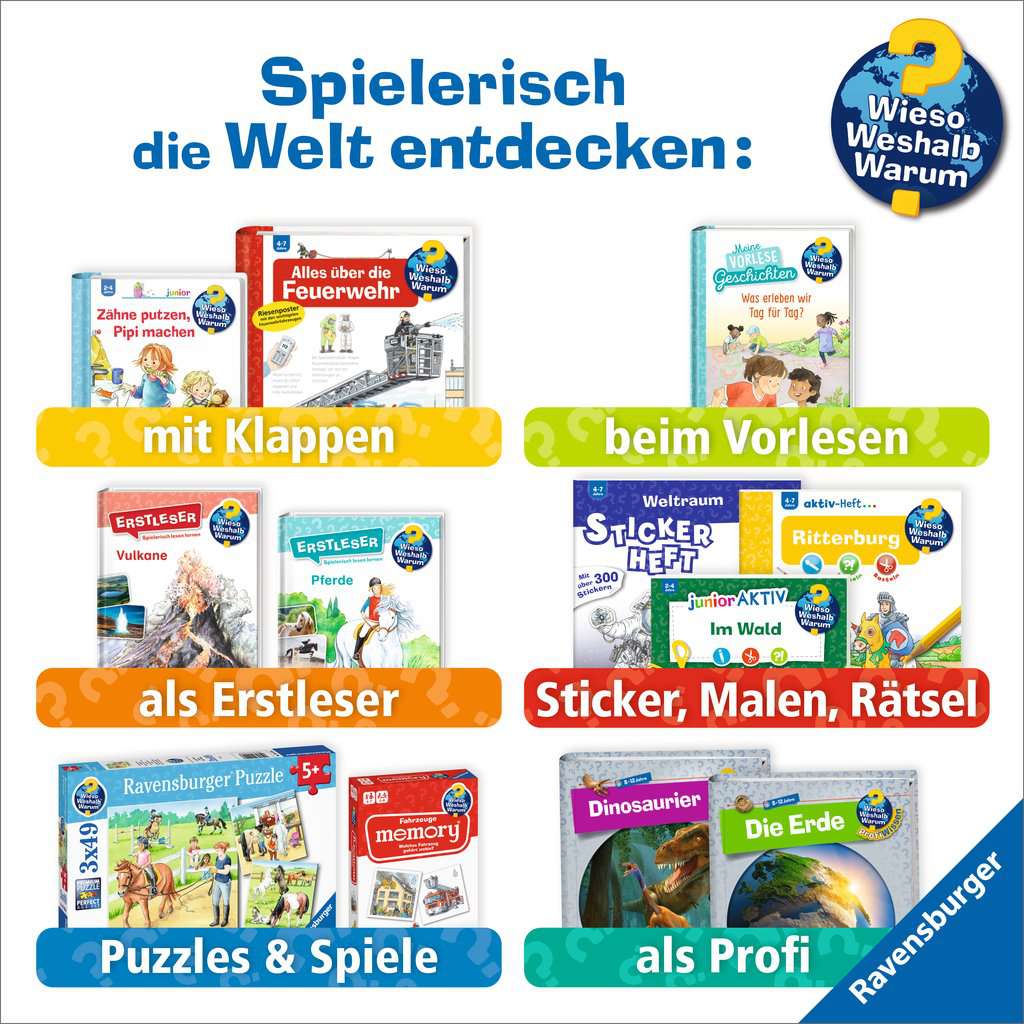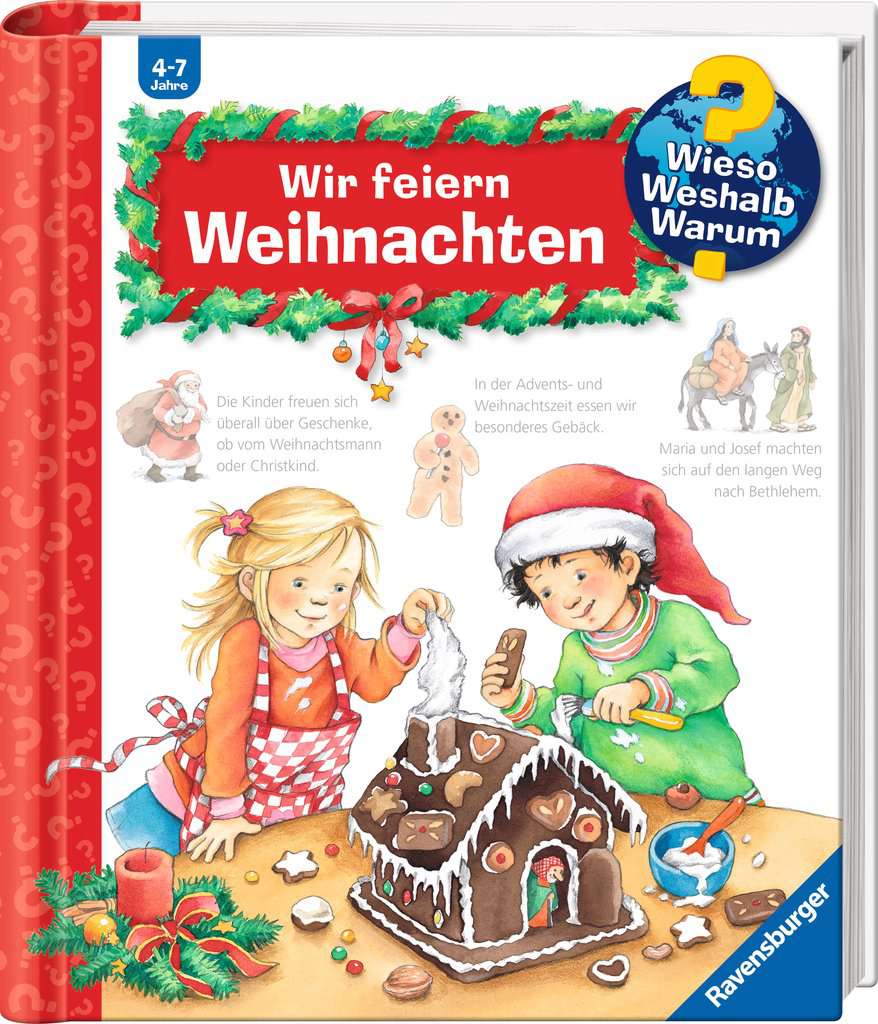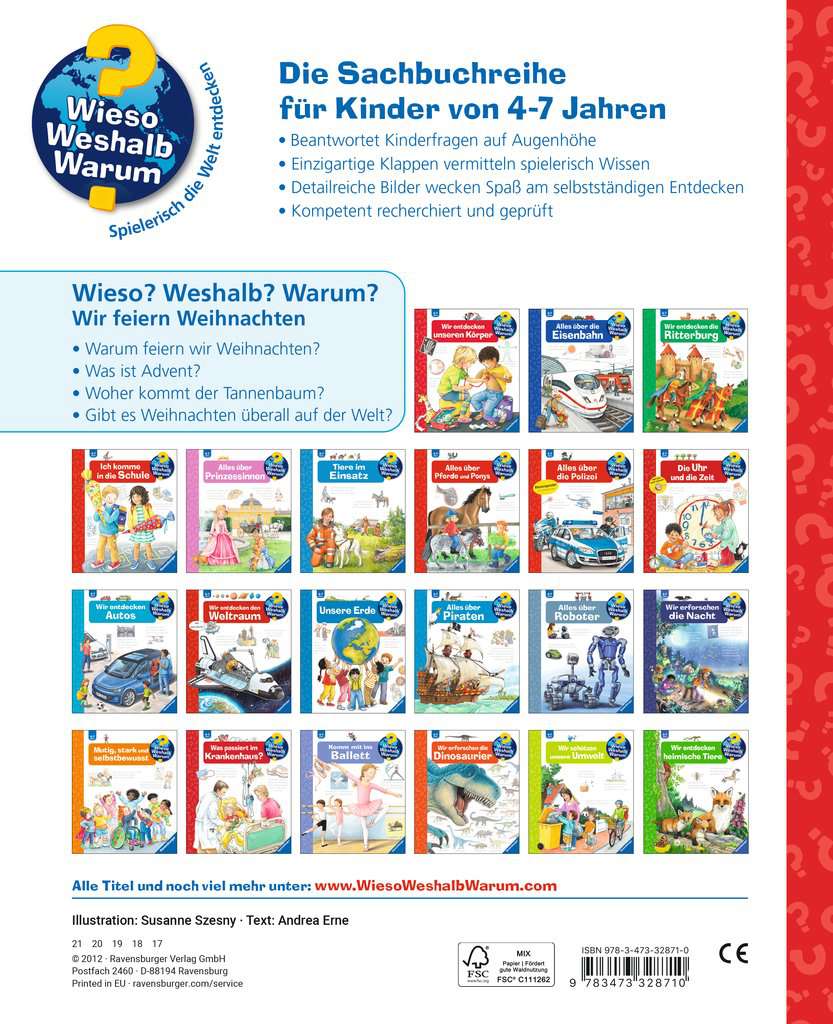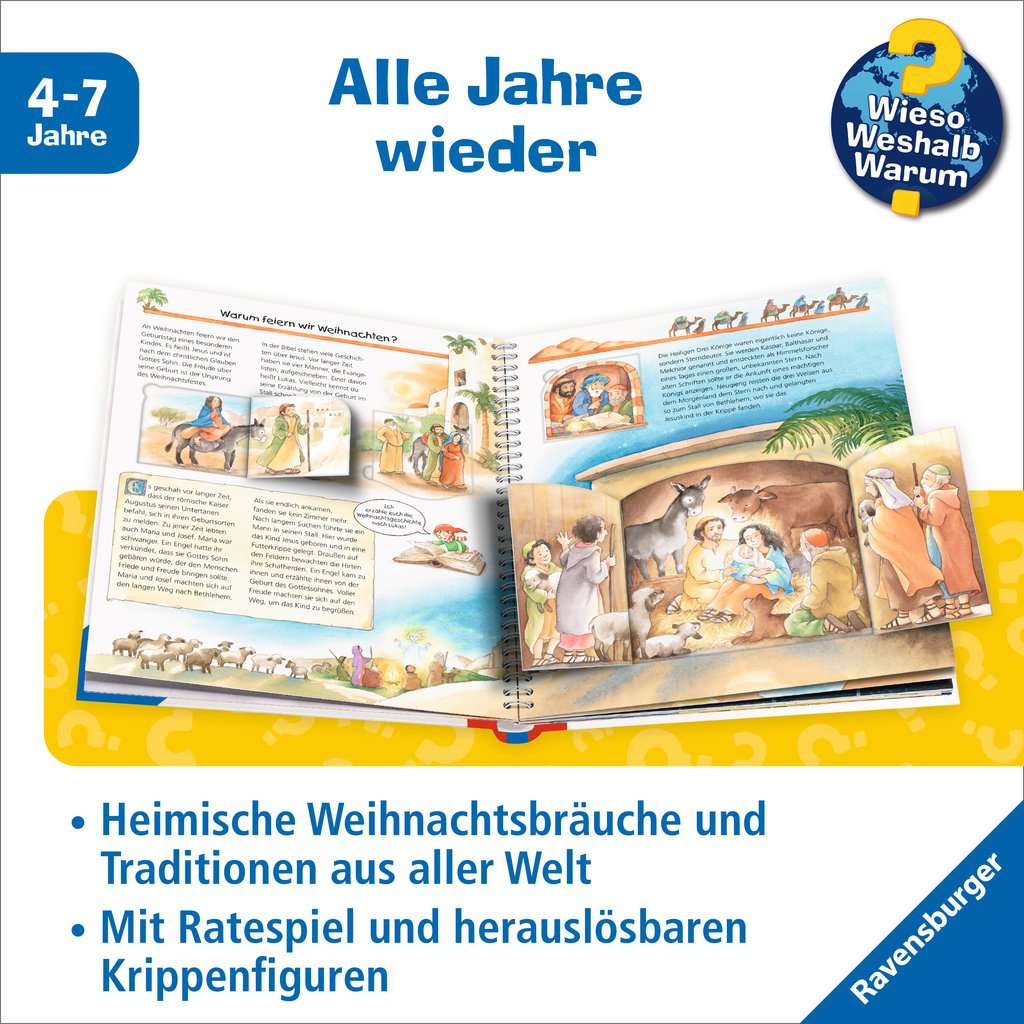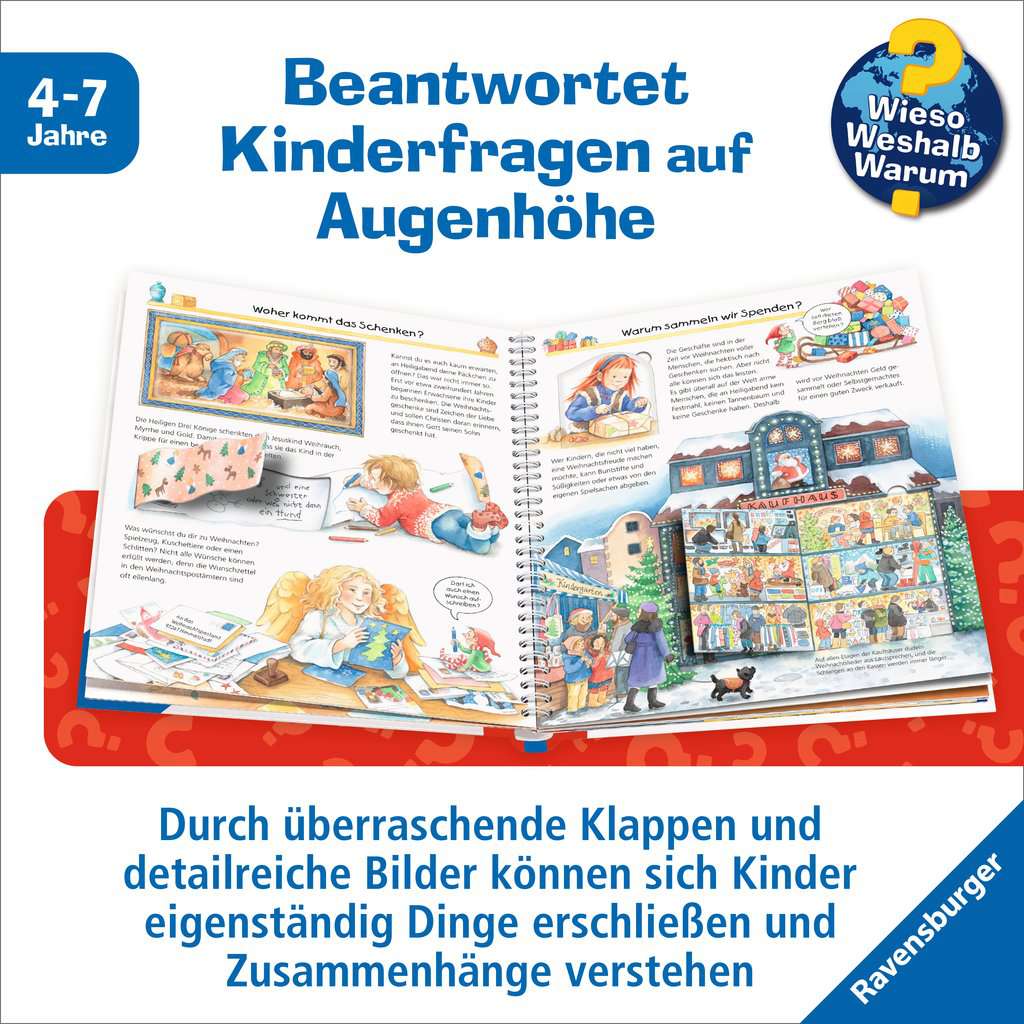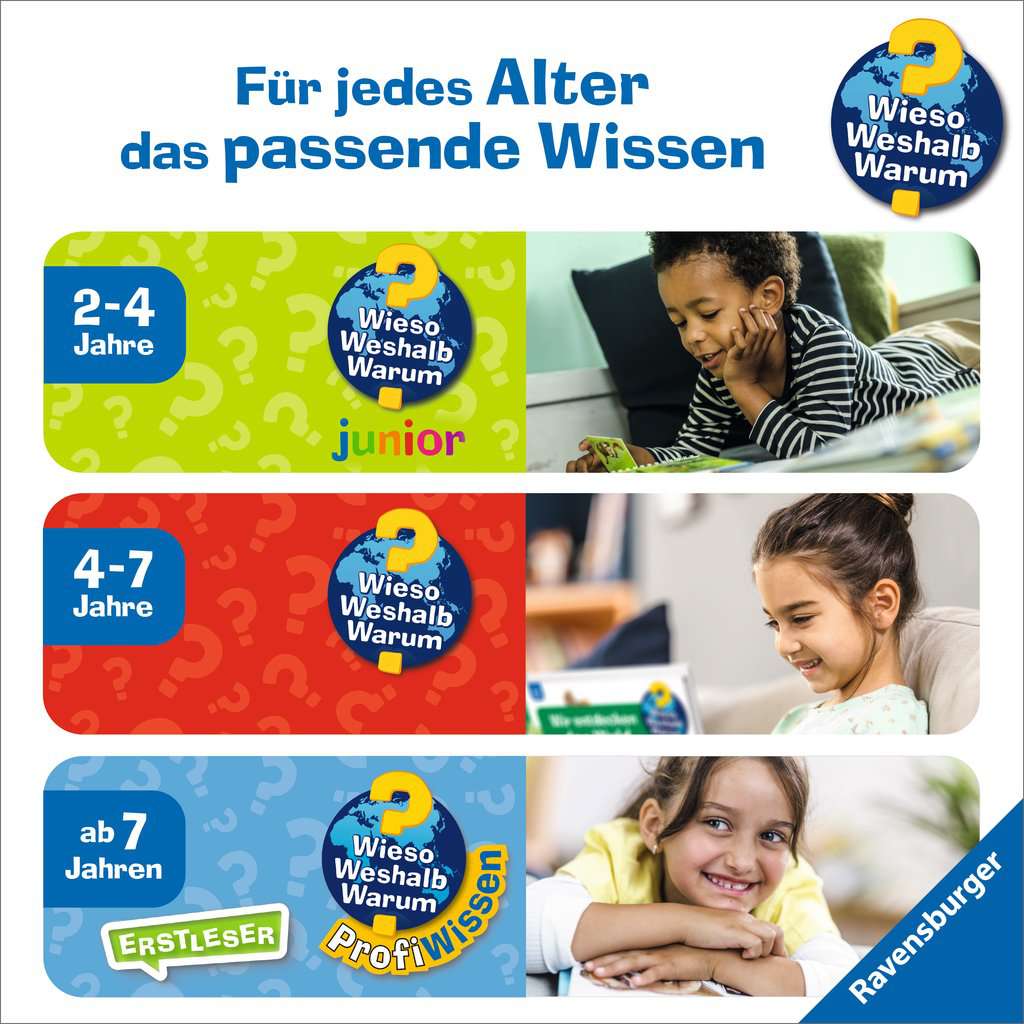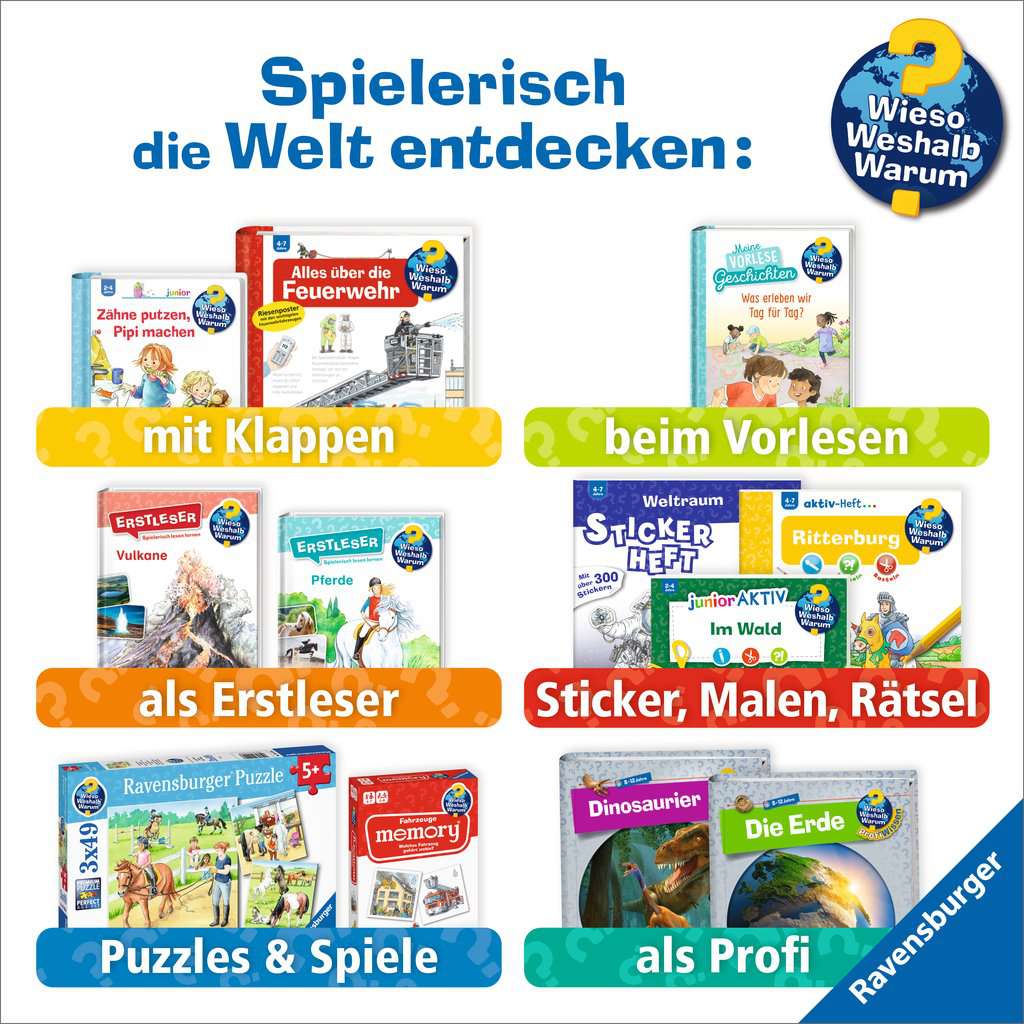 Why? Why? Why? (Vol. 34): Let's Celebrate Christmas
Wieso? Weshalb? Warum?, Band 34: Wir feiern Weihnachten
View all books in the series
Why do we celebrate Christmas? Why do people bring a Christmas tree into their houses? Children learn all about Christmas and the variety of cultural customs.


The WWW series has sold over 11 million copies in Germany

WWW has been translated into 20 other languages

With creative interactive elements, perfect for young, curious minds

16 pp
4 years +
24,5 x 27,8 cm
EUR 14.99
June 2012
Wire-O
978-3-473-32871-0
• With flaps and half-punchings.
Content
Christmastime and the days of anticipation beforehand are the best time of the whole year for many children, who impatiently long for the days leading up to the celebration. This volume accompanies families in the time before the 24th of December. The biblical story as well as typical customs are presented, as well as their origins and meaning. Why do we celebrate Christmas? Why does an advent wreath have four candles? Why do people bring a Christmas tree into their houses? Was Saint Nicholas a real person? The Christmas story is related and the celebration on Christmas Eve with a tree and manger are shown. We explain why some children wait for the Christ child and others for Santa Claus, and have a look at how people in various countries around the world celebrate this holiday. And a visit to the Christmas market is a must! In this way children learn about a variety of cultural customs.
Using flaps and doors, children can decorate the Christmas tree so that it shines with holiday splendor, watch the hustle and bustle in a department store, and even take a peek into the stall in Bethlehem.
About the Series
The WWW series stands out for its playful, enticing way of conveying just the information that kids want to know. Centered on who-what-how questions, the titles in the series explore subjects of great interest to young children. The thousands of questions children ask daily are answered by means of interactive elements, engaging illustrations, and age-appropriate texts. Because the lively illustrations convey so much, the books hold children's interest even without an adult to read the clear, friendly texts. WWW is ideally suited for preschool and kindergarten ages, for children 4 to 7 years old.
The Author
Andrea Erne was born in 1958 in Stuttgart, Germany. She studied German, politics and cultural studies and began her career as an editor for a daily newspaper. She then moved to a large children's book publisher, and later began working freelance as an editor and author for book publishers and newspapers.
The Illustrator
Susanne Szesny was born in 1965. She studied visual communication in Münster and received a diploma in design. After her studies, she worked freelance as an illustrator of games books, board books and picture books. In her opinion, a book should transport an inner value (a message, a teaching) and be a source of inspiration for children and adults equally. With her pictures she tries to build a bridge between the emotional worlds of children and adults.
Rights Sold
Hungarian, Latvian, Polish, Romanian