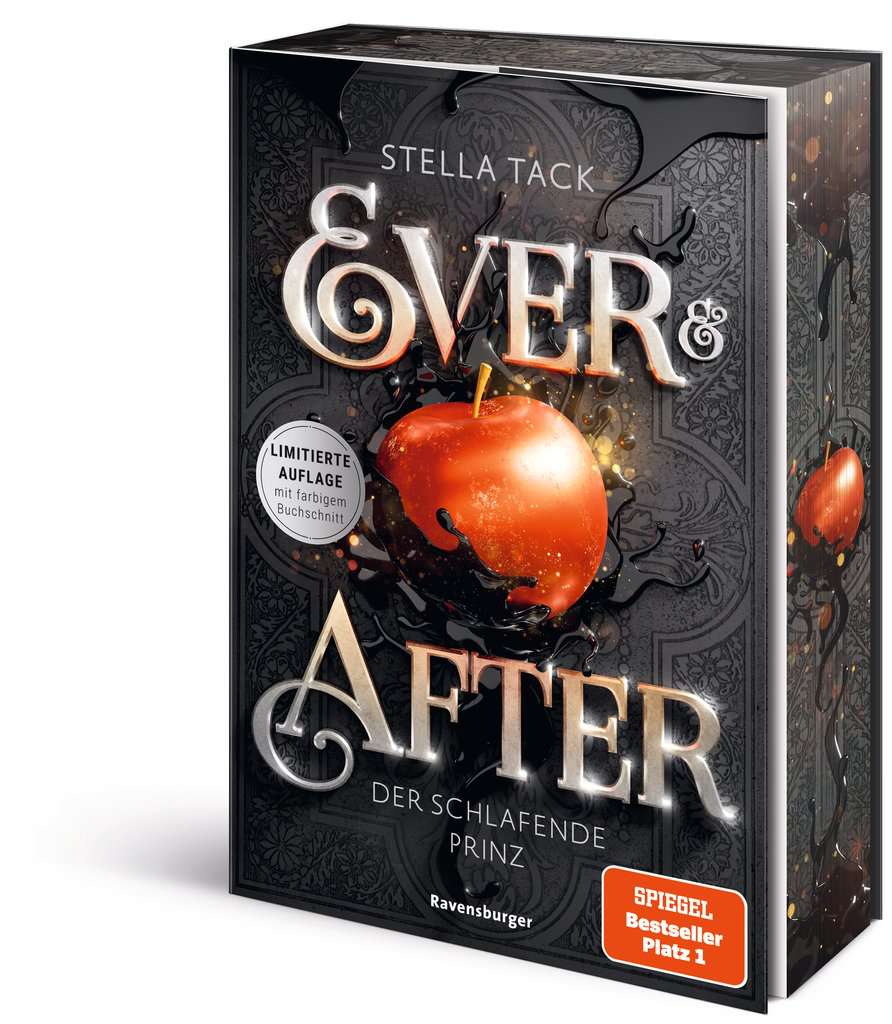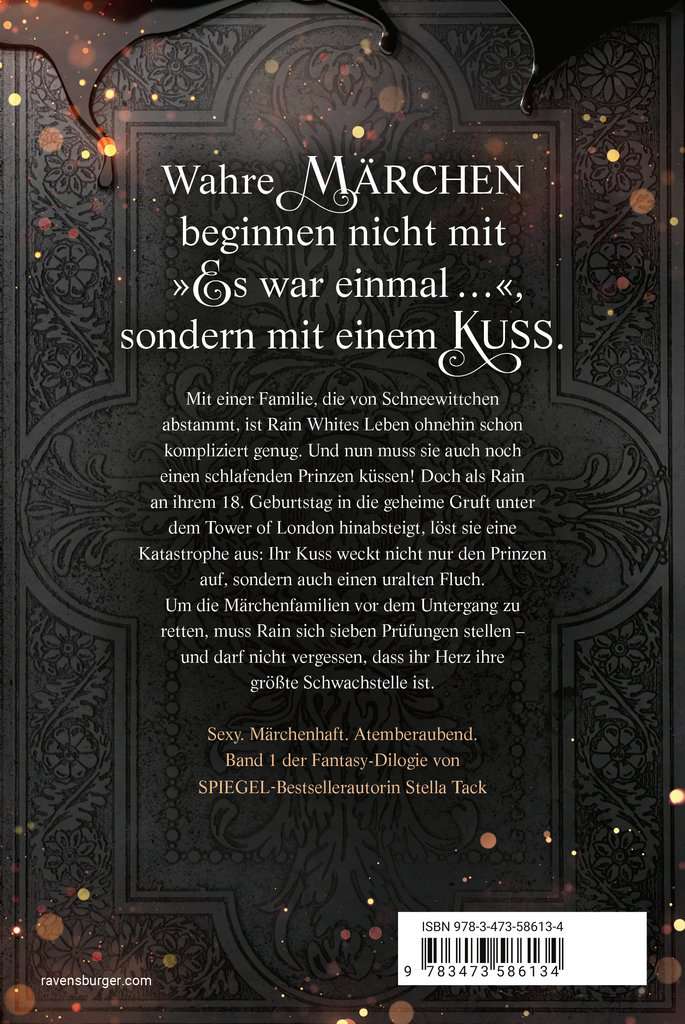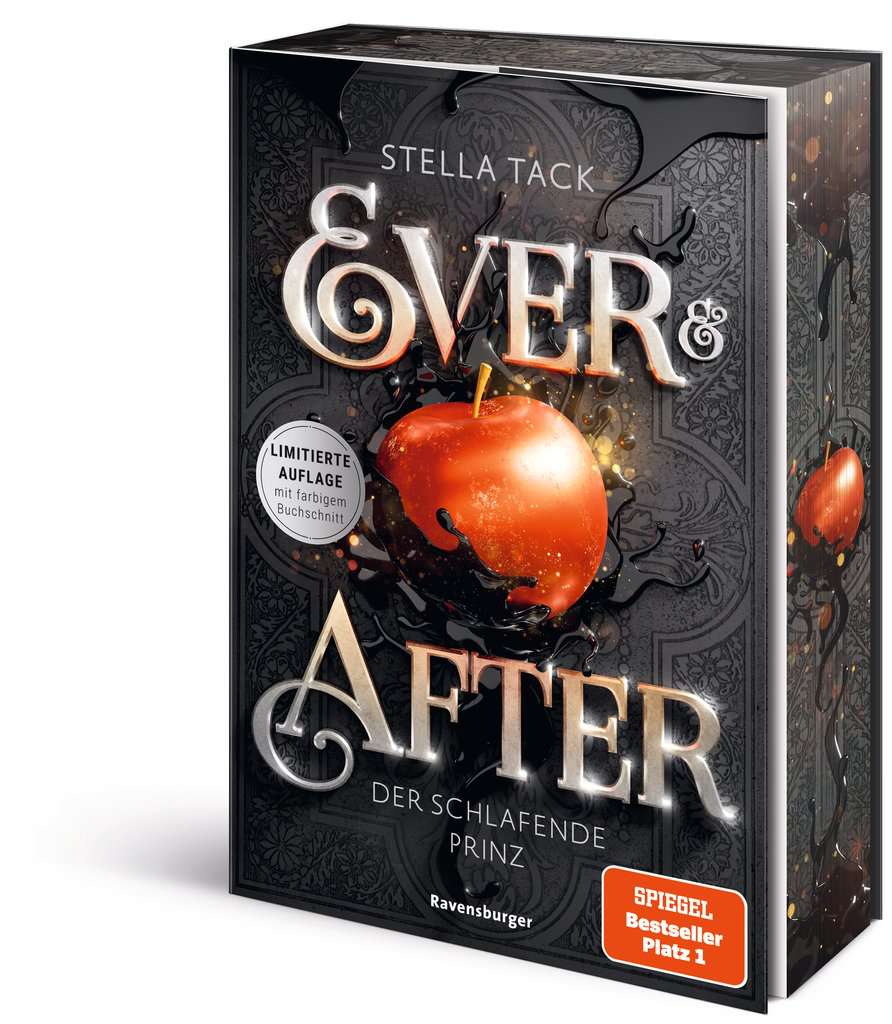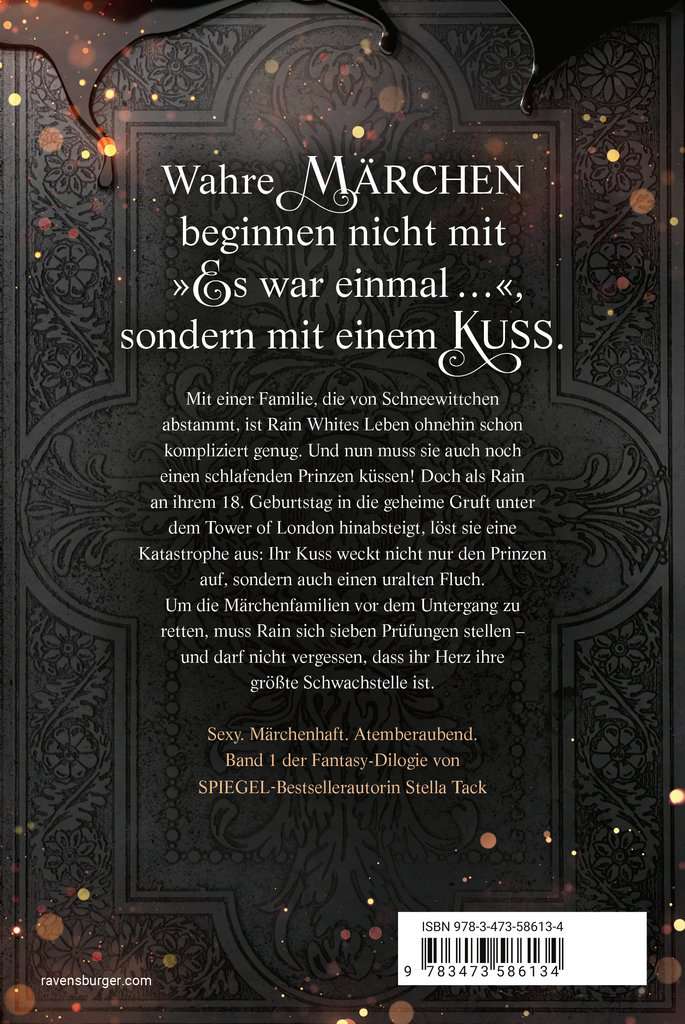 Ever & After (Vol. 1): The Sleeping Prince
Ever & After, Band 1: Der schlafende Prinz
View all books in the series
Crackling fairy tale romance by SPIEGEL bestselling author Stella Tack


Successful genre of fairy tale fantasy also for new adult readers

Volume 2 to be published in spring 2024

576 pp
14 years +
14 x 21 cm
EUR 16.99
September 2023
Softcover
978-3-473-58613-4
Content
Rain Snow is the youngest daughter of the Snow family, supposedly descended from the fairy tale character Snow White, and lives in Woodley near London. Even though she herself believes in neither fairy tales nor magic, fate or happy endings, these are constant topics in her family. At the heart of it all lies an ancient prophecy: there is a sleeping prince who must be awakened with the kiss of true love and will bring magic back into the world. After that, there will be seven tests to pass. The girl who successfully passes these tests will receive immense power and riches from the prince and take her place at his side, and the fairy tale families will regain their former glory. Nobody knows exactly what these tests are, but for centuries, the girls of the fairy tale families have been sent to an underground crypt on their 18th birthday in an attempt to wake up the sleeping prince. No one has ever succeeded ... until Rain kisses the "bones" on her 18th birthday and the prince awakens.
After her birthday party, the world suddenly starts to go crazy – there are earthquakes, nature itself turns against humanity and strange creatures appear. At the same time, Rain comes across a confused but extremely handsome young man in the forest. As he has lost his memory, Rain christens him Cole Black in reference to his coal-black eyes. She is immediately drawn to him and welcomes him into her family. But Cole's memories slowly return: he is the sleeping prince, and his awakening not only brought magic back into the world but also heralds the end of the world. The only way to prevent it is to put him back into eternal sleep – or, alternatively, the girl who woke him up: Rain. However, she must first pass the seven tests that keep haunting her – starting with a battle against her own grandmother who turns into the "big bad wolf" to a cunning trap set by a descendant of Pitch Mary and a huge maze right in the middle of London.
The Author
Stella Tack, born in 1995, trained as a therapist after finishing school. Her passion for mystical wizards, impish fairies, depressive vampires, adventurous time travelers, sexy demons and bad boys motivated her to have a go at the keyboard herself. With a little luck, a lot of fun, and a big dose of self-deprecation, she has been writing her own sizzling love stories and action-packed romantic fantasy material ever since, and eventually found an enthusiastic readership. You can learn more about her latest projects and the author's lively writing and family life at www.stella-tack.com, as well as on Facebook and Instagram.