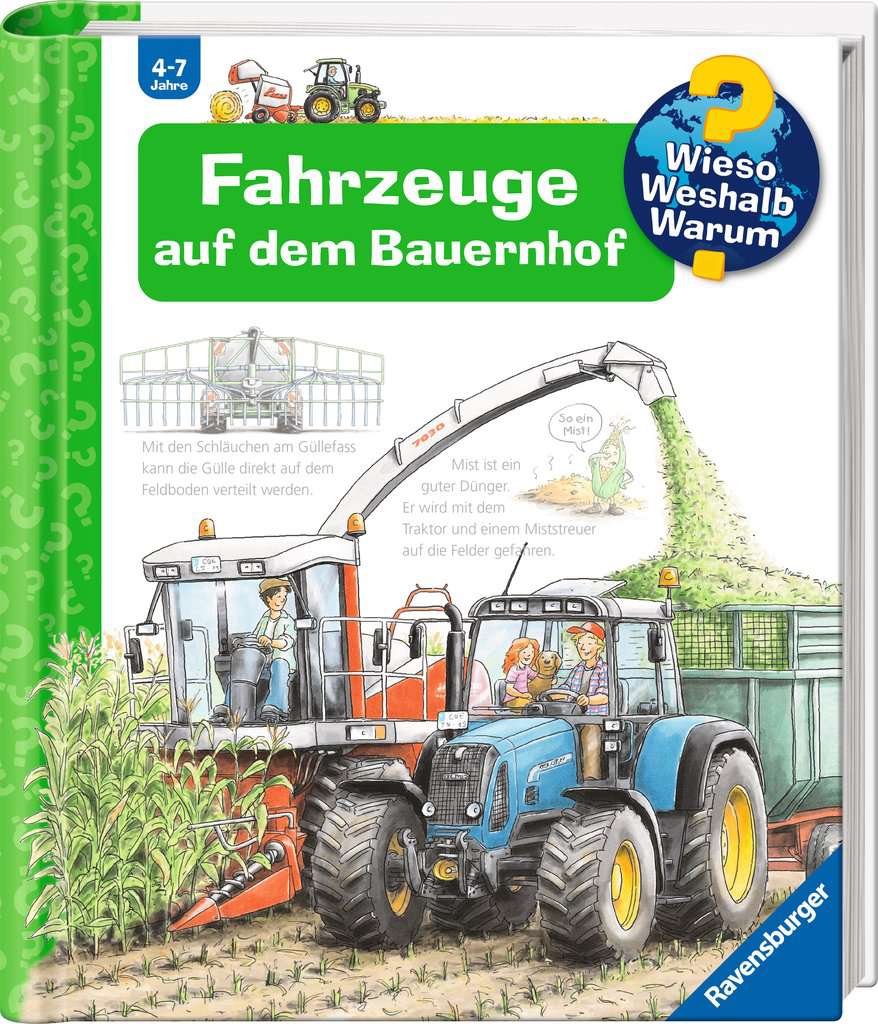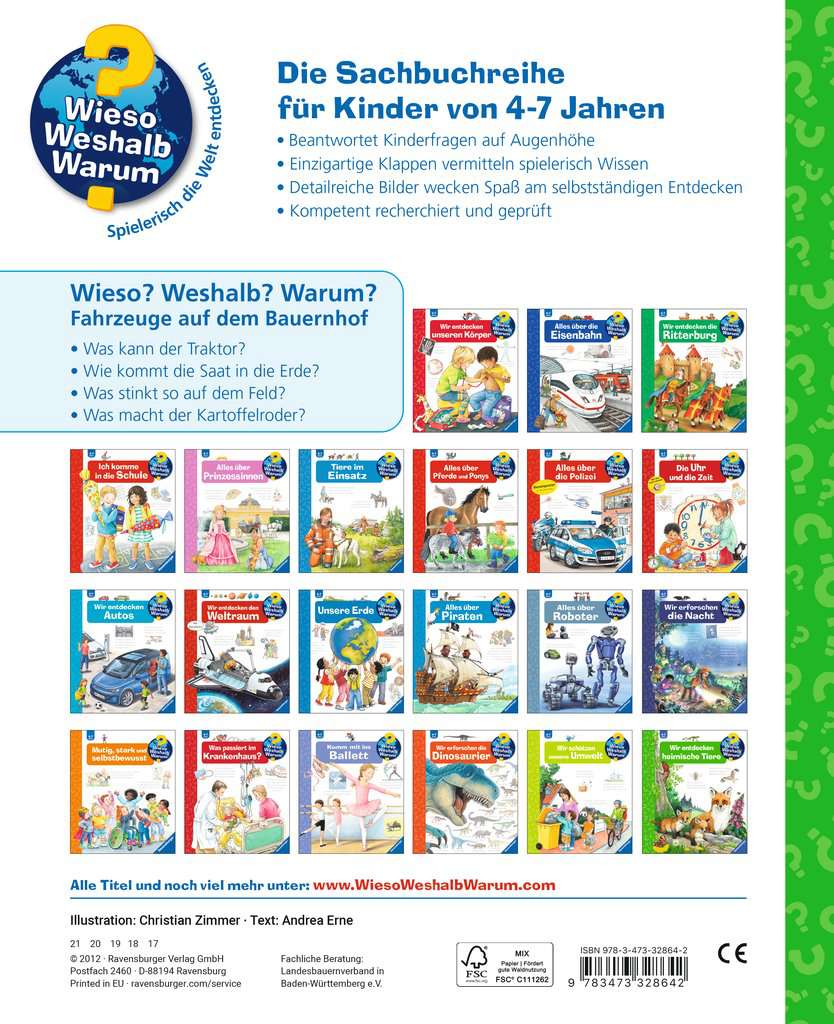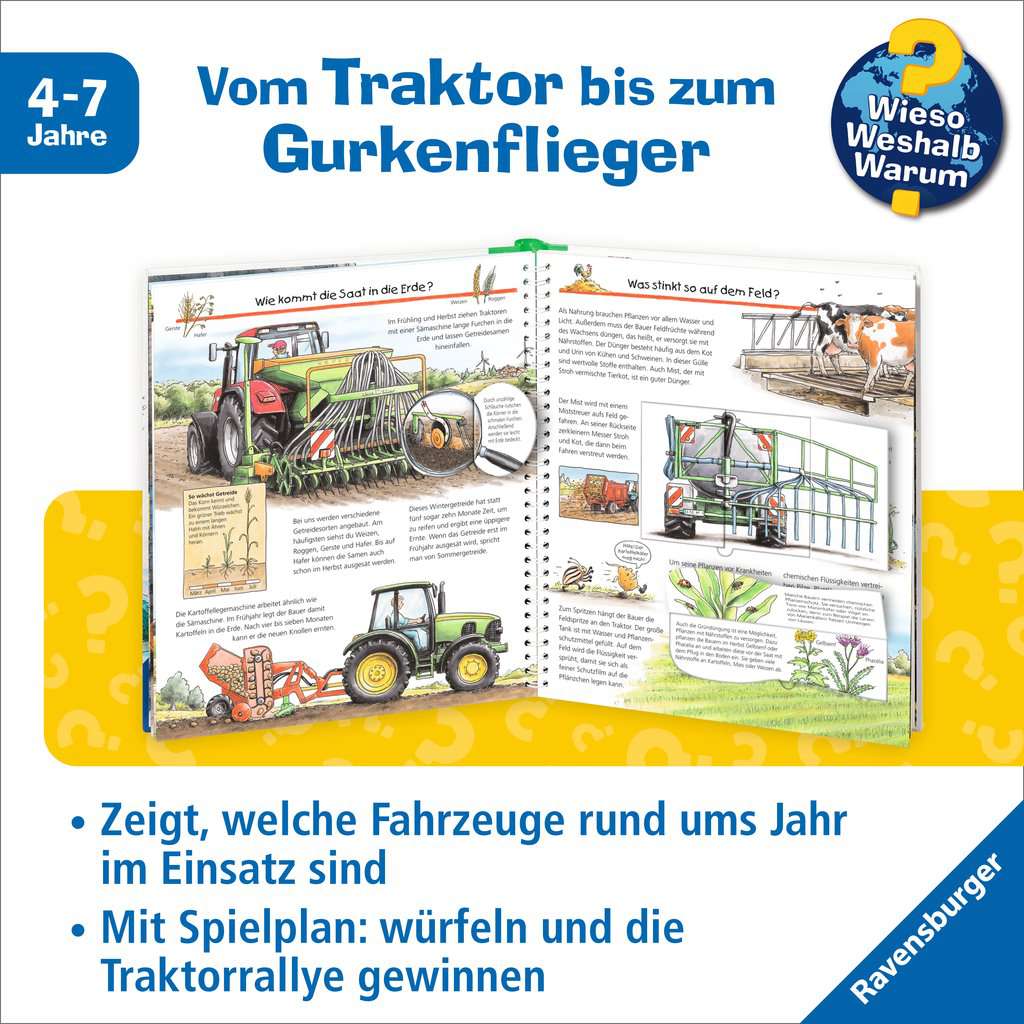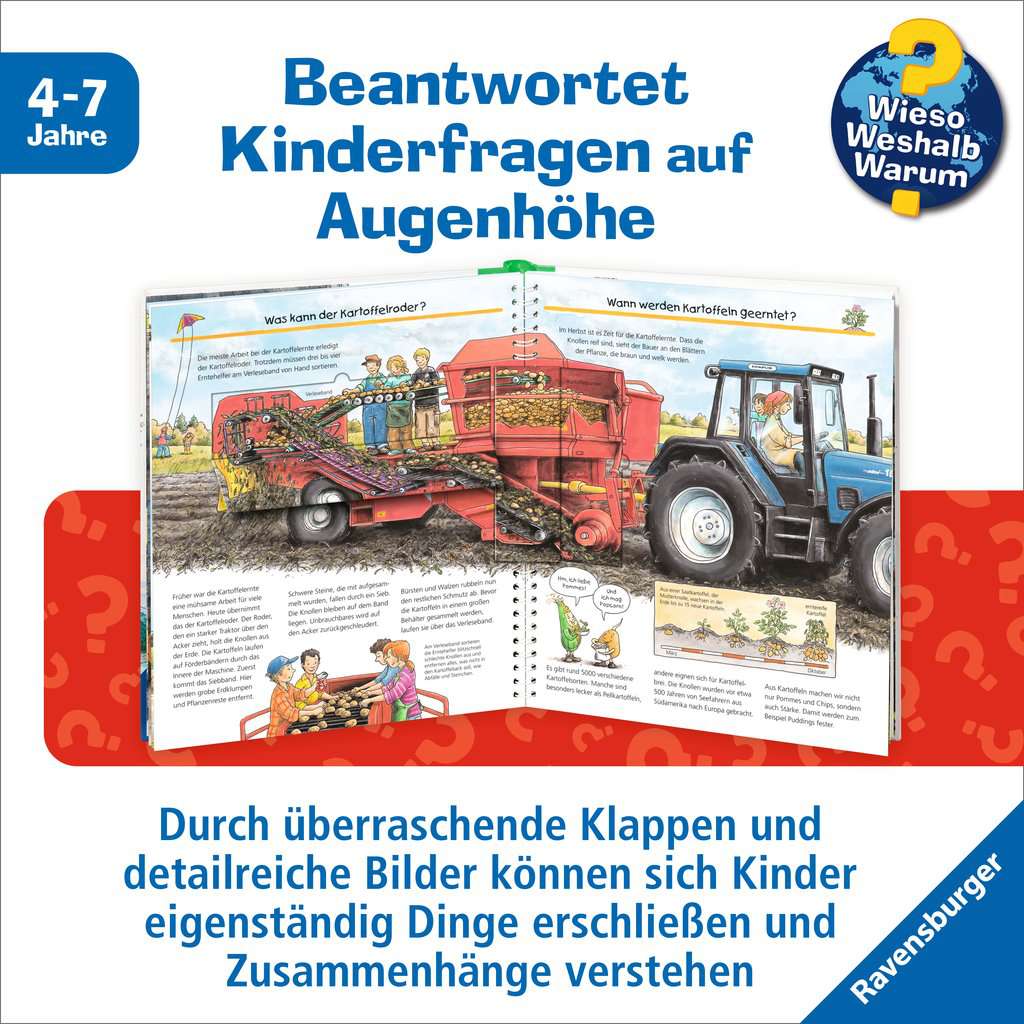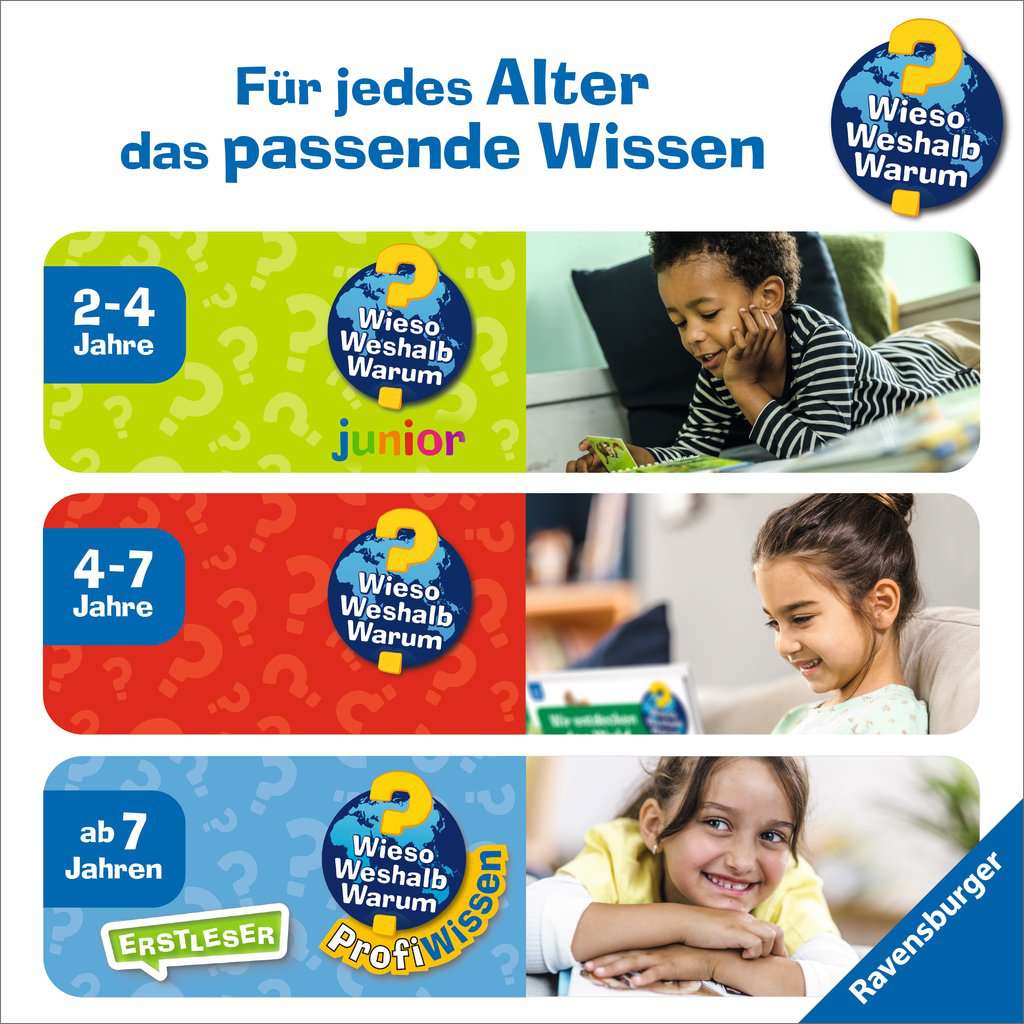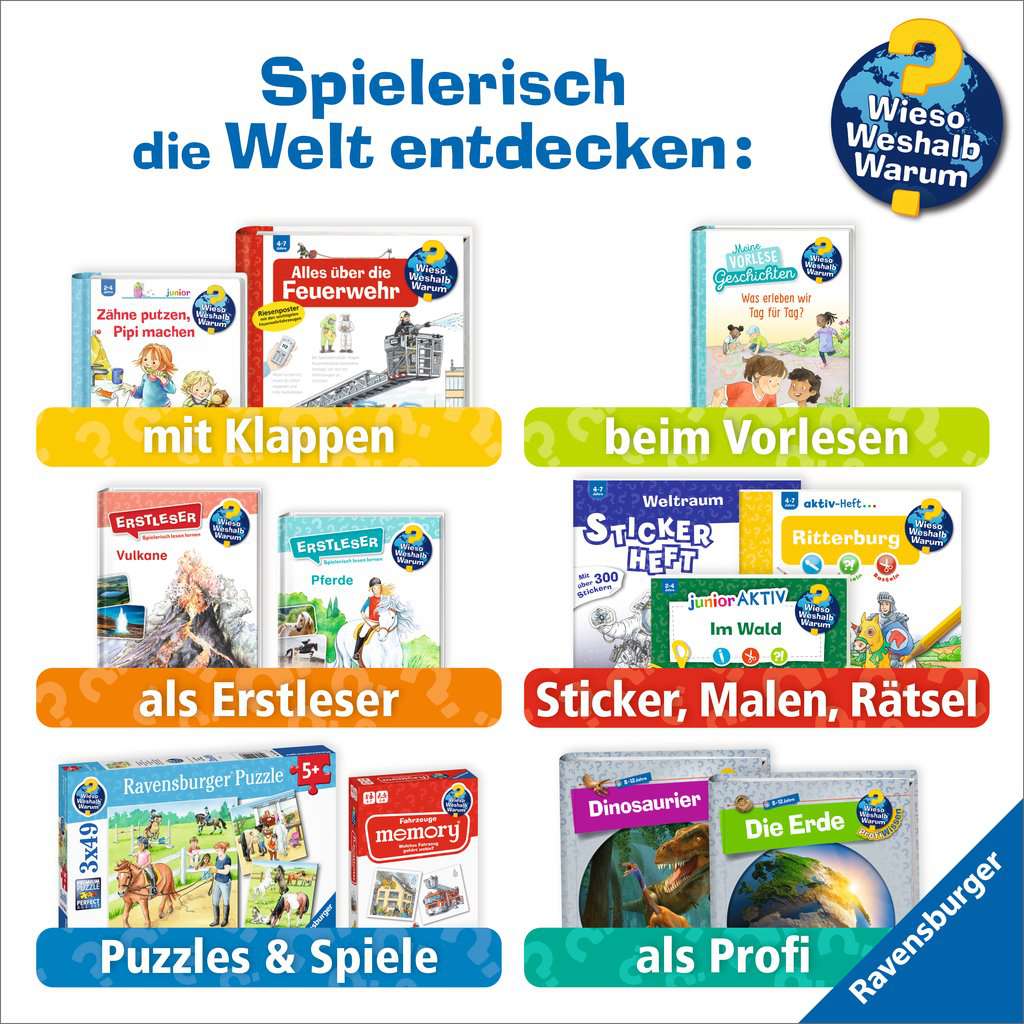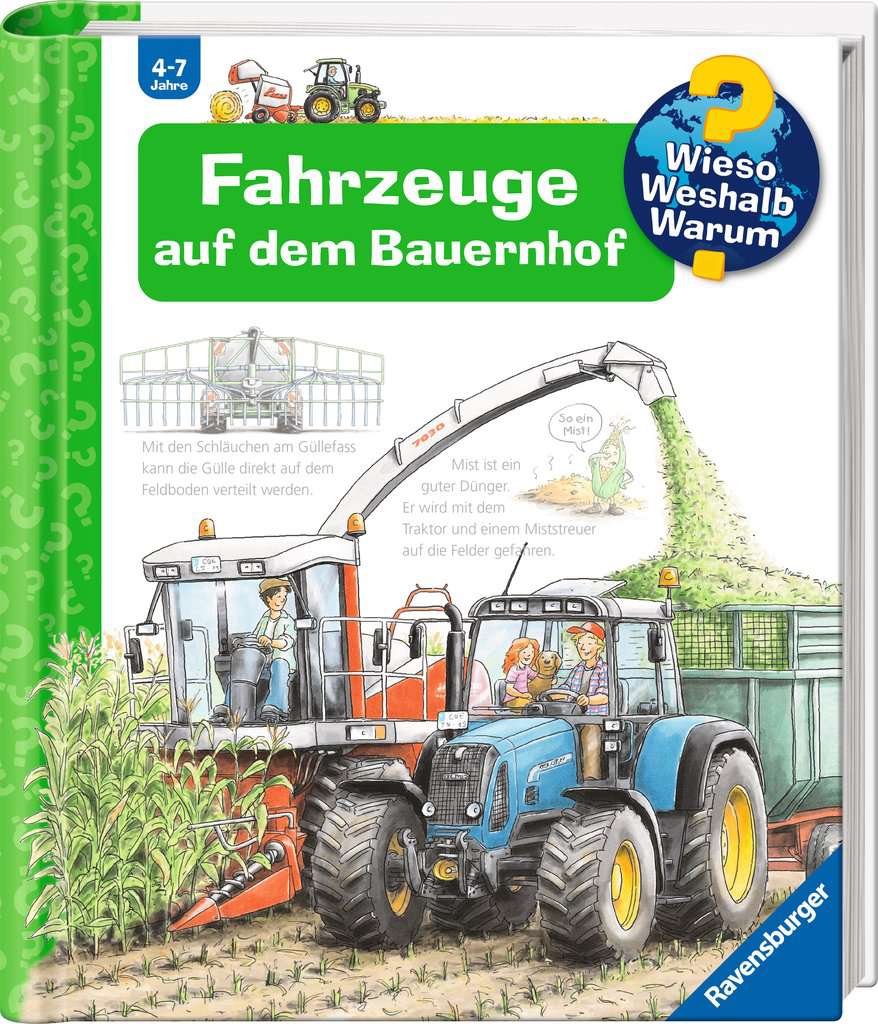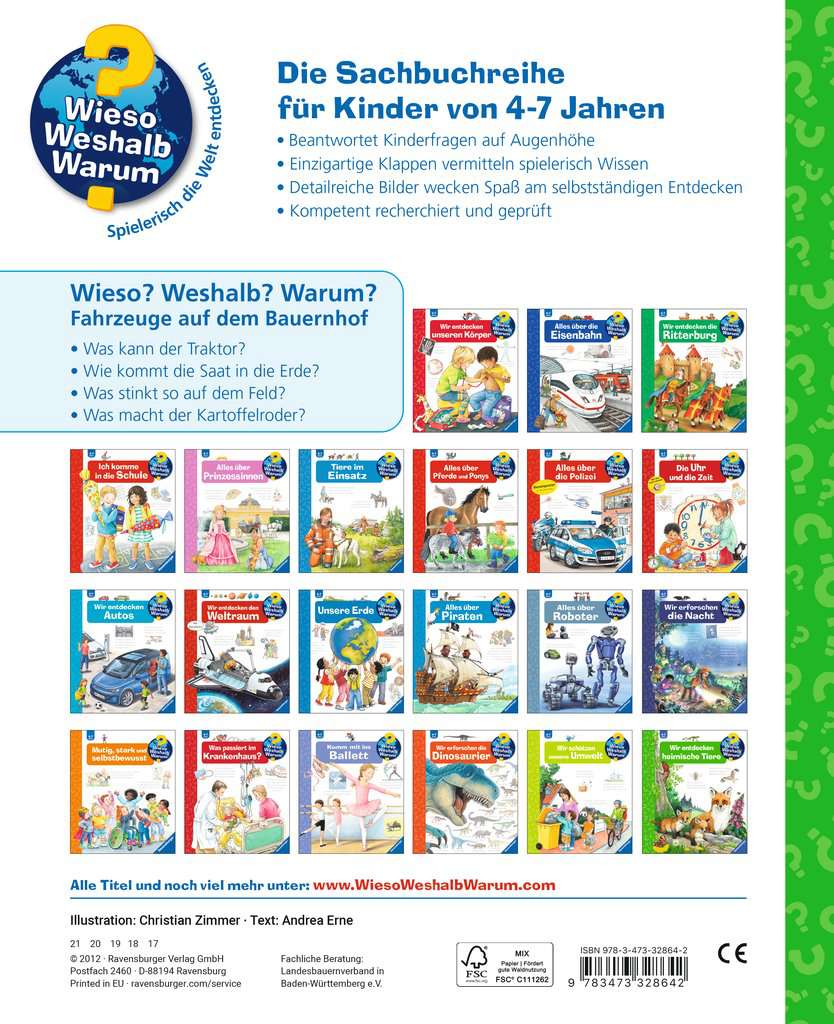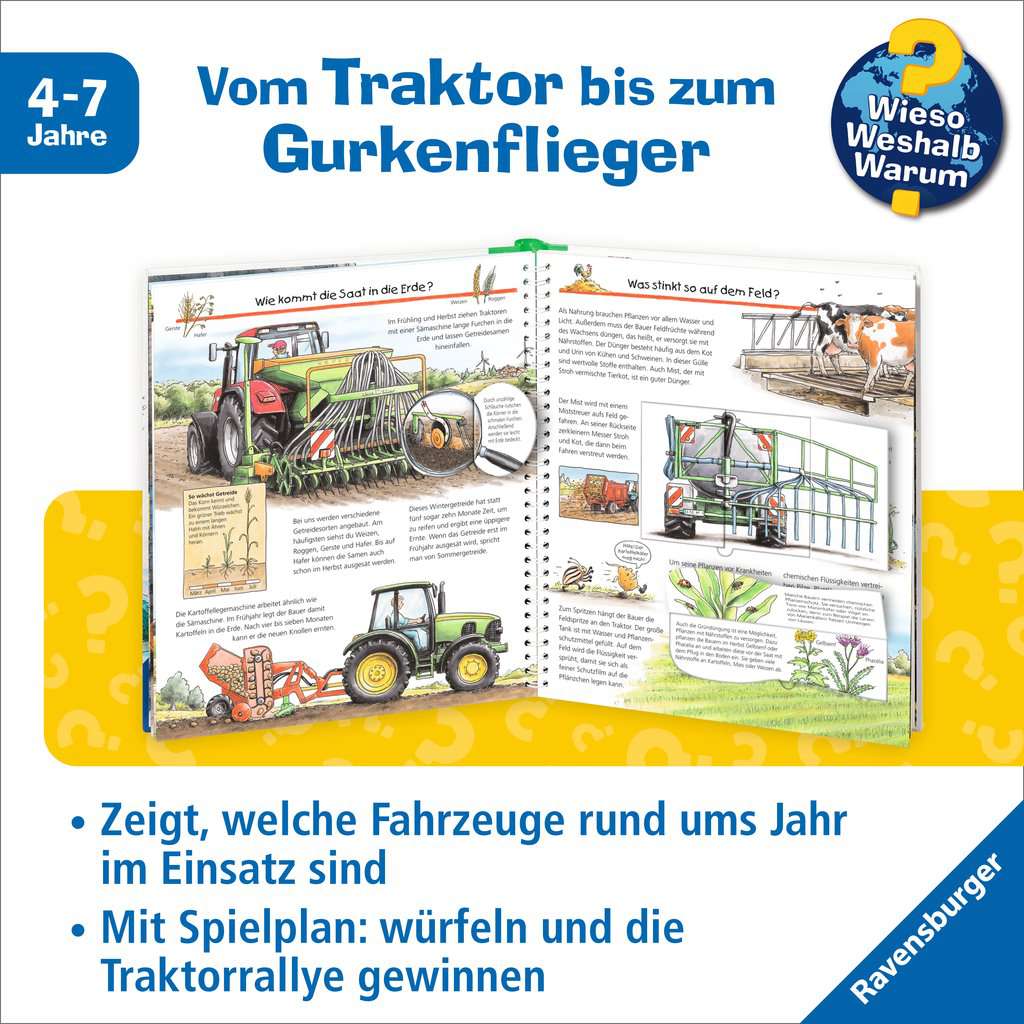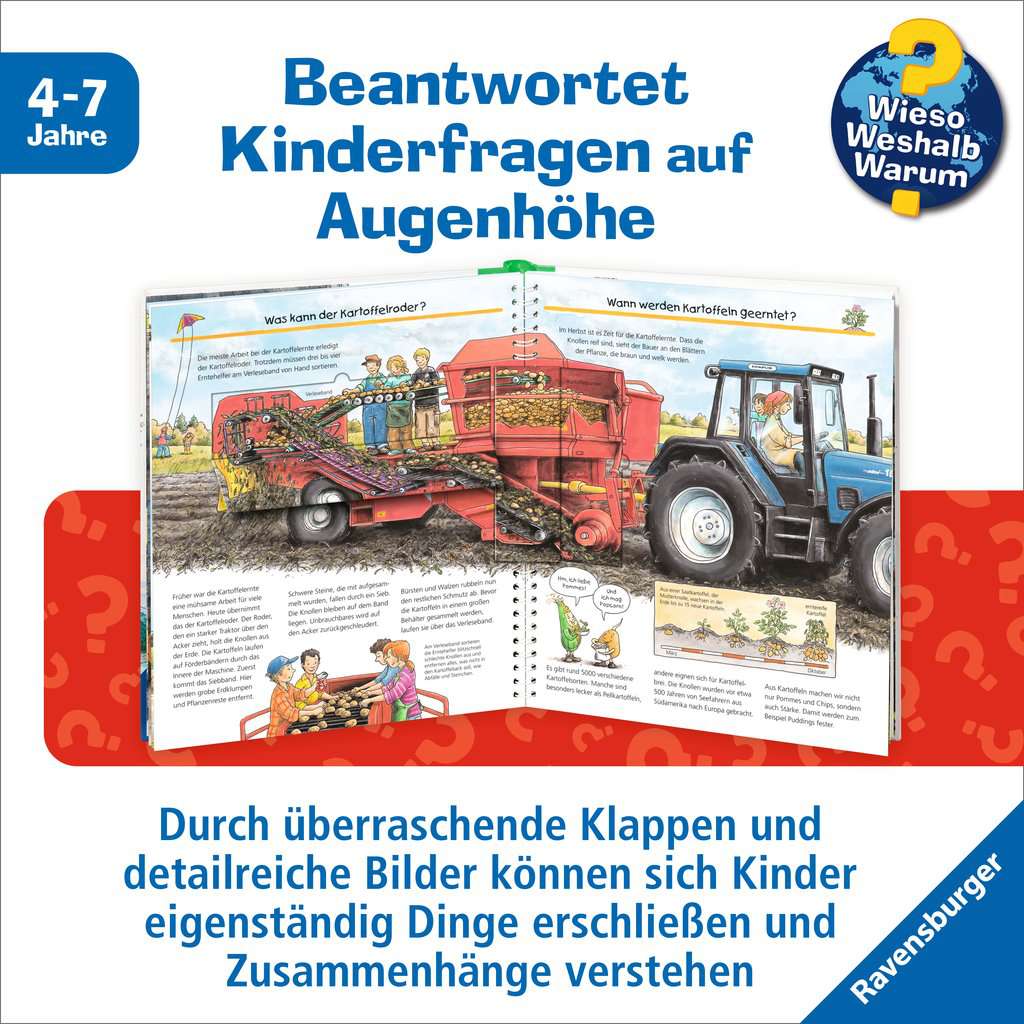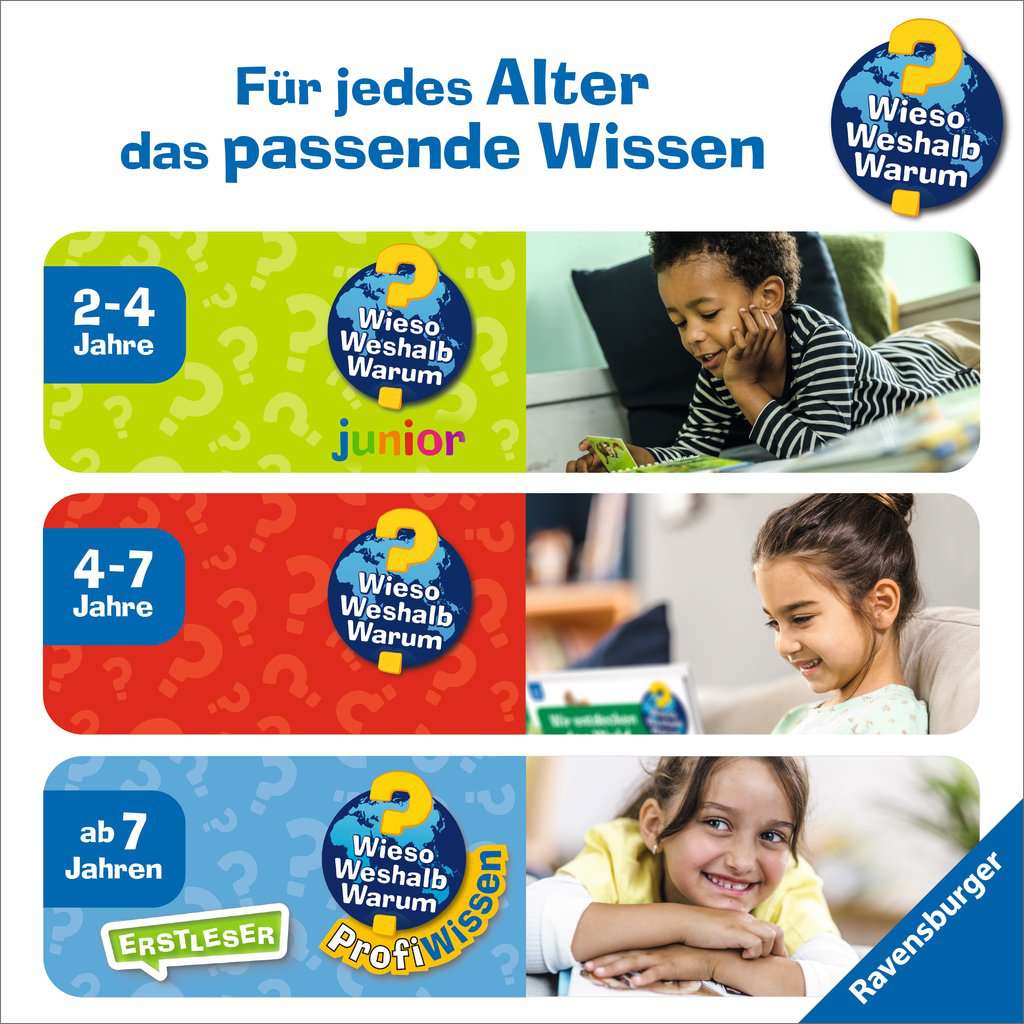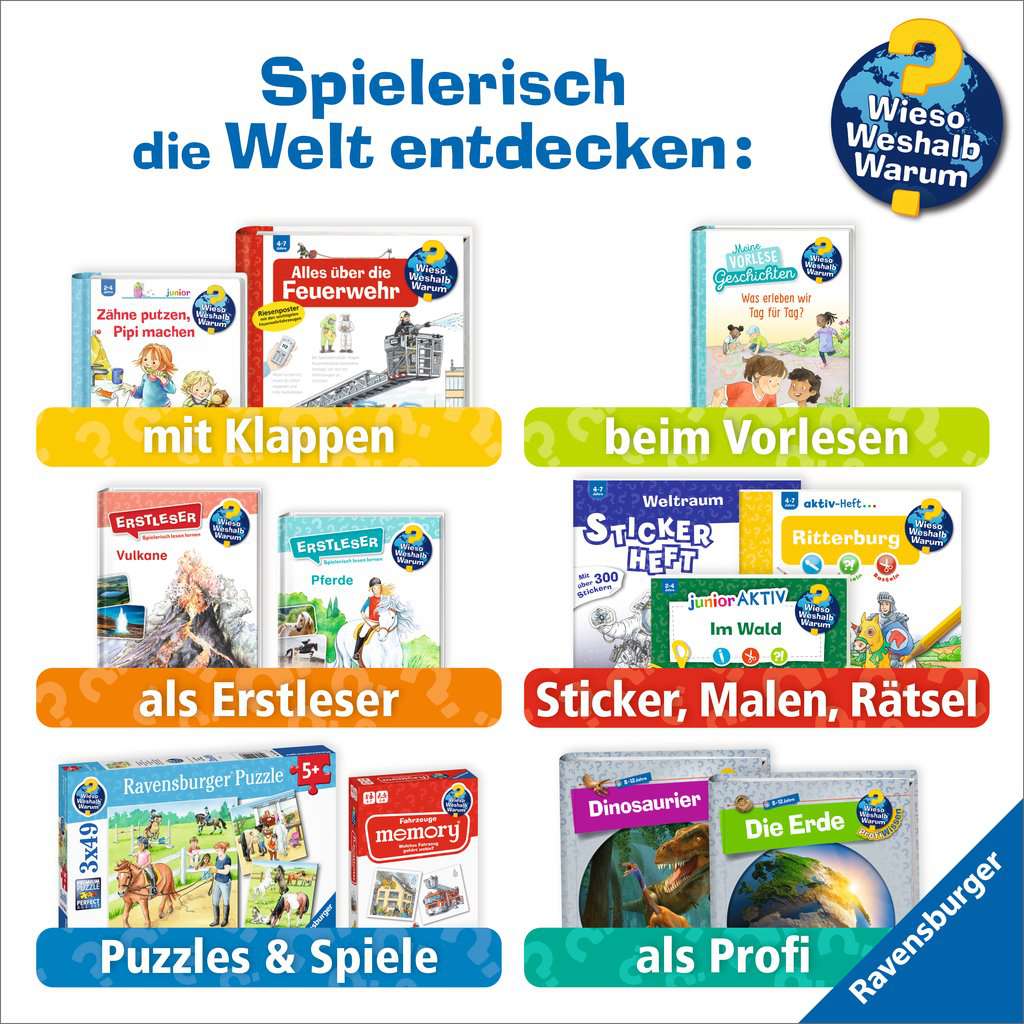 Why? Why? Why? (Vol. 57): Farm Vehicles
Wieso? Weshalb? Warum?, Band 57: Fahrzeuge auf dem Bauernhof
View all books in the series
From tractors and harvesters to slurry spreaders and sowers - all the most important vehicles used on a farm are introduced in this volume.


The WWW series has sold over 11 million copies in Germany

WWW has been translated into 20 other languages

With creative interactive elements, perfect for young, curious minds

16 pp
4 years +
24,5 x 27,8 cm
EUR 14.99
January 2012
Wire-O
978-3-473-32864-2
• With flaps and half-punchings.
Content
The tractor is the most important and versatile vehicle in any agricultural enterprise. The ways it can be used are multiplied through all kinds of attachments: plows, harrows, seeders, hay rakes, huskers or mowers - the range is enormous. Giant machines such as the combine or potato harvester are also used on farms. This book explains what time of year these vehicles are used and shows - with the help of flaps - how they work.
How is hay formed into neat bales? Why do the fields sometimes stink? Where does the farmer get such huge machines, like the harvester? All of these questions are clearly answered. And finally, the book concludes with a board game integrated into it.
About the Series
The WWW series stands out for its playful, enticing way of conveying just the information that kids want to know. Centered on who-what-how questions, the titles in the series explore subjects of great interest to young children. The thousands of questions children ask daily are answered by means of interactive elements, engaging illustrations, and age-appropriate texts. Because the lively illustrations convey so much, the books hold children's interest even without an adult to read the clear, friendly texts. WWW is ideally suited for preschool and kindergarten ages, for children 4 to 7 years old.
The Author
Andrea Erne was born in 1958 in Stuttgart, Germany. She studied German, politics and cultural studies and began her career as an editor for a daily newspaper. She then moved to a large children's book publisher, and later began working freelance as an editor and author for book publishers and newspapers.
The Illustrator
Christian Zimmer, born in 1966, first tried his luck as a gardener until, disappointed with that venture, he moved on and sought his fortune in a printing and advertising agency. Through that he found his way to studying graphic design and illustration in Münster, Germany. Since 1997 he has been a successful, freelance graphic designer, and his area of specialty has been creating children's book illustrations for a variety of publishers.
Rights Sold
Chinese (worlwide except Taiwan,HongKong,Macao), Czech, Greek, Hungarian, Italian, Latvian, Russian (worldwide)