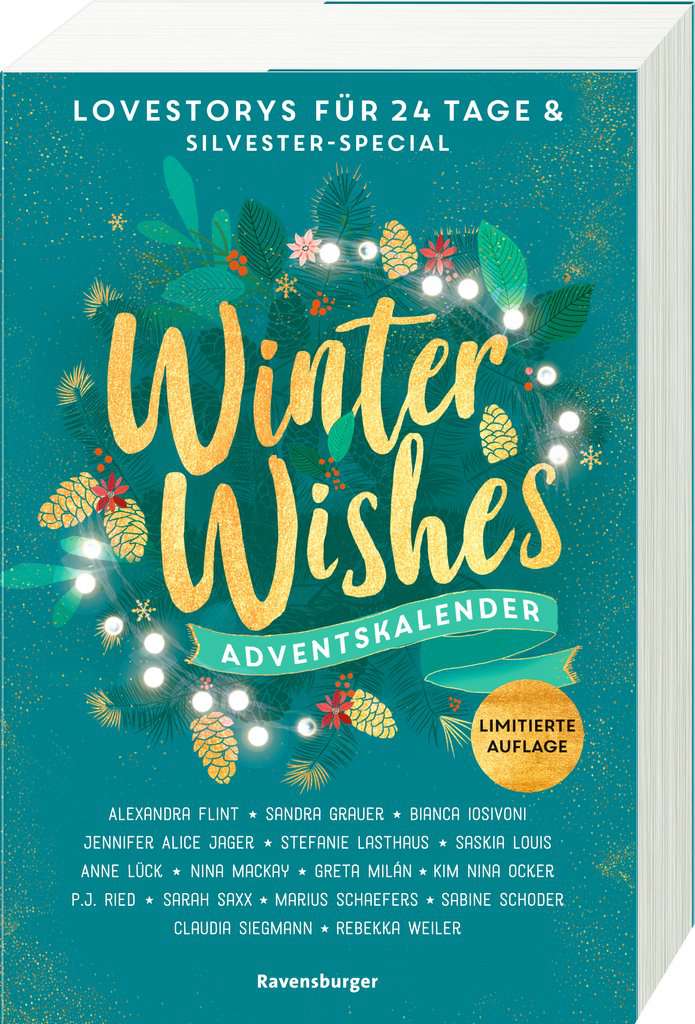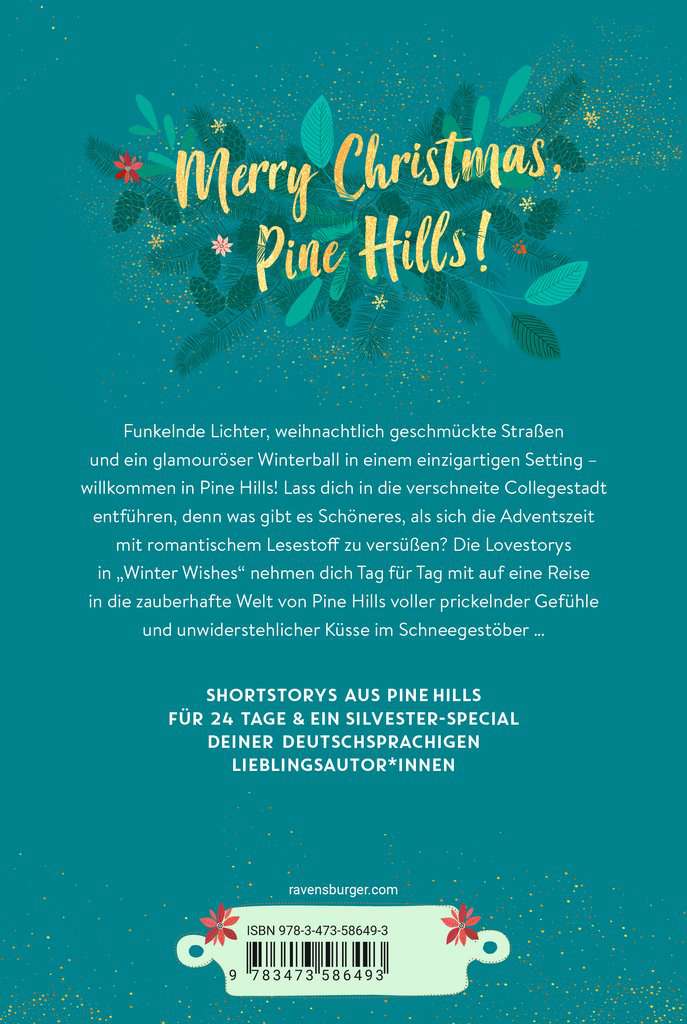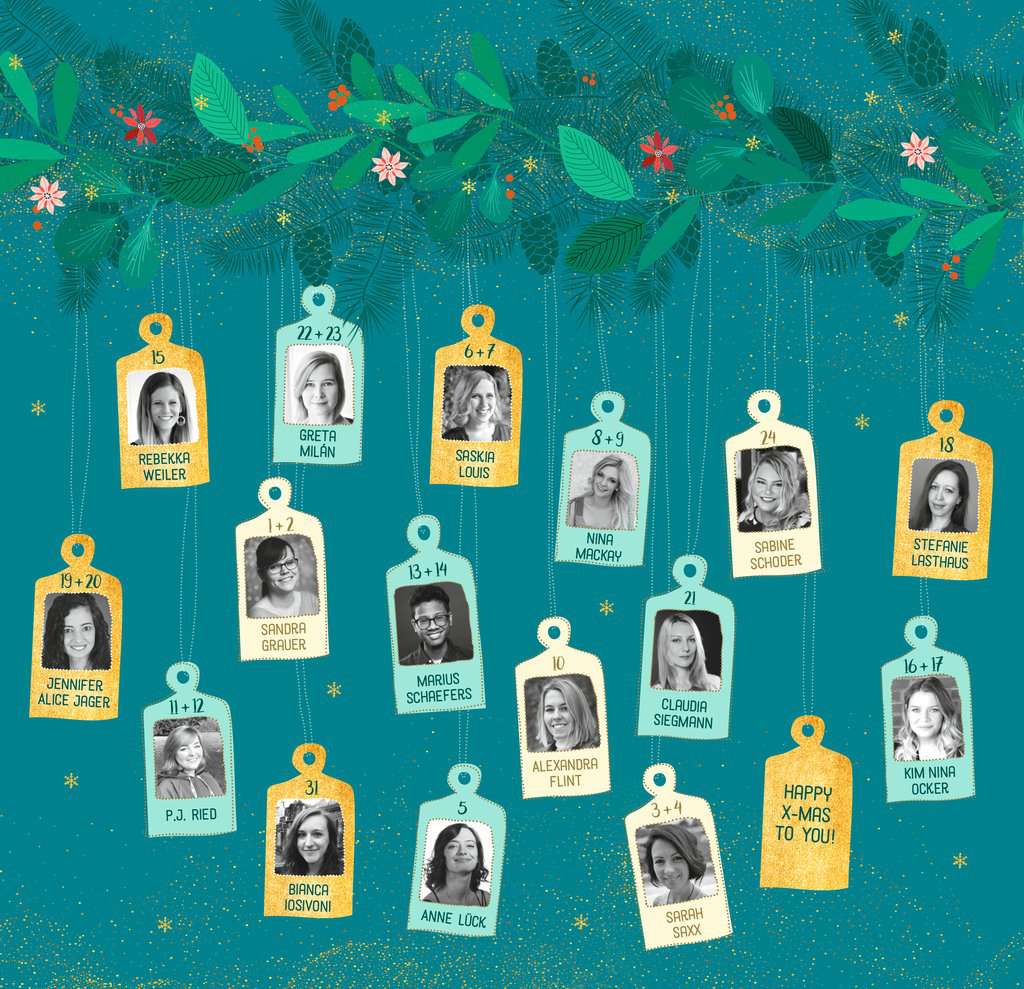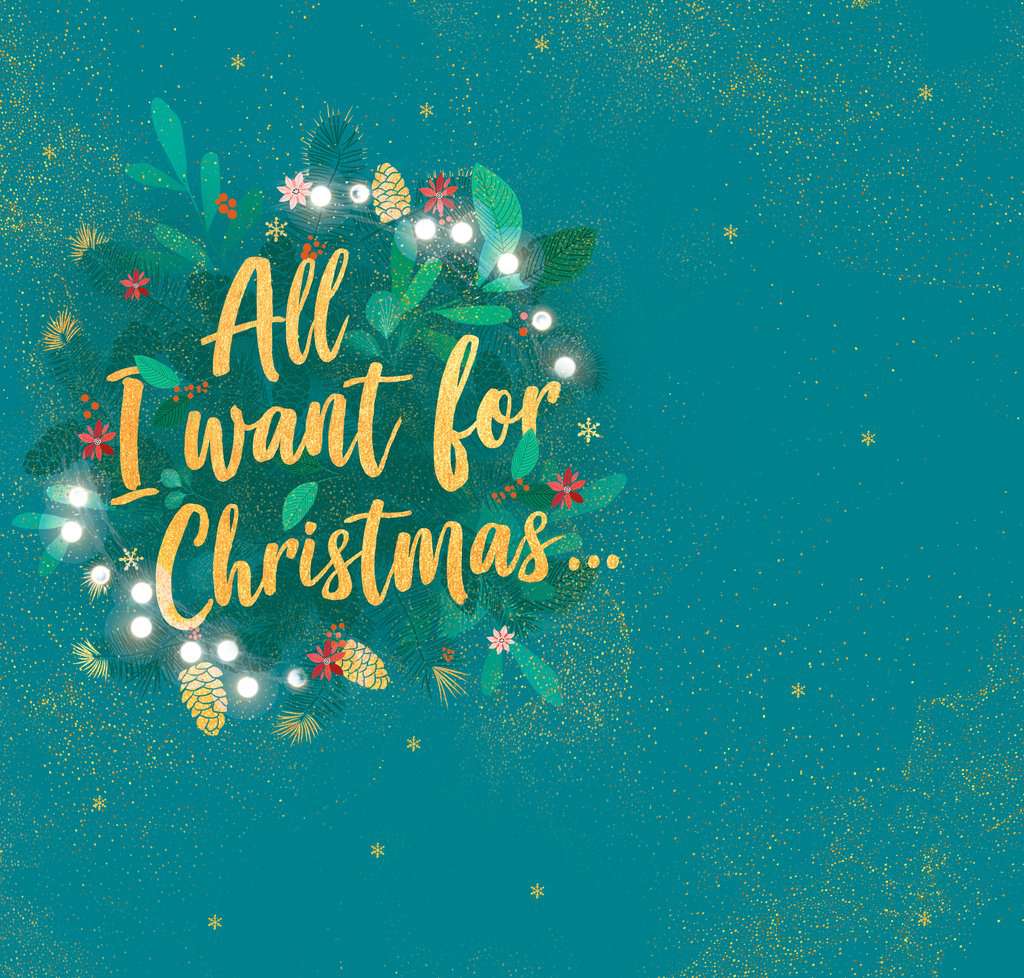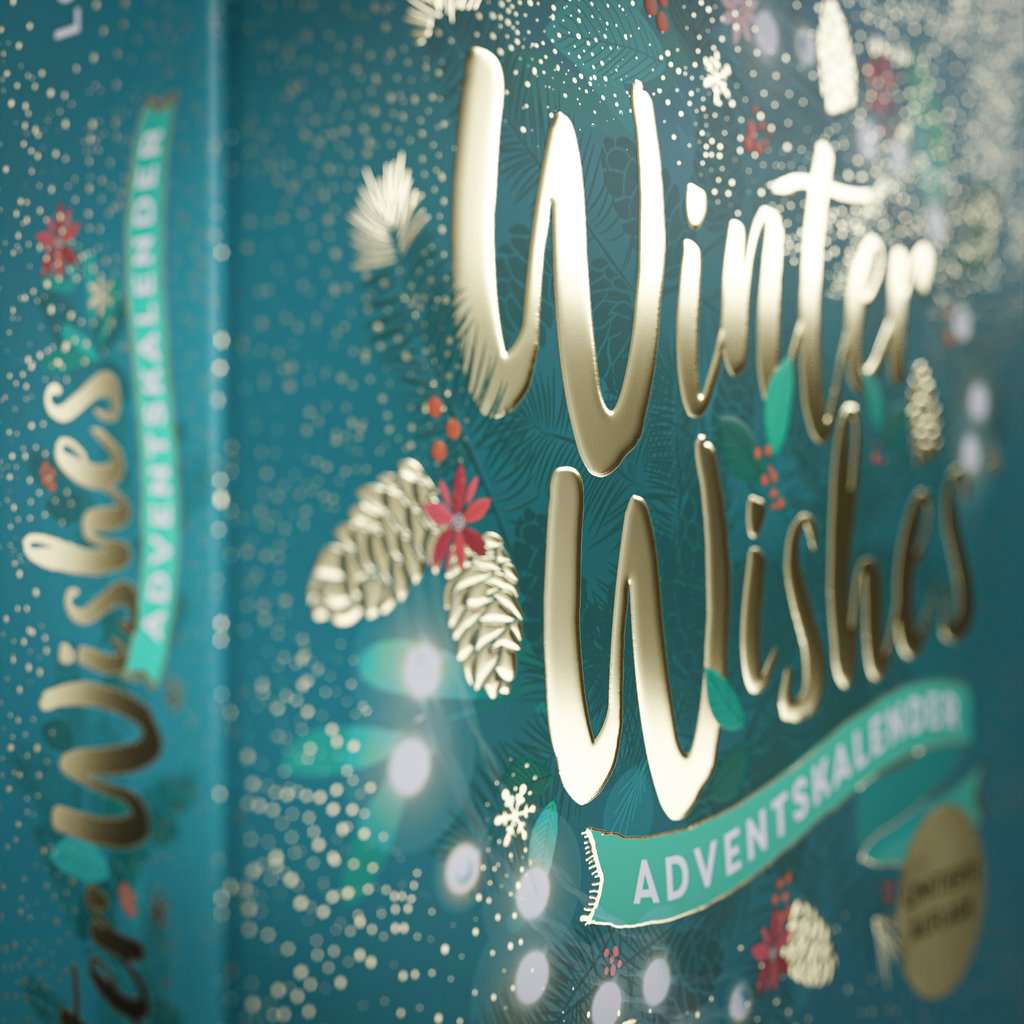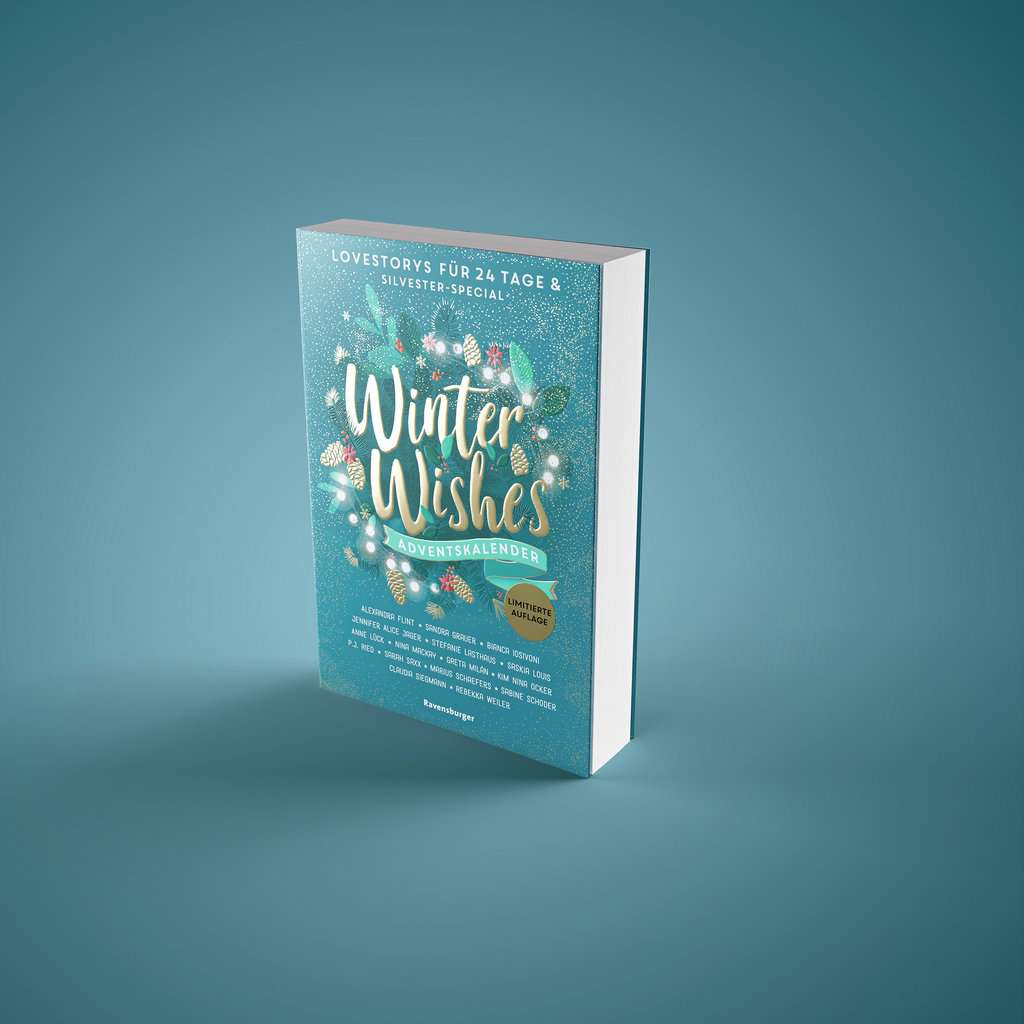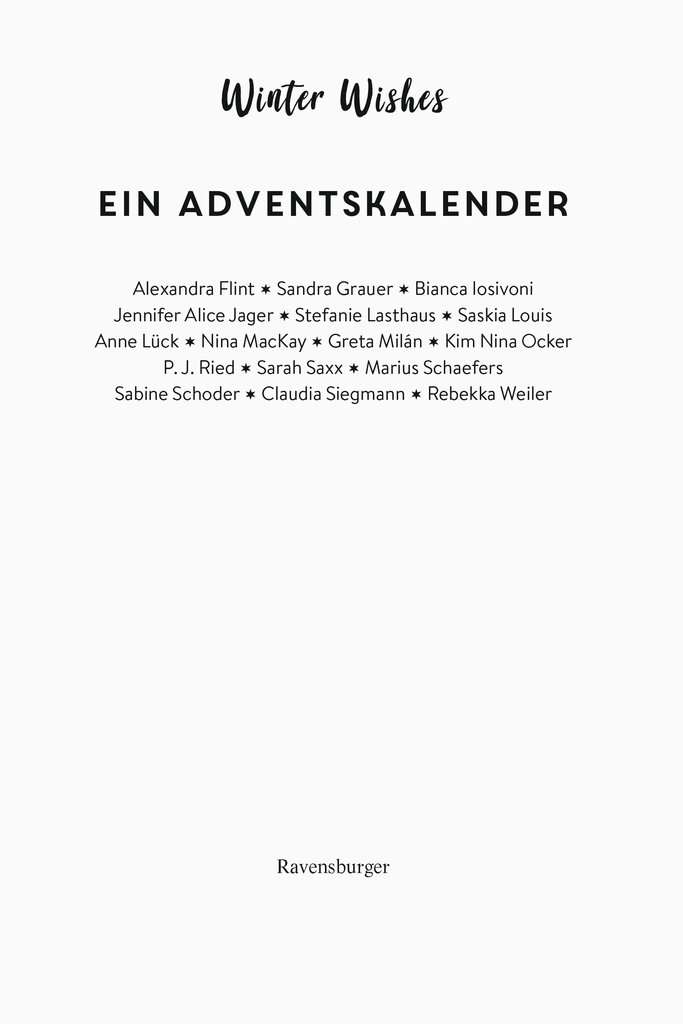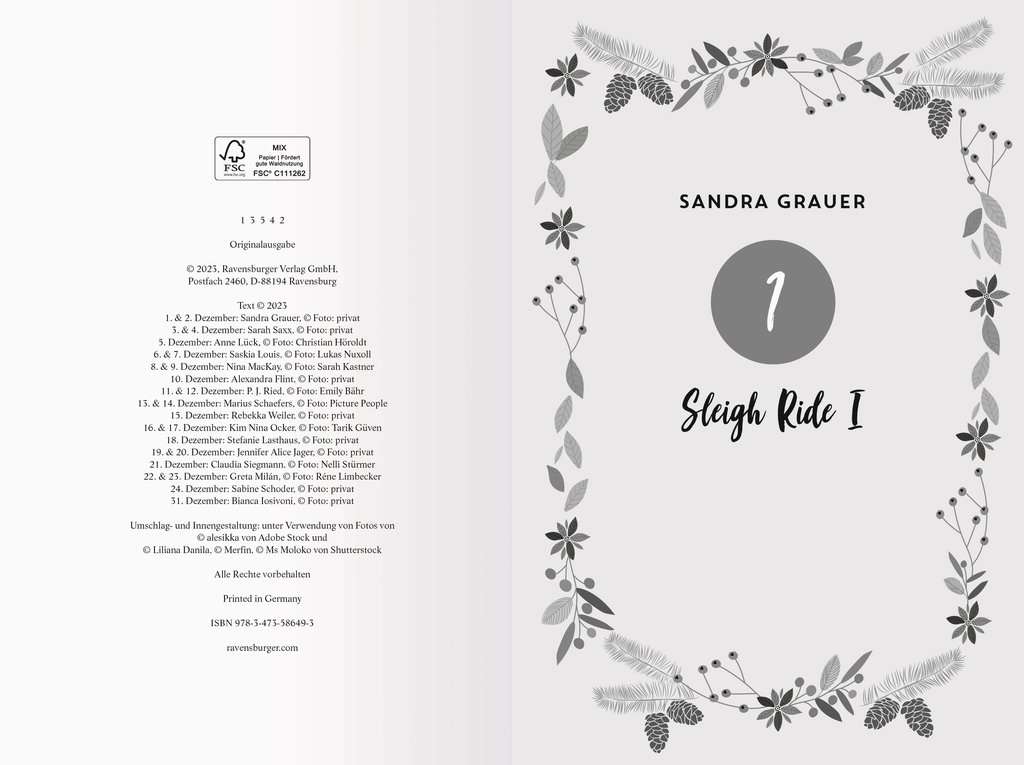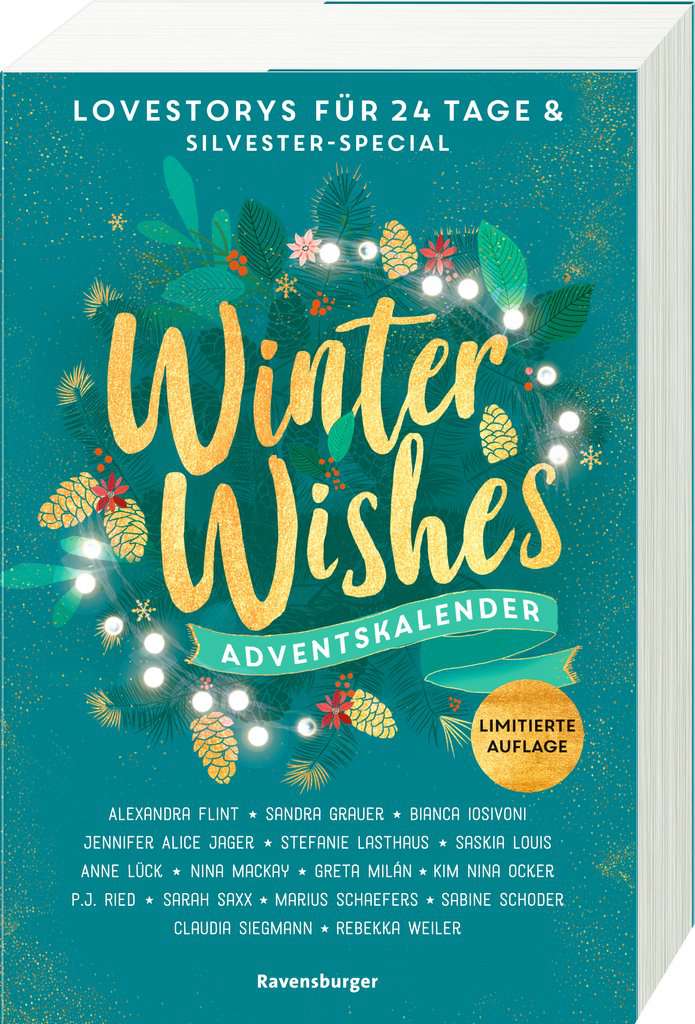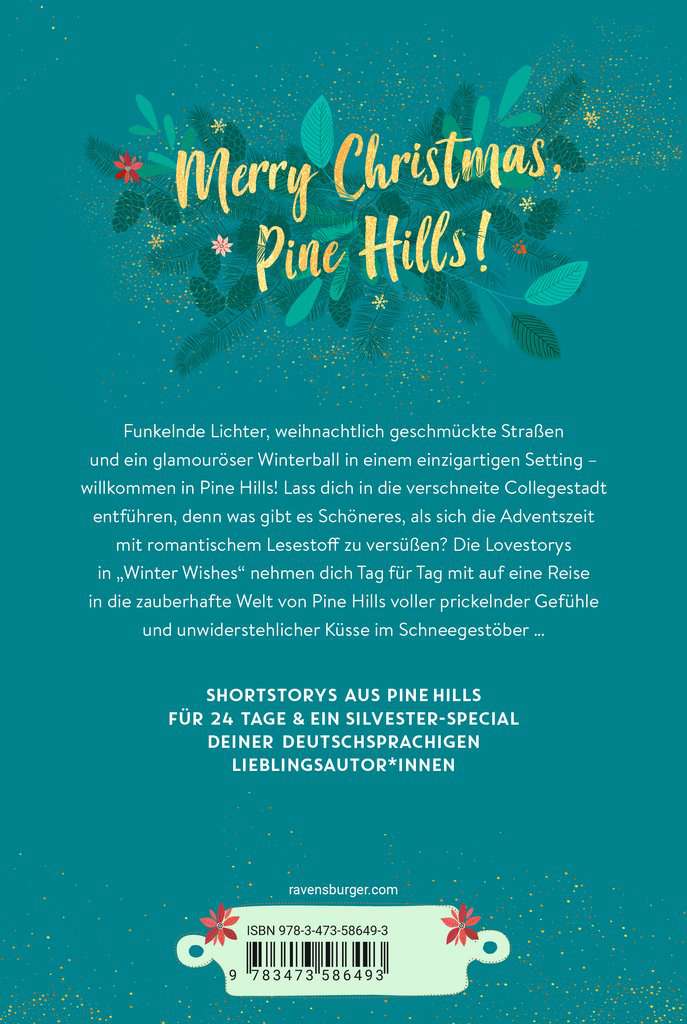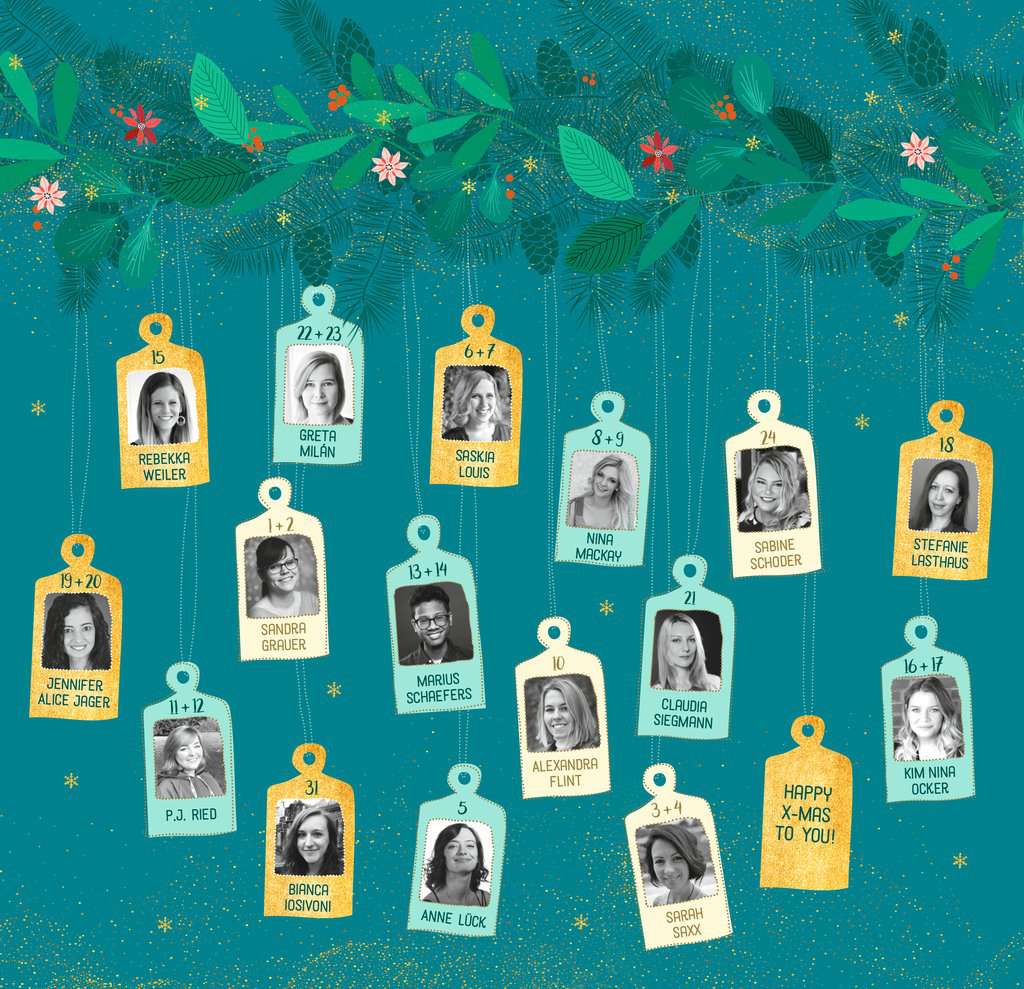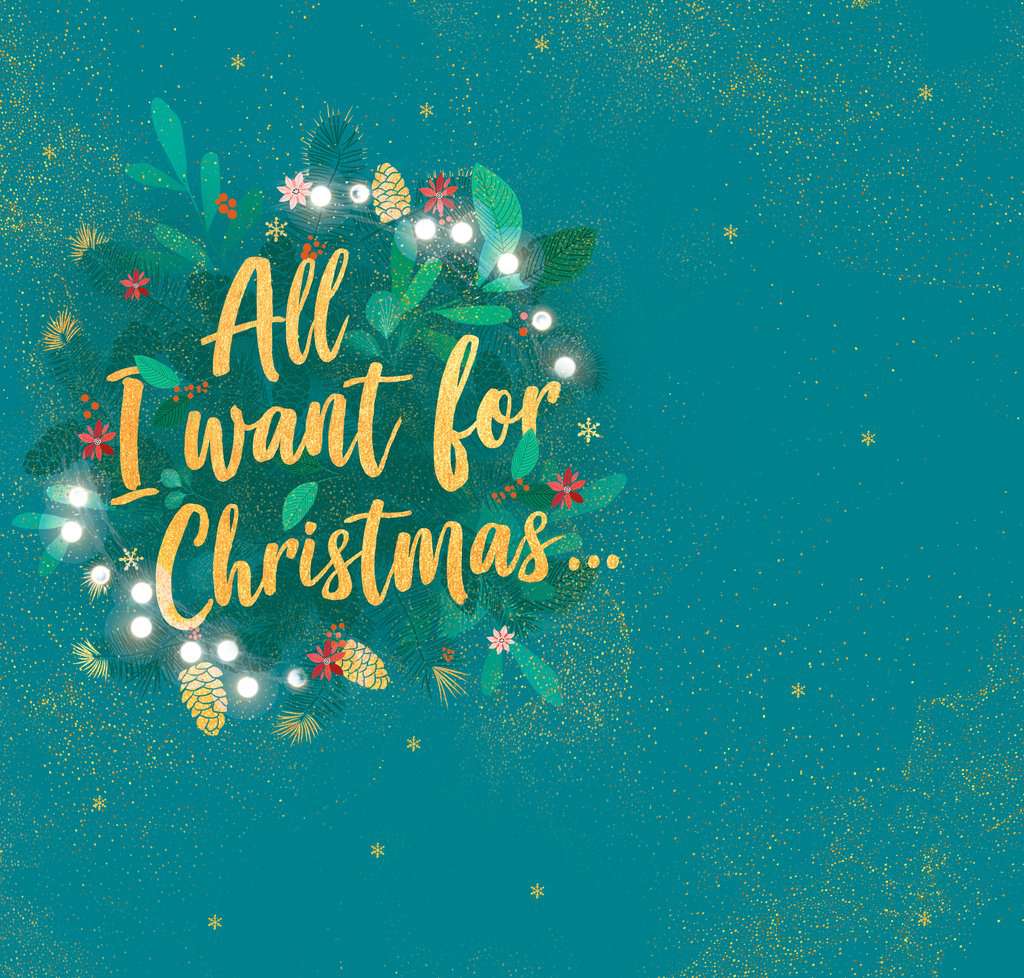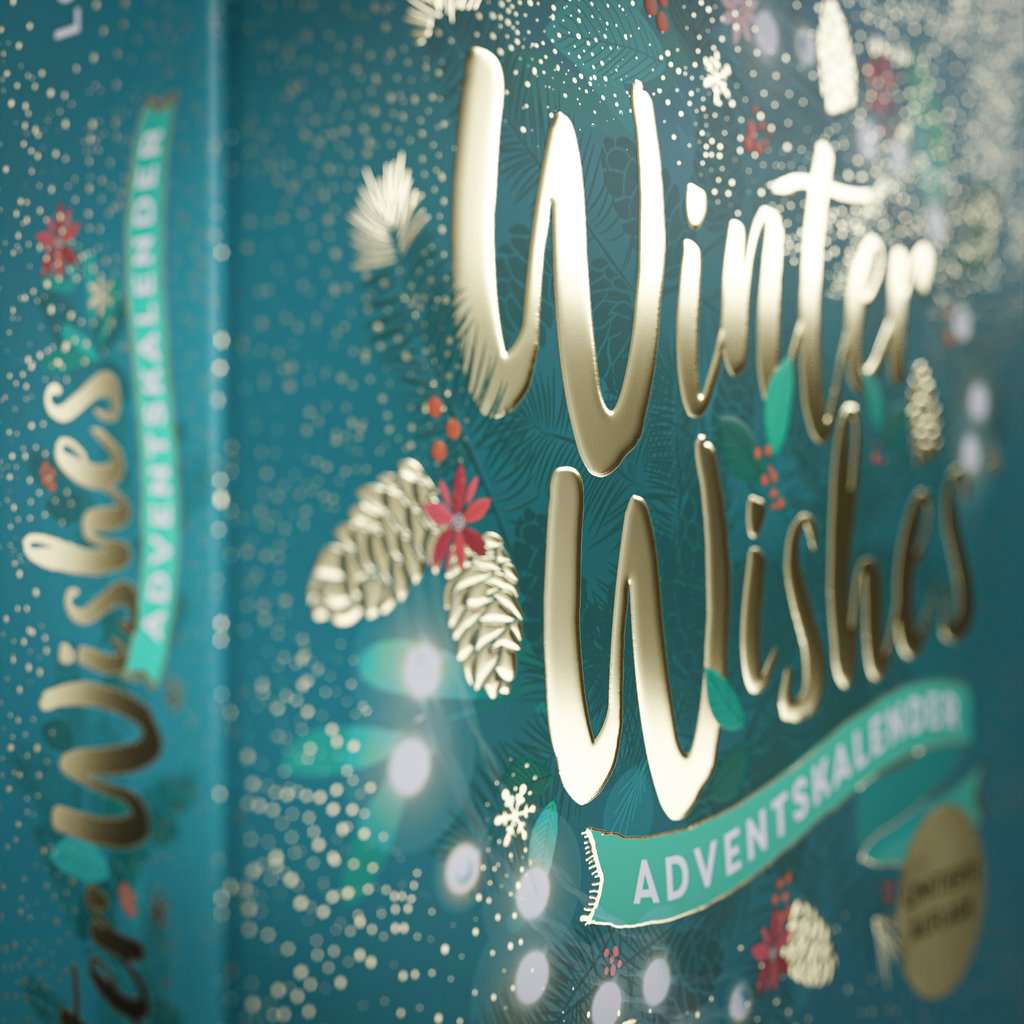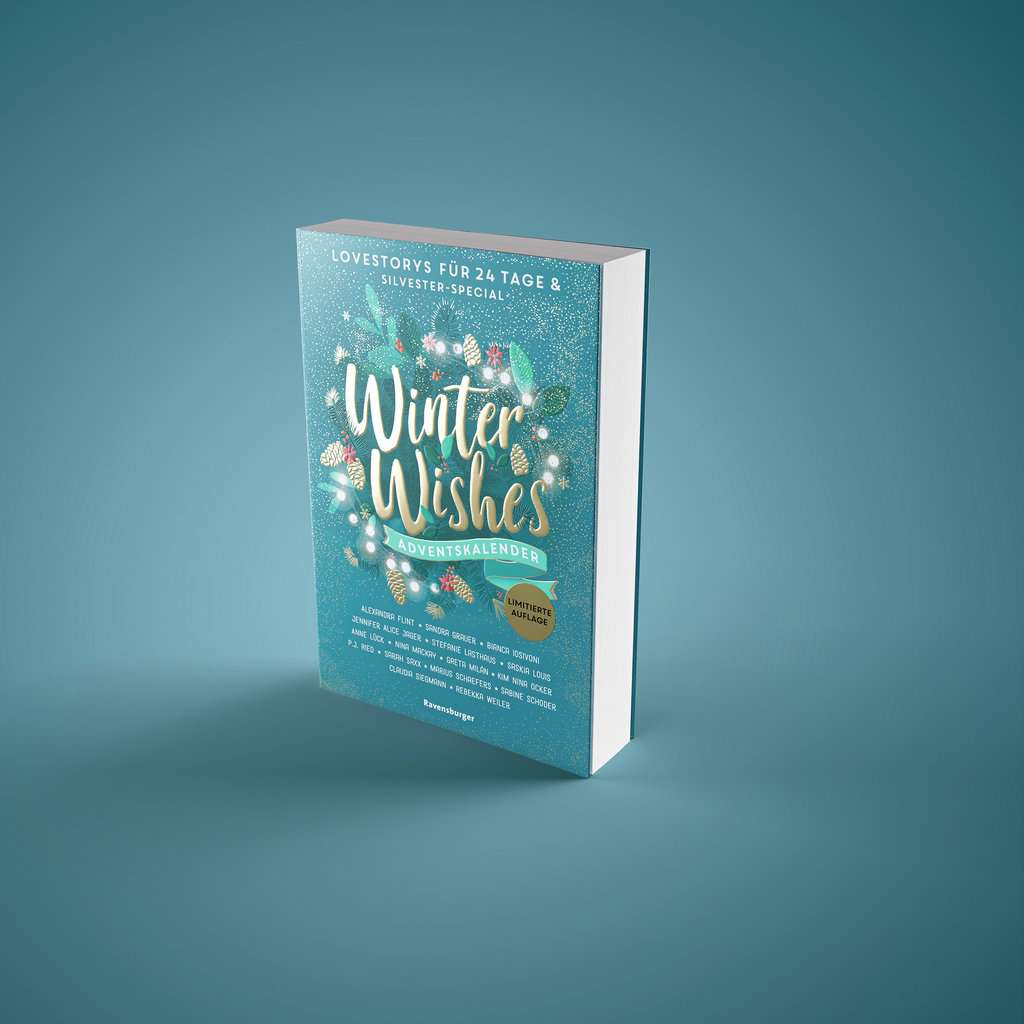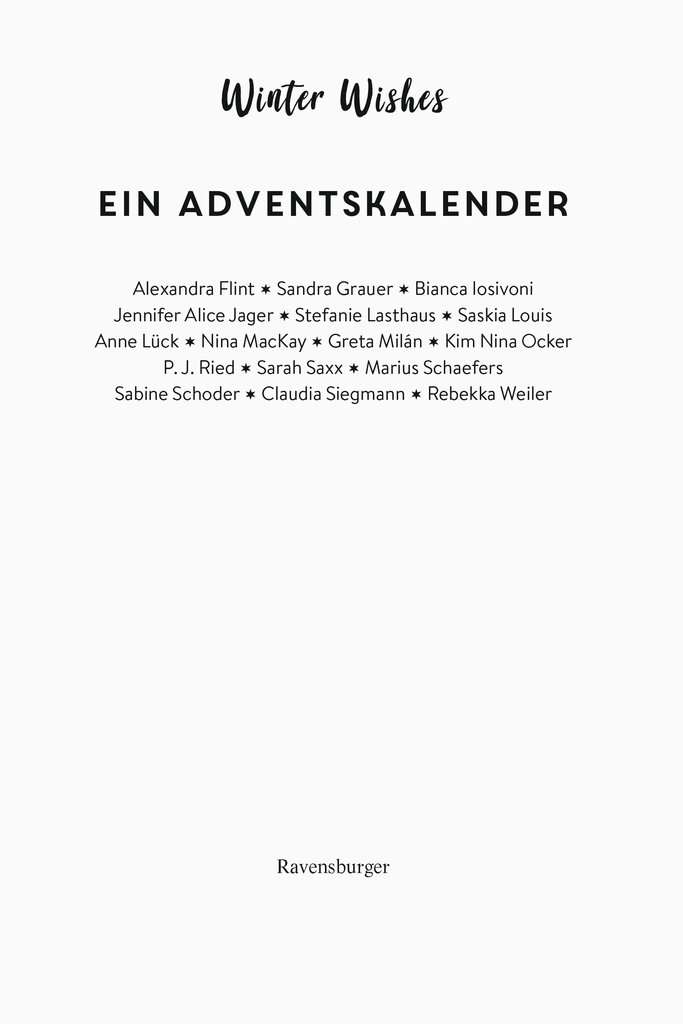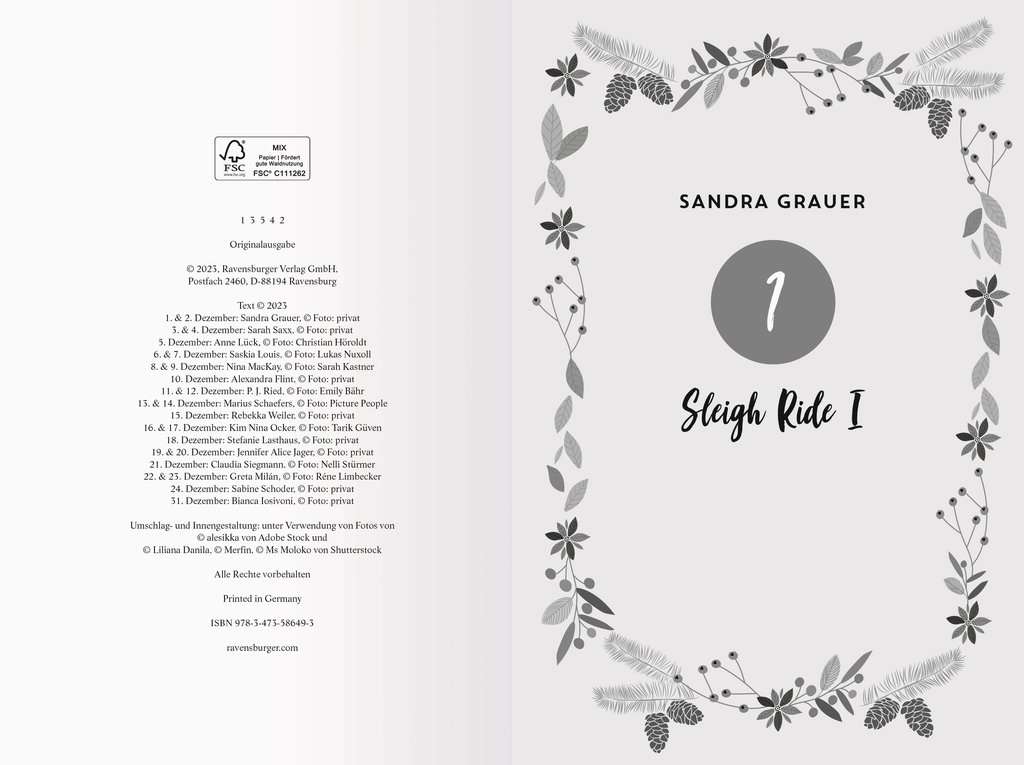 Winter Wishes. An Advent Calendar. Love Stories for 24 Days plus a New Year's Eve Special
Winter Wishes. Ein Adventskalender. Lovestorys für 24 Tage plus Silvester-Special
24 romantic short stories from Pine Hills plus a New Year's Eve Special


Every story is set in the snow-covered college town of Pine Hills

Bestselling concept: more than 20,000 copies of the two predecessor volumes sold

480 pp
14 years +
14 x 21 cm
EUR 17.99
June 2023
Softcover
978-3-473-58649-3
Content
Twinkling lights, festively decorated streets and a glamorous winter ball in a unique setting – welcome to Pine Hills! Allow yourself to be transported to this snow-covered college town, for what could be better than sweetening the advent period with a romantic read? The love stories in "Winter Wishes" take you on a daily journey into the charming world of Pine Hills, full of exciting feelings and irresistible kisses in the driving snow.
The Author
Nina MacKay began her writing career on the Wattpad online platform where she won multiple awards for her stories. She continues to write humorous novels for adolescents and young adults while working as a marketing manager in real life. Outside of work hours, she dreams up her own worlds and conducts imaginary interviews with her characters. Preferably with a few litres of coffee on hand. Rumour has it she used to work as a model and has won a number of beauty contests all over the world. However, writing has always been her favourite hobby. Three cheers for pseudonyms and modern technology, which mean that no part of this biography can ever be proven.
Sandra Grauer was born in 1983 in the Ruhrgebiet area of Germany. Reading, writing, and delving into different worlds through stories has always been her passion. In Heidelberg she studied languages and translation before completing a correspondence course in journalism and a training program at a public relations agency in Karlsruhe. Now she lives in the Ruhrgebiet with her husband and their son. She writes primarily novels for teens and women, but also murder mysteries.
REBEKKA WEILER, born in 1986, wrote her first novel already at a young age. It was a four-page novel as a Christmas present for her mother. Since then, she has been fascinated for the written word, and her writings have become longer and longer. Mostly she devotes herself to love stories, in which she confronts her protagonists with all kind of challenges. Rebekka lives in southern Germany, likes to travel and read and loves good coffee.
Alexandra Flint was born near Hanover in 1996 and now lives with her husband in the heart of Munich. After studying electrical engineering and information technology, she now devotes herself entirely to literature. In addition to writing, she blogs about books and her author life on Instagram or travels around the world with a backpack and tent. Her favorite genres include everything that has to do with fantastic worlds, deep emotions, tension and magic, just as her heart is attached to dark secrets, twisted fates and characters who always outgrow themselves. More about the author on Instagram @alexandra_nordwest
Marnie Schaefers is the pseudonym of a young German author: Marius. He was born in 1995 and discovered his passion for books at an early age, influenced in no small part by Tolkien's Lord of the Rings. He self-published his debut novel at the age of 18, followed by additional self-published successes. Marius shares fascinating insider information and sources of inspiration for his romantic/dramatic and fantasy stories on Instagram and Facebook, and speaks openly about his trans identity. Since his transition the author has lived as a man. Marius greatly enjoys interaction with his readers.
Bianca Iosivoni, born in 1986, is an active author (both through publishing companies and self-published) and blogger, and has many enthusiastic readers and fans through social media. When she isn't working on a new idea for a book, she composes entries for the author blog schreibwahnsinn.de. She remains in constant contact with her readers through her website, bianca-iosivoni.de, as well as Twitter, Facebook, Instagram and Pinterest.
Jennifer Alice Jager was born in Saarland in 1985 and has been publishing children's and young adult books since 2014. Her vivid imagination and her passion for books, animals and nature started in childhood. After she left school, she gave drawing lessons and exhibited her artwork in galleries. She then moved to Japan, where she truly discovered her love of writing for the first time. When she returned home, she soon made the decision to pursue a full-time writing career. In her free time, she still enjoys drawing, reading books of any genre and looking after her beloved animals.
Stefanie Lasthaus has travelled all over the world: after studying journalism, she worked as a story writer and tour guide in Australia. Subsequently, projects in fields like text, film, tourism and online games took her to Switzerland, England and back to Germany. Today, she passionately writes adult and young adult novels, works as an editor and travels to countries that fascinate her in her books.
Sarah Saxx, born in 1982, came to writing years ago via her love for romance novels. Since then, the daydreamer has successfully published a large number of deeply moving, butterfly-inducing stories. Sarah writes, loves and lives in Upper Austria and enjoys spending her free time with her husband, their two daughters and their Labrador Buddy.
Claudia Siegmann was born in Kassel, Germany, in 1973, and invented countless stories even while she was still in school. She first worked in the hotel industry before writing fever caught up with her again, and has been creating fantastic adventure stories ever since, for which she has already received many awards and a grant.