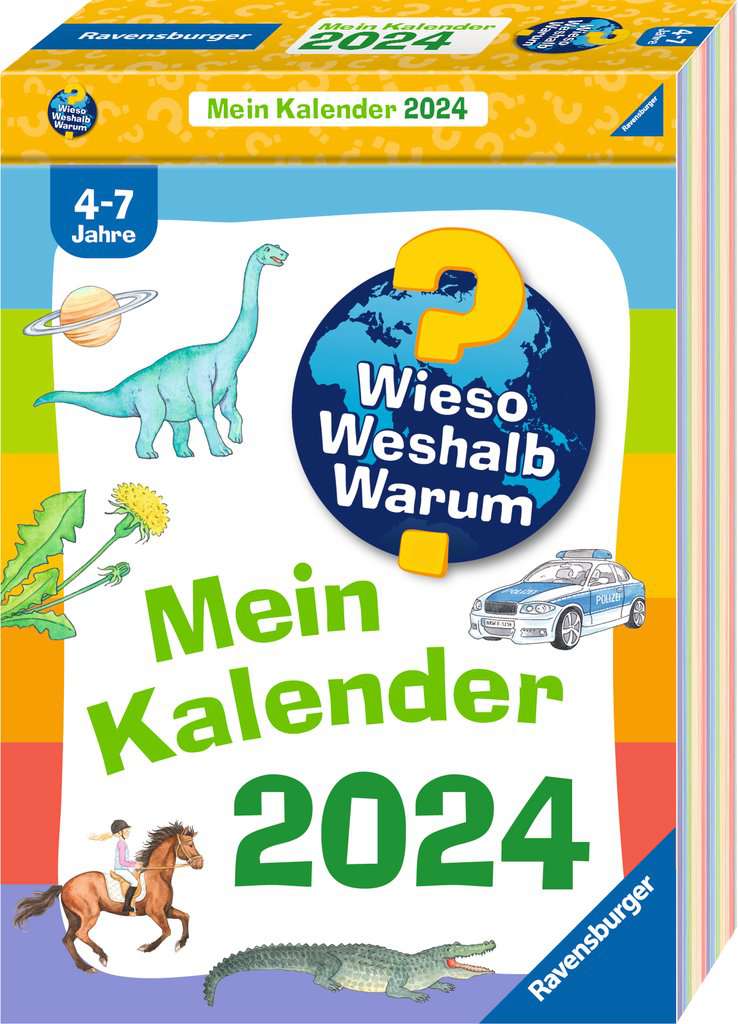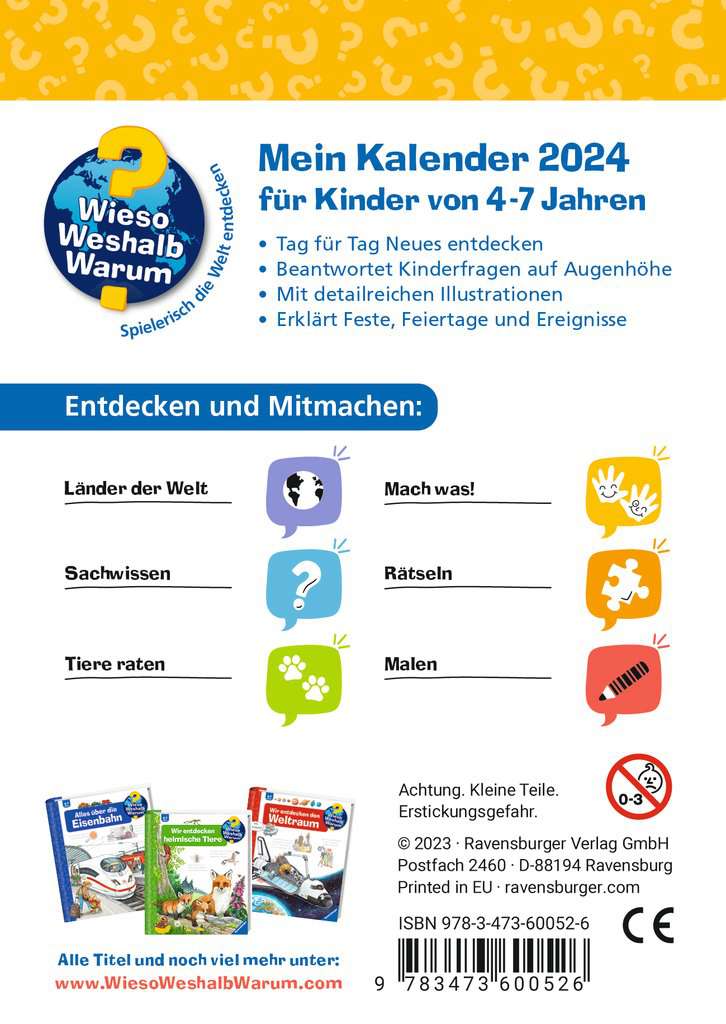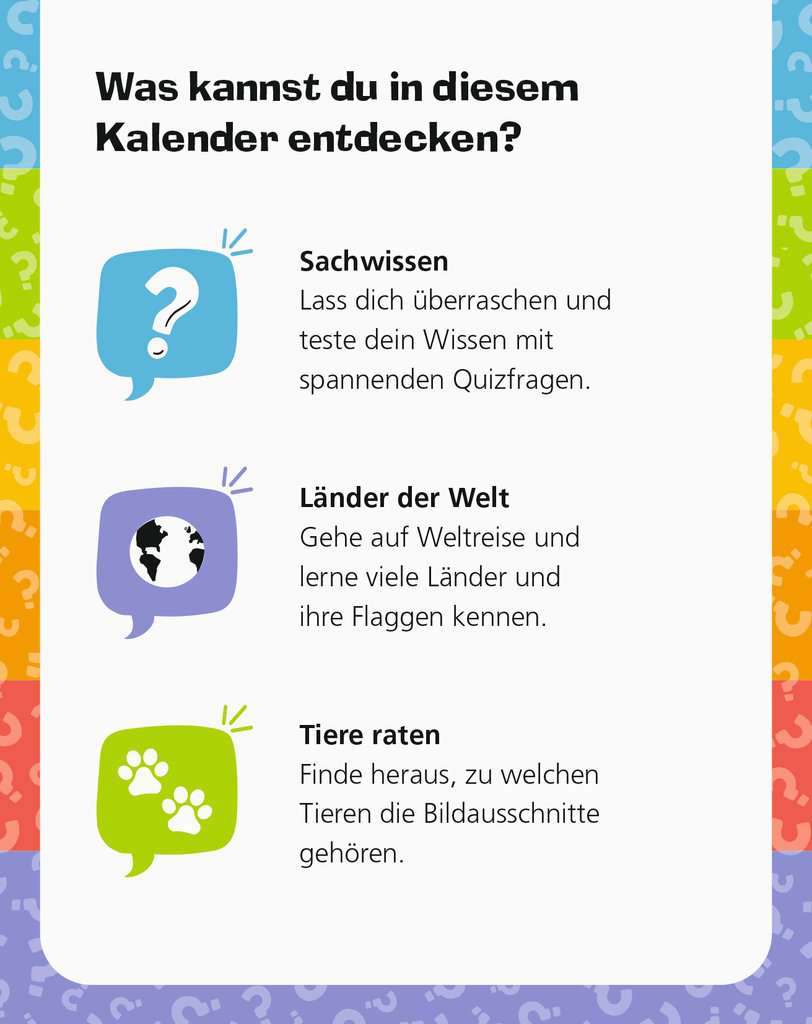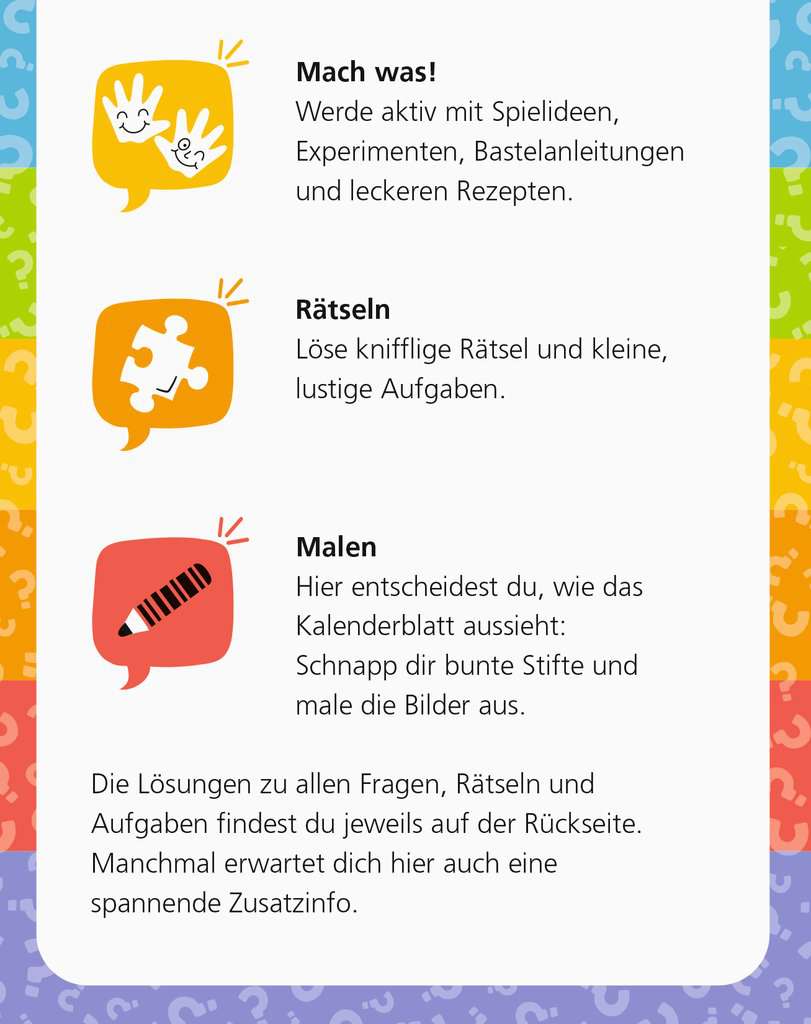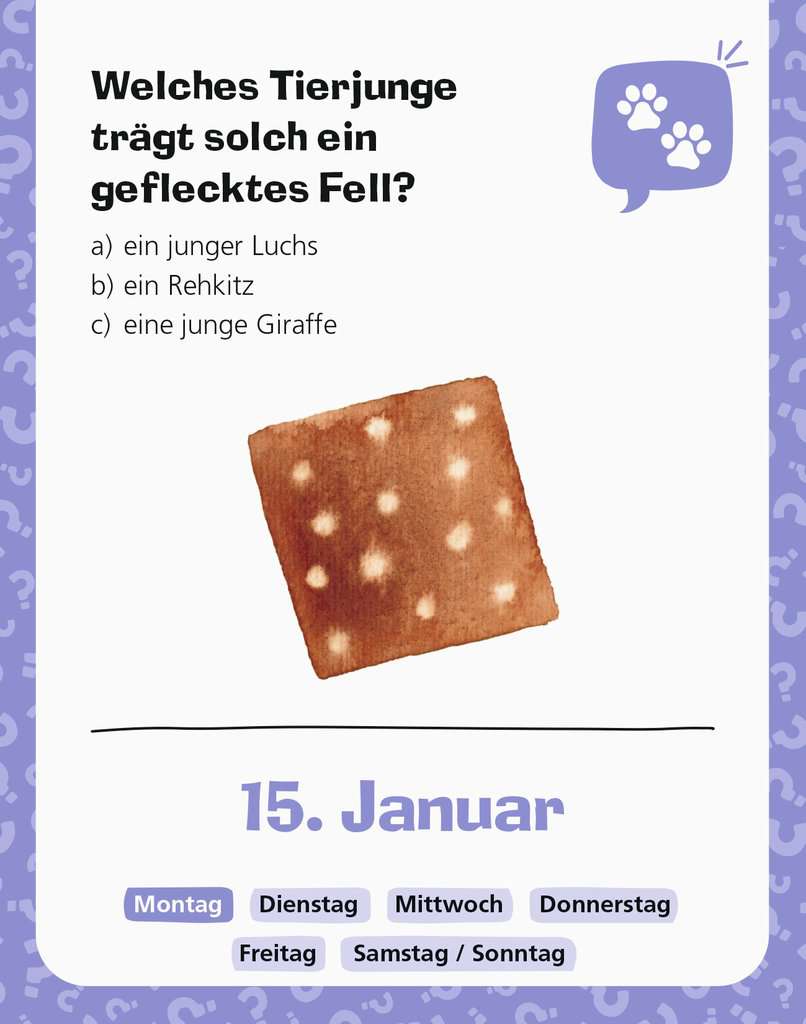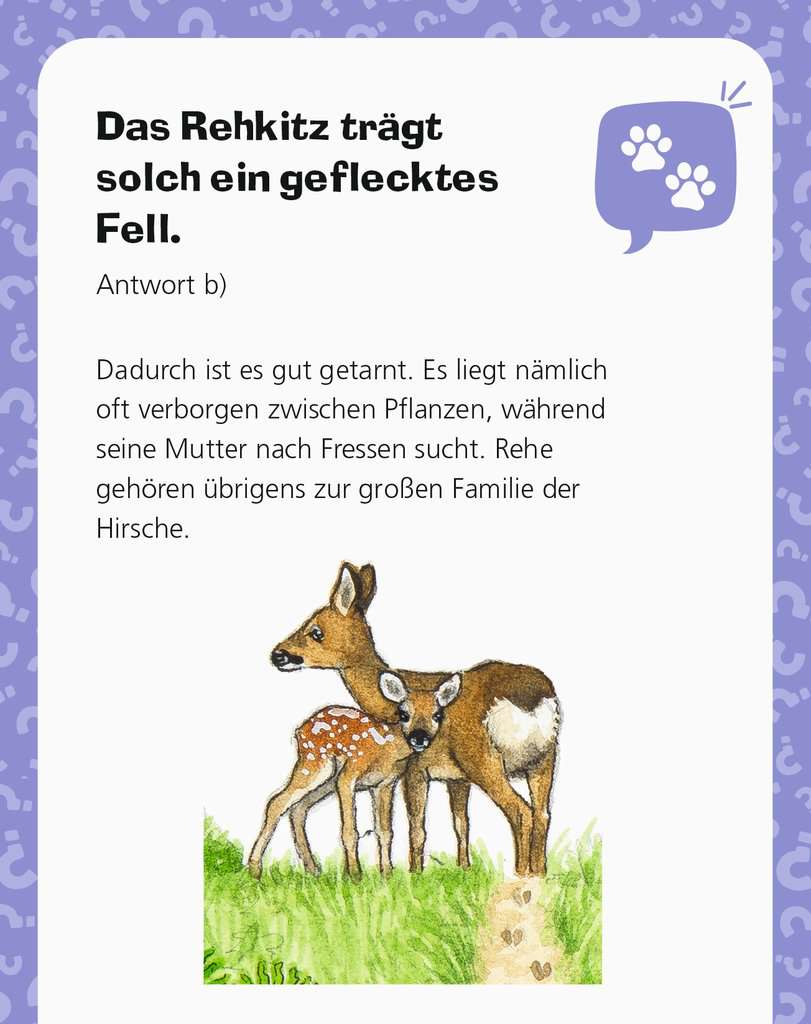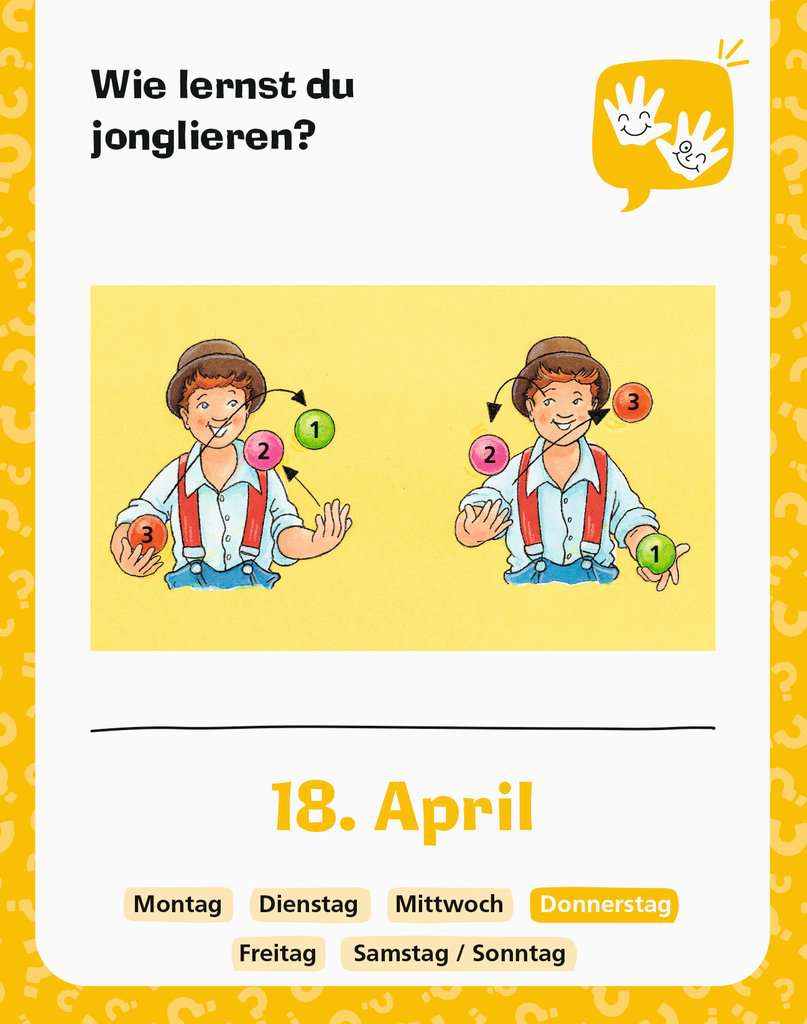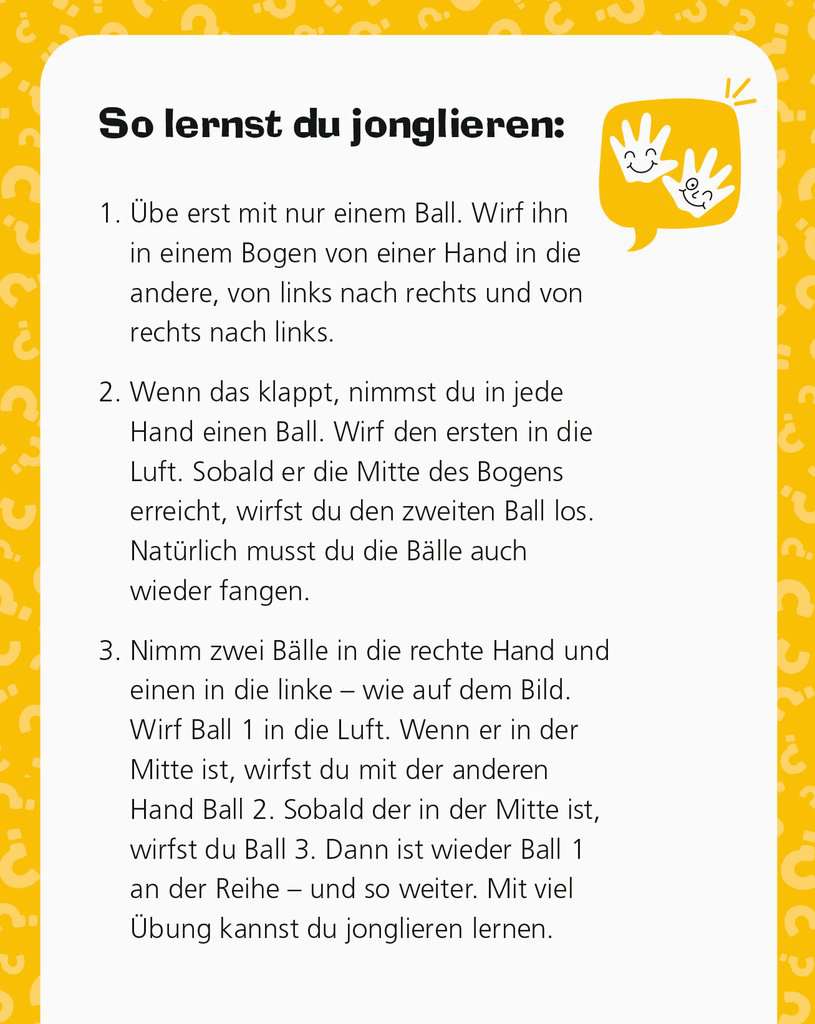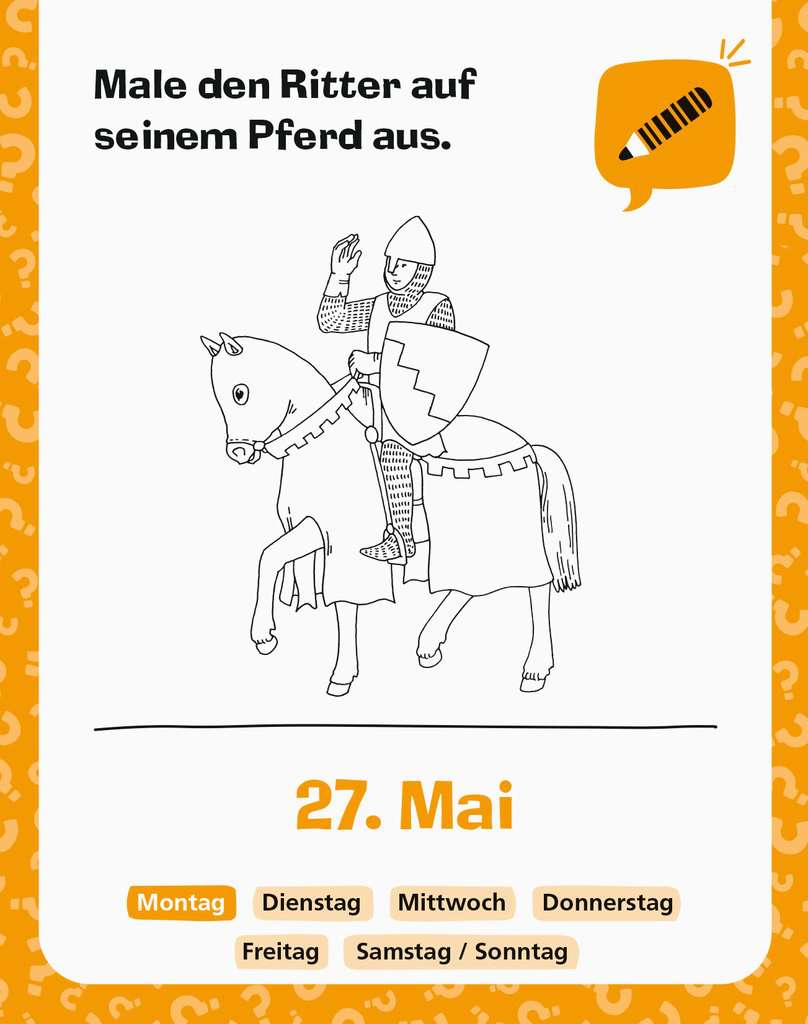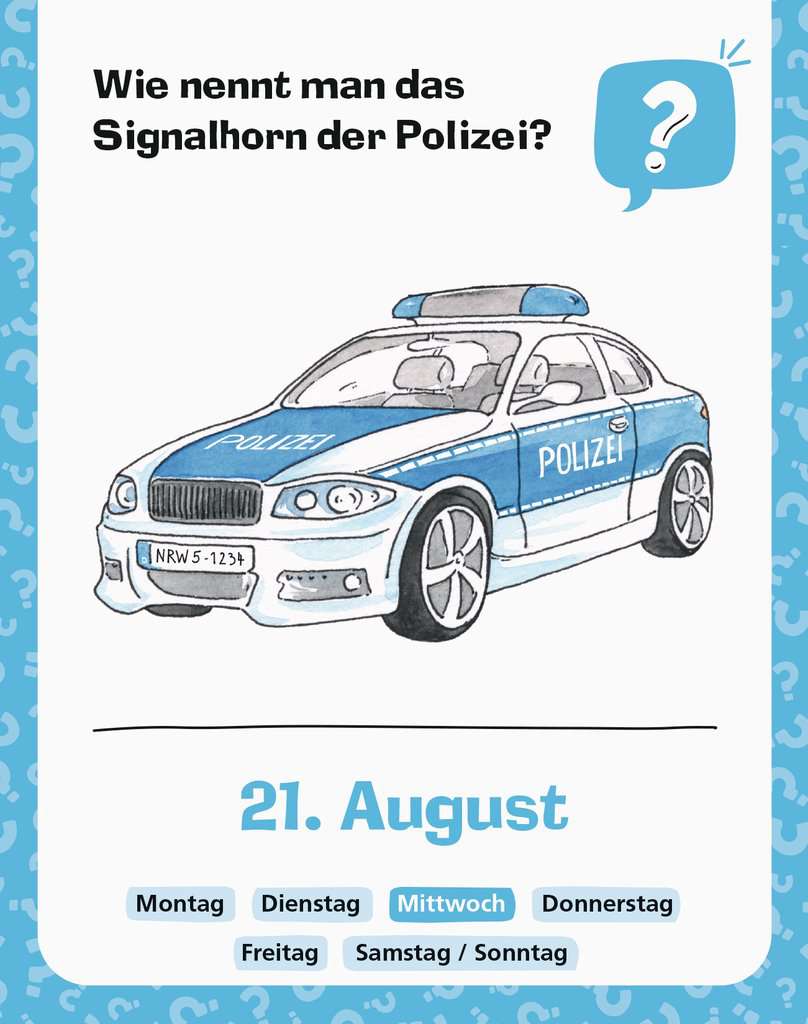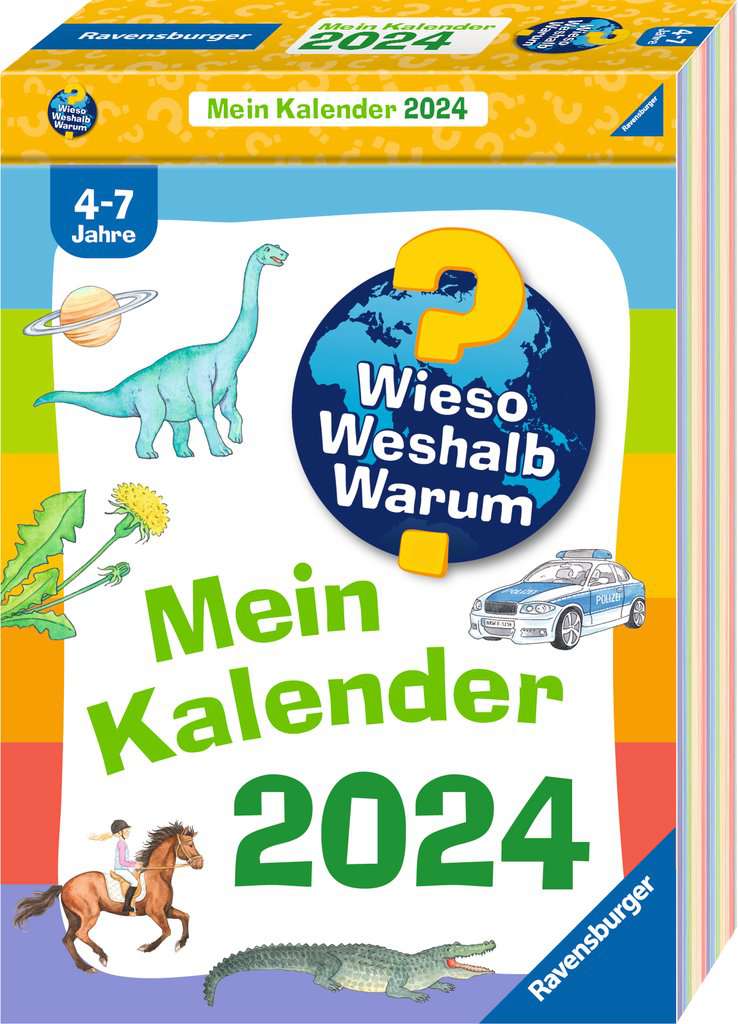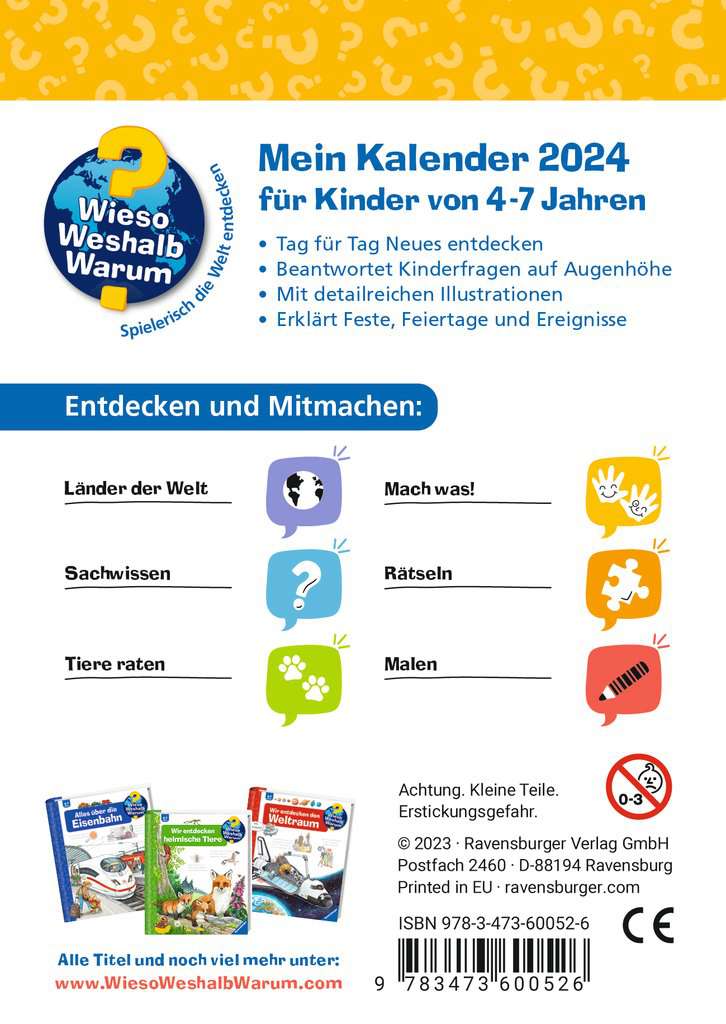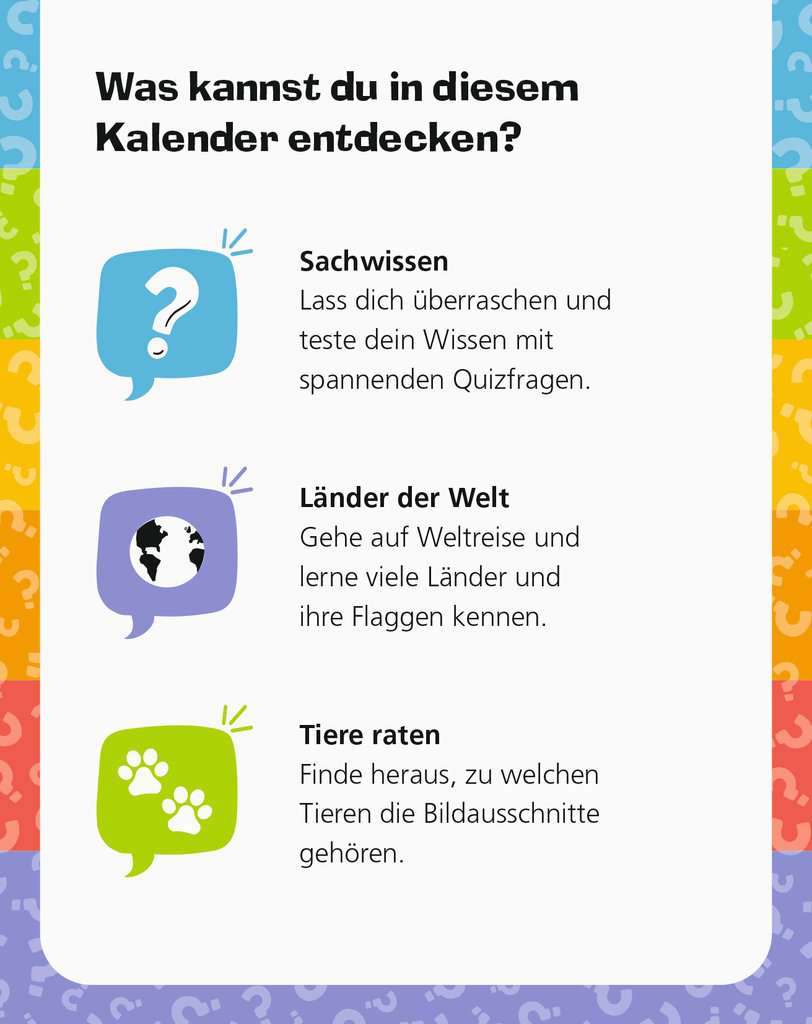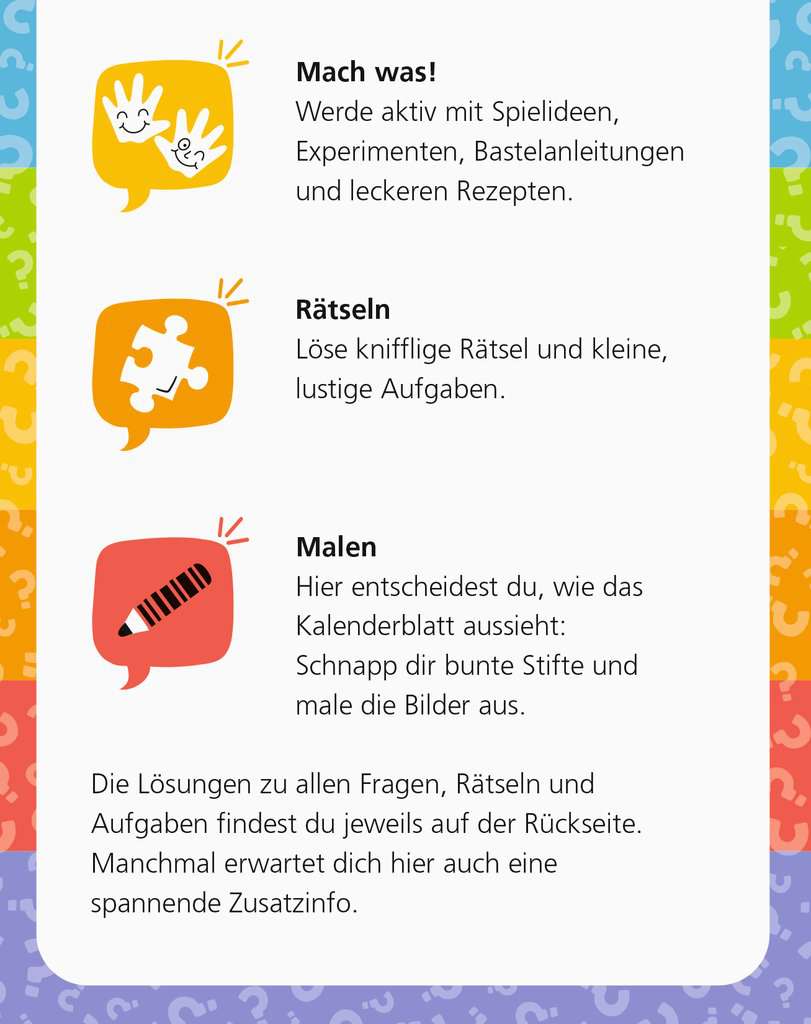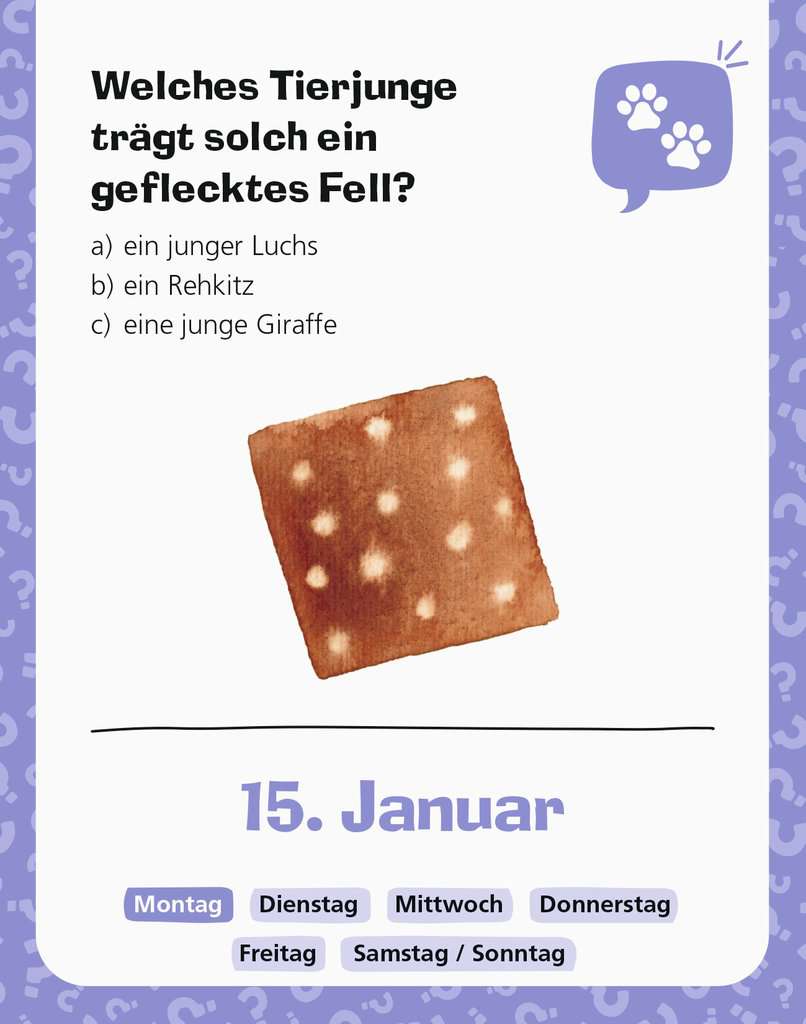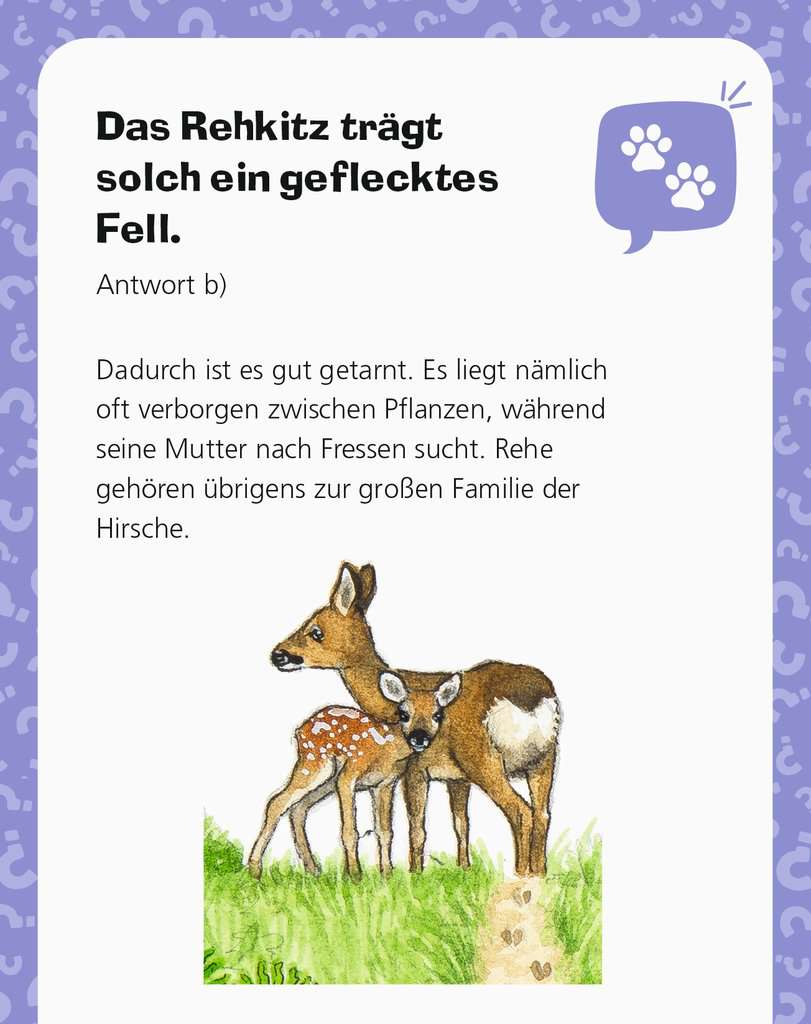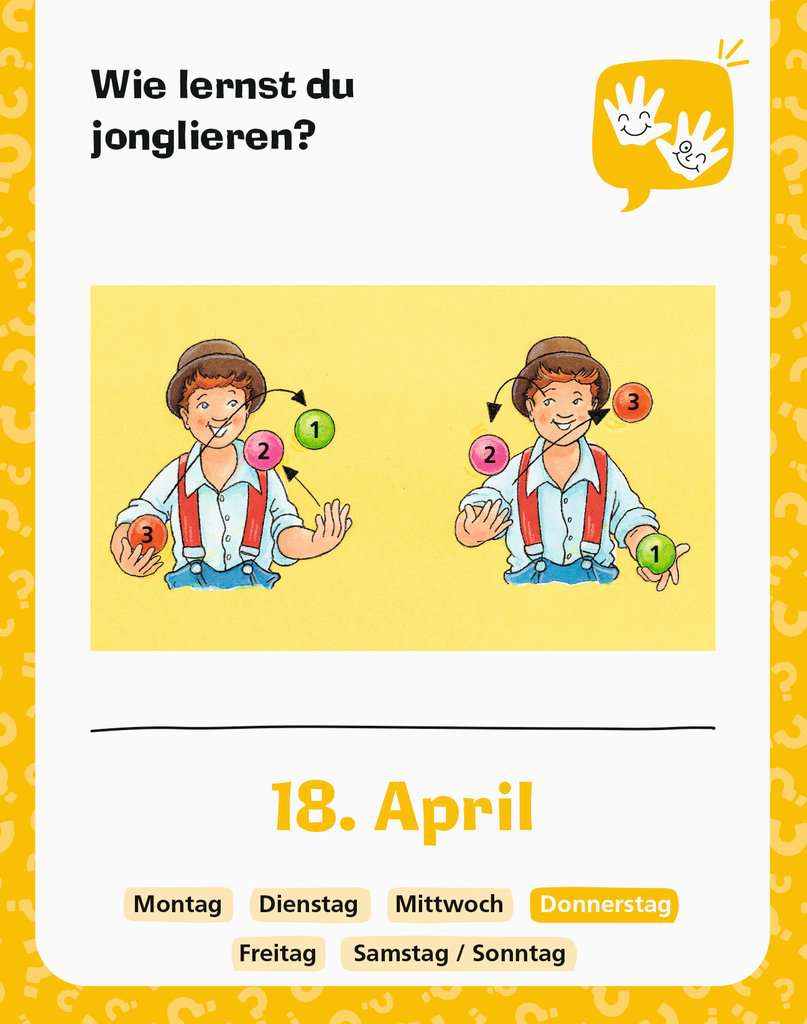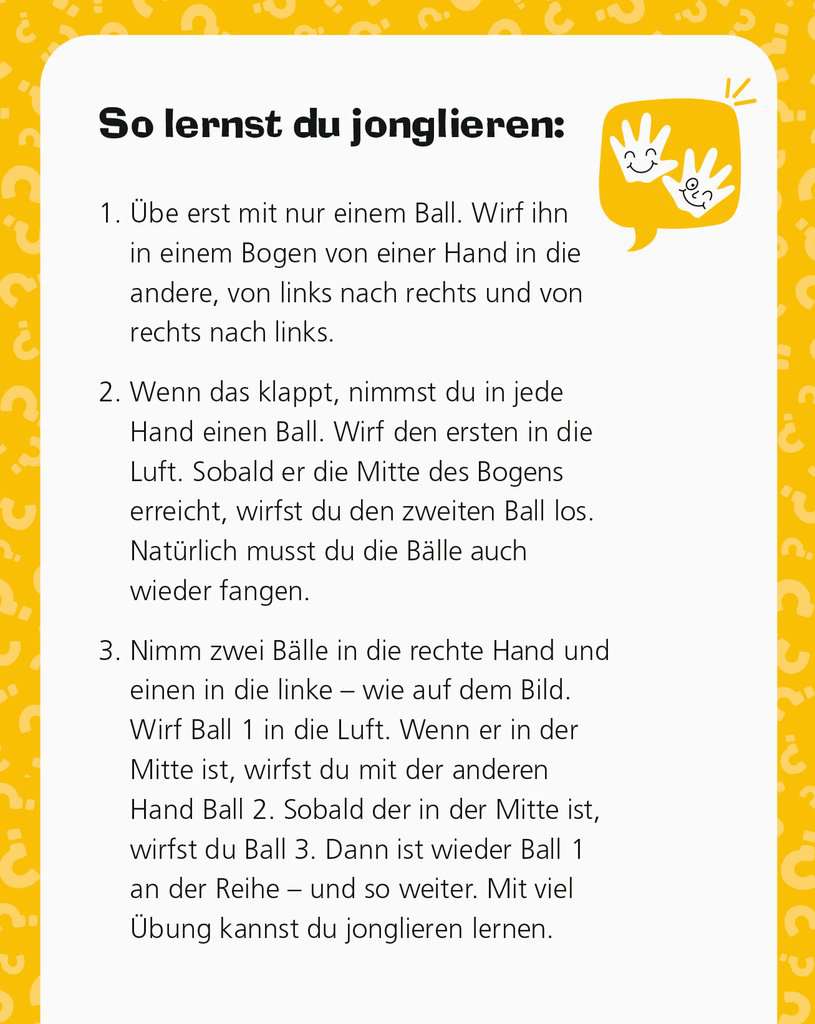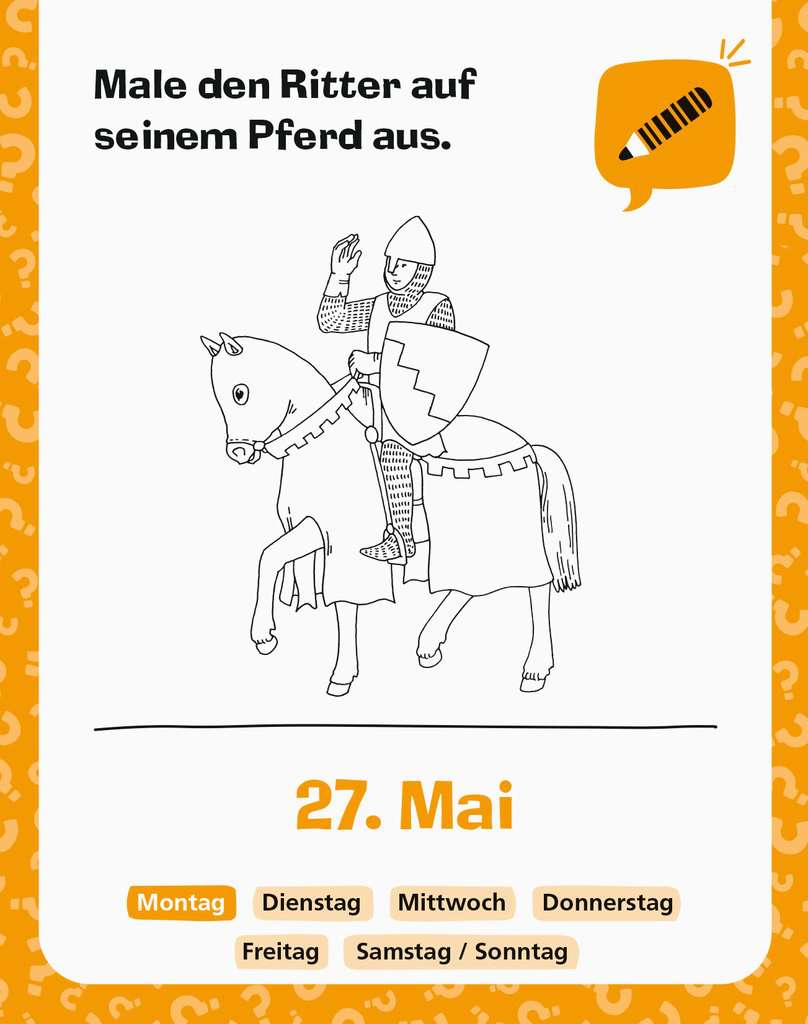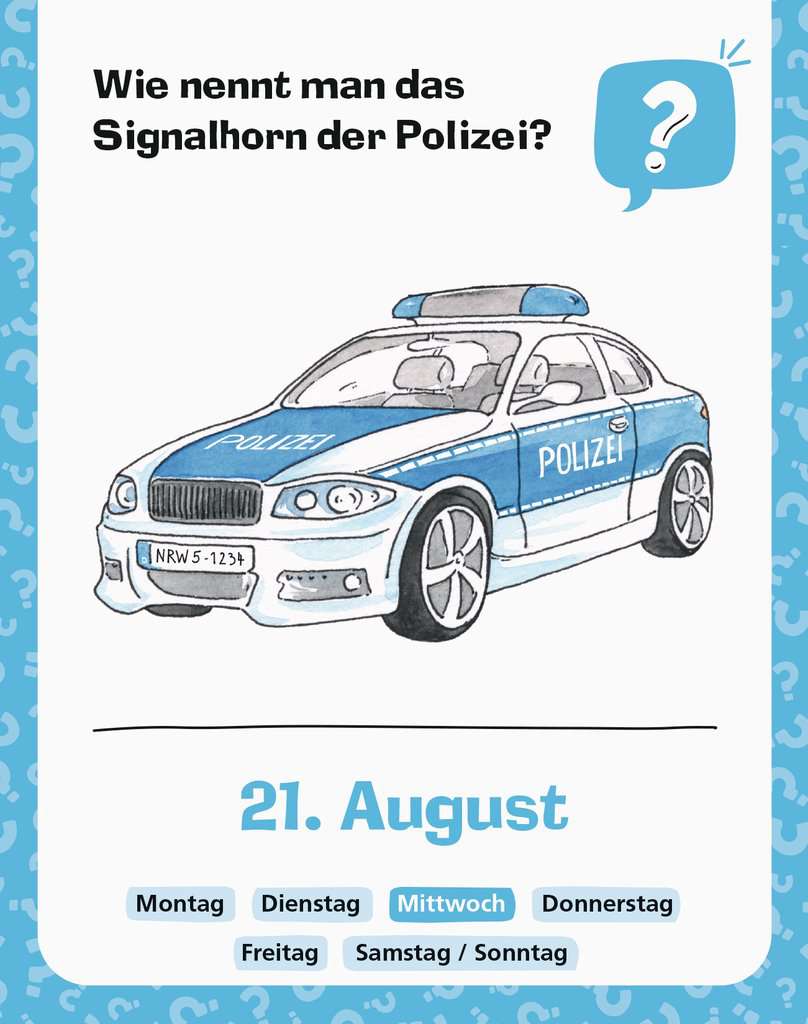 Why? Why? Why? My 2024 Calendar
Wieso? Weshalb? Warum? Mein Kalender 2024
View all books in the series
This daily tear-off calendar provides children with new knowledge, puzzles, coloring images and activity ideas every day.


Daily tear-off calendar, can stand upright or be hung on the wall

New contents: even more answers to children's questions

Many pages with activity ideas, puzzles or coloring motifs

640 pp
4 years +
11 x 15,5 cm
EUR 12.-
April 2023
Calendar/ Christmas Calendar
978-3-473-60052-6
Content
This calendar allows children to discover new knowledge every day. Six categories offer fun and variety: The "Factual Knowledge" pages provide answers to fascinating questions like: Where do dandelion clocks come from? Why is laughter good for your health? Which special capabilities do tractors have? The flag quiz "Countries of the World" takes children on a trip around the globe. In the new "Guess Which Animal" category, children must recognise animals based on partial images. They can get creative in the "Coloring" section and solve puzzles on the "Puzzle" pages. The backside of each calendar page features instructions and solutions for the questions and puzzles. Naturalistic images and clear factual texts convey knowledge at eye level throughout the year.
About the Series
The WWW series stands out for its playful, enticing way of conveying just the information that kids want to know. Centered on who-what-how questions, the titles in the series explore subjects of great interest to young children. The thousands of questions children ask daily are answered by means of interactive elements, engaging illustrations, and age-appropriate texts. Because the lively illustrations convey so much, the books hold children's interest even without an adult to read the clear, friendly texts. WWW is ideally suited for preschool and kindergarten ages, for children 4 to 7 years old.
The Author
Dela Kienle is a freelance journalist. After studying in Bonn, Florence and Rome, she studied journalism and has written for the magazines GEOlino, Nido and Neon, among others. She lives in the Netherlands with her Italian husband and their two children.
The Illustrator
Anne Ebert, born in 1963, knew as a child she wanted to become an artist. She studied graphic design in Münster and focuses her work on nature illustrations. Anne Ebert has illustrated numerous books for Ravensburger.
Silke Voigt was born in Halle an der Saale, Germany in 1971. She earned her degree in graphic design in 1996, and has worked as a freelance graphic artist and illustrator for a variety of publishers of non-fiction, children's books and textbooks ever since. For the author and illustrator, books are a significant and essential element of culture, because they challenge people's fantasy.
Wolfgang Metzger is trained in lithography and graphic design. After his studies he illustrated textbooks for a long time, but has concentrated on designing and illustrating children's books for more than 20 years. His books have become bestsellers, with more than 8 million copies sold in German language territories. Wolfgang Metzger has four daughters and lives with his family near Stuttgart.
Peter Nieländer was born in 1969 and studied design at University. Today he works free lance as an independant illustrator and grafic designer for various advertising agencies and publishers. He works with two other grafic designers in a large studio loft in the old freight station in Münster. In his illustrations, Peter Nieländer tries to capture momentary shots with which he hopes to entertain the reader and observer enjoyably.
Thilo is a successful screenwriter and has a wide range of German favorites to his credit. During the past few years, he has increasingly gained recognition as a children's book author and has been published by several well-known publishing houses. Thilo currently lives in Mainz with his wife and four children.