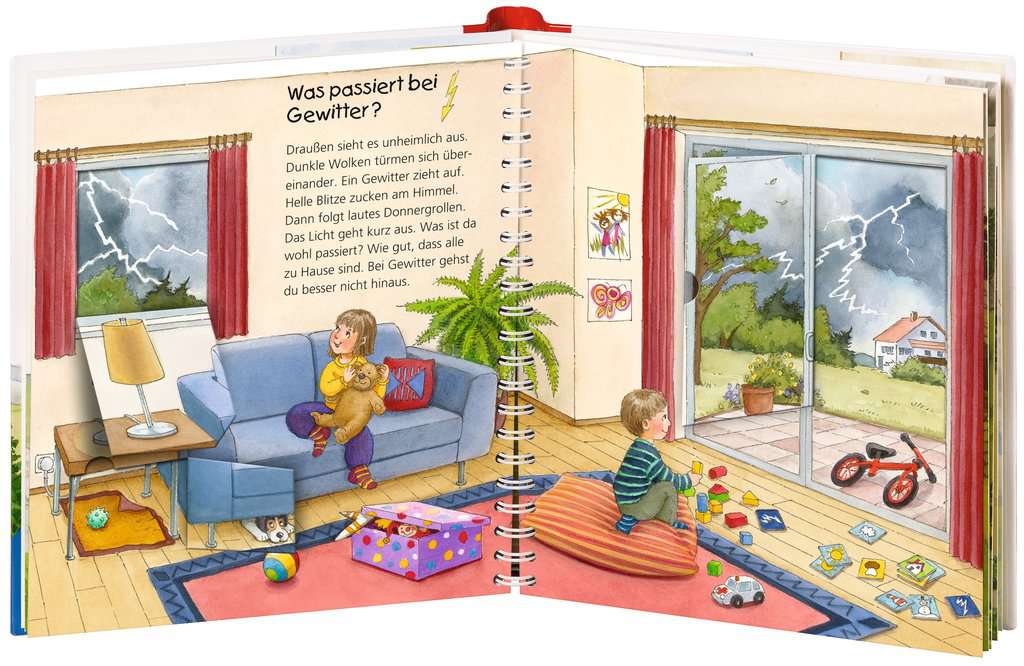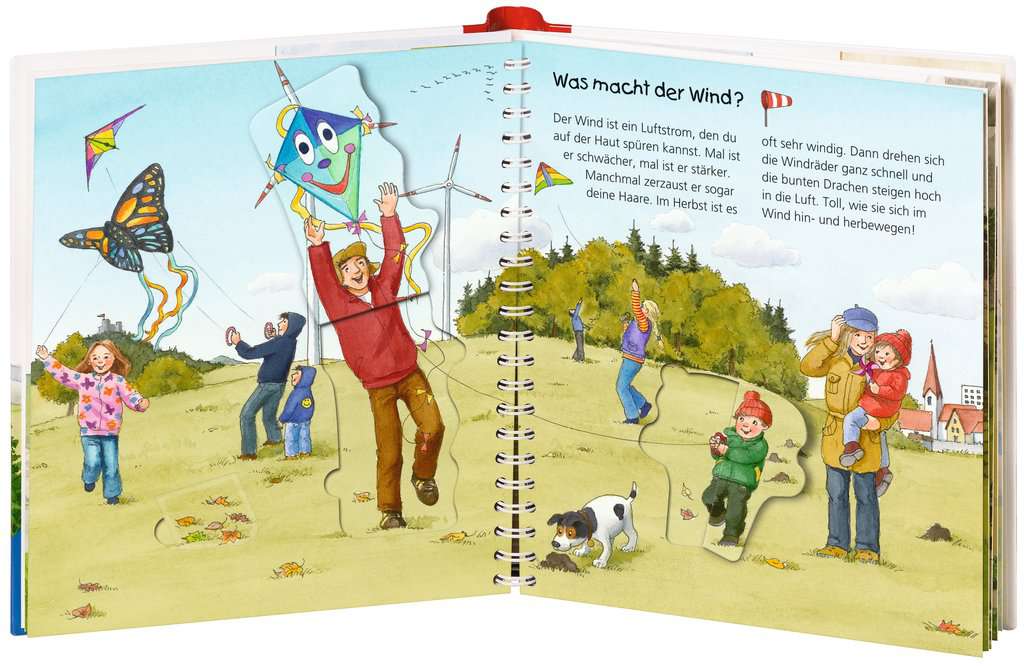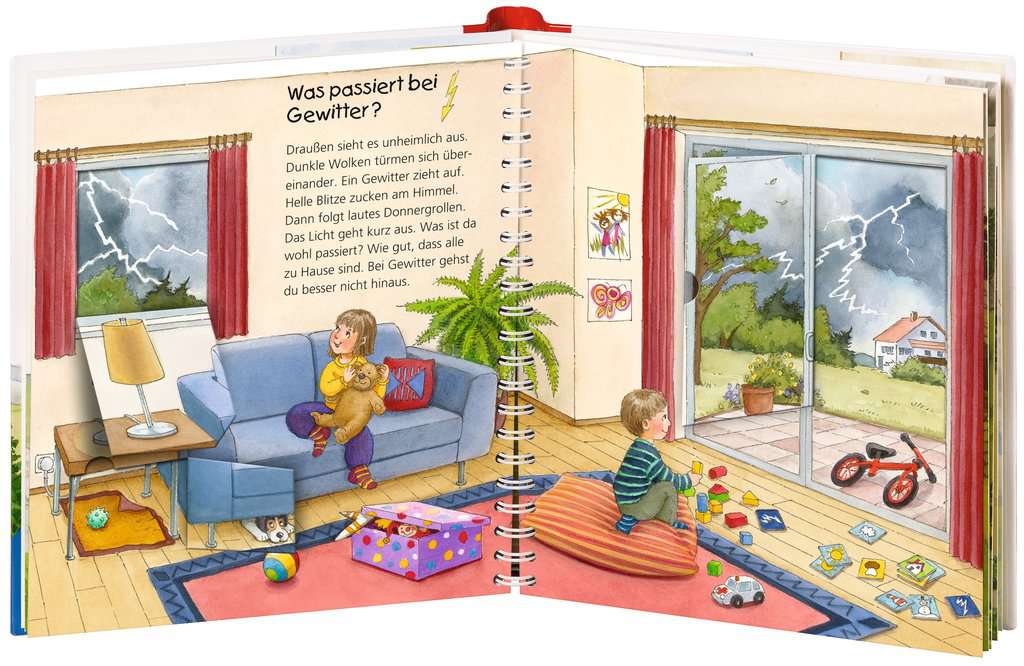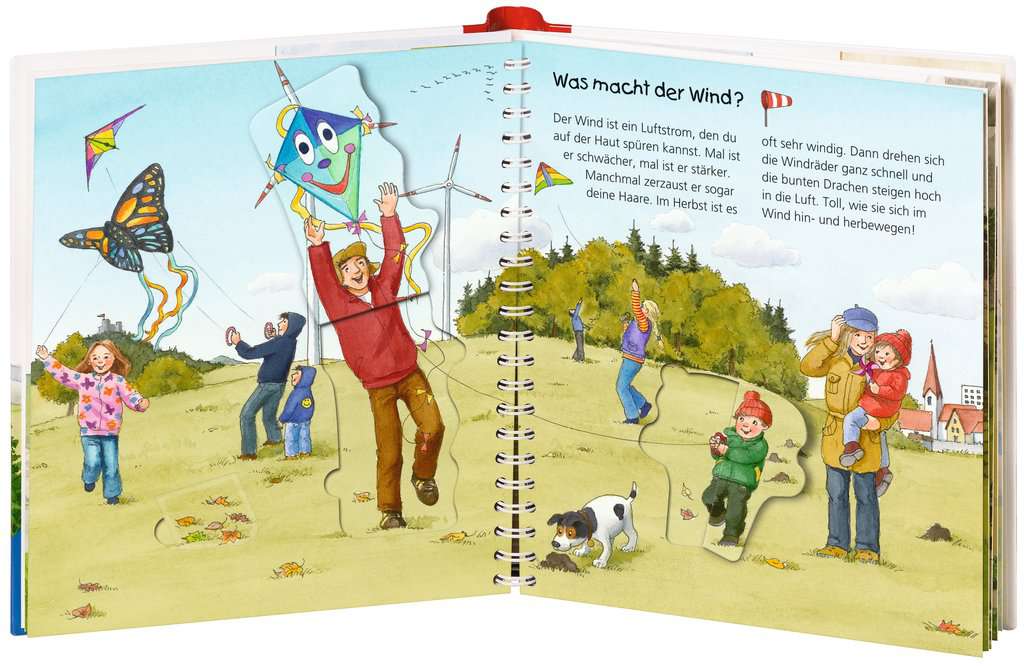 Why? Why? Why? Junior (Vol. 47): Sun, Wind and Rain
Wieso? Weshalb? Warum? junior, Band 47: Sonne, Wind und Regen
View all books in the series


WWW Junior has sold over 6 million copies in Germany

WWW Junior has been translated into 16 languages

With playful elements, flaps to lift and windows to peer through

16 pp
2 years +
18 x 19,7 cm
EUR 11.99
June 2012
Wire-O
978-3-473-32875-8
• With flaps.With turntables.
Content
Rain, storm or sunshine - young children experience different weather phenomena wholeheartedly and often have great fun playing with water and mud, but also outside when it's very hot. In this book, a different type of weather is featured on each page and made visible with vivid flaps. Children also learn which clothes to wear for what kinds of weather, and the potential dangers of sun and fog.
The sun is shining and children are splashing in a pool. But why do the flowers need extra watering when the sun shines? Why do we have to use sunscreen? And what is shade? What can we discover in the fascinating clouds?
The idea that weather determines what we can do is explained: when it is windy you can fly a kite, and when there is snow you can romp around and build a snowman.
With the wheel on the back of the book, you can make the children in the picture slide down a hill of snow. The wheel is also used on the last page: readers have to match different kinds of weather to the clothing suitable for it by turning the wheel. Two lively finger games about weather round off this volume.
About the Series
WWW Junior is a unique invitation to discover the world in a playful way. The junior series features a compact format with large, movable flaps for kids thirsty for knowledge. Centered on who-what-how questions, the titles in this series take on fascinating subjects. The questions of 2- to 4-year-olds are to a large extent answered by information contained in the illustrations, complemented by clear, friendly texts.
The Author
Patricia Mennen was born in 1961 in Augsburg. While she was studying German, art history and theater, she completed internships with various daily newspapers. After working as a children's book editor for six years and having a daughter, she began writing books. Today she lives with her family in southern Germany and Provence, France. The freelance author says that the curiosity of a child has never left her, and she tries to see the world with the eyes of a child.
The Illustrator
Constanze Schargan, born in 1963, is a graphic designer and has already published dozens of children's books, in which she strives to bring children into contact with the most interesting things in life.
Rights Sold
Bulgarian, Catalan, Hungarian, Latvian, Romanian, Serbian, Spanish, Turkish