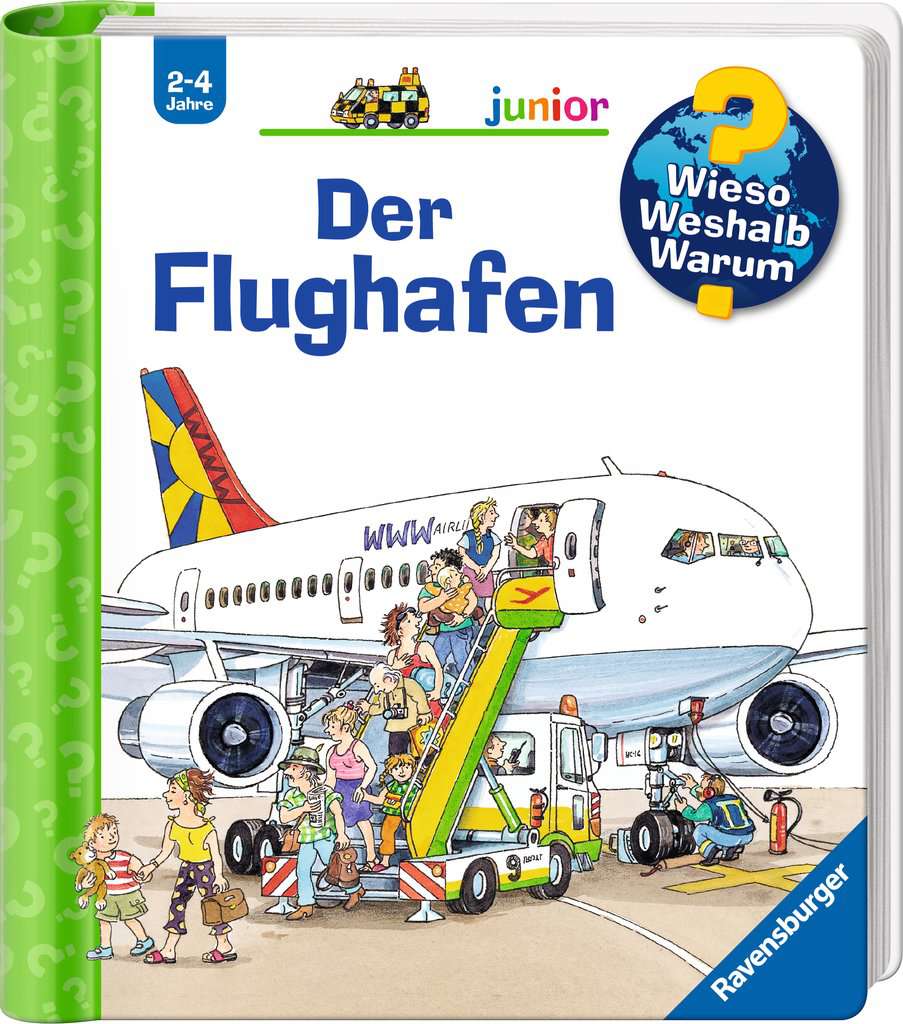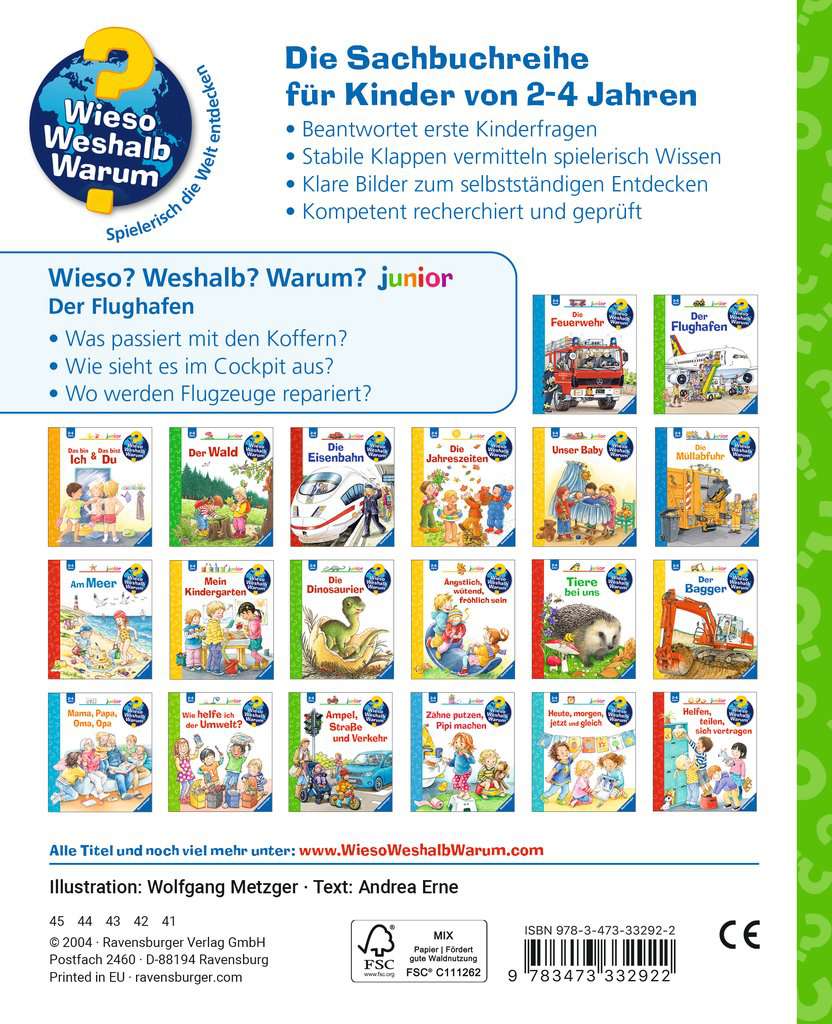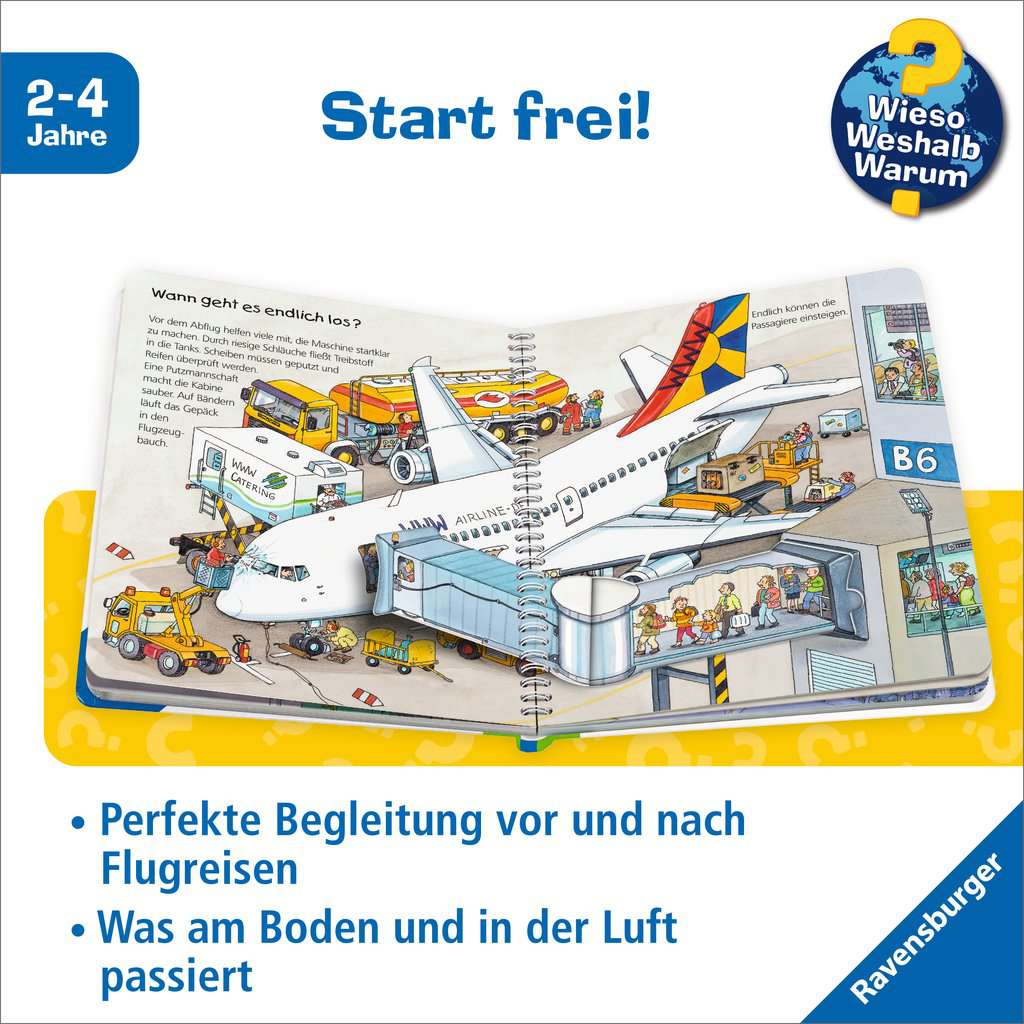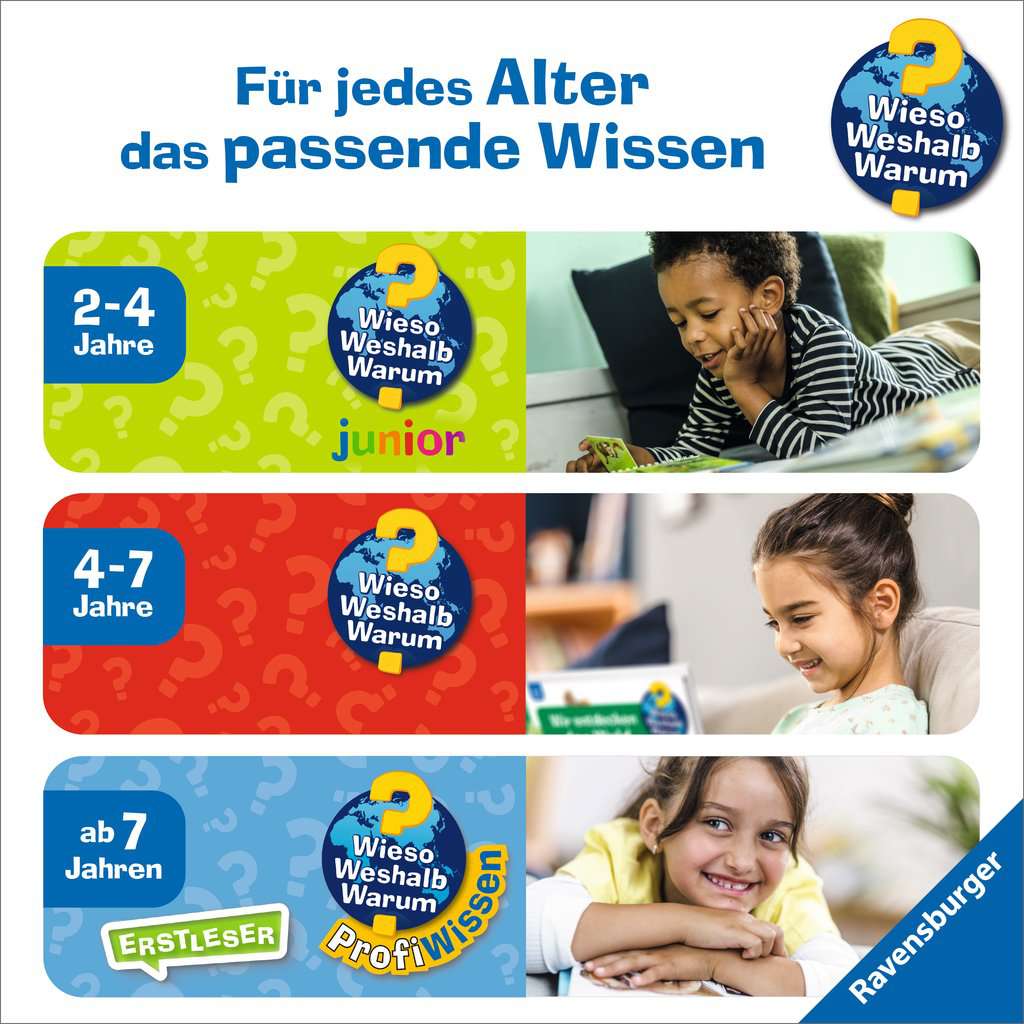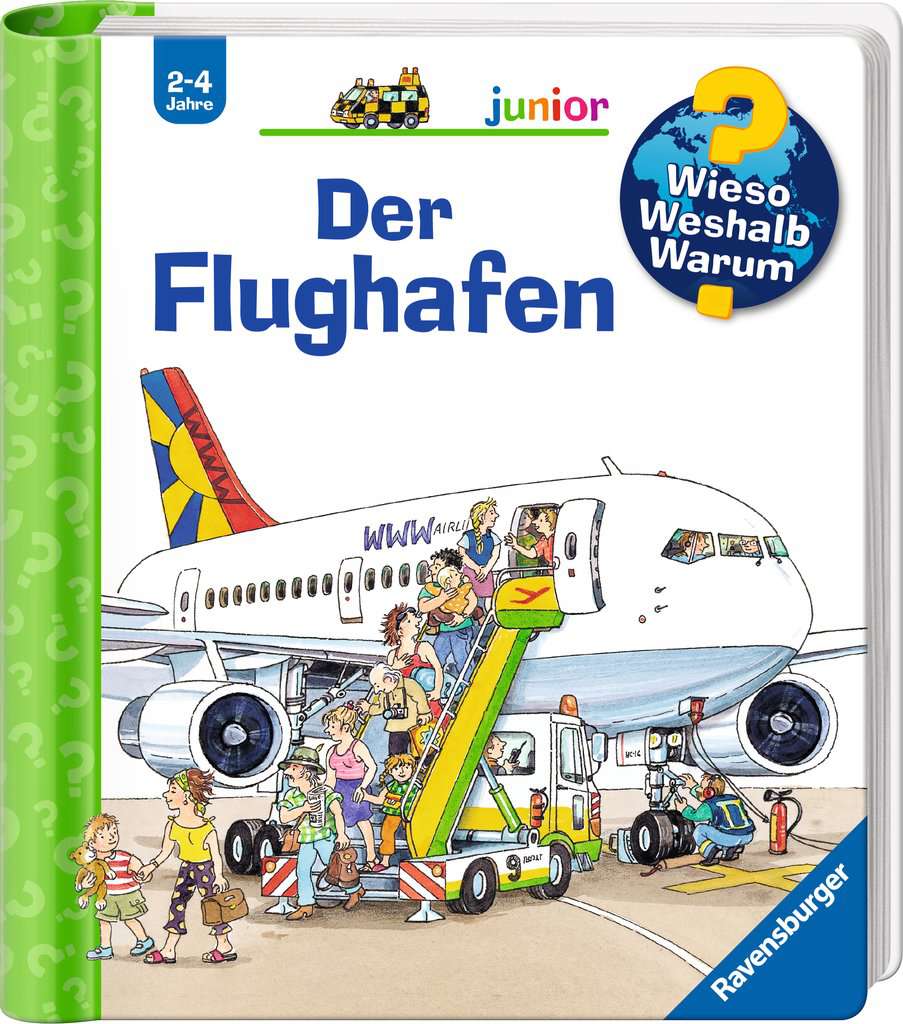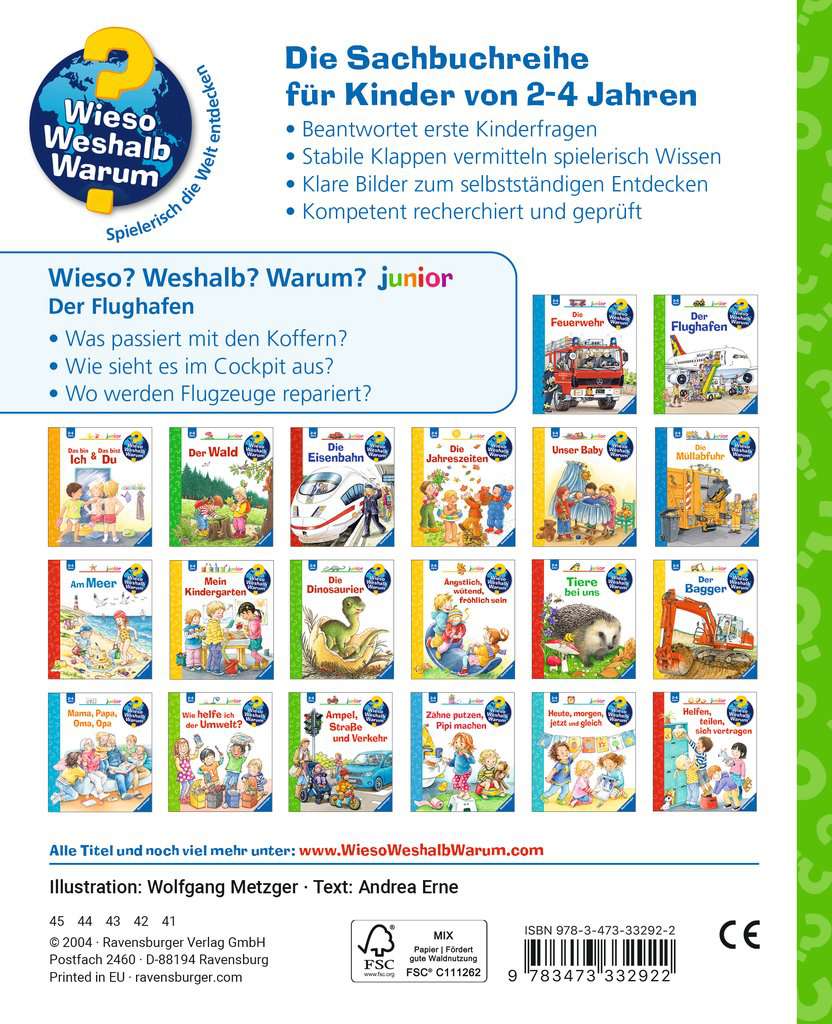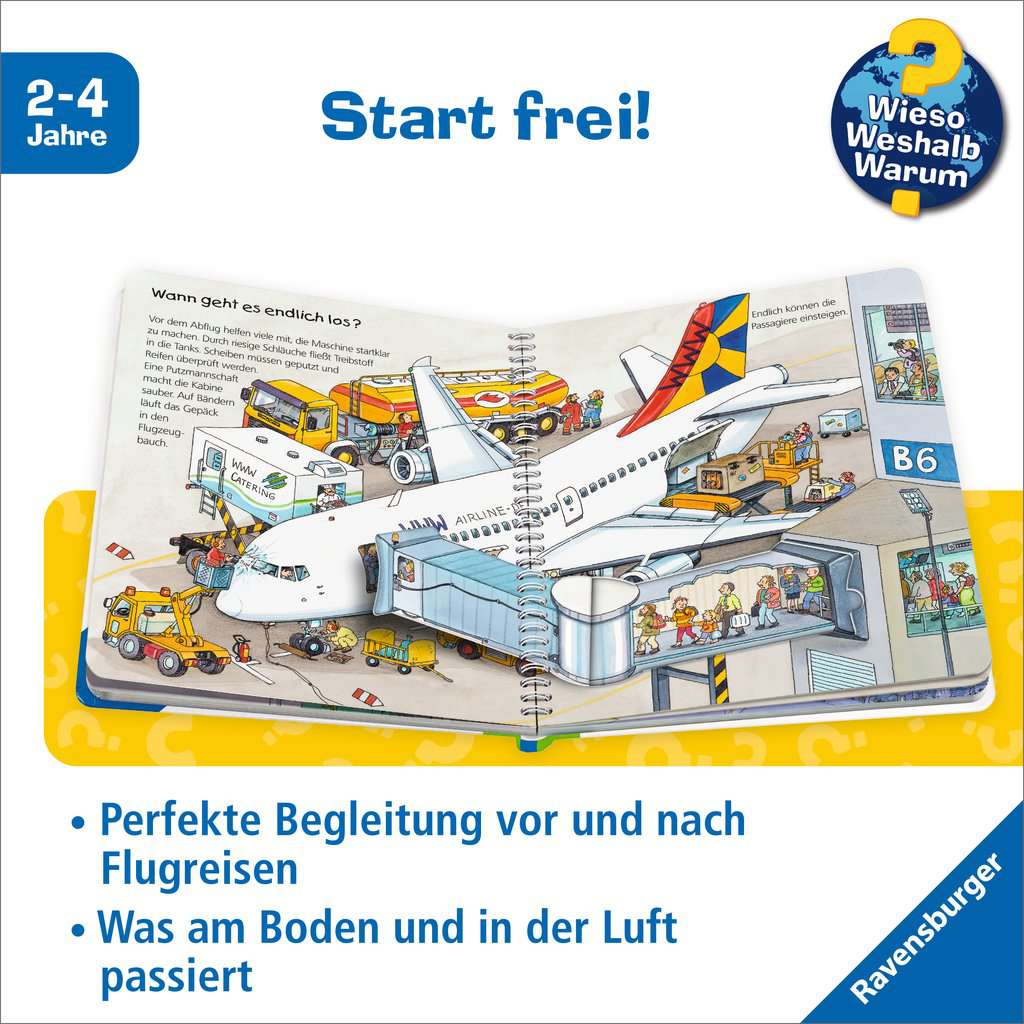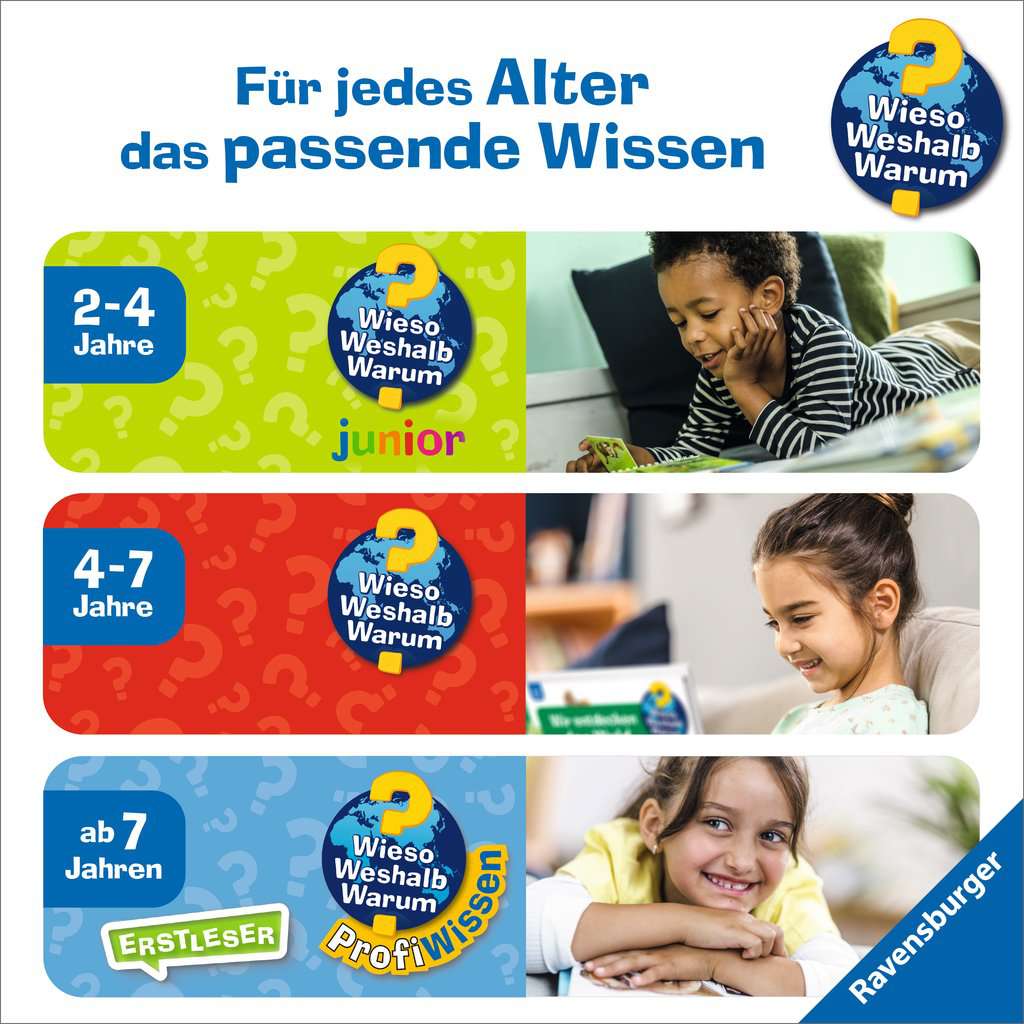 Why? Why? Why? Junior (Vol. 3): The Airport
Wieso? Weshalb? Warum? junior, Band 3: Der Flughafen
View all books in the series
An aiport is such an exciting place! Lots of people want to travel by plane and there is so much to do: passengers need tickets, people and luggage have to be inspected, planes need to be fuelled and made ready, air traffic controllers give the OK to start ... This book answers all queries about planes and airports.


WWW Junior has sold over 6 million copies in Germany

WWW Junior has been translated into 16 languages

With playful elements, flaps to lift and windows to peer through

16 pp
2 years +
18 x 19,7 cm
EUR 11.99
January 2004
Wire-O
978-3-473-33292-2
• With flaps and half-punchings.
Content
These days many children are experienced fliers and have dozens of questions. What happens at check-in? Where do suitcases go? Can elephants fly, too? Who fixes airplanes when they need repairs? This book answers these queries and more, and a special page asks children to identify various objects by their shadows.
About the Series
WWW Junior is a unique invitation to discover the world in a playful way. The junior series features a compact format with large, movable flaps for kids thirsty for knowledge. Centered on who-what-how questions, the titles in this series take on fascinating subjects. The questions of 2- to 4-year-olds are to a large extent answered by information contained in the illustrations, complemented by clear, friendly texts.
The Author
Andrea Erne was born in 1958 in Stuttgart, Germany. She studied German, politics and cultural studies and began her career as an editor for a daily newspaper. She then moved to a large children's book publisher, and later began working freelance as an editor and author for book publishers and newspapers.
The Illustrator
Wolfgang Metzger is trained in lithography and graphic design. After his studies he illustrated textbooks for a long time, but has concentrated on designing and illustrating children's books for more than 20 years. His books have become bestsellers, with more than 8 million copies sold in German language territories. Wolfgang Metzger has four daughters and lives with his family near Stuttgart.
Rights Sold
Bulgarian, Danish, French (worldwide), Hungarian, Italian, Korean, Latvian, Mexican (Spanish Rights for North and South America), Portuguese, Russian (worldwide), Swedish, Turkish