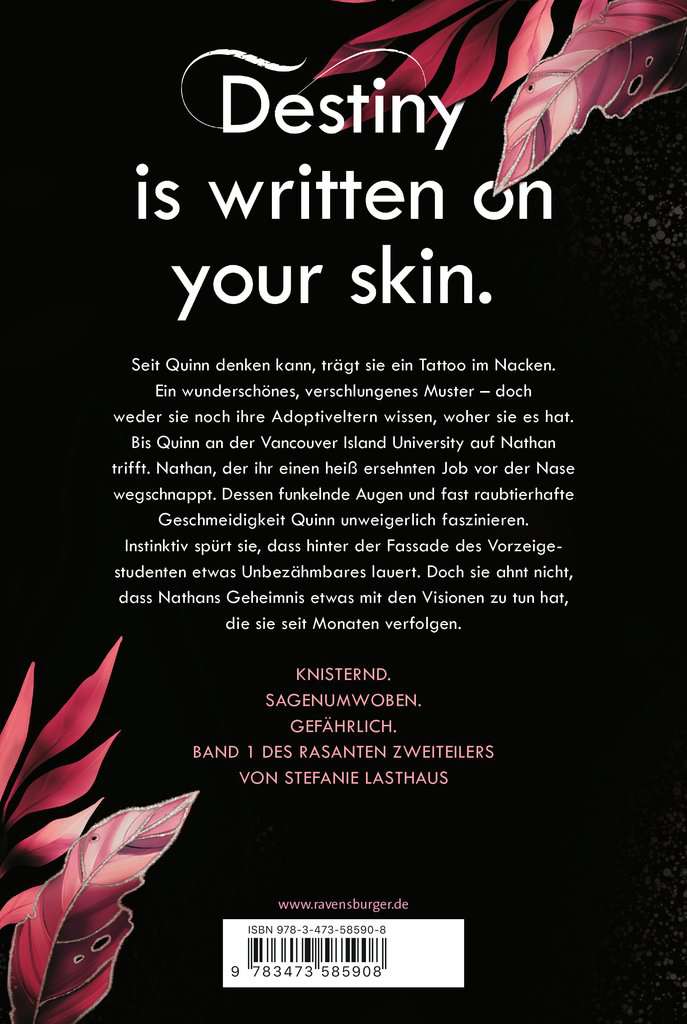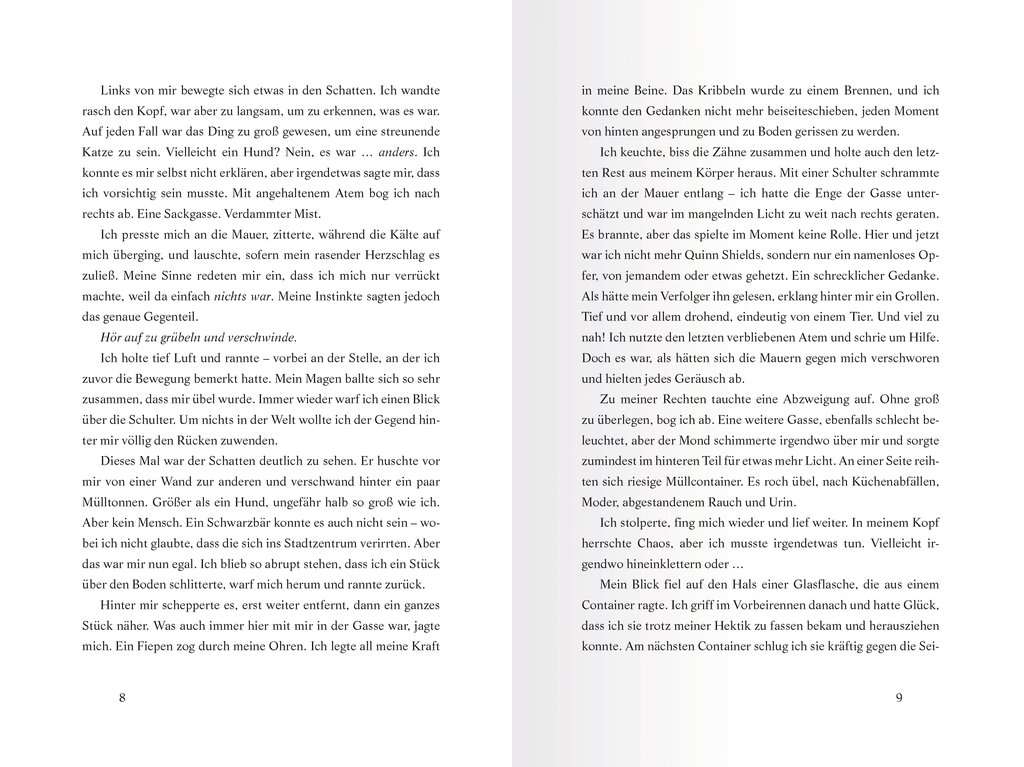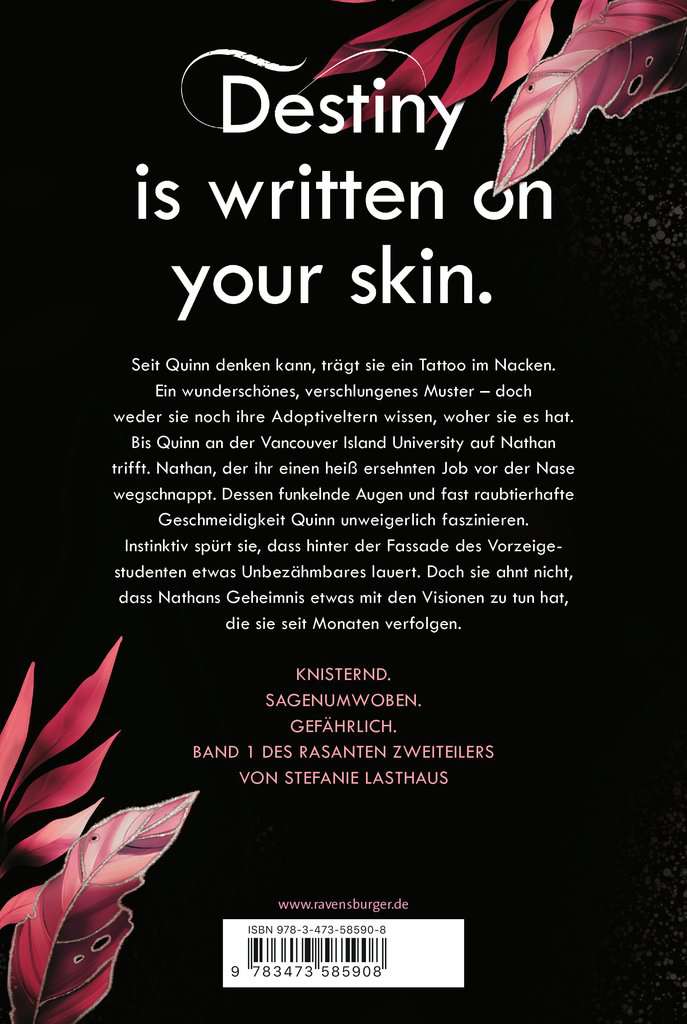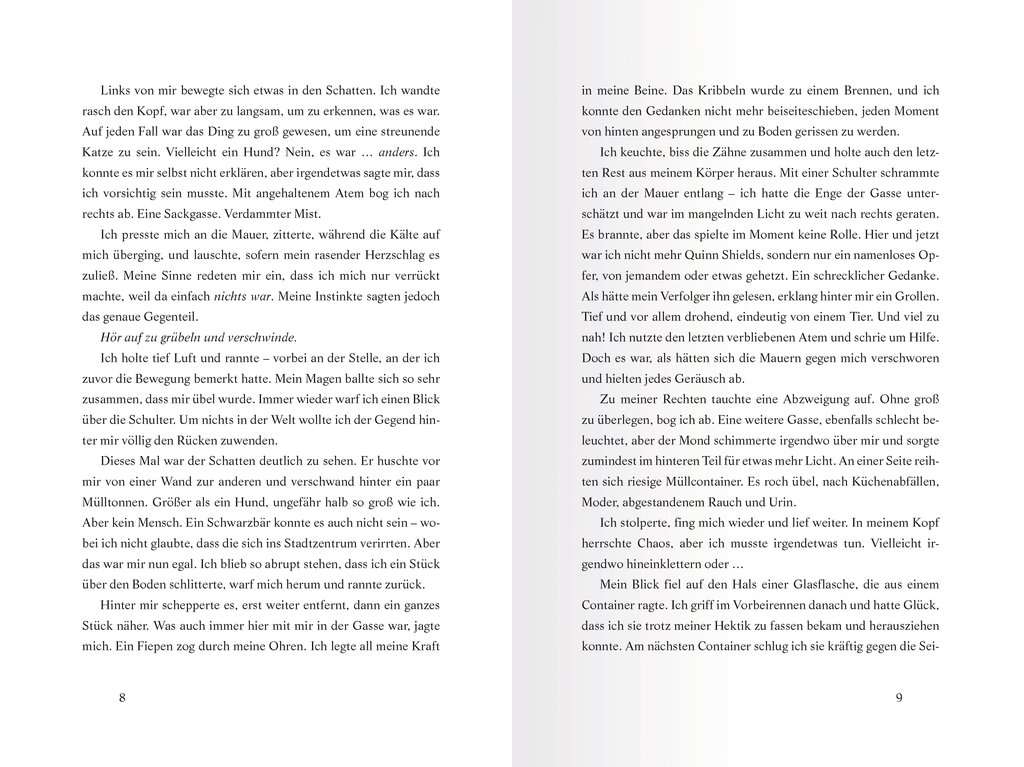 Touch of Ink (Vol. 1): The Legend of the Shifters
Touch of Ink, Band 1: Die Sage der Wandler
View all books in the series
Urban fantasy about shape shifters, set on Vancouver Island.
544 pp
14 years +
14 x 21 cm
EUR 14.99
December 2020
Softcover
978-3-473-58590-8
Content
Destiny is written on your skin.
Ever since Quinn can remember, she has had a tattoo on her neck. A beautiful, intricate pattern – but neither Quinn nor her adoptive parents know where she got it. Until Quinn meets Nathan during her first semester at Vancouver Island University. Despite Nathan brazenly pinching a student assistant job from right under her nose, she is drawn to his charm against her will, at the same time sensing that something else is lurking behind the facade of the model student.
Similarly, Nathan quickly realises that Quinn isn't who she thinks she is. When they get closer and he discovers her tattoo, one thing is clear: just like he is a Black Panther, Quinn isn't a normal human being either. However, her tattoo seems to be encoded. Her true powers hidden. Everything points to the fact that she is a Sdáng, the daughter of a Singer and a Shifter who unites both skills. And that means that not only is it forbidden for Nathan to be with Quinn – in the Shifters' society, she also faces death. While Nathan and Quinn are desperately looking for a way out, the age-old feud between the Mountain Lions and the Panthers erupts once again.
About the Series
They are powerful. Majestic. And only partly human. Almost no one knows of the existence of the different groups of Shifters who have always lived in Winter Harbour on Vancouver Island, Canada, in secret. The largest tribe, the Mountain Lions, are facing off with their archenemies, the Black Panthers. And just as nature needs day and night, each Shifter needs a Singer – a permanent contact who is capable of communicating with the Shifter in animal form.
The Author
Stefanie Lasthaus has travelled all over the world: after studying journalism, she worked as a story writer and tour guide in Australia. Subsequently, projects in fields like text, film, tourism and online games took her to Switzerland, England and back to Germany. Today, she passionately writes adult and young adult novels, works as an editor and travels to countries that fascinate her in her books.