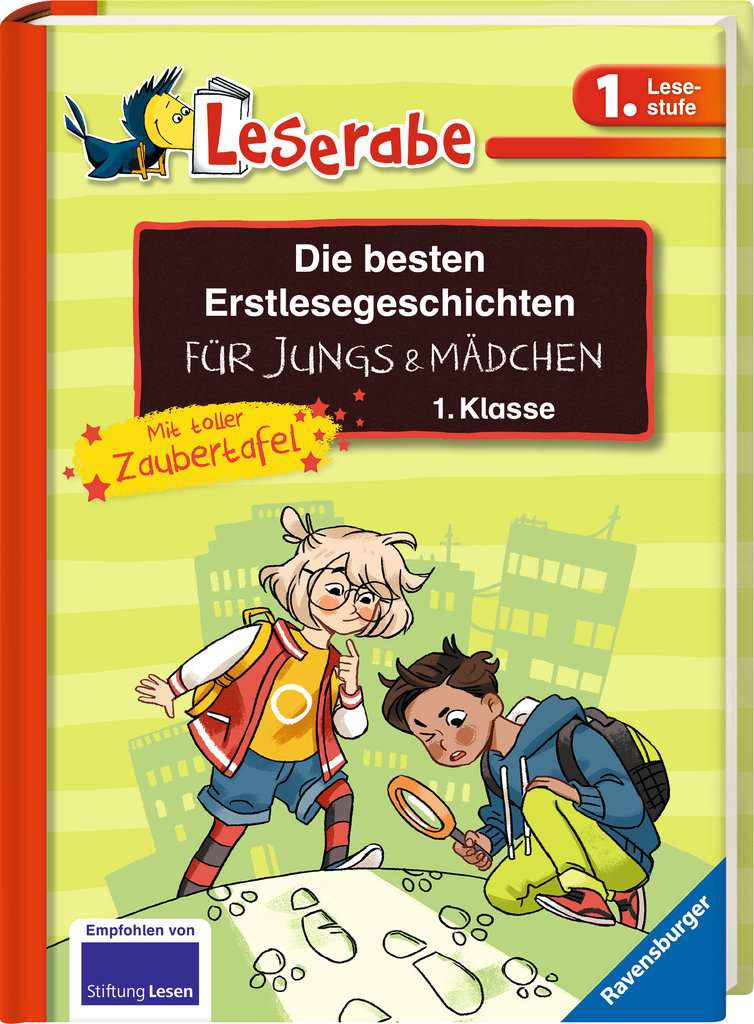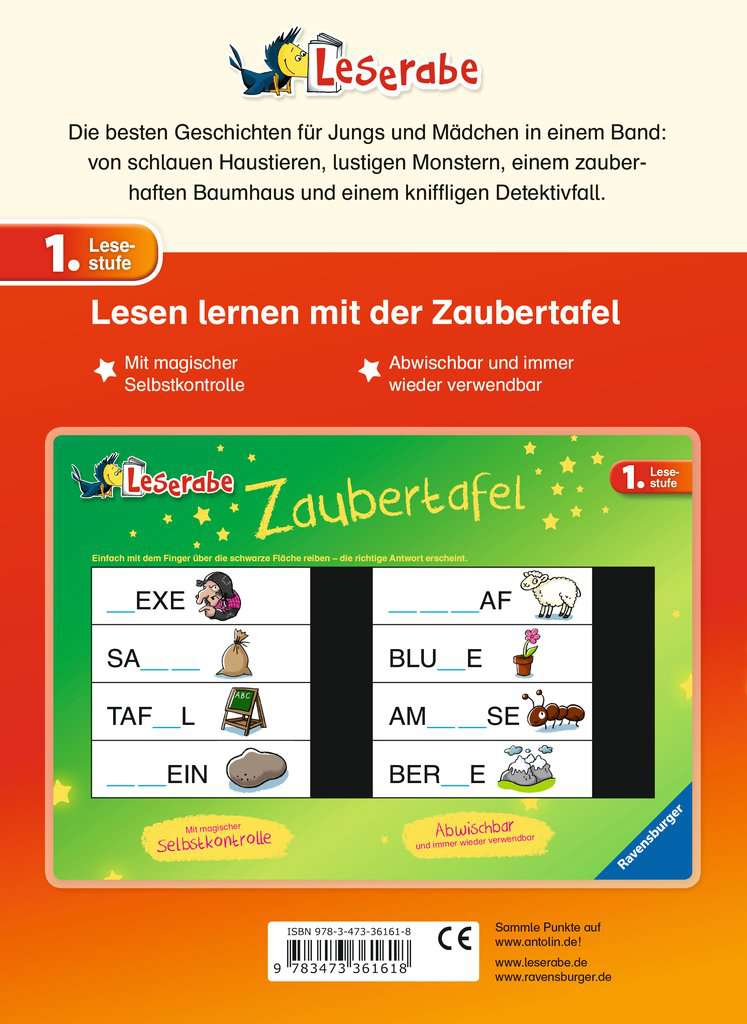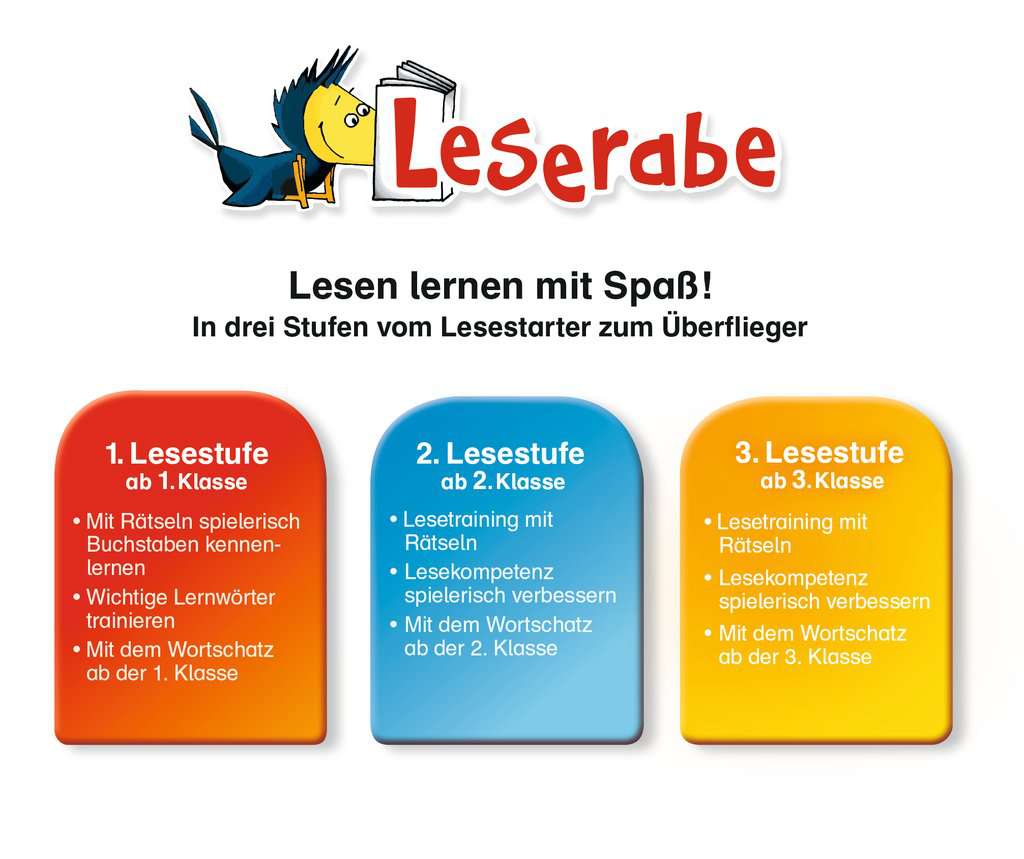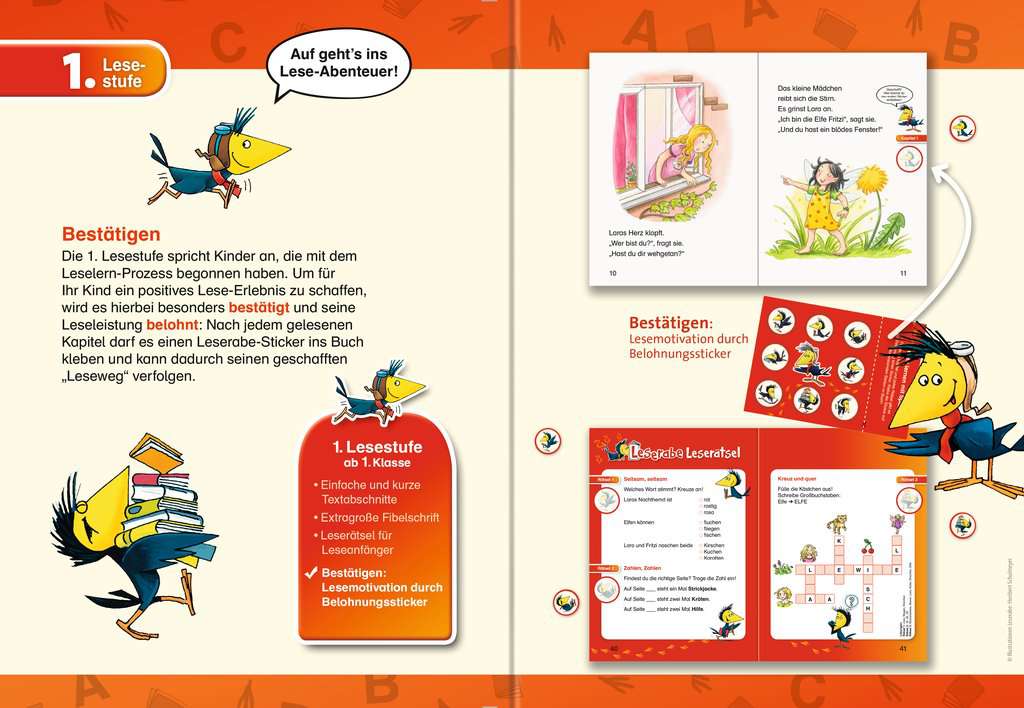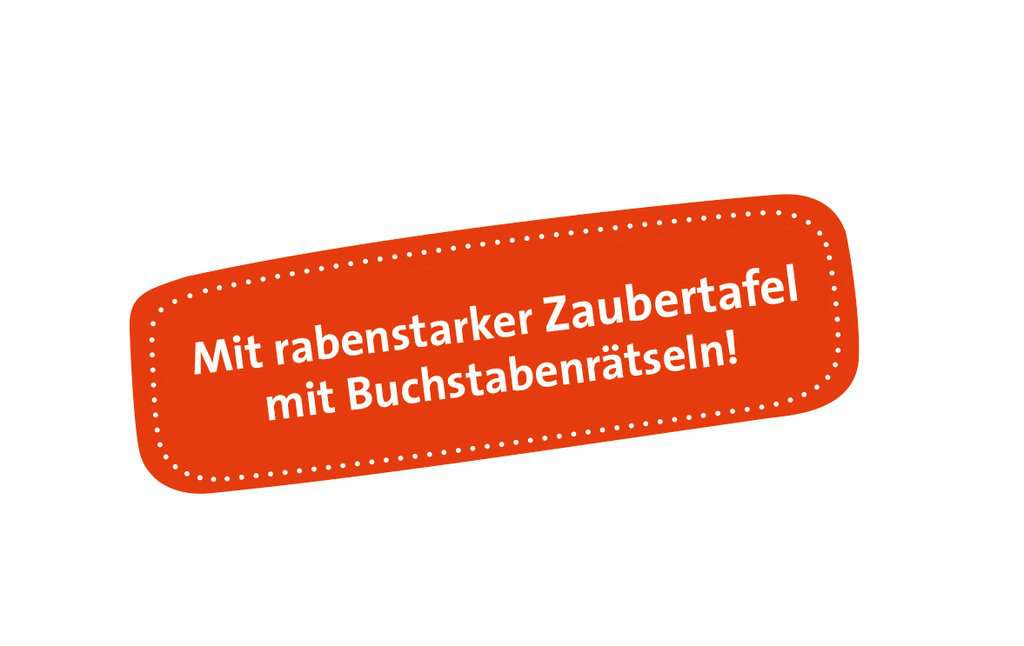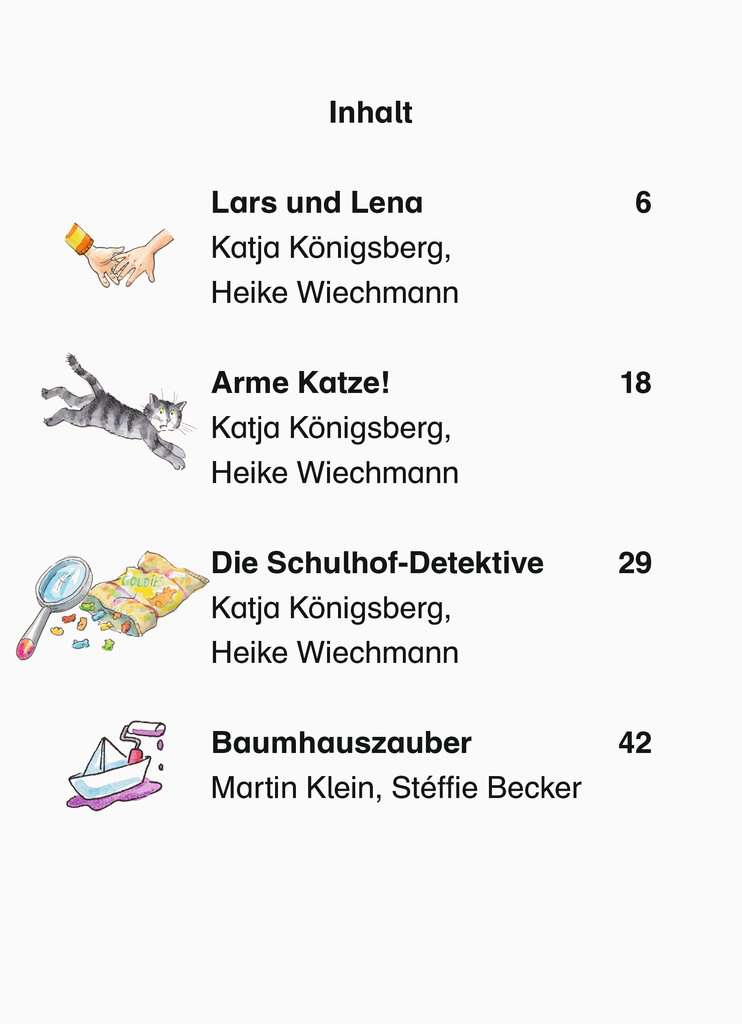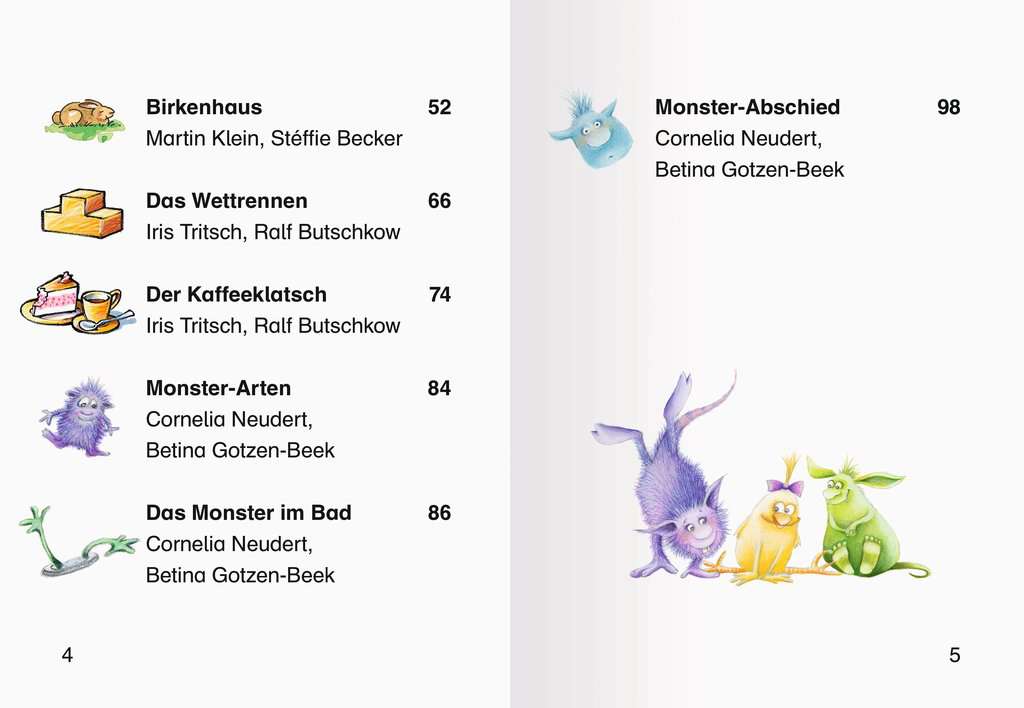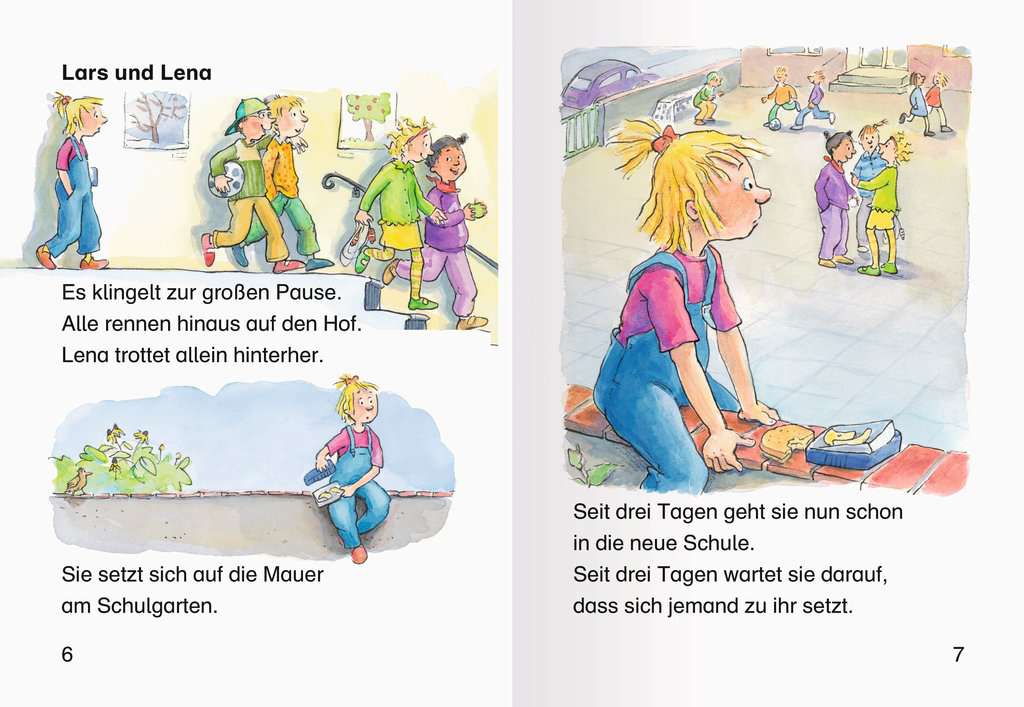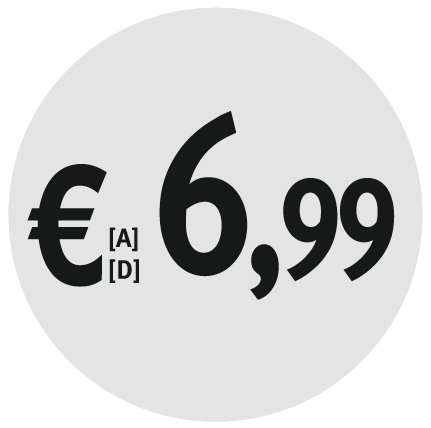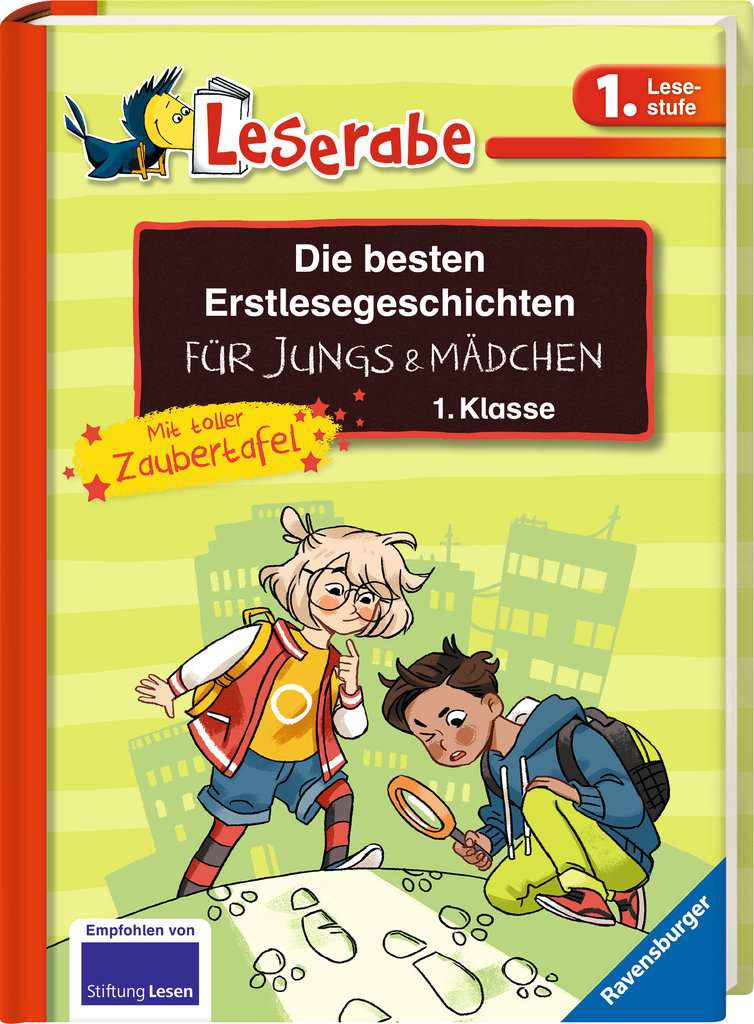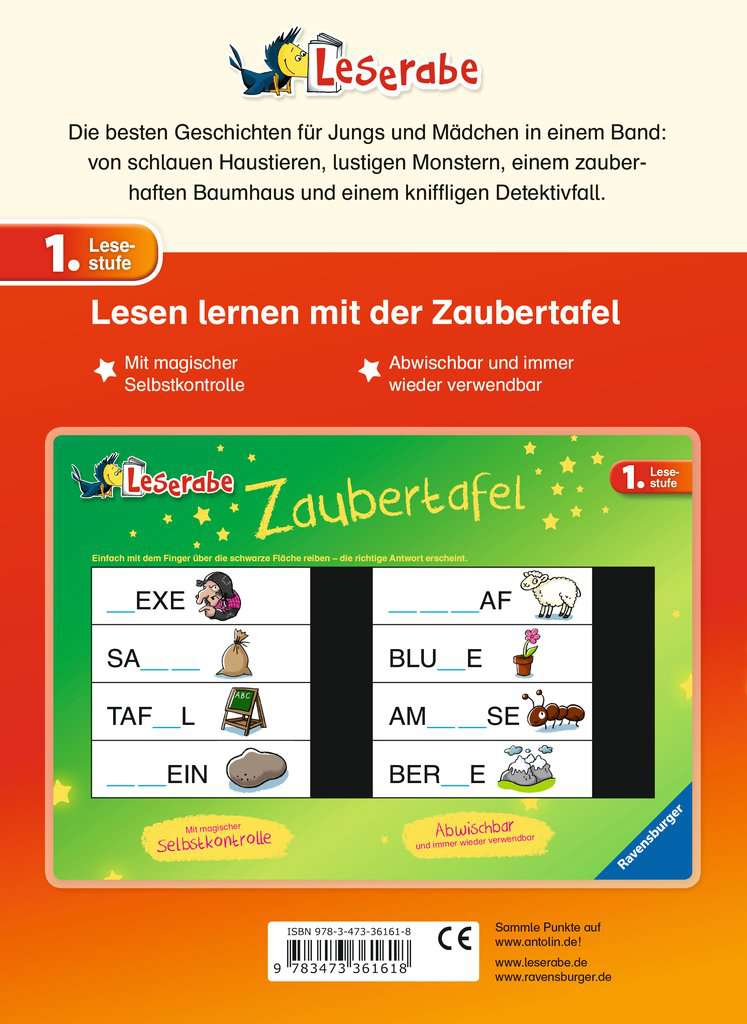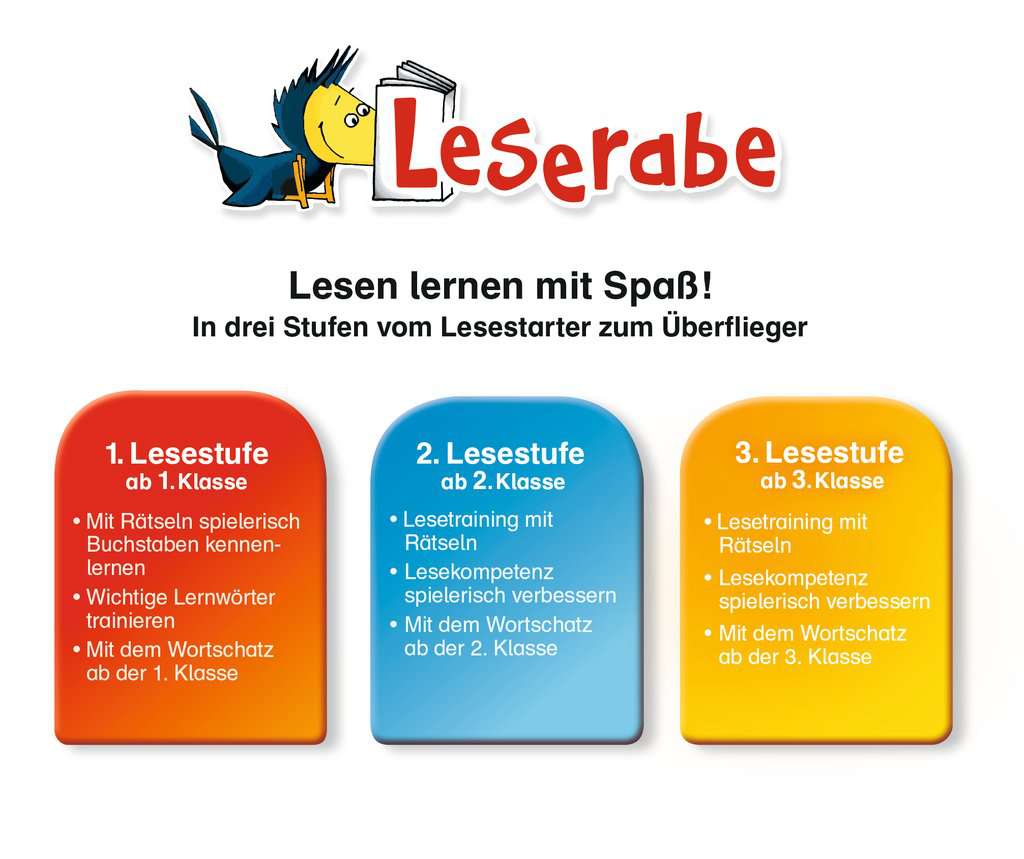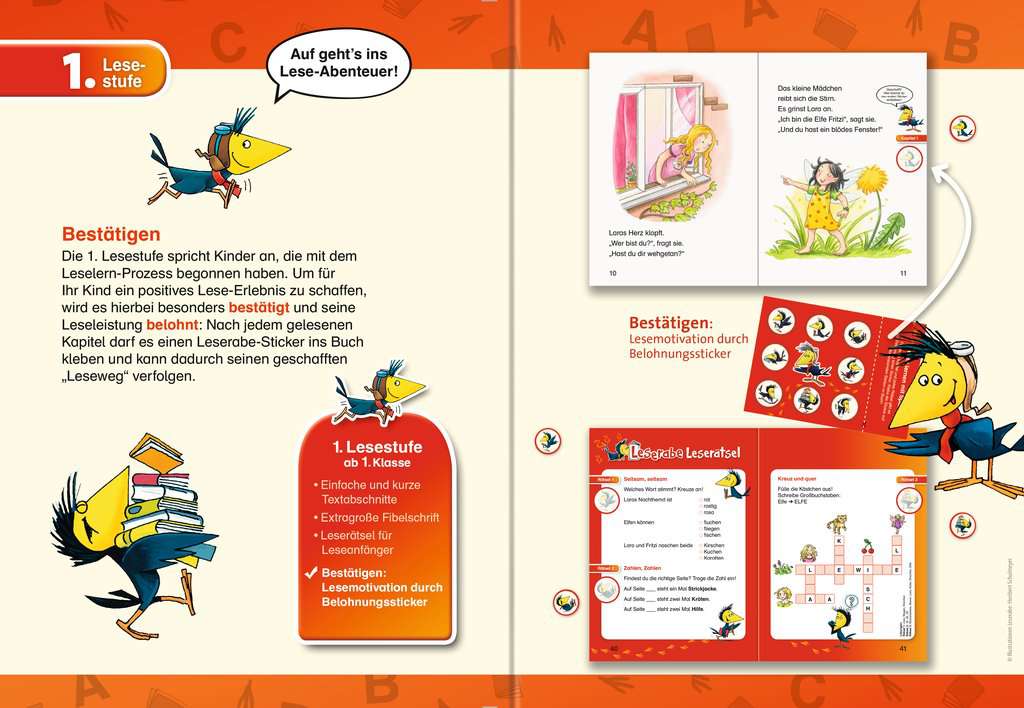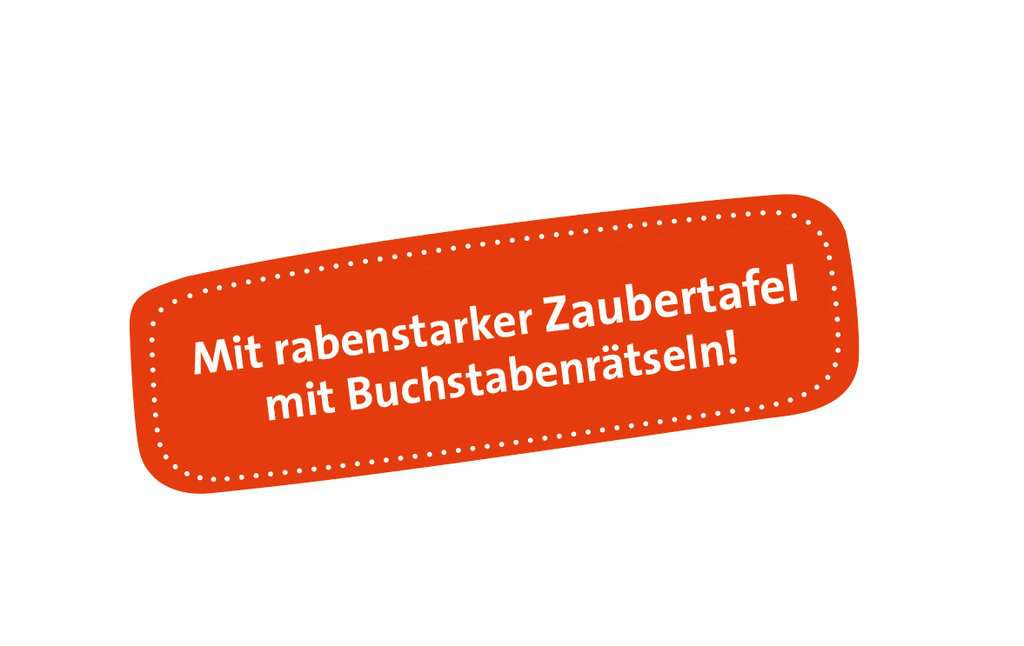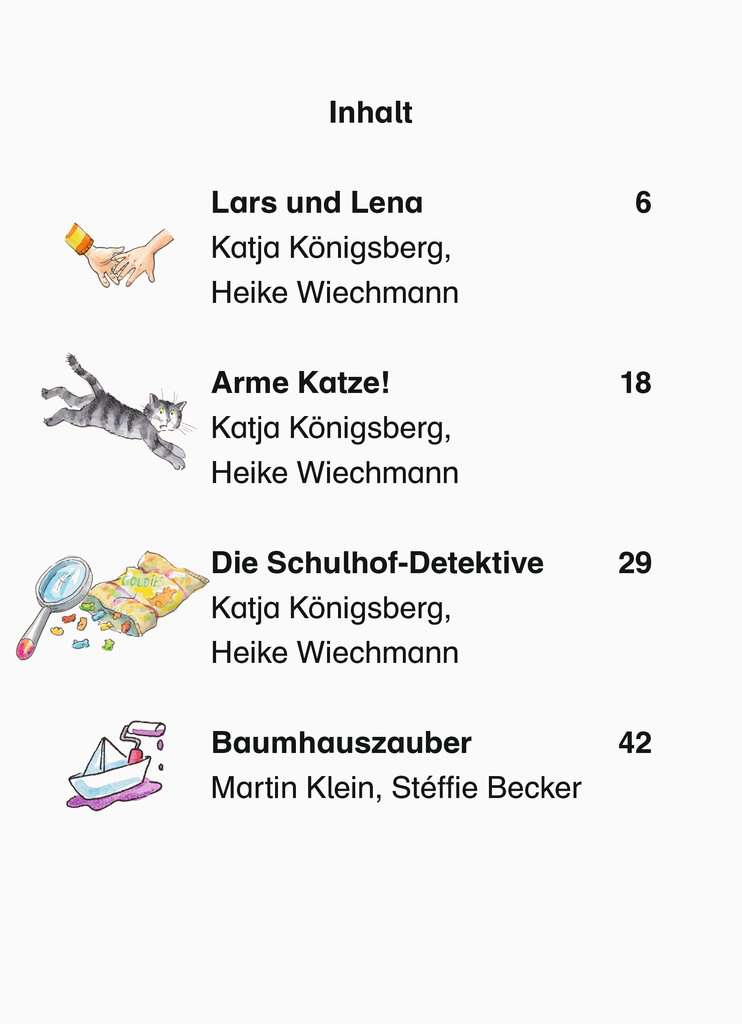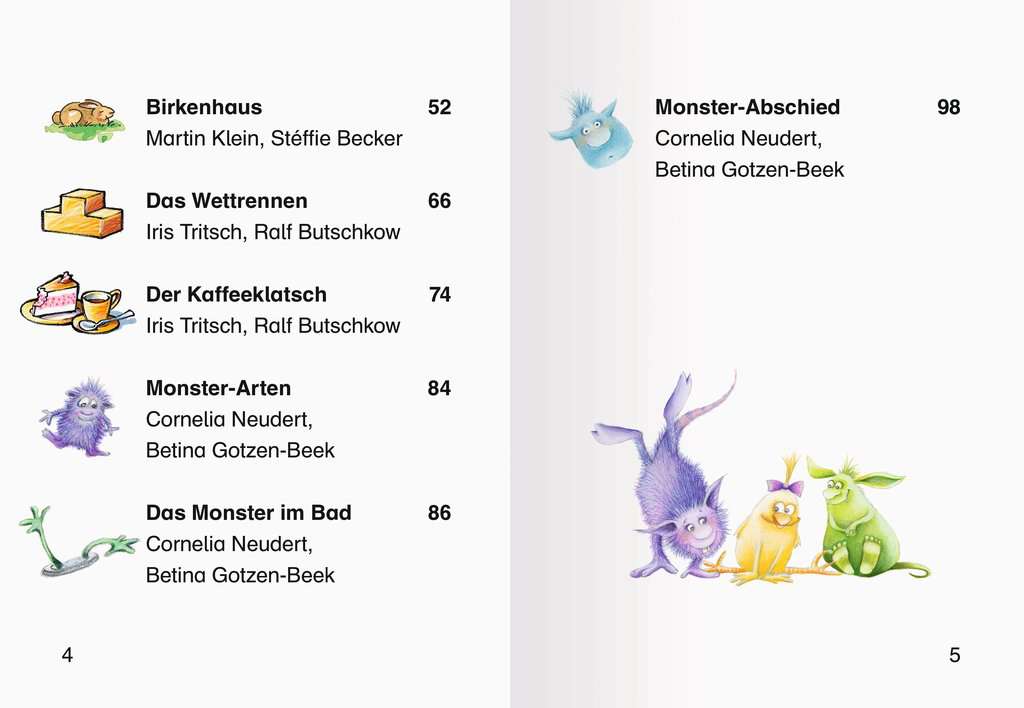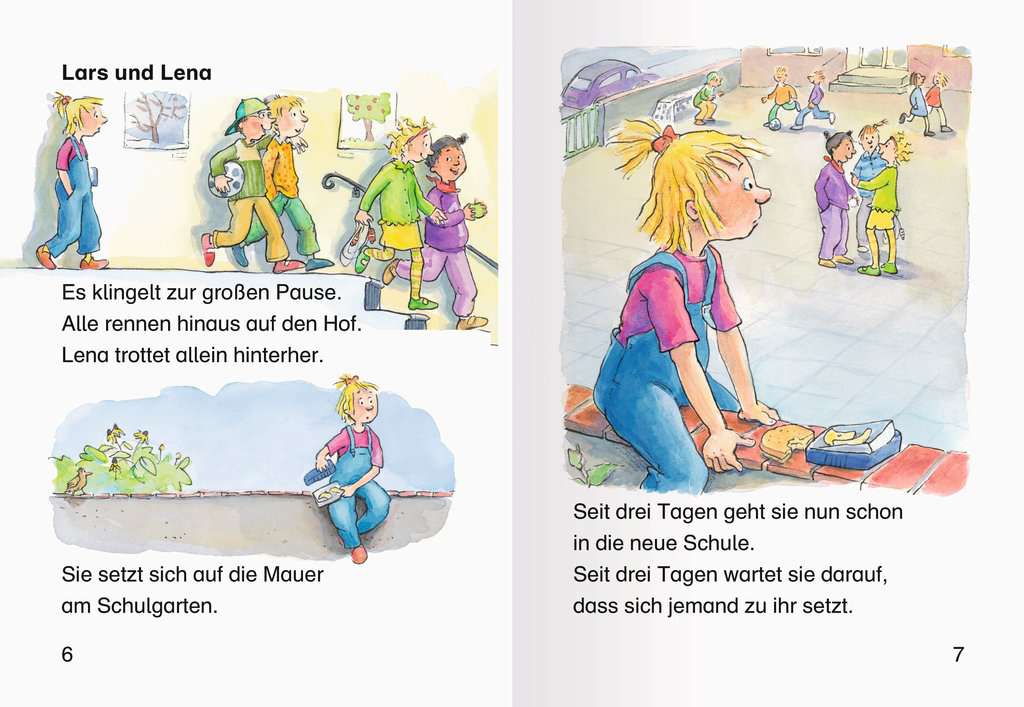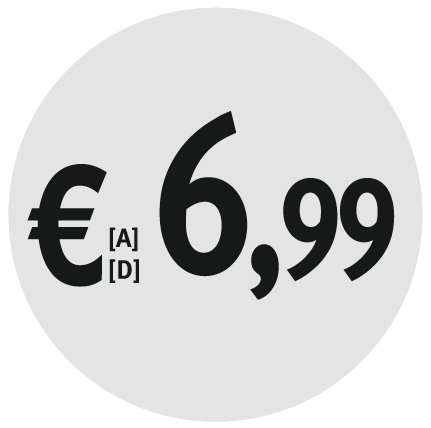 Reading Raven (Level 1): The Best Early Reader Stories for Boys and Girls
Leserabe - Sonderausgaben: Die besten Erstlesegeschichten für Jungs und Mädchen 1. Klasse mit toller Zaubertafel
View all books in the series
108 pp
6 years +
17,5 x 24 cm
EUR 6.99
May 2020
Hardcover
978-3-473-36161-8
• With magic board.
Content
Whether it's adventures in the treehouse or in the schoolyard, cheeky pets or funny monsters: these exciting early reader stories for boys and girls from 1st grade onwards make learning to read lots of fun. Each volume contains a very special extra – a magic chart with fun reading exercises that allows children to magically check their answers themselves.
About the Series
The Reading Raven series is designed to encourage beginning readers by providing fun and exciting stories at each ability level, from their first efforts at reading alone to more advanced chapter books Each Reading Raven book includes reading riddles, puzzles to solve using information in the story. This is a fun way to check how well children understand what they read. The first level features short texts with lots of pictures that provide clues to the story's meaning. These books are written in extra-large print. When children are ready for longer stories, the second level of Reading Raven offers short chapter books, also in large print with illustrations that help readers follow the text. The third level is for readers who are becoming proficient, with longer chapters and increasingly complex stories, but still with accompanying pictures and highly readable print.
The Author
Martin Klein was born in Lübeck in 1962. He first studied sports but soon changed directions and studied landscape design. In 1988 he won a stipendium from the "Cultural Senate" of Berlin, and another in 1996. His first children's book appeared in 1990. Today Martin Klein is a freelance author, landscaper and trainer of a handball team in Kreuzberg, Berlin. His special interest in trees, books and balls is incorporated in his everyday life.
Katja Königsberg was born in 1964 in Essen and today lives in Cologne. After learning how to run a bookstore she studied German, English and Art History, and was then an editor in two publishing companies. She currently works for an audiobook publisher. She began writing books after the arrival of her son, Leon, and has written several books for Ravensburger's "Reading Raven" series. Katja Königsberg writes suspenseful and exciting stories for beginning readers that are ideally suited for the abilities of children who haven't accumulated much reading practice.
Cee Neudert was born in Eichstätt, Germany in 1976. She studied contemporary German literature, English literature, and art history at the University of Munich, including a semester abroad in Pisa, Italy. She completed an apprenticeship at Bavarian Broadcasting, for whom she currently works on a freelance basis in children's and church radio and entertainment. She would like her stories to fascinate people and make them laugh.
Iris Tritsch was born in 1975 in Bonn. She studied German literature, history and protestant theology and now lives with her husband and two young daughters in Velbert.
The Illustrator
Betina Gotzen-Beek was born in Mönchengladbach in 1965. After she completed school, she traveled throughout all of Europe prior to beginning her studies in painting and graphic design at Freiburg University. She has worked as a freelance children's book illustrator since 1996. Betina Gotzen-Beek lives with her family in Freiburg.
Ralf Butschkow was born in 1962 in Berlin and lives there still with his wife and two children. After studying graphics and working at an advertising agency for several years, his main occupation currently is illustrating children's books.
Heike Wiechmann was born in Travemünde, Germany, in 1963. She studied illustration and design in Hamburg. Since then she has been a freelance children's book illustrator, designer of toys, and drawing instructor. Heike Wiechmann lives with her family in Lübeck.
Stéffie Becker was born in 1977 in Suresnes, France, but moved to Germany with her parents and three sisters at the tender age of four years. Even then, she had colored pencils and paper in her backpack. Although she studied communication design at the university in Trier, she always dreamed of becoming an illustrator, and now she has fulfilled that dream. Stéffie Becker currently lives in Bonn and since 2003 has been drawing illustrations for children's books and non-fiction titles with passion and enthusiasm.