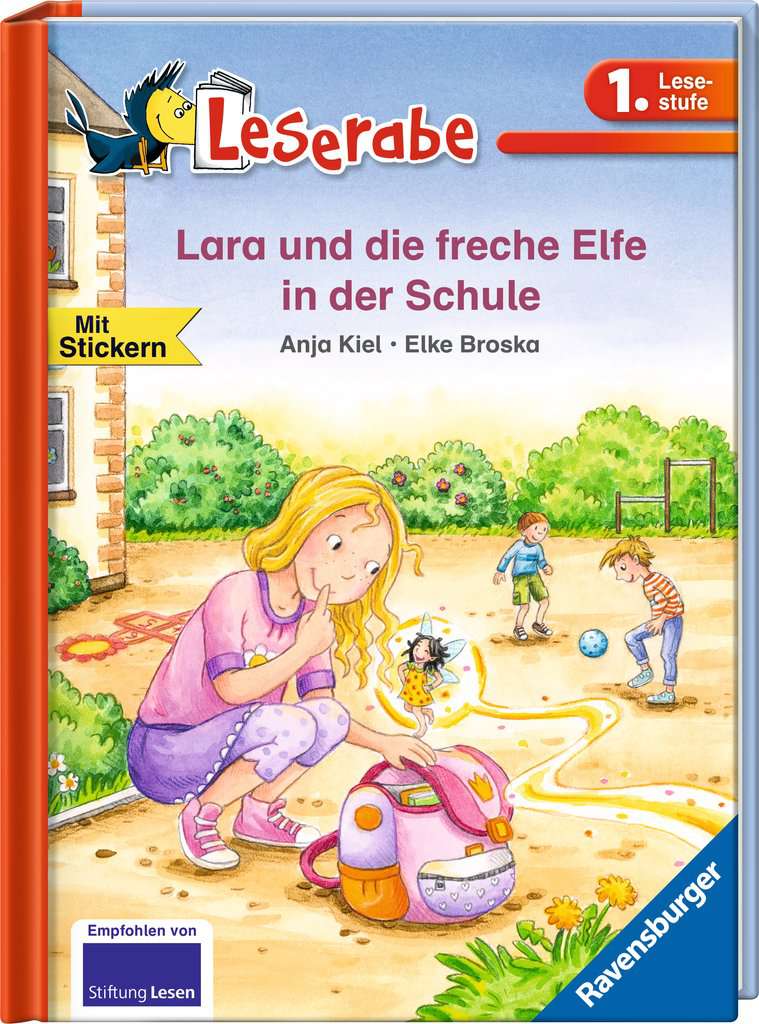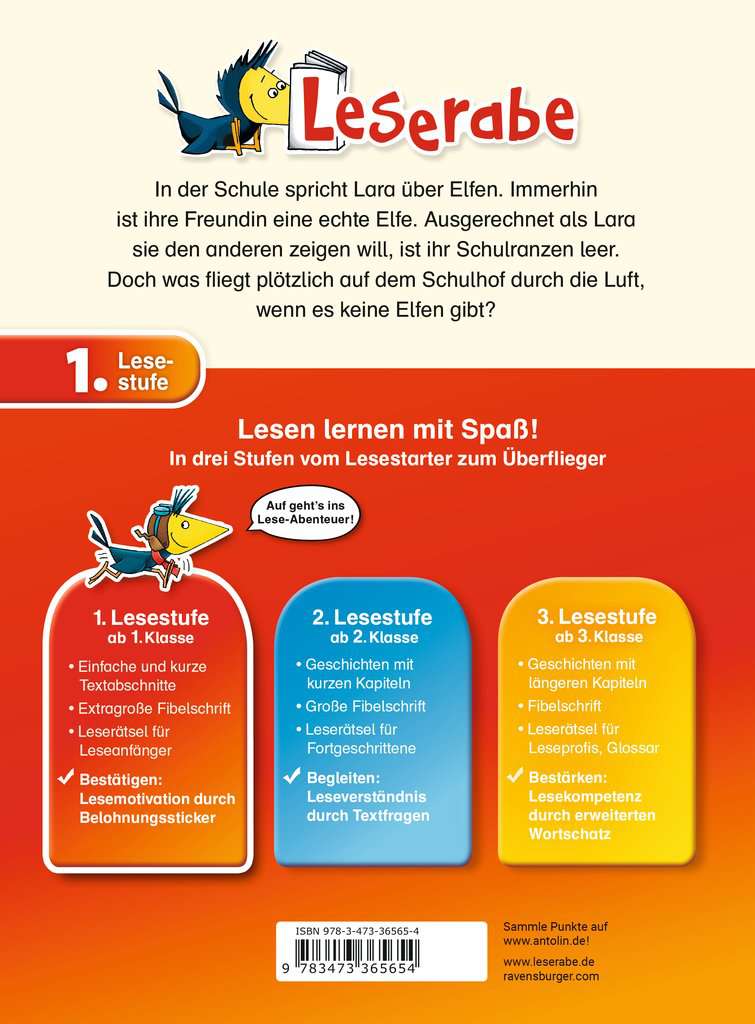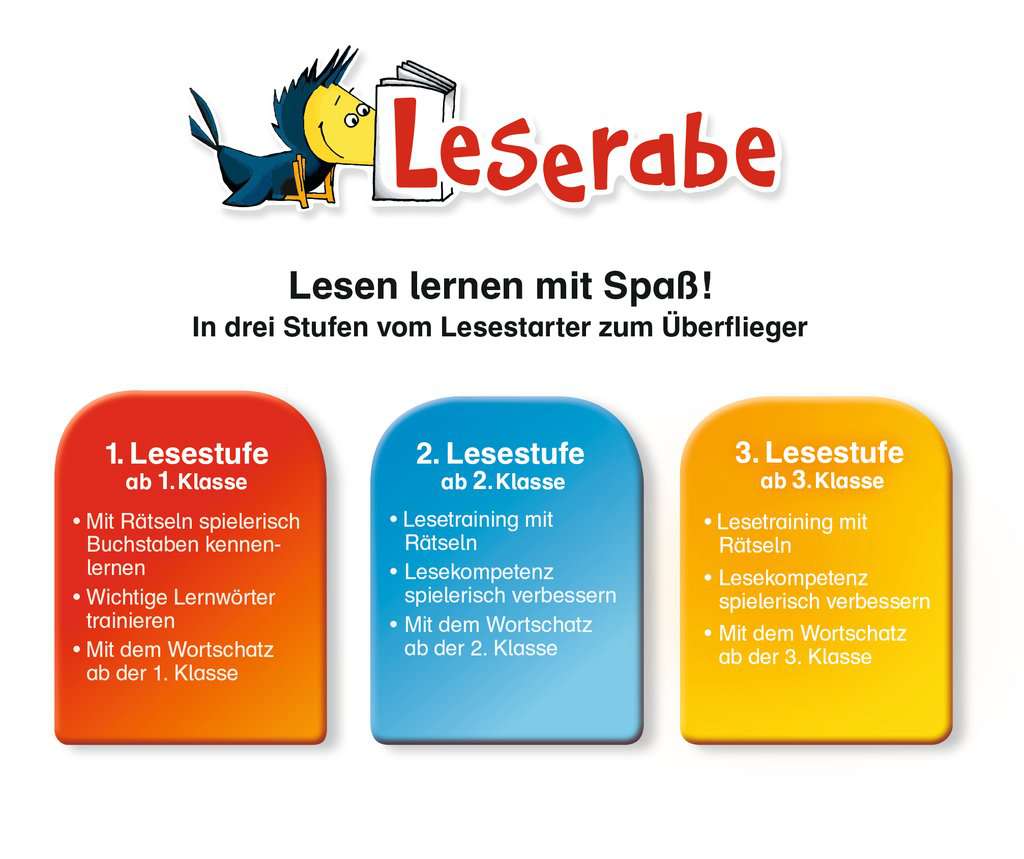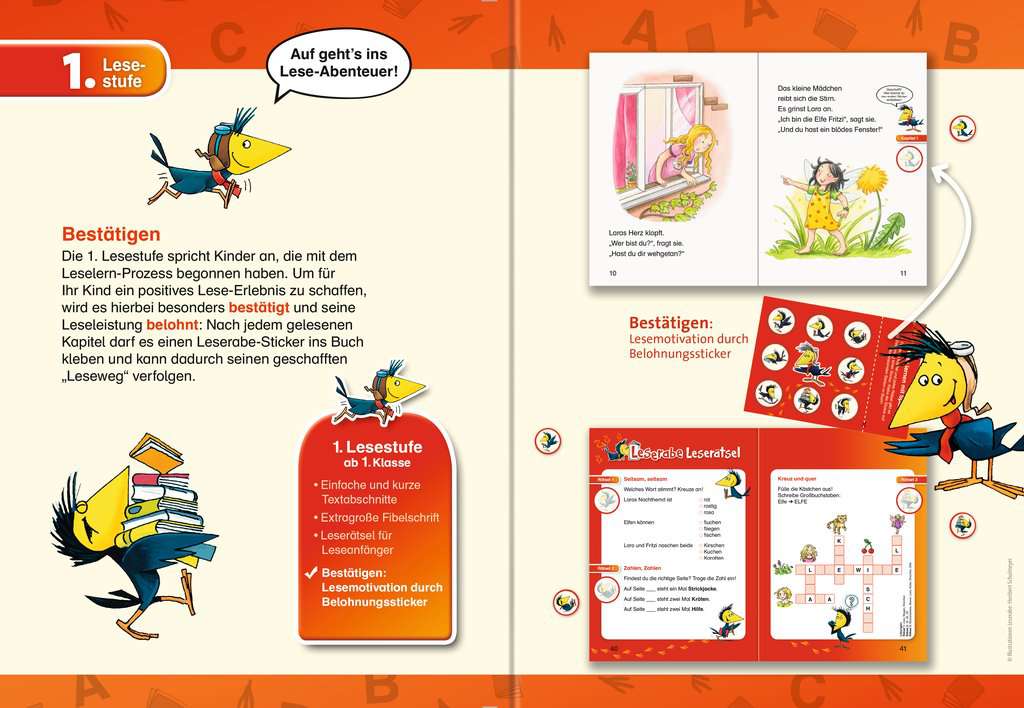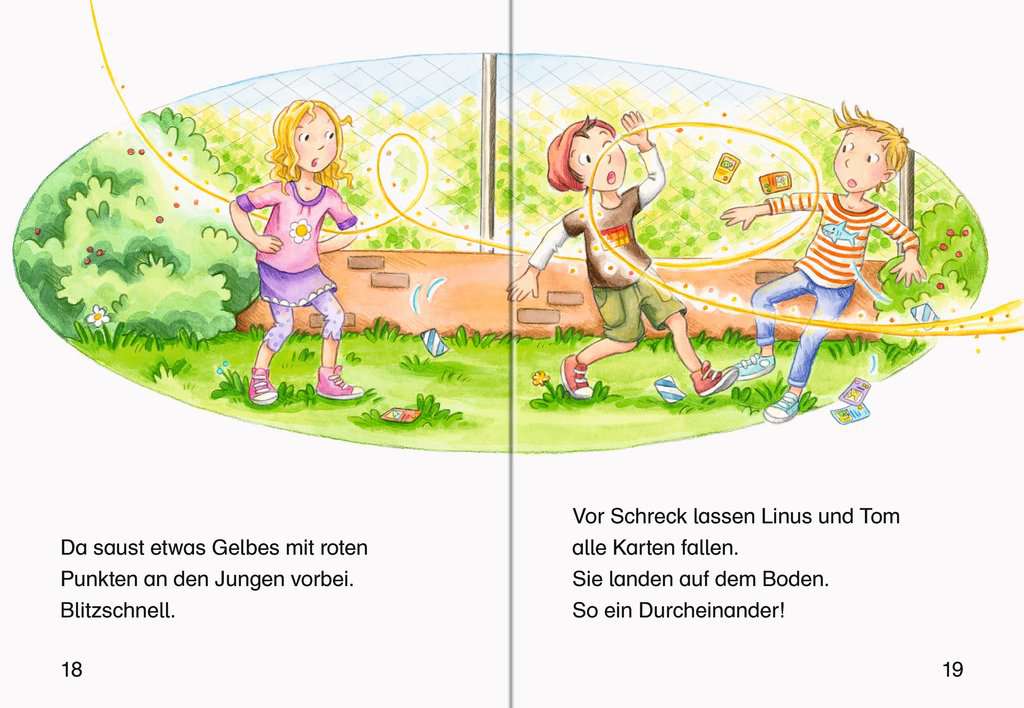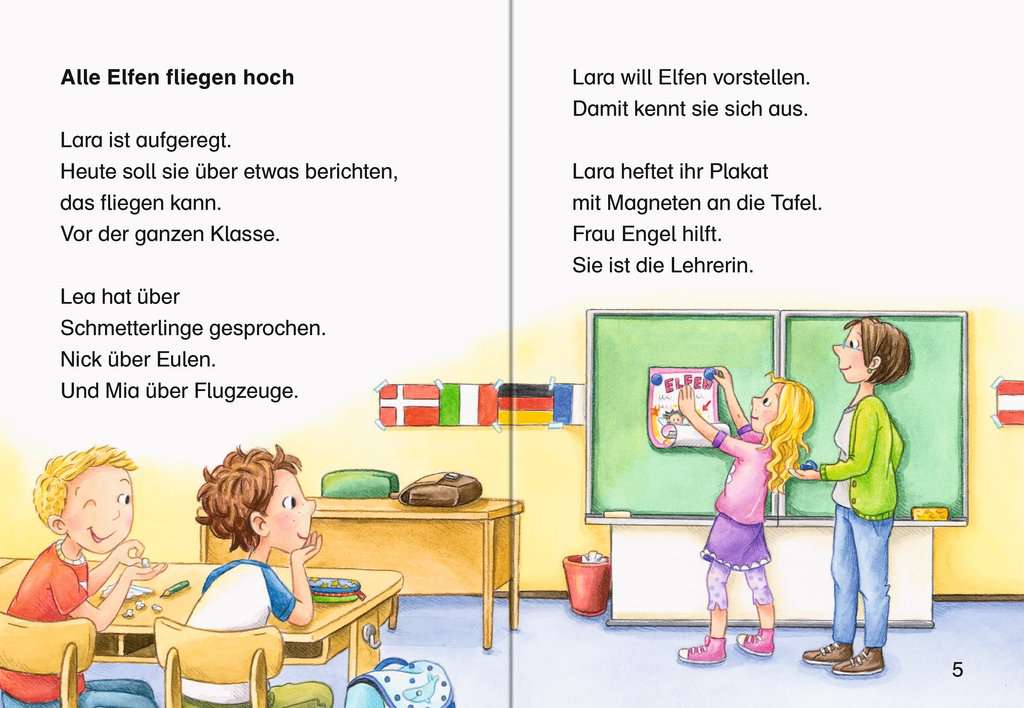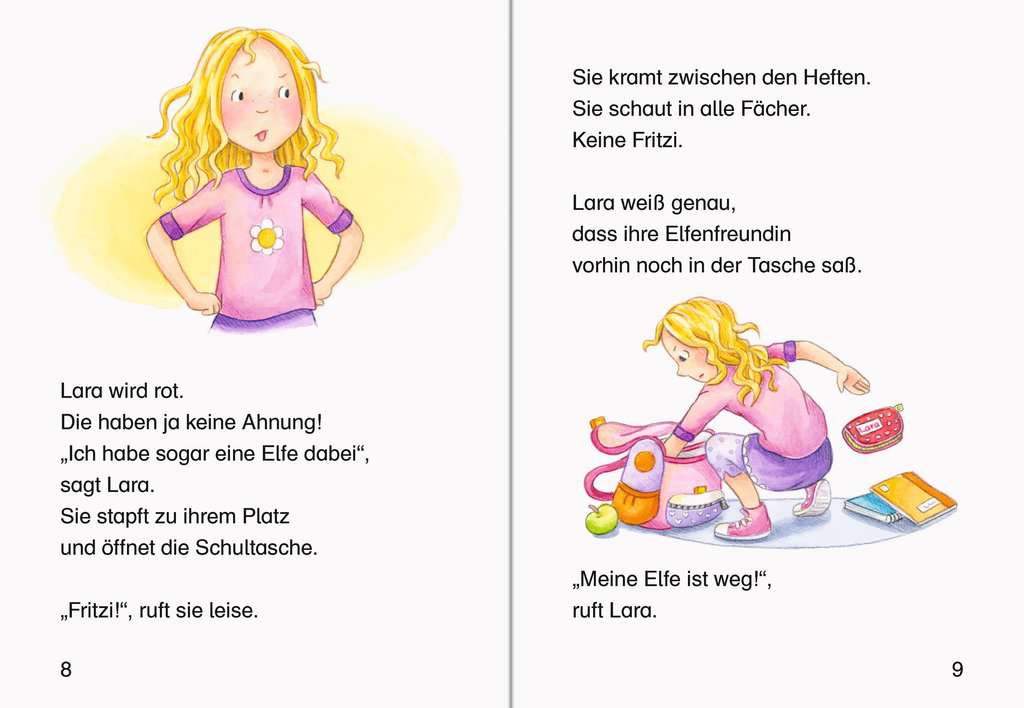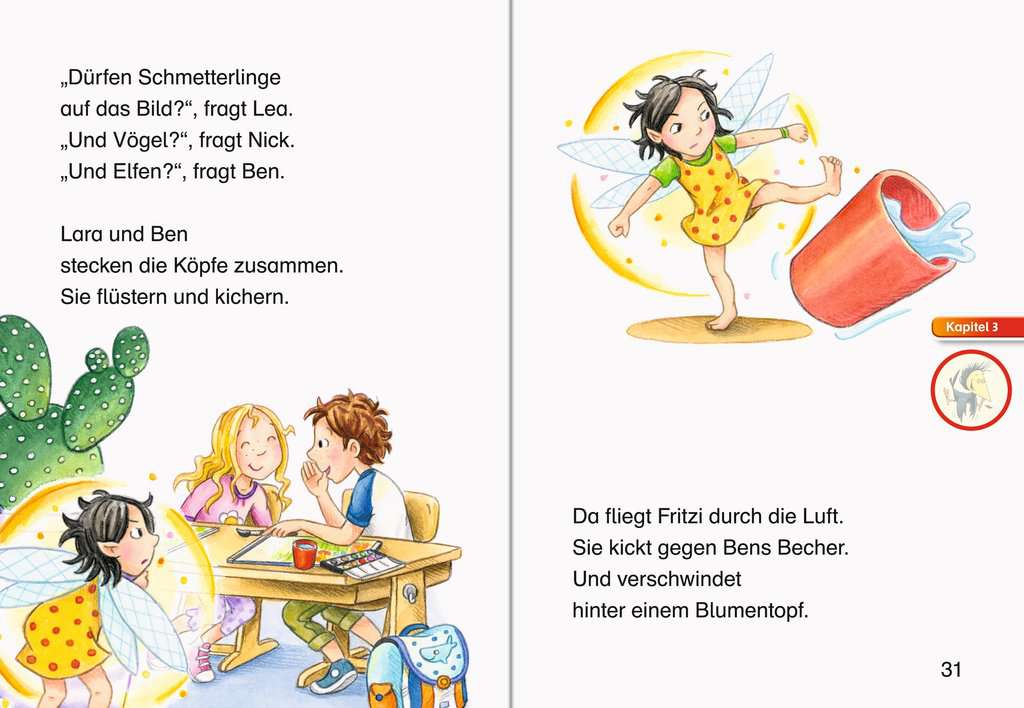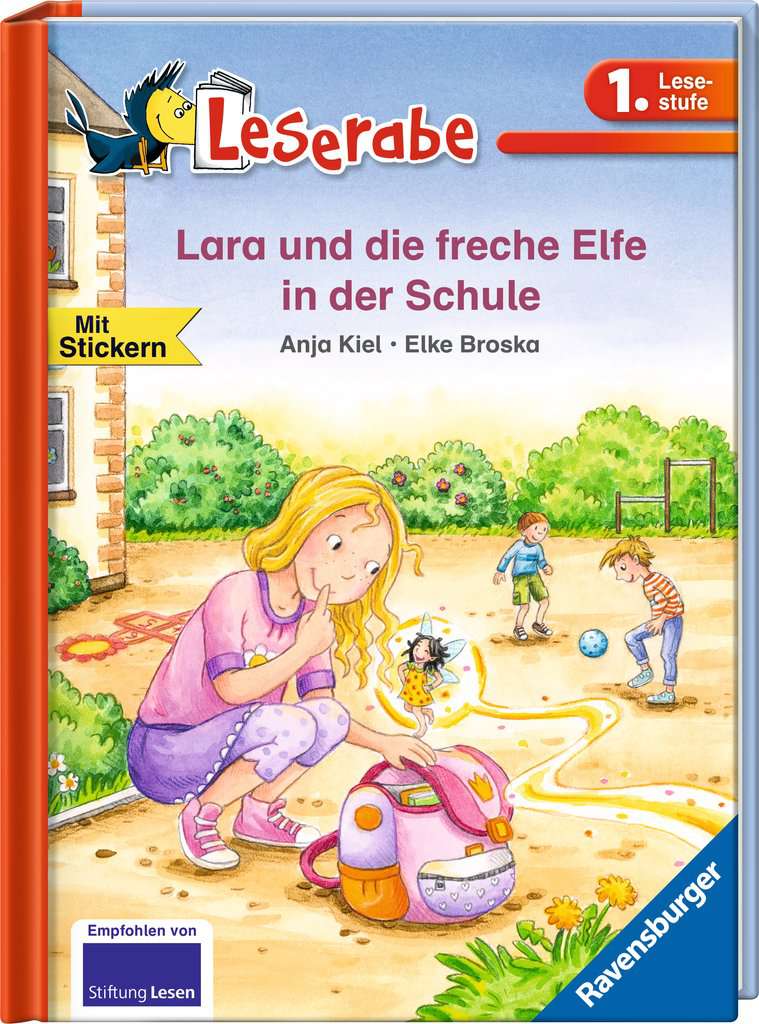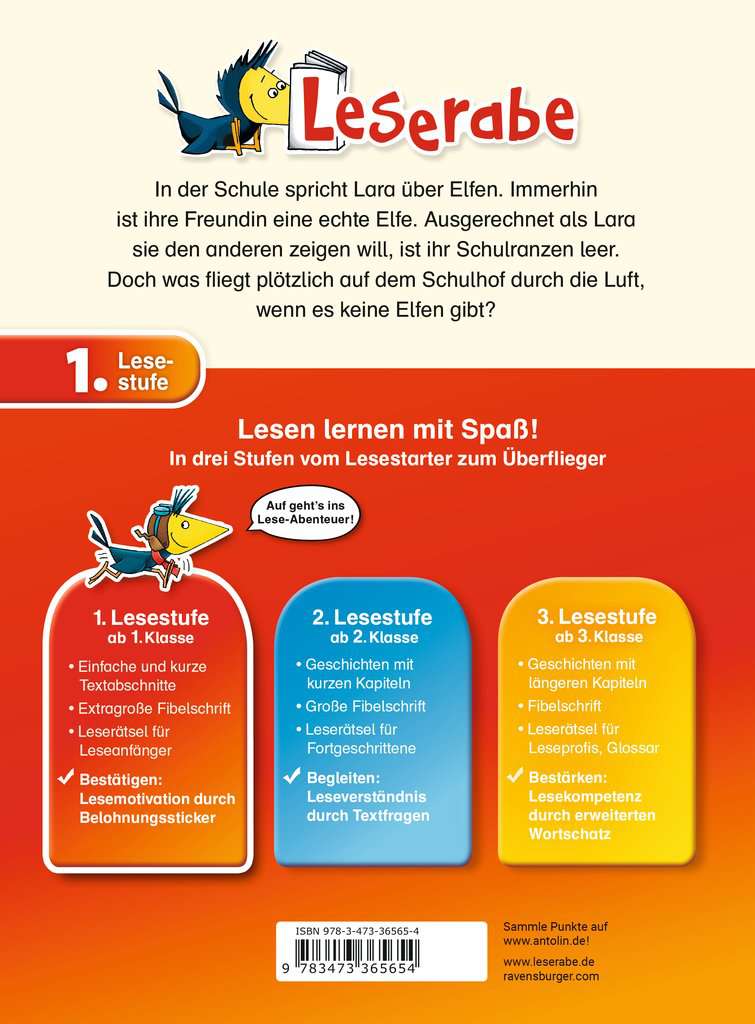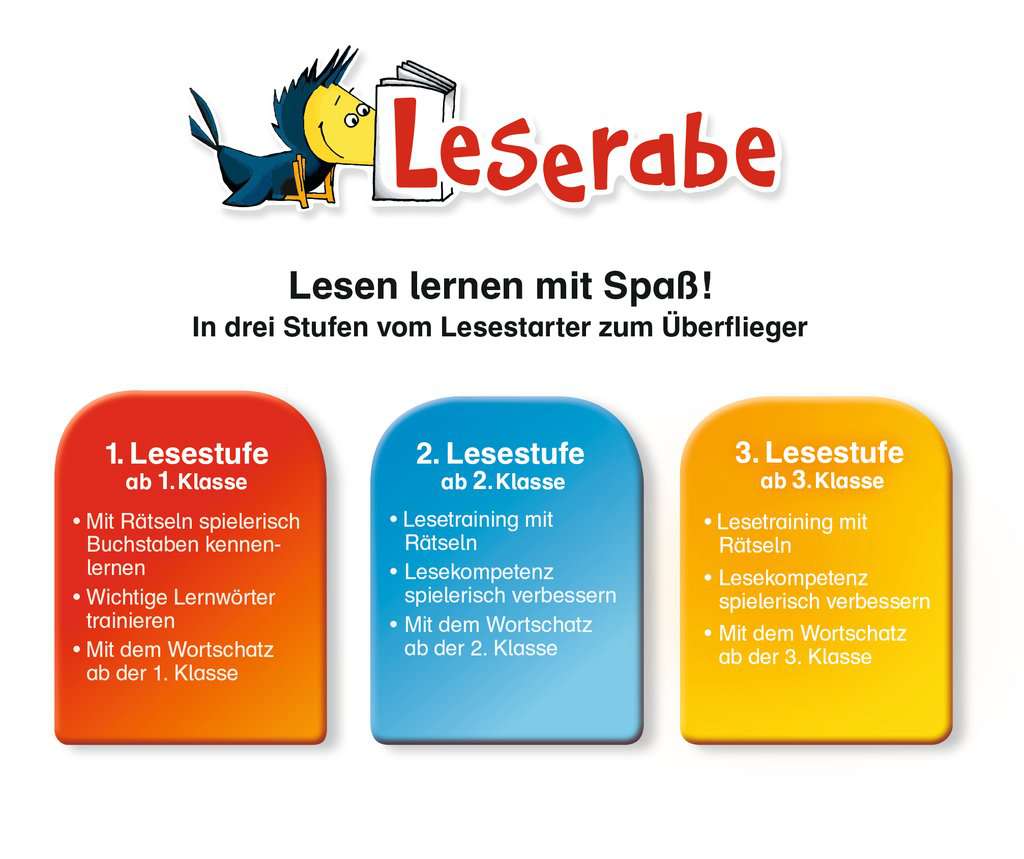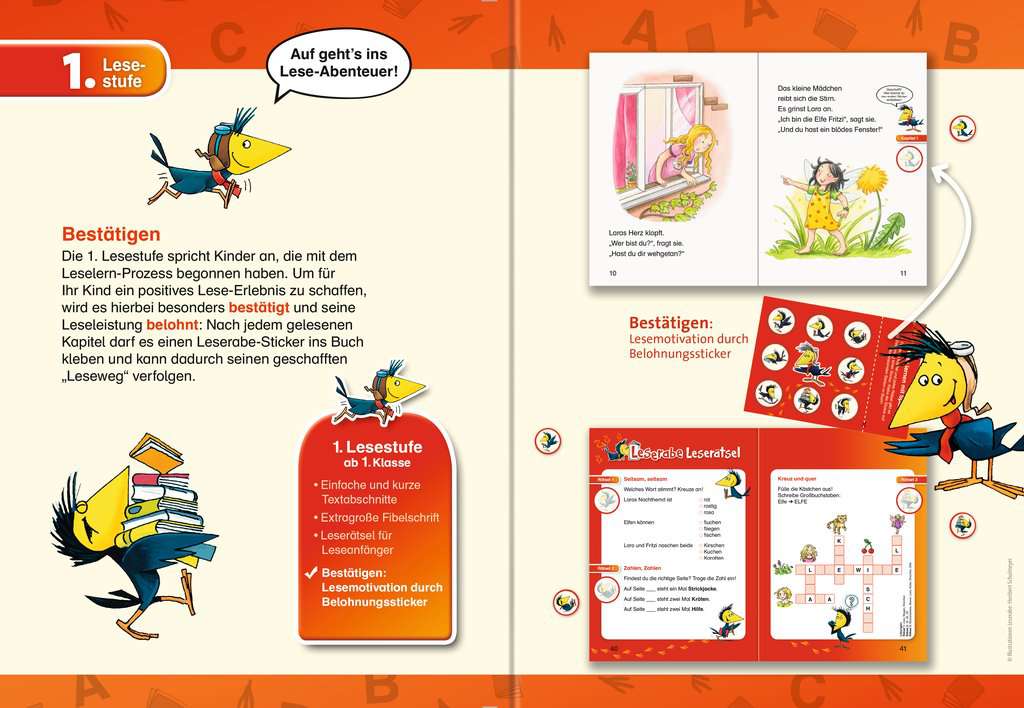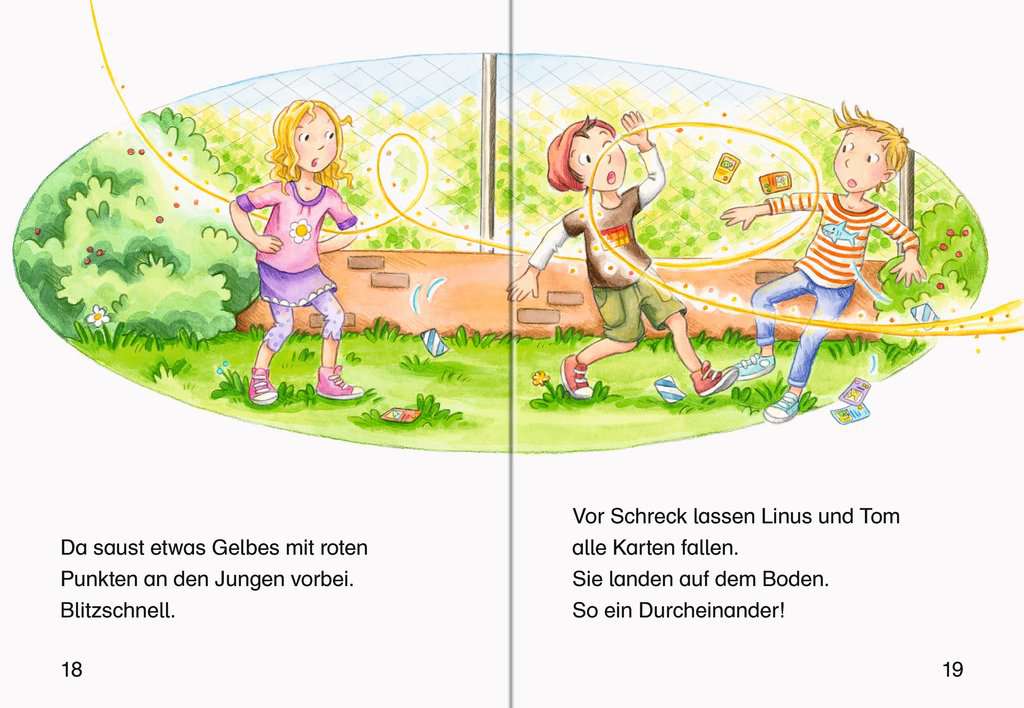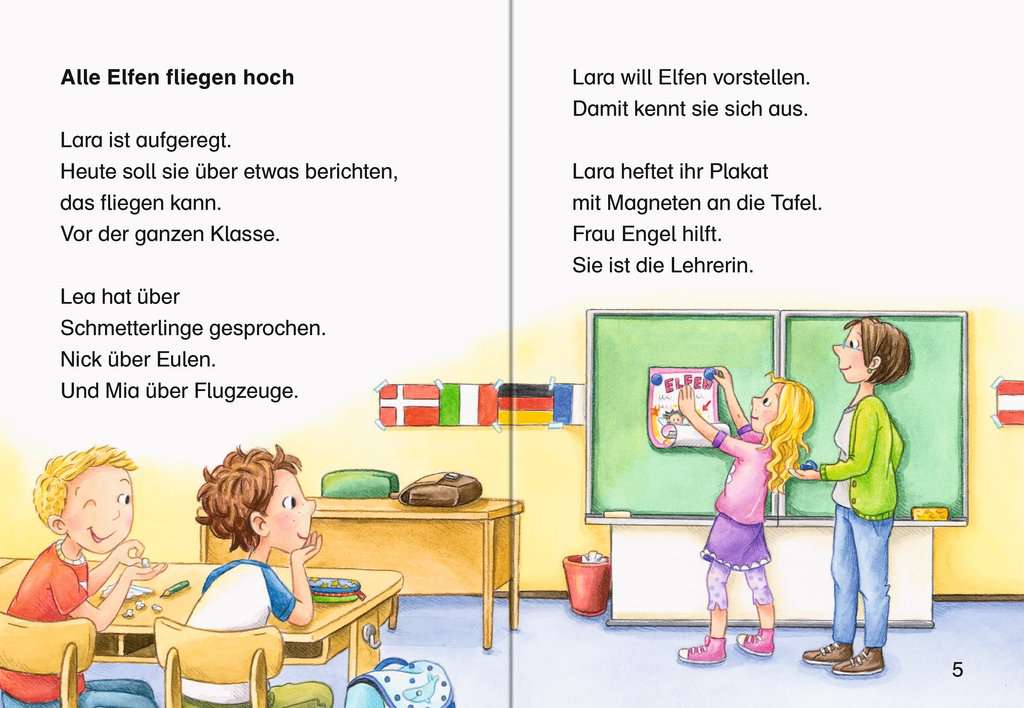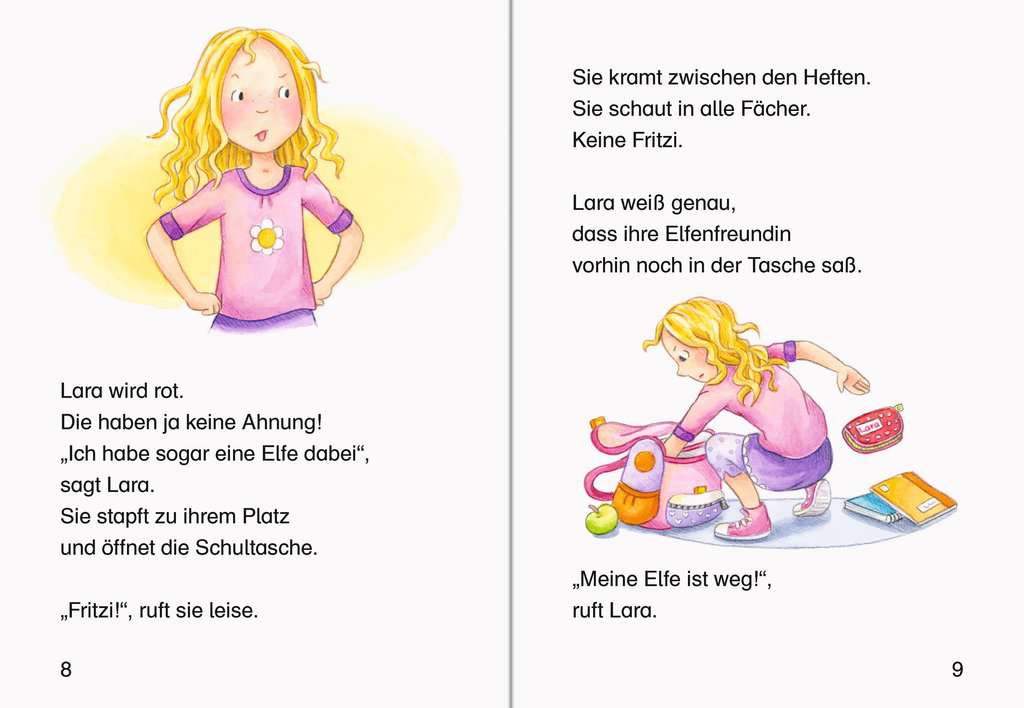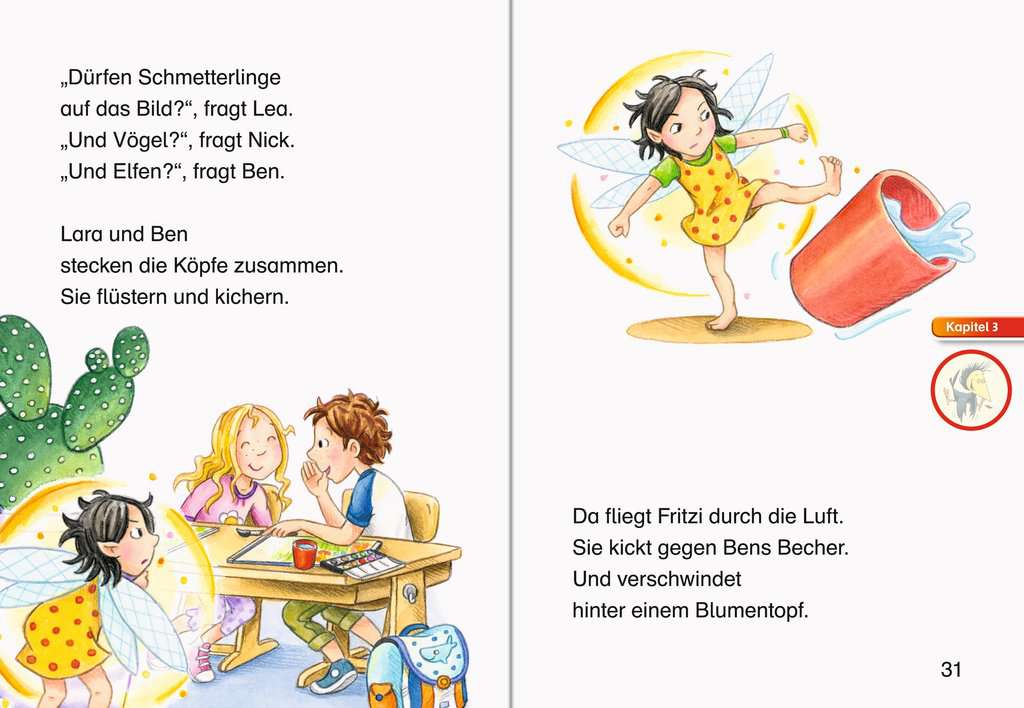 Reading Raven (Level 1): Lara and the cheeky elf go to school
Leserabe - 1. Lesestufe: Lara und die freche Elfe in der Schule
View all books in the series
48 pp
6 years +
17,6 x 24 cm
EUR 8.99
January 2019
Hardcover
978-3-473-36565-4
• With stickers.
Content
At school, Lara is asked to give a brief presentation about something that can fly. She decides to talk about elves – after all, she's very familiar with the subject. However, when she wants to present Fritzi to her fellow students, her school bag is empty and there's no sign of the elf. The other children laugh because they don't believe in elves. Only Ben offers to help Lara to look for Fritzi, but Lara is just furious at first. Then, suddenly, something is flying through the air in the school yard. During German class, someone is drumming. And in art class, somebody knocks over a glass of water – maybe elves exist after all! Ben and Lara become friends, which takes a while for Fritzi to get used to. And Lara prefers going to school without her elf in the future.
About the Series
The Reading Raven series is designed to encourage beginning readers by providing fun and exciting stories at each ability level, from their first efforts at reading alone to more advanced chapter books Each Reading Raven book includes reading riddles, puzzles to solve using information in the story. This is a fun way to check how well children understand what they read. The first level features short texts with lots of pictures that provide clues to the story's meaning. These books are written in extra-large print. When children are ready for longer stories, the second level of Reading Raven offers short chapter books, also in large print with illustrations that help readers follow the text. The third level is for readers who are becoming proficient, with longer chapters and increasingly complex stories, but still with accompanying pictures and highly readable print.
The Author
Anja Kiel, born in 1973, wanted to become a painter or dancer as a child. Only after her master's degree in art history, philosophy and applied cultural sciences did she discover her enthusiasm for writing. After the birth of her two children, she finally turned her hobby into a career and became an author. The beauty of her job is that with every book she can immerse herself into a new world. To relax, she does yoga or visits museums. The author lives her dream of happiness today: she can practice her profession freely and spend a lot of time with her family.
The Illustrator
Elke Broska, born 1980, studied graphic and communication design at the universities of applied sciences in Bielefeld and Mainz with a focus on illustration and book design. Since 2007 she works as a freelance illustrator for various publishers. She lives and works in Wiesbaden. Her hobbies include music, books, art and design, traveling, tai chi, pug dog and guinea pig. On her work for children, she says, "Children can do so much more than adults want them to believe, and a good book encourages them to go their own way no matter how small they supposedly are."